12 Formal and Black Tie Wedding Ideas for Grooms
We're sharing exactly what you need to know about black tie wedding attire for grooms (and how you can bend the rules if a James Bond tuxedo isn't quite your style).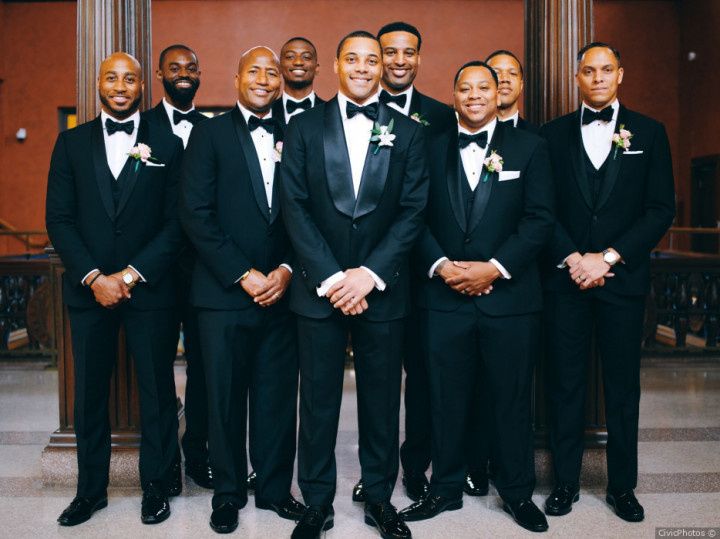 A black tie wedding is just about as fancy as you can get on your big day. If you're hosting an event with this level of formality, it's time to brush up on your menswear knowledge—specifically when it comes to tuxedos, bow ties, and shiny shoes. As the groom, looking your best on the wedding day is a must (you'd be surprised how cool a well-fitting tuxedo can make you feel), and this guide to black tie wedding attire for men will help you get started. We're also sharing a few twists on traditional black tie looks, in case you're planning a wedding that's slightly more relaxed but still formal.
Look extra-sharp at your formal or black tie wedding with the help of these fashionable ideas.
Styling a black tie wedding party
Do you want your groomsmen (or groomsladies) to match you exactly? Or would you prefer to noticeably stand out as the man of the hour? Choose your outfit first, and then experiment with different options for your wedding party—identical tuxedos aren't your only choice!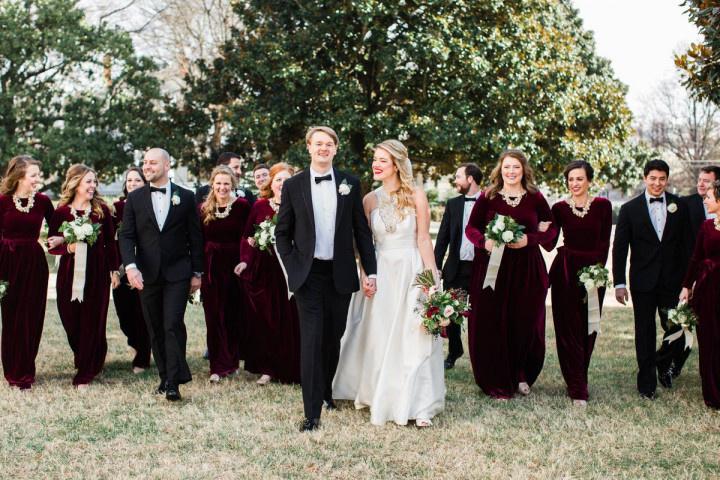 Traditional tuxedos
Dressing your groomsmen in matching black tuxedos will create a timeless, sophisticated look on the wedding day. Because a tuxedo involves more parts of clothing than your everyday two-piece suit, it's the fanciest and most traditional menswear style of them all. A typical tuxedo includes:
A dress shirt, often featuring pleats and special buttons or studs
A jacket, often with satin trim or contrasting fabric on the lapels
Dress pants, also featuring satin trim down the side of each leg
Accessories, such as a cummerbund or vest (not both), suspenders, and a bow tie
Patent leather oxford shoes
Wearing a tuxedo is a non-negotiable if you're having a black tie wedding dress code (in other words, consider choosing a different dress code if you don't want to wear a tuxedo!). Some wedding venues explicitly require a black dress code, while others will allow for a formal dress code—also known as black tie optional—which is one level below black tie. When following a formal dress code, you'll have more freedom with tuxedo colors, accessories, and fabrics. If you don't already own a tuxedo, renting one for your wedding day is a great solution.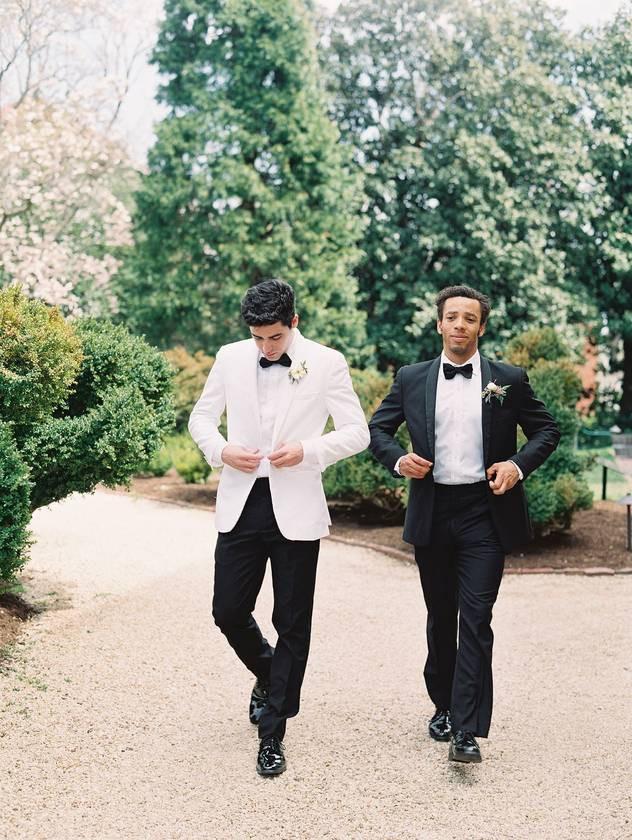 White tuxedo jacket
A white tuxedo jacket (not to be confused with white tie dress code, which is an entirely different thing), is a dapper option for grooms who don't want to wear all black. This style has a slight retro vibe and is ideal for a spring or summer black tie wedding. As the groom, you can stand out by wearing a white jacket while dressing your groomsmen in classic black styles.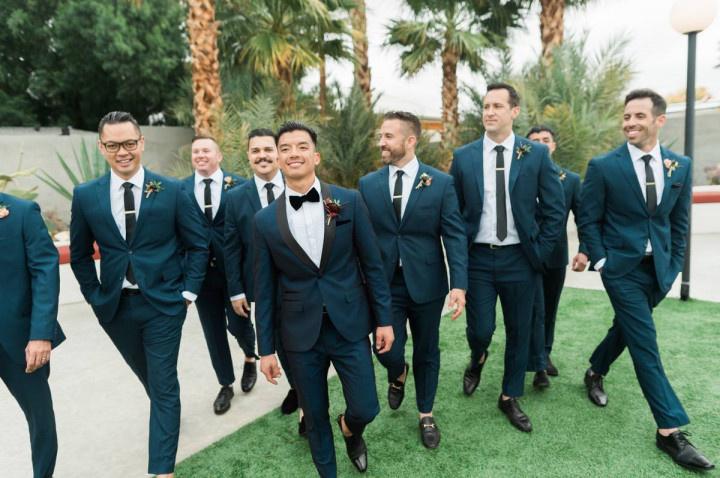 Modern tuxedo
If your dress code is formal instead of black tie, it's totally appropriate to wear a modernized version of the traditional tuxedo. Think trendy colored styles with ultra-tailored silhouettes, like fitted jackets and slightly cropped pants. Add accessories that feel slightly more casual, such as leather loafers and long ties. In this group, the groom is the only one wearing a tuxedo—the groomsmen are wearing suits in a coordinating color. Try to spot the difference! (Hint: check the lapels.)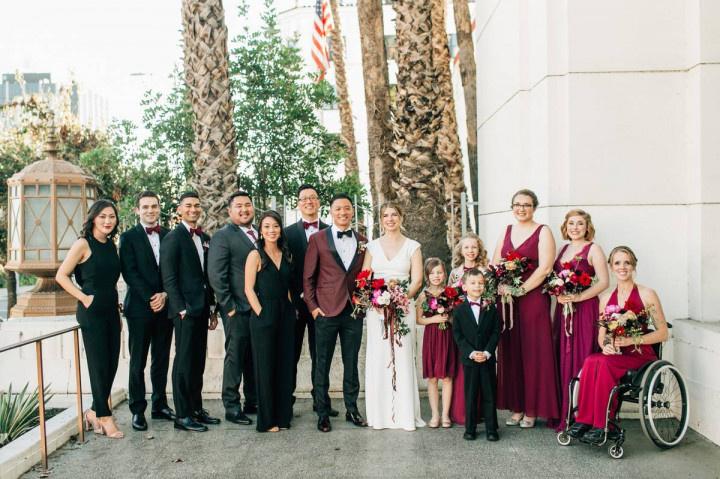 Mix-and-match
A mix-and-match wedding party is another way to switch up the look from traditional black tuxedos. Groomsmen's ties can match the groom's jacket for a subtle continuation of color throughout the group's outfits. This burgundy hue is on trend for fall and winter weddings—it's great for achieving a luxurious Hollywood glam vibe.
Complementary colors
Emerald green is another color that works well with black tie wedding dress codes. Pair a dark green jacket with slim-fit dress pants, velvet loafers, and a black bow tie for a high-fashion look. Groomsmen can wear classic black tuxedos and emerald green bow ties.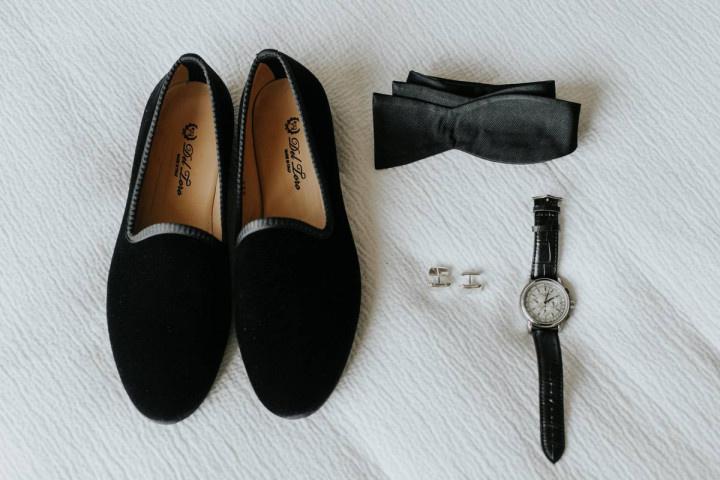 Black tie wedding accessories
With formal wedding attire, it's important for all the components of your look to be in place perfectly—and no detail should be considered too small. More than any other dress code, accessories play a big role in black tie wedding outfits, but they'll also require a little bit of thought in order to keep your overall look sophisticated and tasteful. Here are the groom's accessories you should plan to wear on the big day.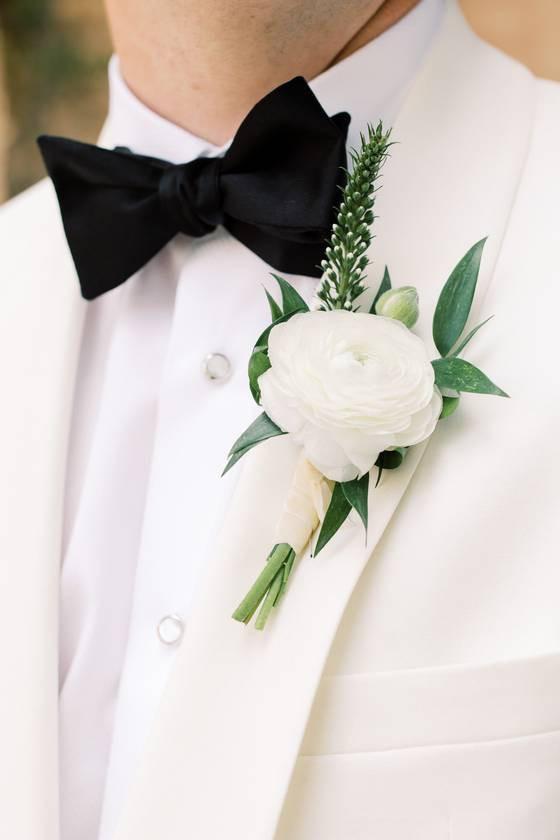 Boutonniere
Regardless of your dress code, a floral boutonniere is one of the staple groom accessories that will tie your look together. For a black tie wedding, your boutonniere should be relatively tame—no oversized flowers, crazy embellishments, or trailing greenery (your wedding florist will know what to do!). If your partner is carrying a wedding bouquet, the boutonniere typically includes the same or similar types of flowers.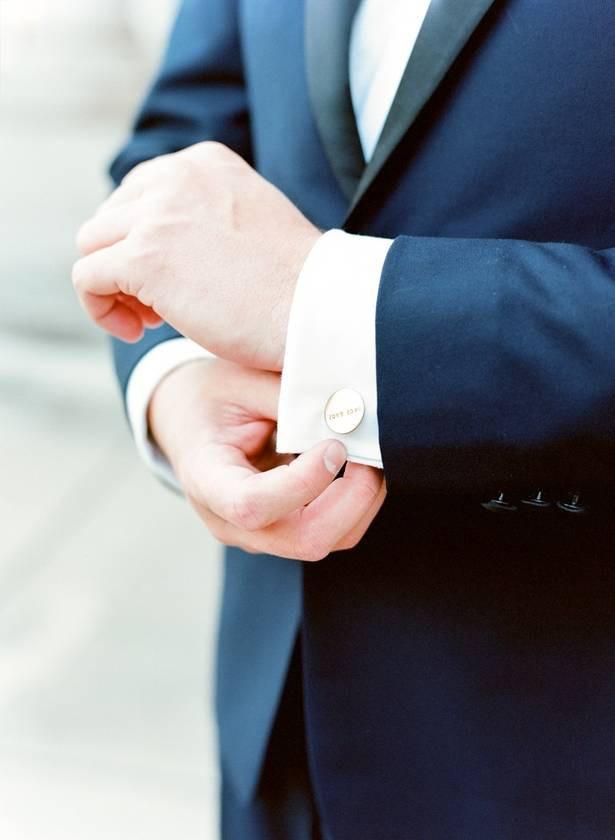 Cufflinks
Cufflinks are a practical accessory, but the variety of designs you can choose from means that they're also a way to add a discreet hint of personality to your wedding day attire. From monogrammed circles to nautical anchors, bejeweled styles, and even sports-themed options, cufflinks come in all shapes, colors, and sizes. When you're wearing a tuxedo, we recommend sticking to cufflinks with a metal finish, such as platinum or yellow gold.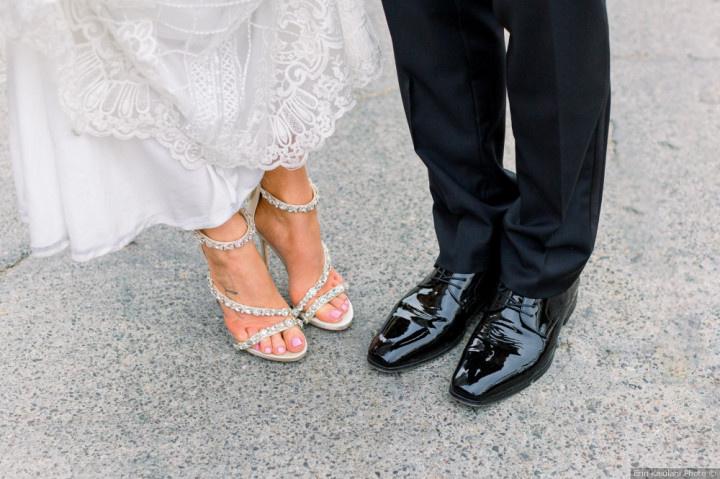 Dress shoes
As we mentioned, most tuxedos are worn with black patent leather oxfords. The high-gloss finish creates the dressiest look, but you can also wear regular leather dress shoes. If you don't already own a pair of patent leather shoes, you can typically rent them from your tuxedo retailer.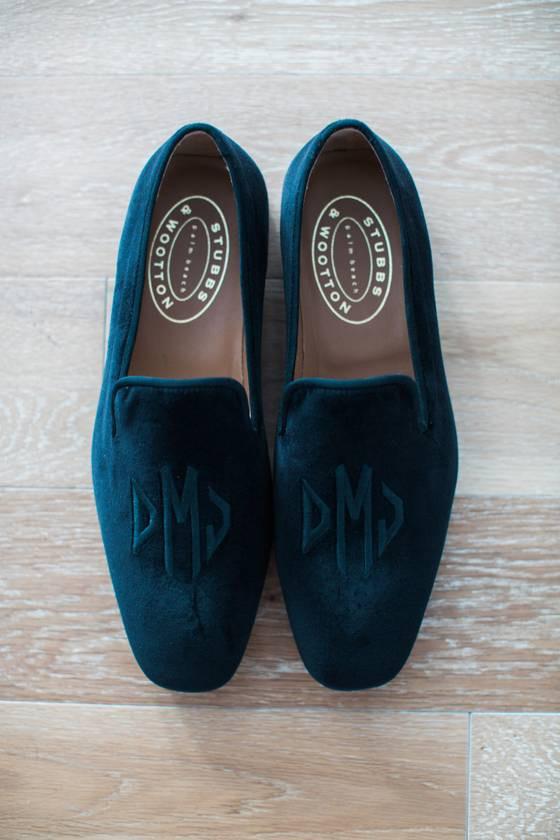 Loafers
Inspired by styles from high-fashion designers such as Gucci, Versace, and Calvin Klein, loafers and smoking slippers have become more popular over the last few years as an alternative to traditional black tie wedding shoes. If you're opting for this trendy twist, be sure that the shoes are in top condition (that means no snags, stains, or shredded soles). Treat yourself to a brand-new pair—you can even customize them with your monogram!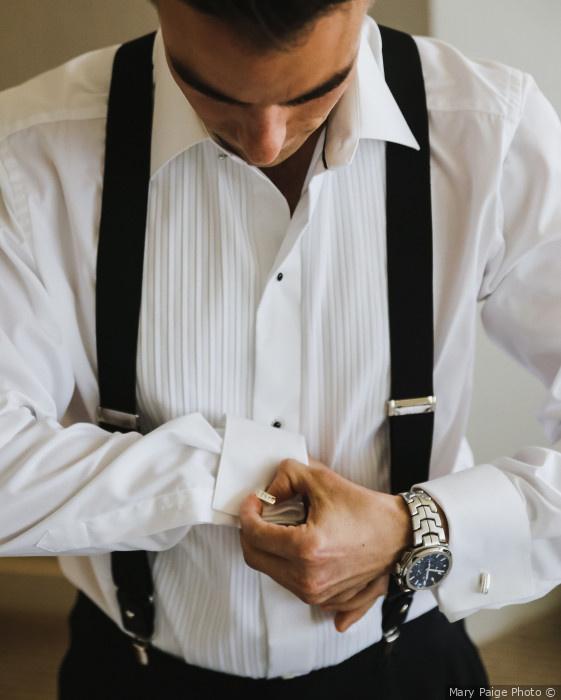 Suspenders
True tuxedo pants don't have belt loops, so you'll need to wear suspenders in order to keep everything in place. There are two different types of suspenders: one style has clips that attach to the top of your waistband, and the other style discreetly loops onto buttons that are hidden on the inside of your waistband. Traditional black tie wedding etiquette for men also requires that the waistband is covered, so plan to pair your suspenders with a cummerbund or a button-down vest.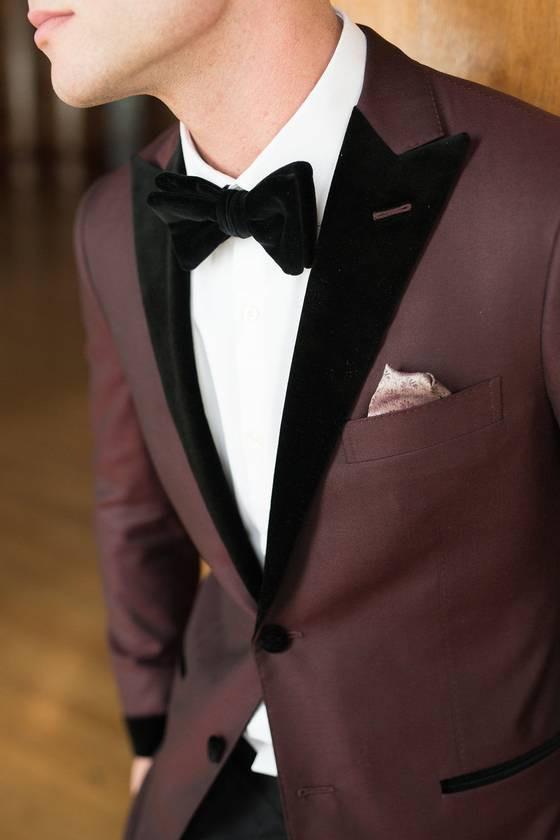 Pocket square
A pocket square is purely decorative, but it will truly help complete your black tie ensemble. Look for a silk or satin style that matches the rest of your wedding outfit. Experiment with patterned or colored options to match your tuxedo and tie.