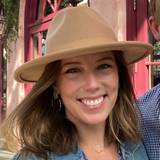 MaryKate Callahan (known to many as MK) has worked in digital content strategy for the last five years, focusing on how data can help editorial teams make strategic business decisions. In addition to helping manage editorial strategy, MaryKate leads WeddingWire's affiliate content program and places great emphasis on making sure all shoppable content feels valuable, authentic and actionable to couples planning their wedding. As a champion for modern journalism and a sucker for a strong click-through rate, MaryKate understands how effective editorial content can be when it comes to educating couples and, ultimately, empowering them to take action. MaryKate grew up right outside of Philadelphia in Bucks County, PA and currently lives in Hoboken, NJ with her fiance. She loves reading, online shopping, trying out new workout classes and is always, unequivocally down for brunch. If she's not at home, there's a good chance she's sitting on the nearest beach.
Experience
After graduating from college, MaryKate worked as a copywriter for Imbue Creative, a small advertising agency based out of Lambertville, NJ. During her time working there, MaryKate realized that her favorite part of working on a client's campaign was the initial kickoff meetings when the team met to determine answers to the following questions: 1) What do we want people to do? 2) How do we get them to do it? From there, MaryKate discovered her love of strategy and started her pivot into a broader digital marketing career.
MaryKate joined XO Group Inc. in spring of 2016 and worked as part of the small but mighty marketing team for TheBump.com. After wearing nearly every marketing hat there is, MaryKate moved over to the Audience Development team and expanded her scope to include content strategy and analytics for all brands. Currently, MaryKate works as part of WeddingWire's digital editorial team where she focuses on user acquisition and monetization from online content.
Education
MaryKate graduated from Fairfield University's honors program with a bachelor's degree in English and a dual concentration in Communications and Creative Writing. After her freshman year, she was awarded the Magis Scholarship based on her community involvement and academic achievements. She also graduated Magna Cum Laude and made the Dean's List every semester.
In between writing countless 10-page essays and spending time with friends on the beach, MaryKate was an active part of Fairfield's media community: She was a contributing writer for The Fairfield Mirror, the first Managing Editor of the online magazine Her Campus Fairfield and Promotions Director for FU's radio station, WVOF 88.5. She also hosted and produced her own radio show every Monday night, "MK's Corner". During her junior year abroad, MaryKate took global media courses at Universitat Pompeu Fabra in Barcelona, Spain which is also where she also discovered her love of traveling and red wine.
In 2015, MaryKate won Fairfield University's "Nick Rinaldi Fiction Award" for her short story titled McDonalds Dad.
WeddingWire Q&A with MK
What is your ideal wedding style?
I know you won't believe me, reader, but I haven't given this question a ton of thought before. That said, I'm about to start planning my own wedding, so I'll have to figure this out soon. I'm thinking classic and elegant but with some unexpectedly playful details. Stay tuned!
Dream honeymoon location?
Definitely somewhere with a beautiful beach and preferably somewhere with no cell service.
What was (or would be) your first dance song?
I know what it's going to be but I don't want to reveal it here because I'm superstitious! I'll tell you this, though: You've definitely heard it.
Favorite celebrity wedding look?
I love it when celebrities take risks with their wedding looks. One outfit that sticks out in my mind is Whitney Port's high-low wedding dress—the fact that she had palms in her updo was a cool touch too. Also honorable mention: Portia De Rossi—that dramatic low back was ahead of its time!