30 Bridesmaid Hairstyles That Will Have Your Squad Looking Gorg
Your bridesmaids deserve to look just as amazing as you do on the big day. With these bridesmaid hair ideas, getting everyone glammed up for your wedding will be a piece of cake.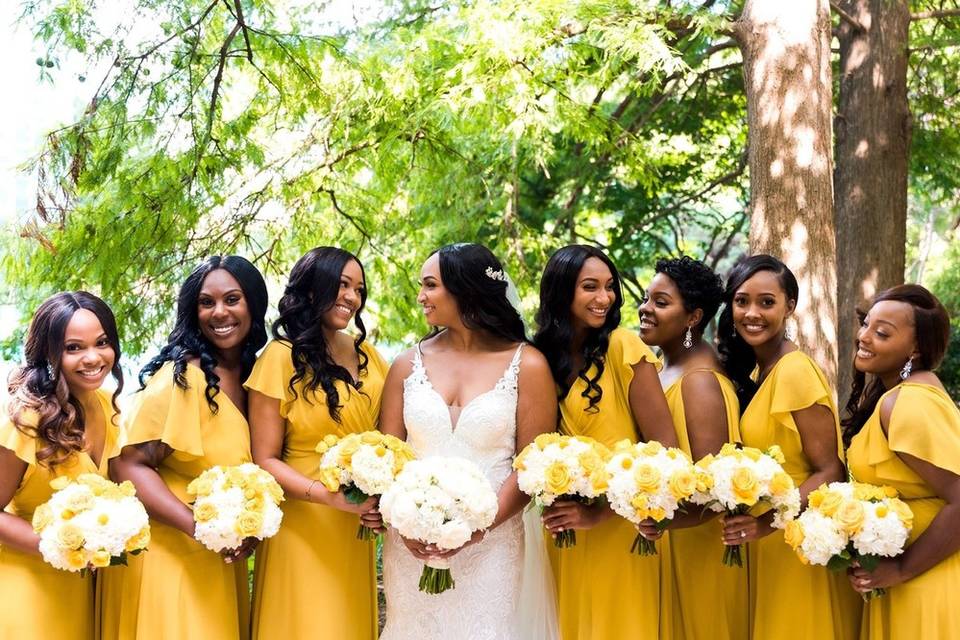 Whether you're getting married and searching for bridesmaid hairstyle ideas, or you're in a wedding party and have been tasked with choosing your own look, the good news is that bridesmaid hair can range from clean and classic updos to textured, boho styles, whimsical braids, and carefree curls. A few tips to keep in mind: In general, the bridesmaid hairstyles don't have to be identical to the bride's hairstyle, but they should complement one another and be in the same ballpark when it comes to the level of formality. If you're a bridesmaid choosing your own hairstyle, be sure to get it approved by the bride and consult with the other bridesmaids ahead of the big day. And if you're a bride, brush up on professional bridesmaid hair and makeup and who's expected to pay for what.
Check out these 30 bridesmaid hairstyles to find one that works for your personality, hair texture, and length.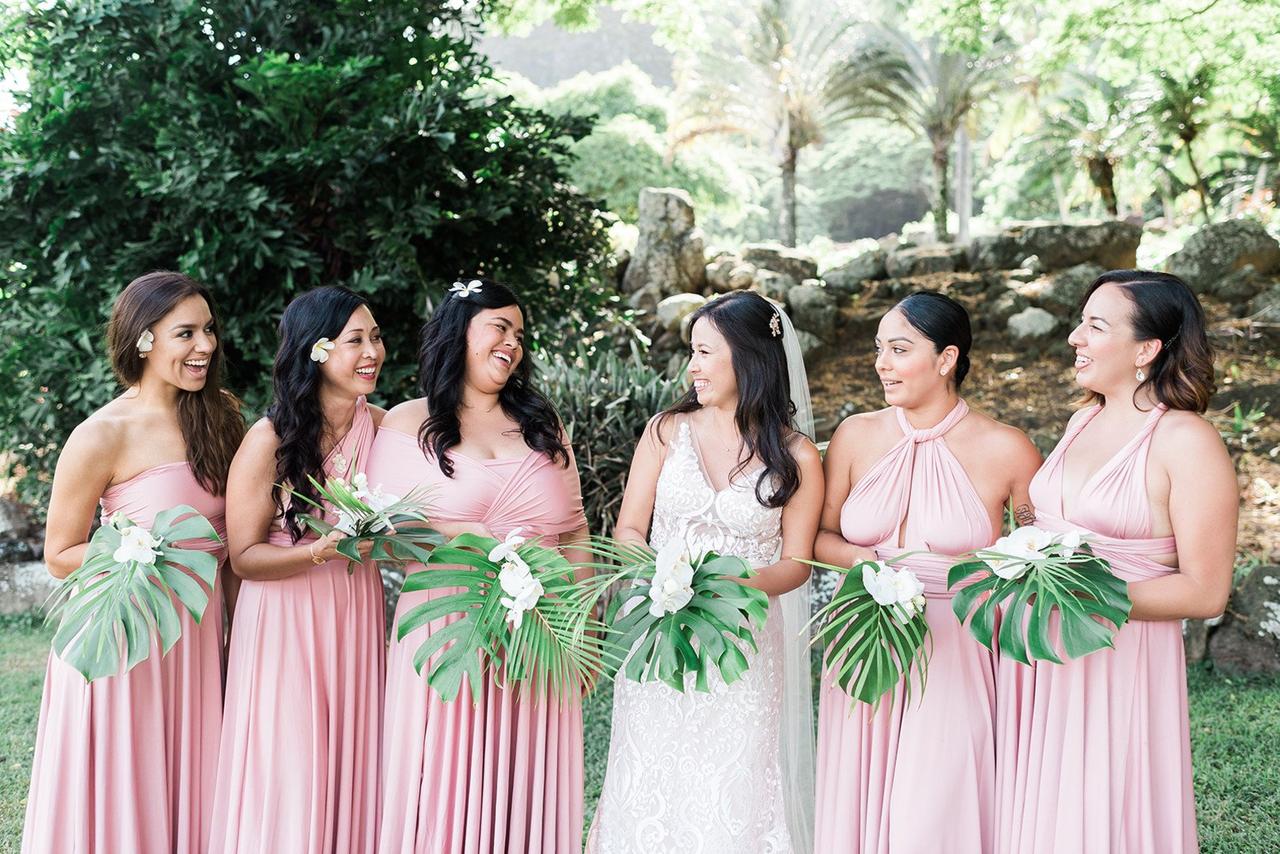 Flowers behind the ear
Headed to a beach or tropical-themed wedding? Simply tuck a flower behind your ear to jazz up loose curls or beachy waves. Tropical flowers, like plumerias, orchids, or hibiscus, will give you the most island-inspired look.
Looped side ponytail
This bridesmaid hairstyle is great for showing off longer locks while also keeping hair away from the face. Transform a basic side ponytail by looping it through itself once or twice, then wrapping any elastics with a small section of hair to create a clean finish.
Classic chignon
For formal weddings, a classic chignon is a go-to choice. For this bridesmaid hairstyle idea, the hair should be straight and sleek (tame those flyaways!) and the bun should sit at the nape of the neck.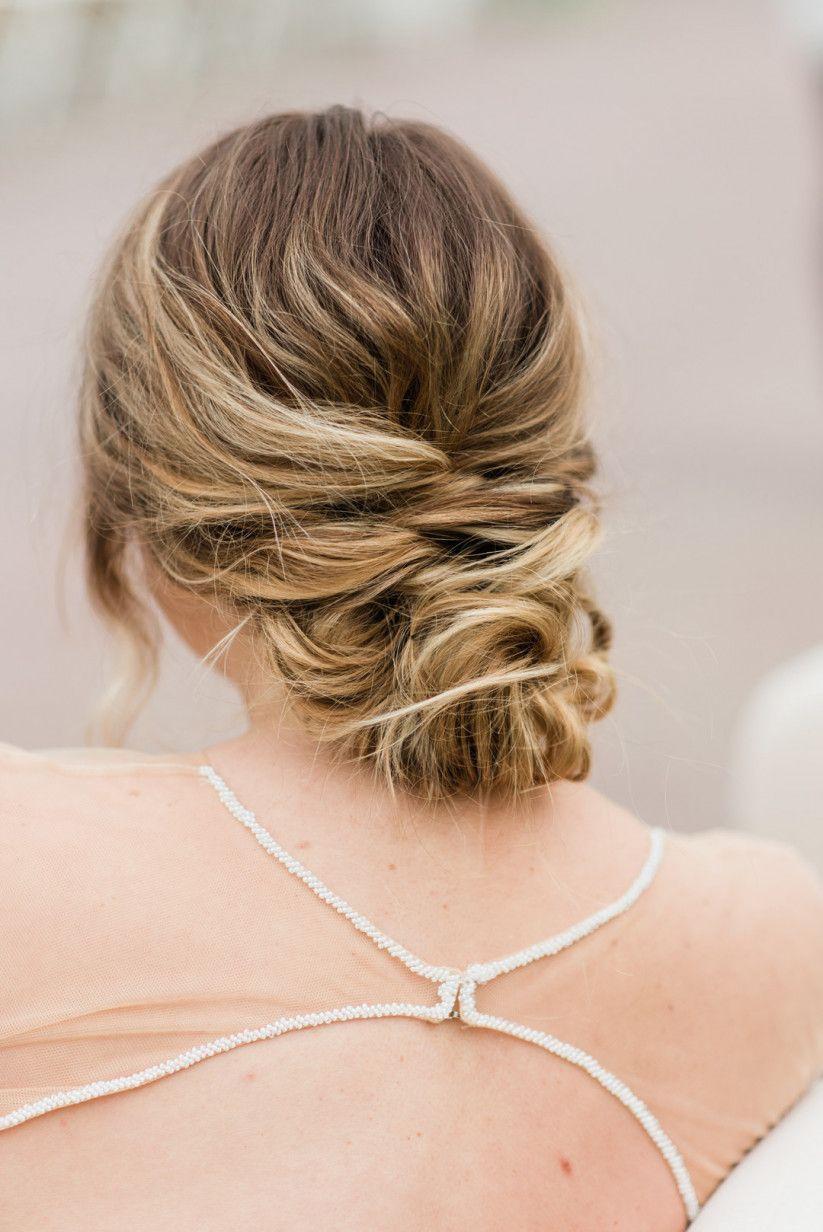 Braided chignon
For a slightly less formal version of the chignon, the hair can be curled first, then braided or pieced from side to side. Leave a few strands out around the face or lightly pull on the finished style to loosen it a bit.
Barrel curls and center part
This polished bridesmaid hairstyle option is classic but not stuffy. Even better, it's fairly quick to do, which makes it an excellent option for larger wedding parties who all need to have their hair done in a short timeframe.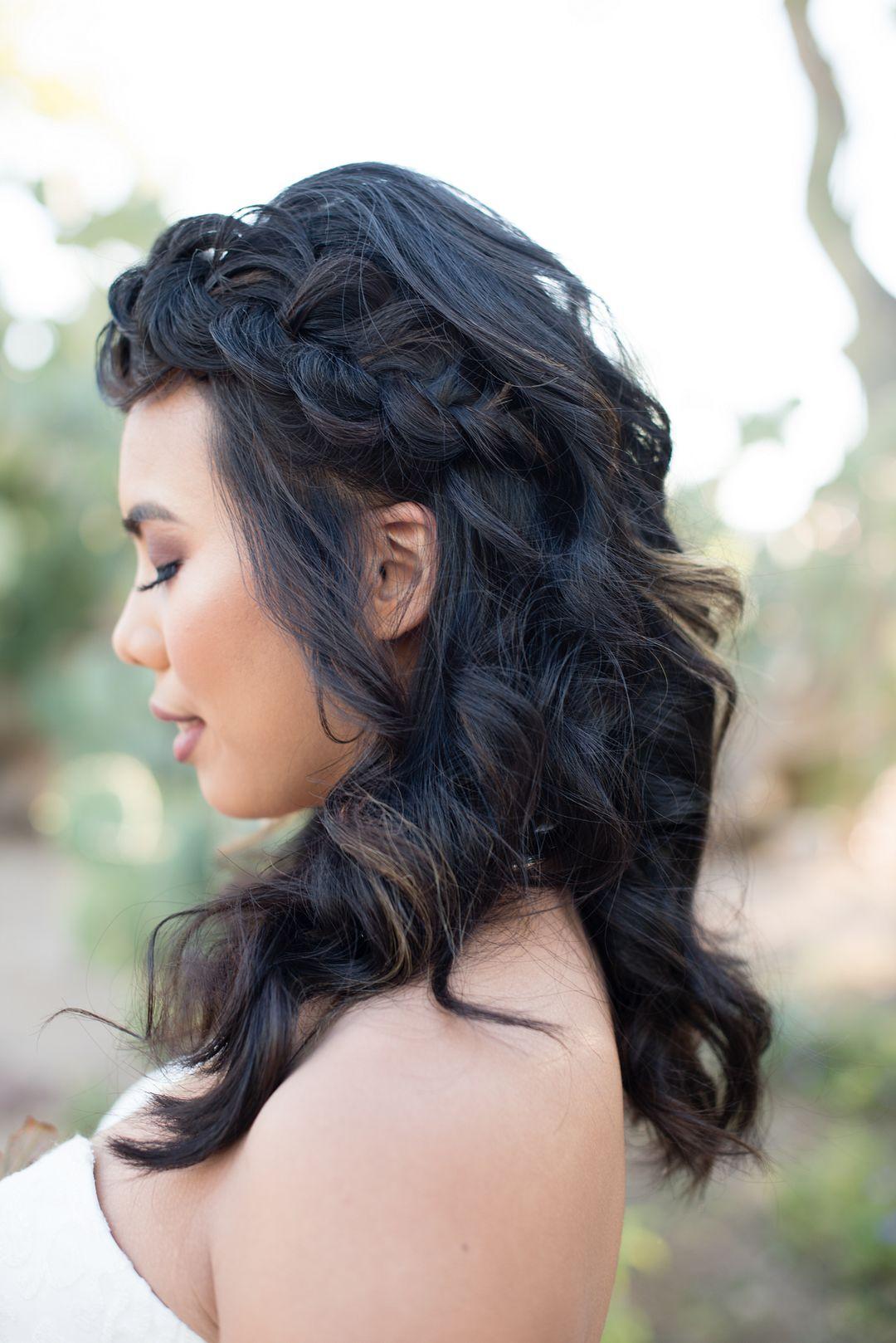 Makeup by Makeup in the 702
Half-up braid
Bridesmaids who don't want to wear their hair entirely up can opt for this pretty half-up braid. It frames the face (and keeps the hair out of the way) while also giving you the chance to show off bouncy, voluminous curls.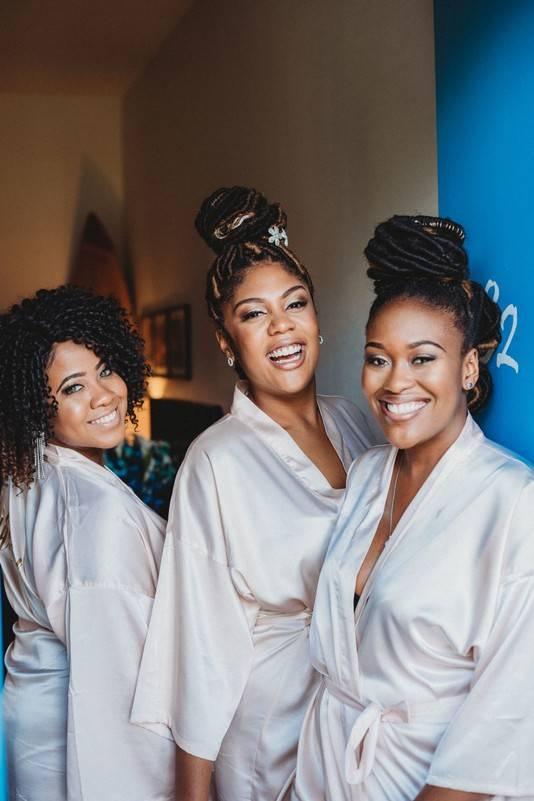 High braided buns
Wear your braids in a high bun on top of your head for a sassy, glam hairstyle that will stay in place even when you're letting loose on the dance floor.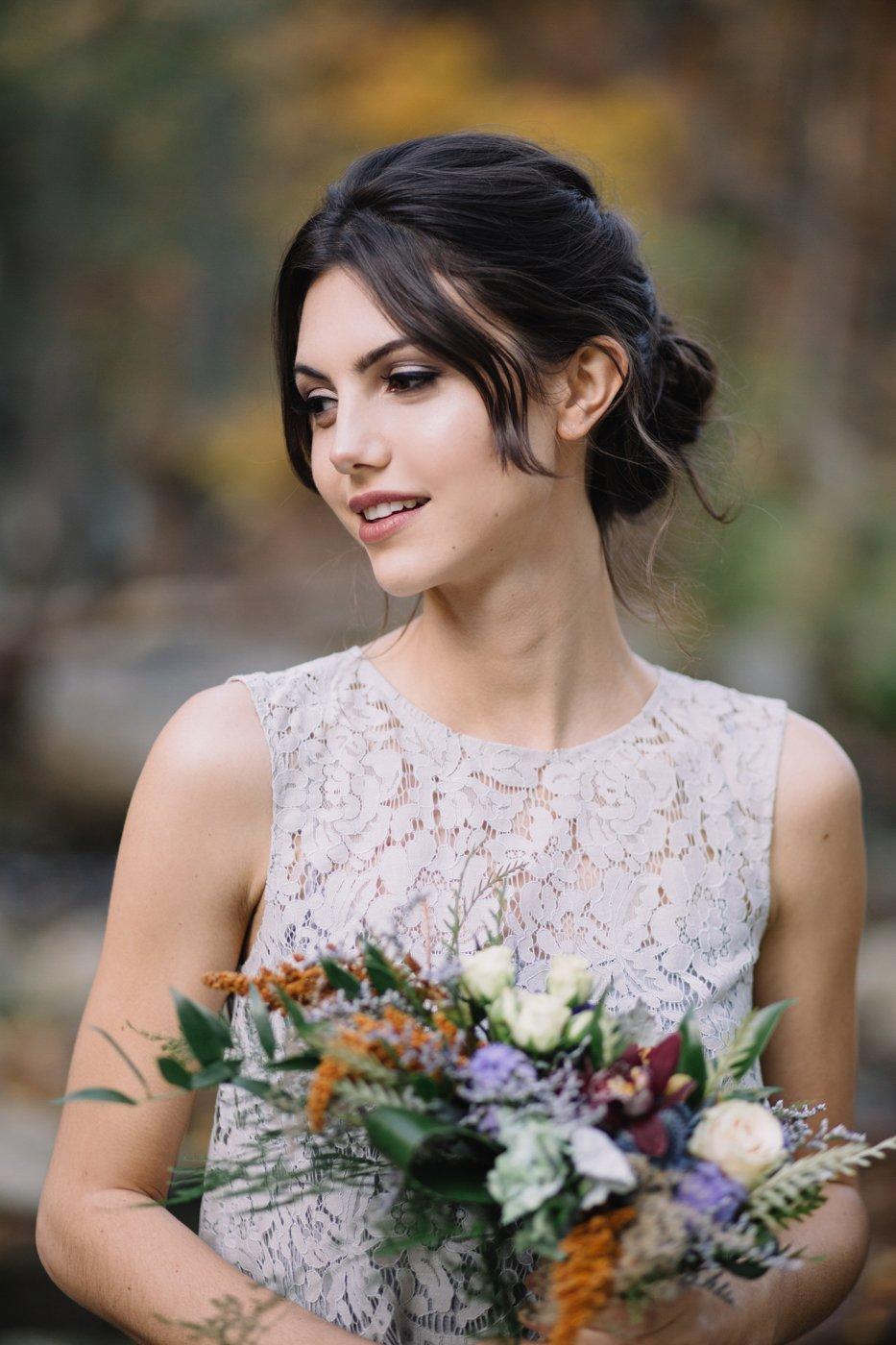 Face-framing layers
For 'maids with bangs or layers, we think this messy updo is perfect for any type of outdoor wedding, like a rustic countryside bash.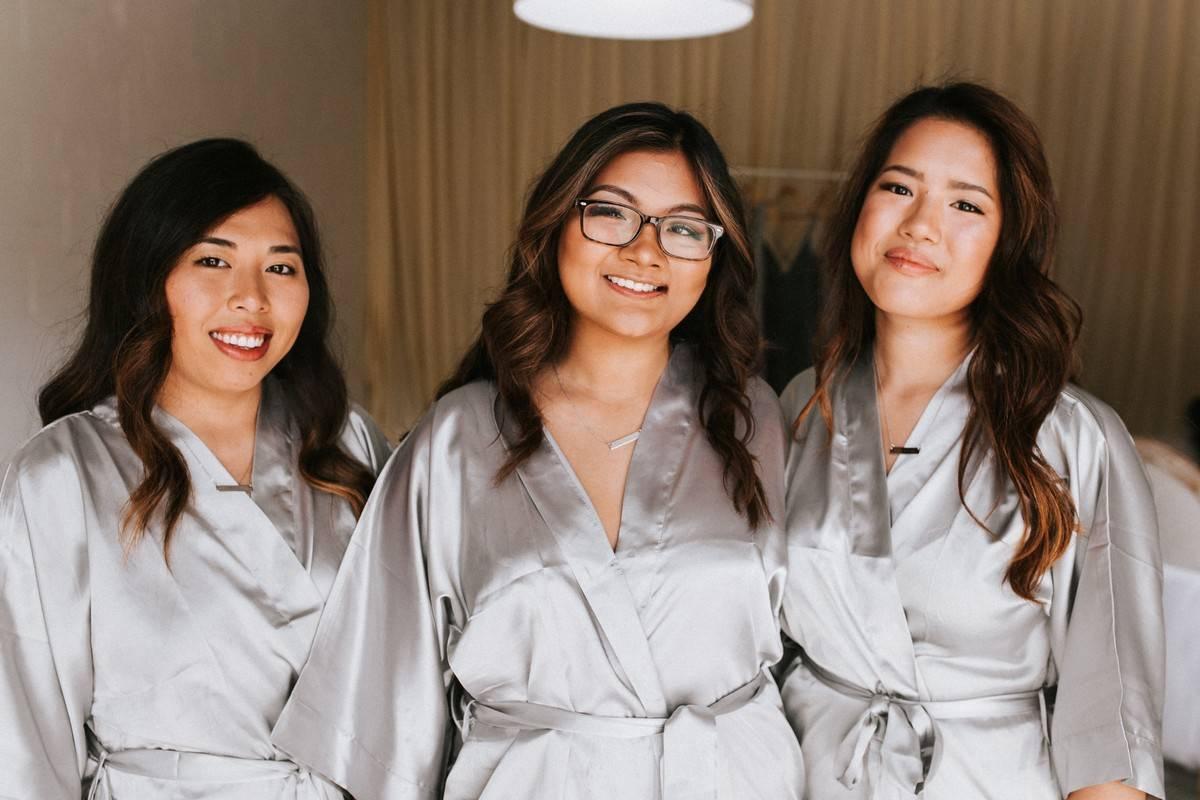 Beachy waves
If you're going for a super-casual look, undone beachy waves are an easy but trendy option. By leaving the ends of the hair straight, you'll get that I-woke-up-like-this effect.
Natural textures
Not into overdone hairstyles? Embrace your natural hair texture instead for a look that truly embodies your personal taste.
Makeup by Michellezstyles
Bouncy curls to the side
Embrace full, bouncy curls for a retro-inspired look—you can even add temporary clip-in extensions to give your hair some extra volume. Section the hair with a deep side part and va-va-voom.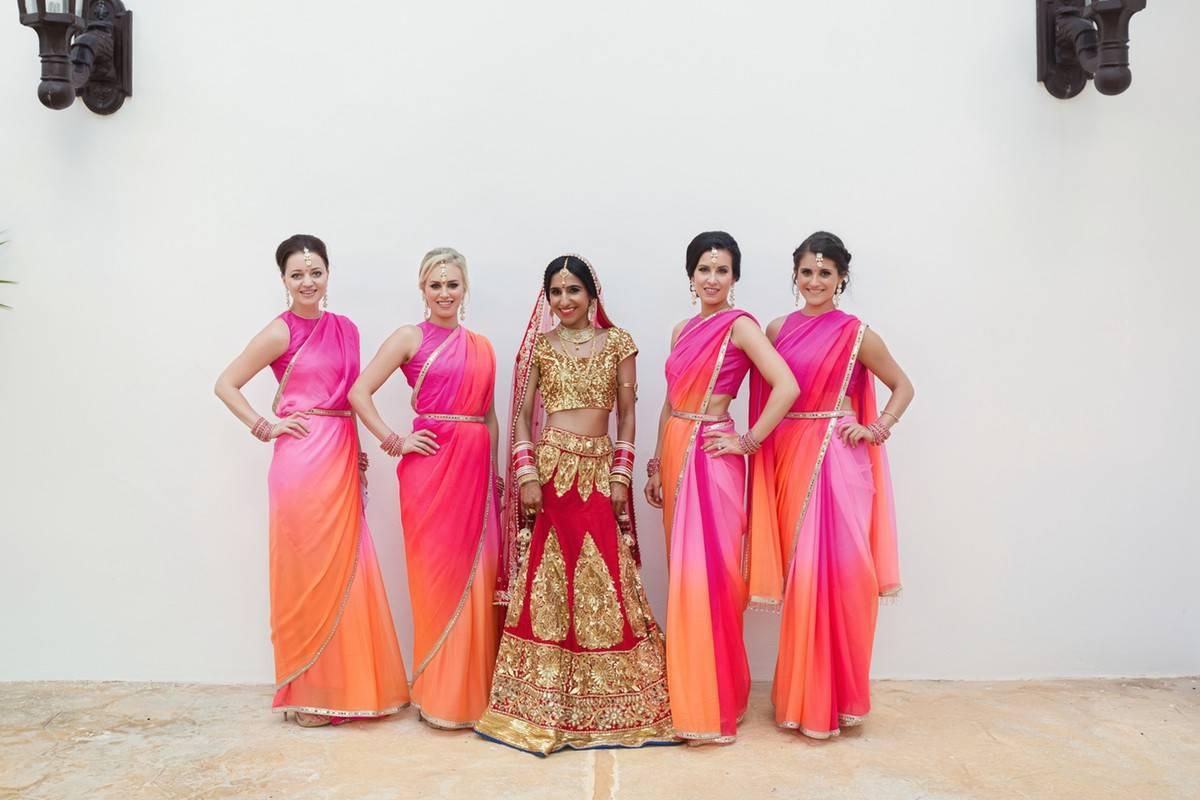 Maang tikka
For Indian weddings, you can include your bridesmaids in the tradition of having them wear a maang tikka, bindi, or other jeweled headpiece to match their outfits.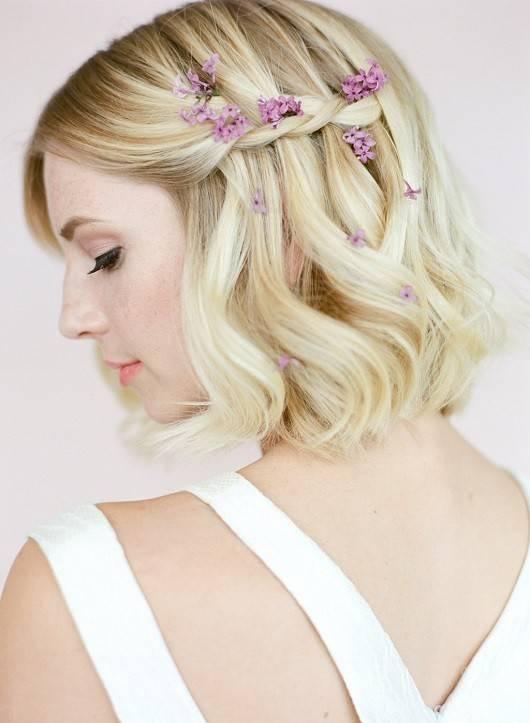 Loose flowers
This is bridesmaid hairstyle you can easily replicate with any length. Braid half of one side, then attach tiny individual flowers (like these lilacs) using hairspray, gel, or pins. The end result is totally garden-wedding worthy.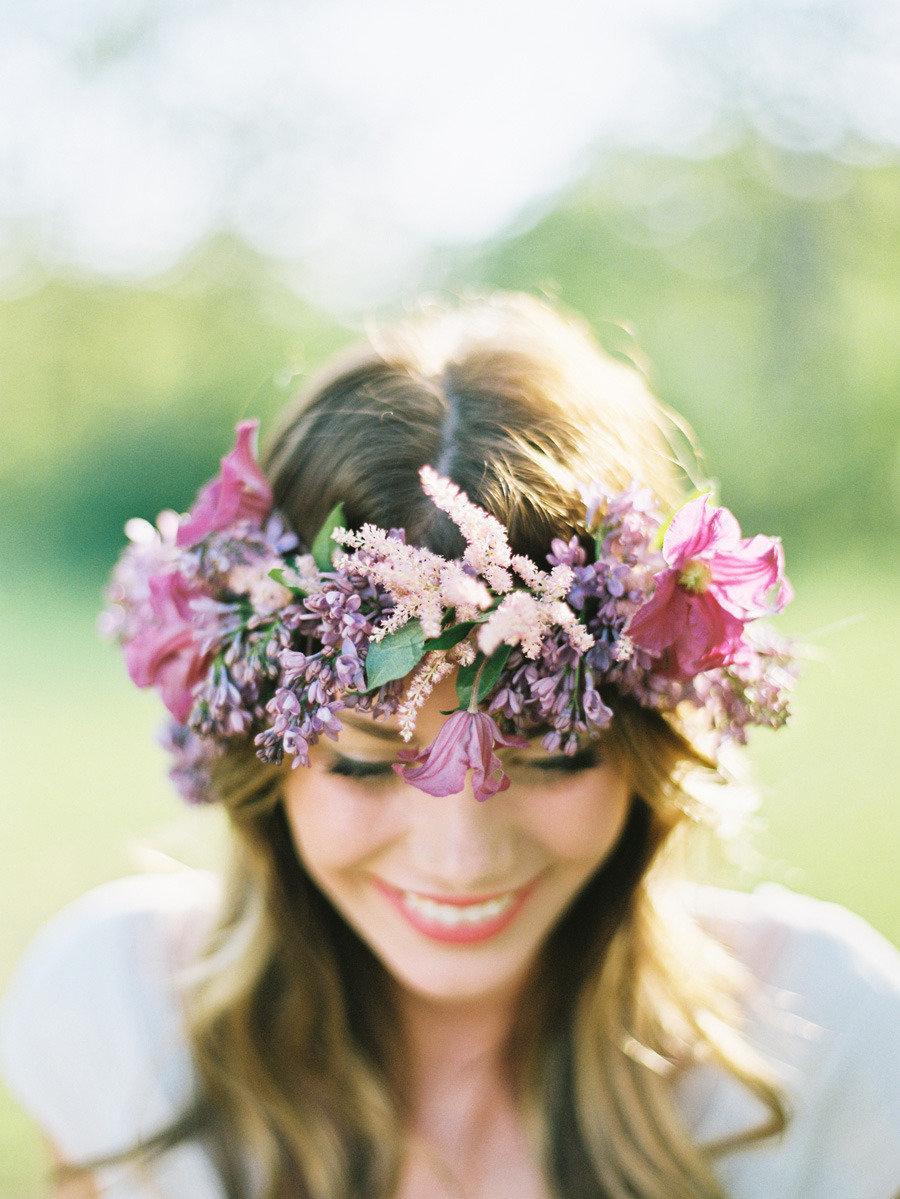 Flower crown
You can take the flowers one step further by going all-out with an oversized floral crown. This is a perfect bridesmaid hair accessory for boho or beach weddings!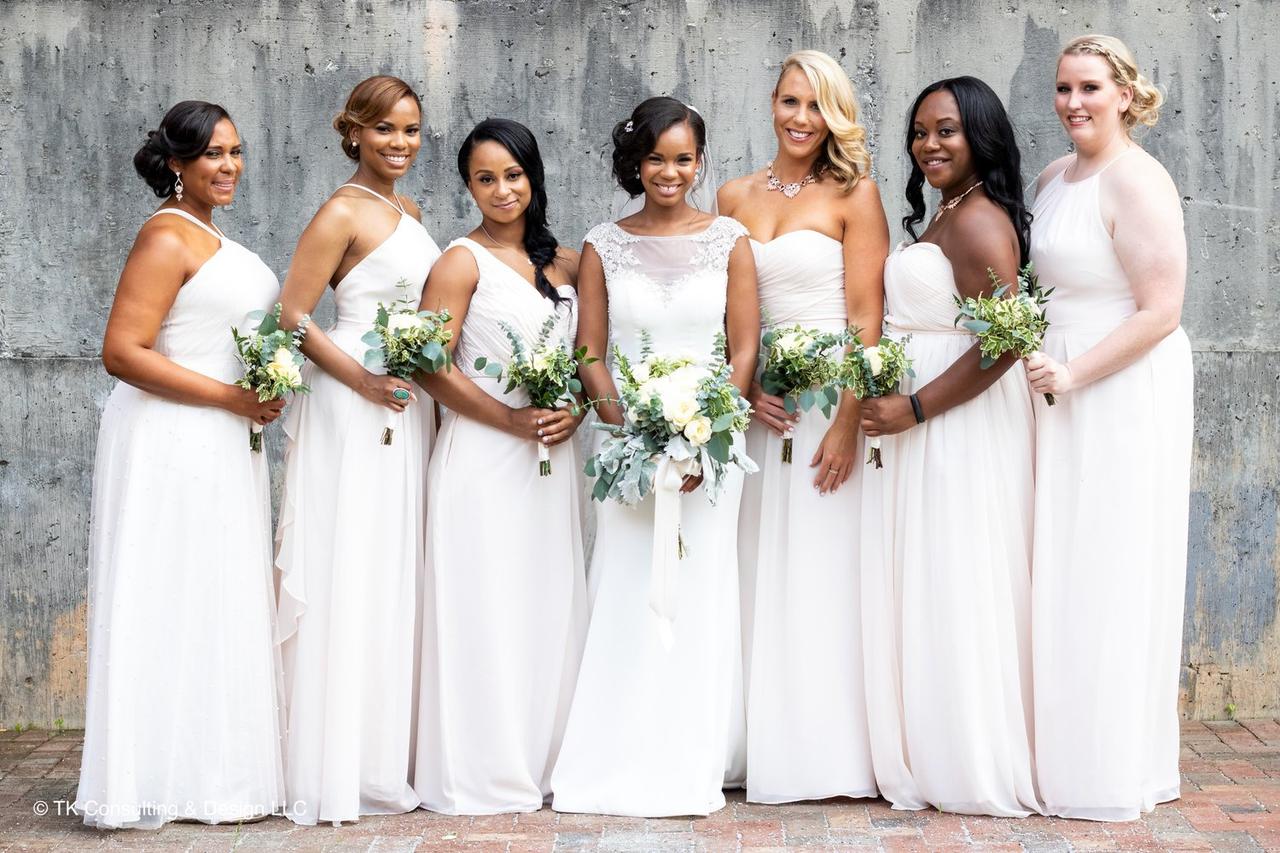 Mix-and-match
The bridesmaid hairstyles don't have to all match. If you're giving your 'maids the freedom to choose their own styles, provide some general guidelines, such as up, half-up, curled, to the side, etc.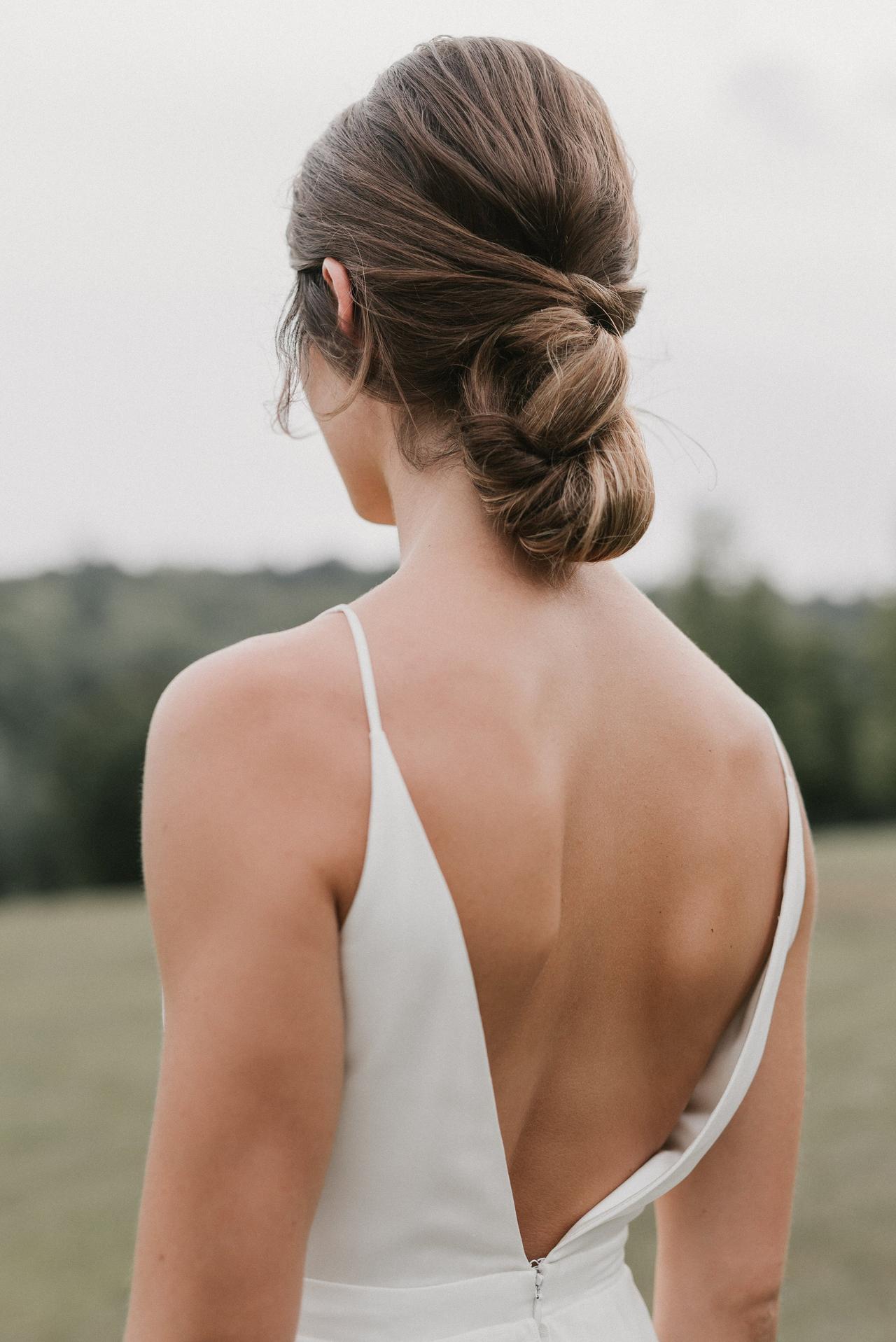 Low twisted bun
Here's a more modern take on the classic chignon. We think this chic bridesmaid hair idea would look incredible at a minimalist-themed wedding, especially if it's taking place during the summer and you want to keep your hair off your neck.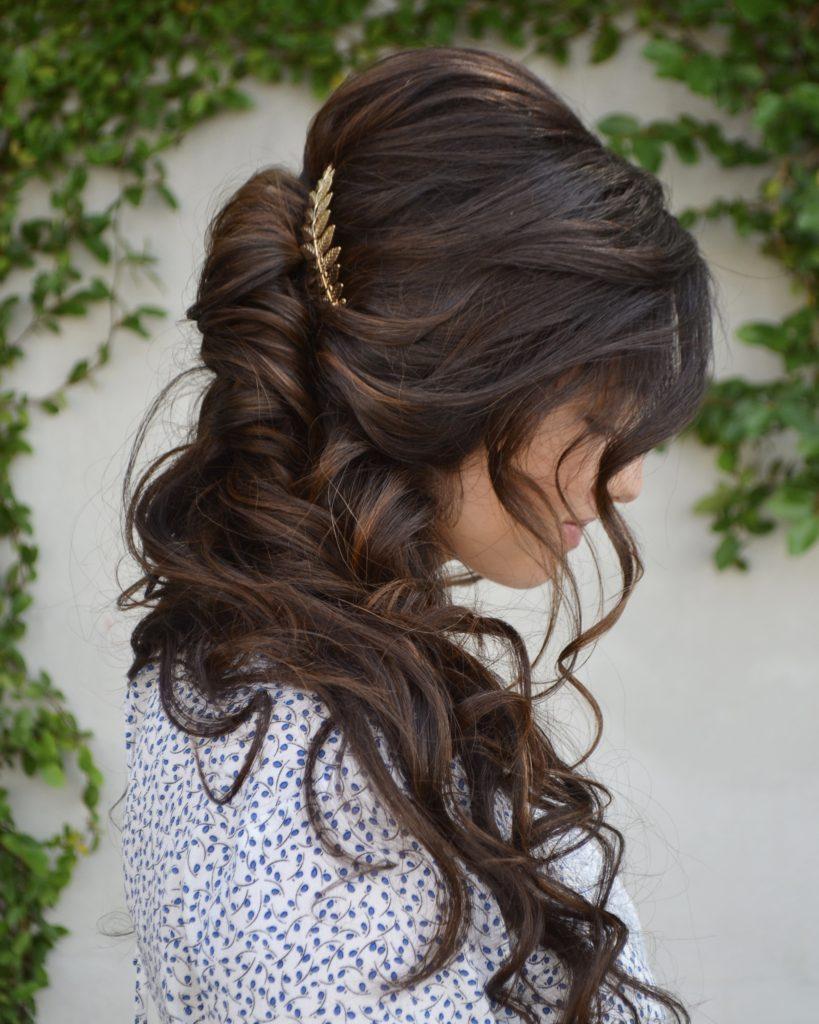 Teased half-updo
This half-up hairstyle has a little bit of everything: curls, volume, and a pretty accessory. If you're choosing your own hair accessory, this is your reminder to get it approved by the bride first! And alternatively, if you're the bride asking your 'maids to wear half-up styles, you can surprise them with special hair combs or barrettes.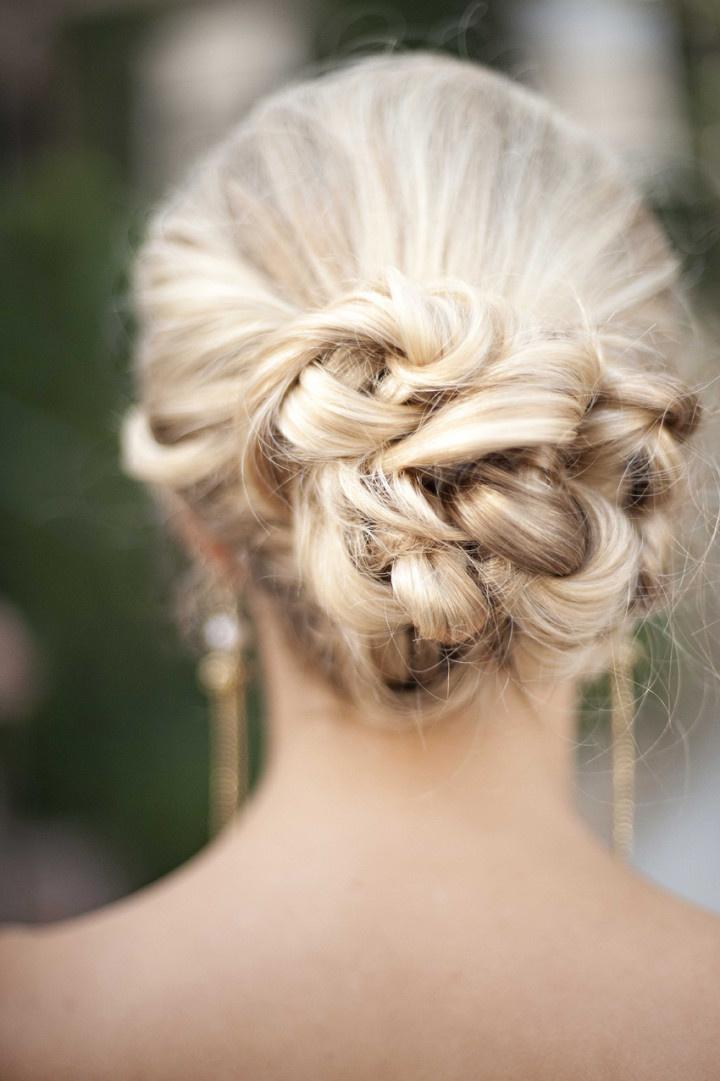 Low braided bun
Opt for a braided bridesmaid updo if you're looking for something that's in between formal and casual.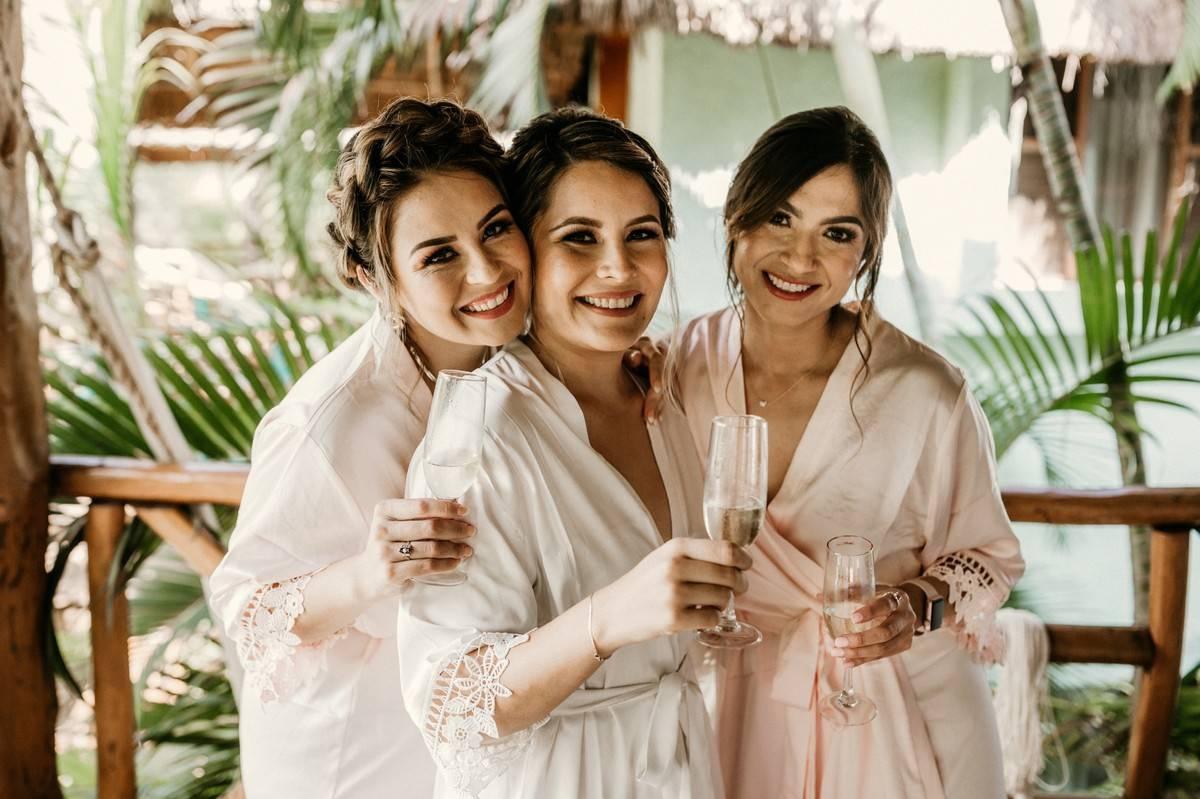 Milkmaid braid
Milkmaid braids, or crown braids, will give you a trendy, boho-chic hairstyle on the big day. They're ideal for keeping the hair out of your face but are also comfortable enough to last an entire day.
Crystal crowns
Whether you're going for mermaid vibes or looking for a wedding day energy boost, these crystal headbands are instant statement-makers. They'll quickly add a unique element to any down or half-up bridesmaid hairstyles.
Low textured ponytails
Your bridesmaids may need to get a little help from clip-in extensions for this look (we won't tell), but the end result is so worth it. An oversized, textured low ponytail will create a fashion-forward look, especially when you finish it off with a fancy gold cuff. Keep the front of the hair smooth and slicked back with a center part.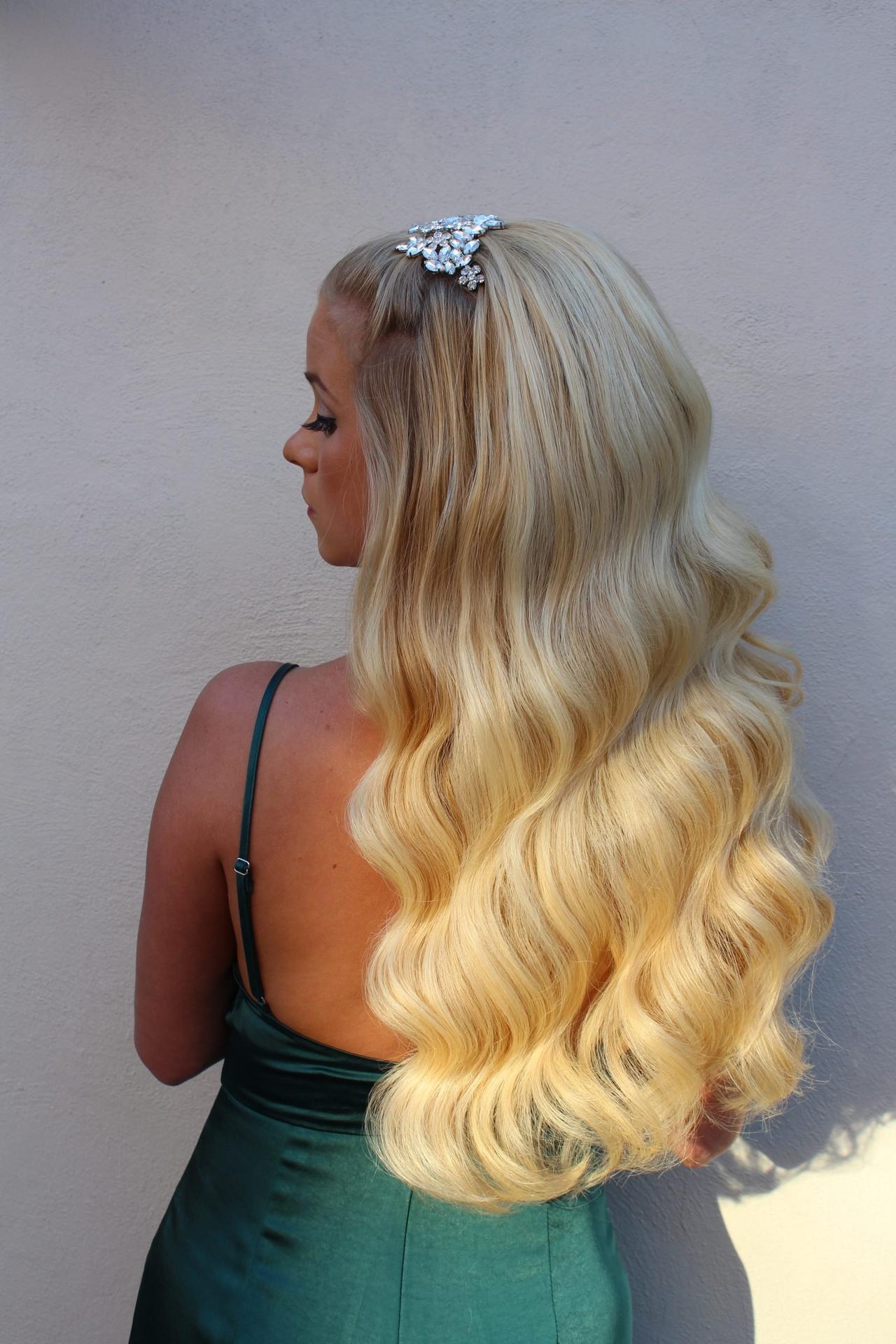 Retro waves
Channel your inner Hollywood siren with bouncy, retro S-waves. For this bridesmaid hairstyle, the curls should all be made in the same direction (toward your face) and then gently brushed out after cooling.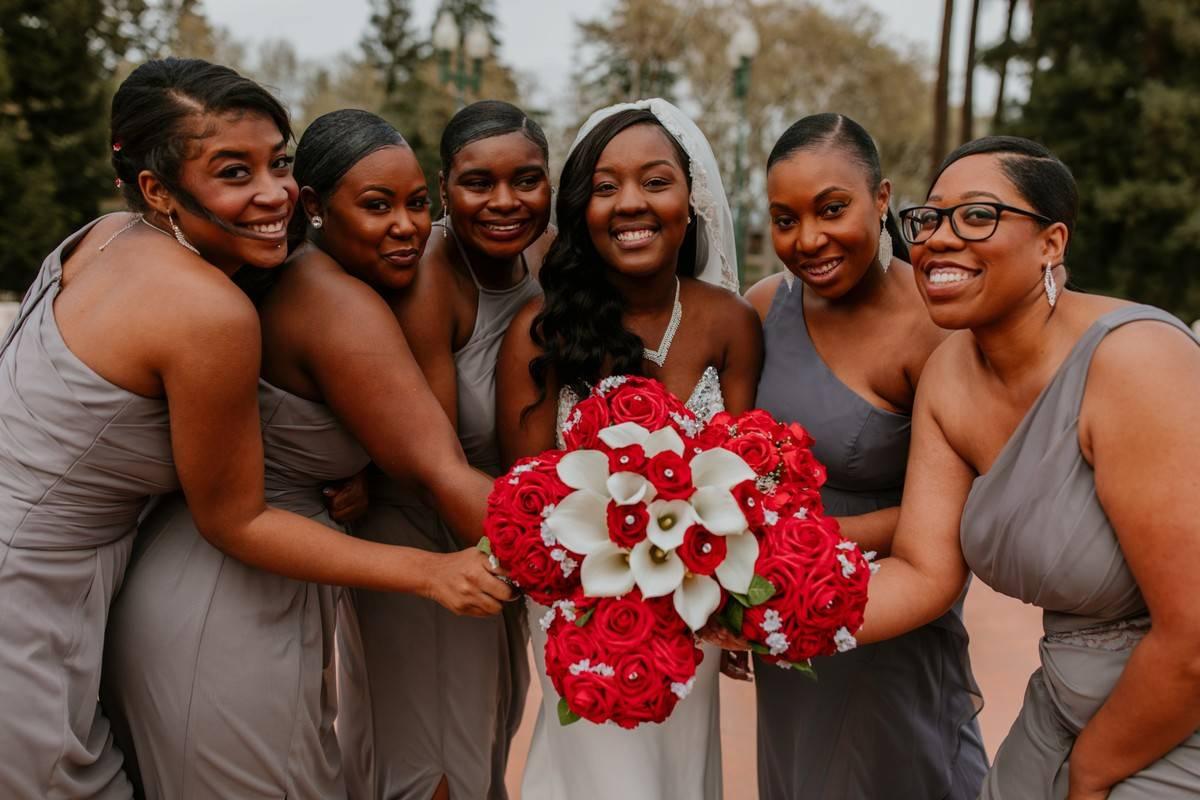 Sleek side parts
For a no-fuss look, part your hair on the side and pull it into a low ponytail or bun. This easy, versatile bridesmaid hair idea works for nearly any dress code and season.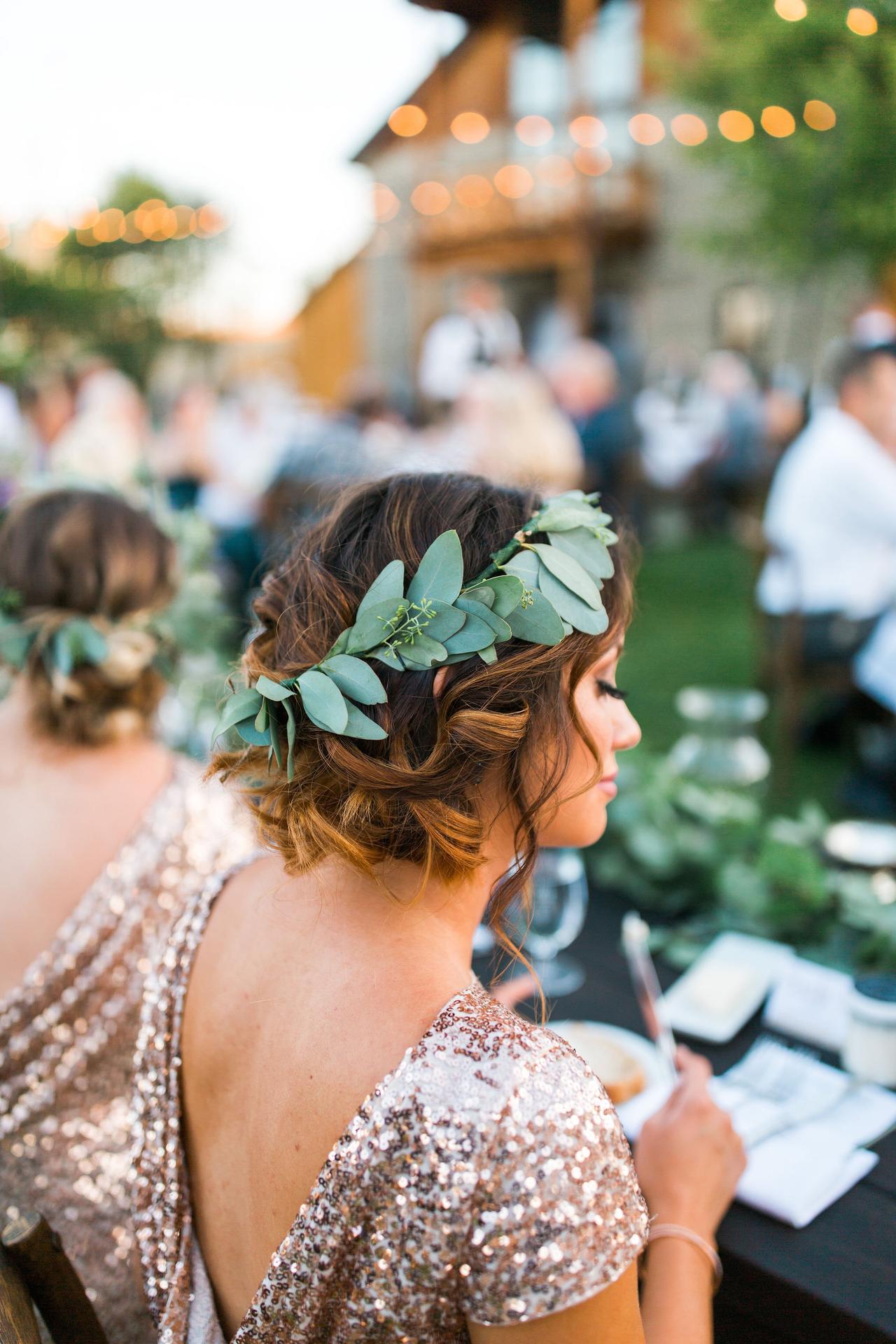 Greenery crown
This romantic and bohemian bridesmaid updo is a gorgeous option for anyone with longer locks. The Grecian-inspired style would be stunning at a vineyard venue, barn reception, or even worn with sequins (as seen in this photo) for slightly more formal events.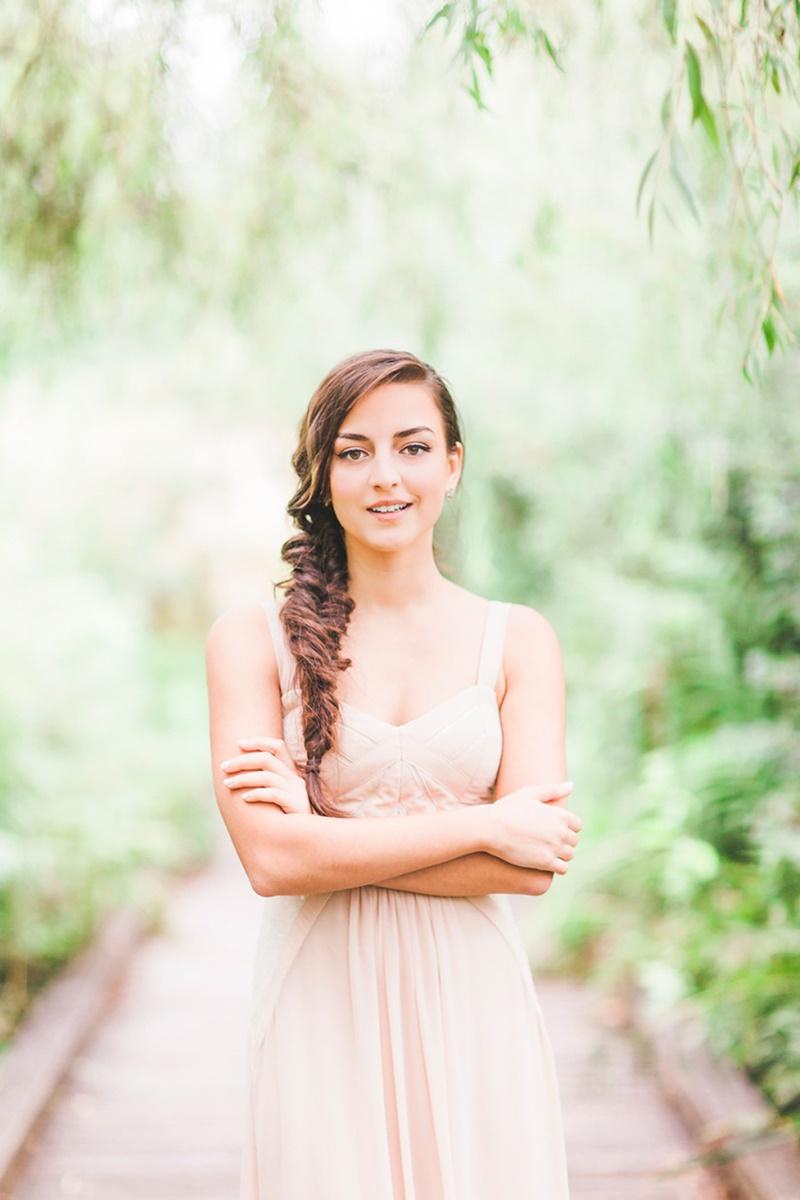 Fishtail braid
Keep super-long strands neat and tidy by styling them into a side fishtail braid. We love this bridesmaid hairstyle best when it's a little messy and slightly undone for that perfectly lived-in look.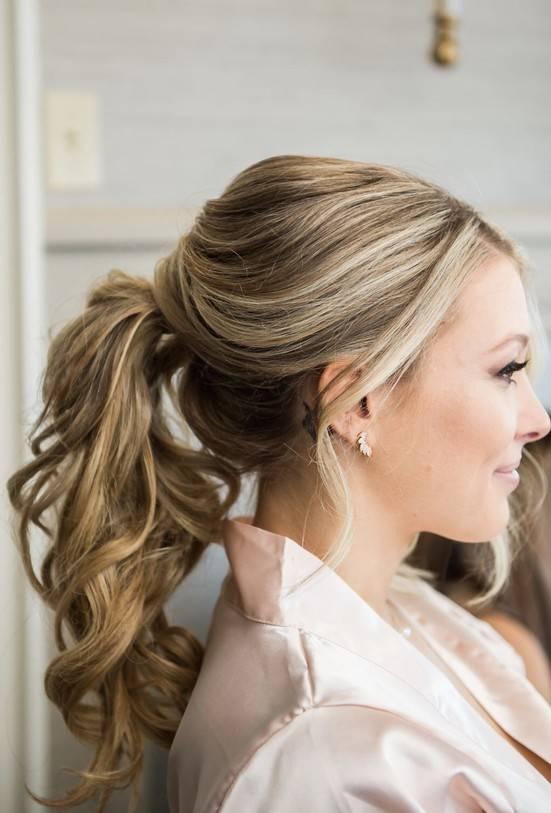 Curly ponytail
This playful hairstyle would be fun for a backyard wedding or other type of outdoor celebration. Make it stand out from your everyday ponytail by teasing the roots and curling the loose ends.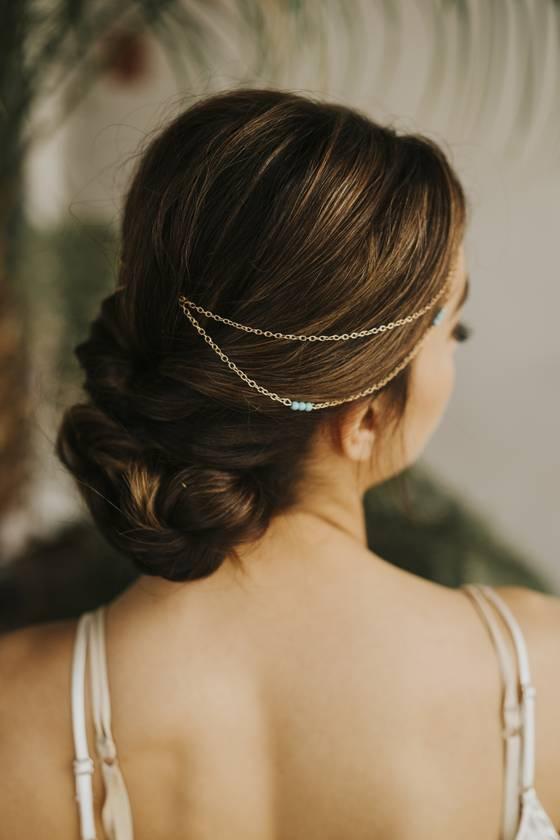 Head chain
If the usual barrettes, combs, and headbands aren't your style, try a decorative head chain instead. This dainty wedding hair accessory will give your bridesmaid hairstyle an artsy, free-spirited flair—and the best part is that it can be worn with updos, half-up styles, or with your hair down.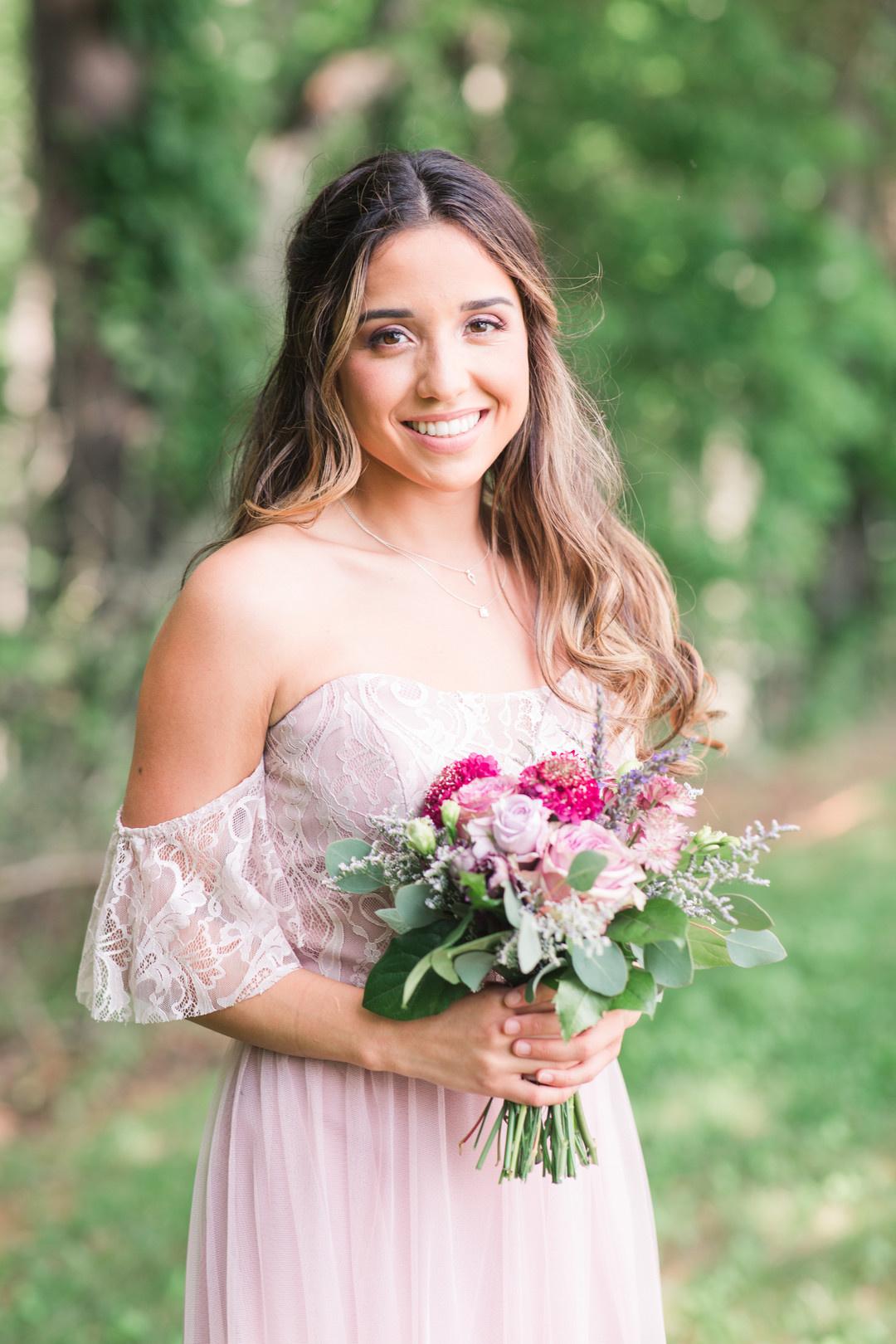 Hair by Bloom Salon
Loosely pulled back
Keep it sweet and simple by pulling back only a few strands on either side of your face and pinning them out of the way.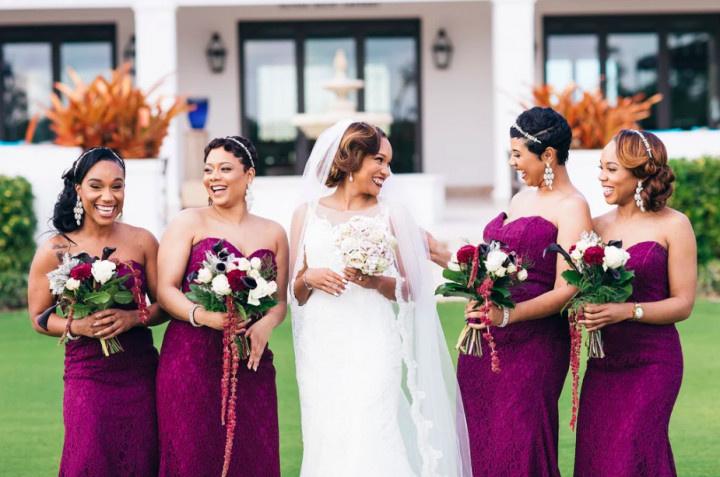 Beaded headbands
For a glam wedding theme, jeweled and beaded headbands are a must-have accessory. Pair your headband with curls and a fabulous set of earrings to get ready for your red carpet moment.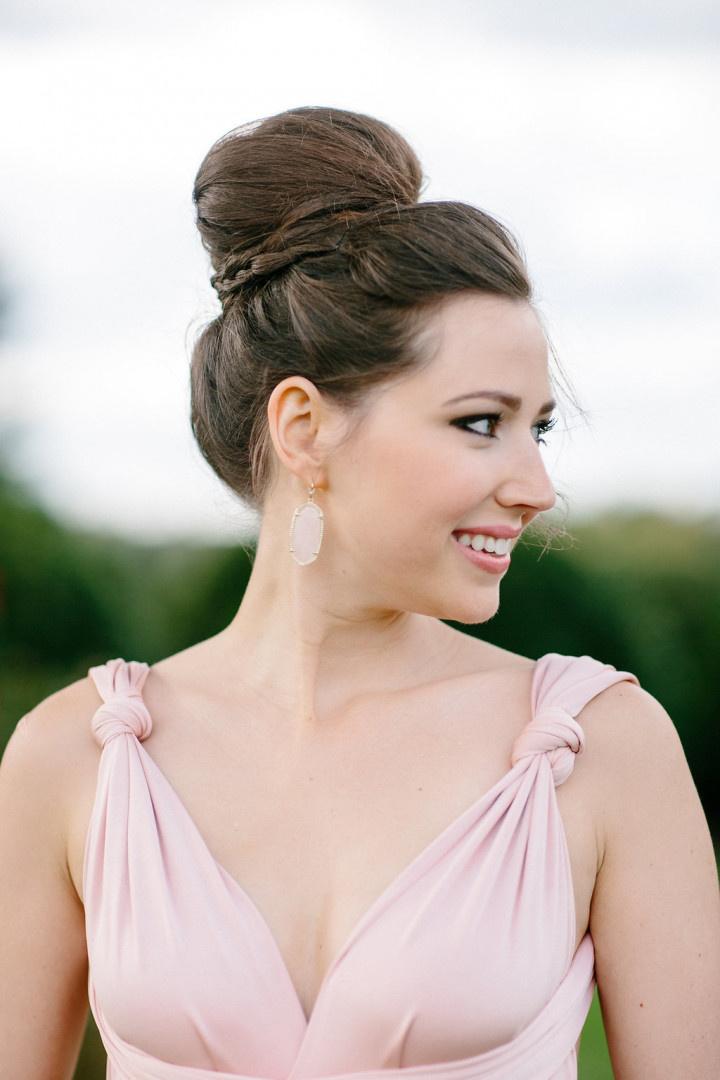 Topknot bun
Bare your shoulders and décolletage by styling hair into a bun at the very top of your head. You can wrap a mini braid or two around the base of the bun for extra finesse, but this eye-catching style speaks for itself.