13 Creative Wedding Place Card Ideas
Looking for an unexpected way to help your wedding guests find their seats? We've rounded up more than a dozen of our favorite wedding place card ideas to try.
Wedding place card ideas are sometimes overlooked until the last minute, but if you ever needed proof that they deserve a second thought, we've got plenty. Not to be confused with escort cards and seating charts, which direct guests their table assignments, place cards are displayed at each guest's seat. They're an optional but fun add-on to your wedding reception decor, and can really help to tie your tablescapes together by providing just the right finishing touch. Gone are the days of plain paper place cards — couples are getting creative and using these small details to showcase their personalities through unexpected trinkets, take-home mementos, and more. Sometimes, it's the little things that count the most!
Check out some of our favorite creative wedding place card ideas.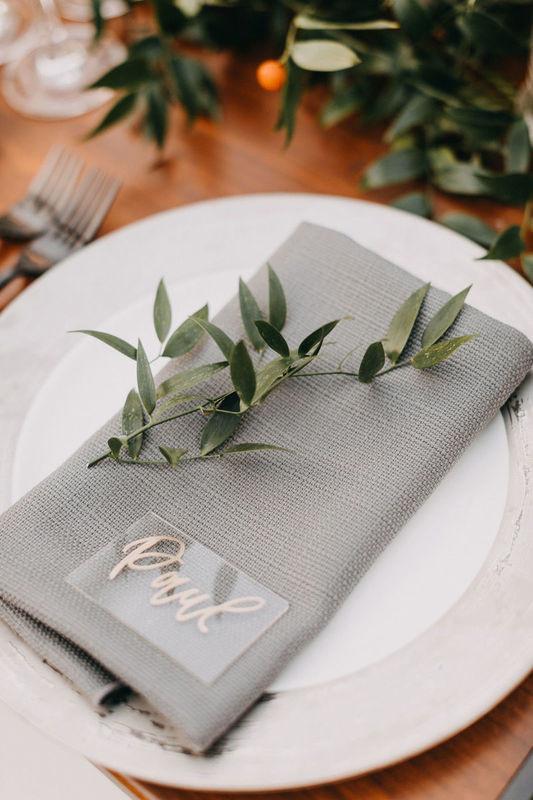 Acrylic Pieces
For the minimalist couple, there's nothing more fitting than clear acrylic place cards. A translucent rectangle with a touch of calligraphy is sleek, modern and unimposing if you love barely-there details.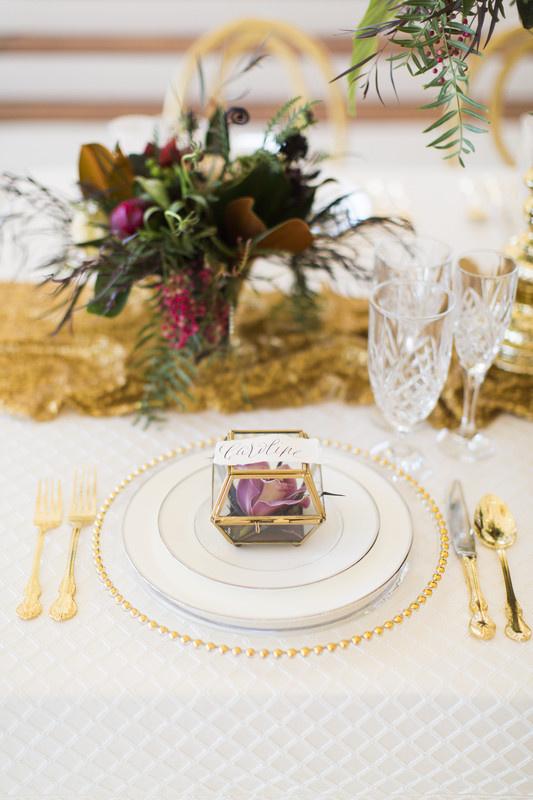 Trinket Boxes
Small trinket boxes are the perfect way to spruce up your classic calligraphy place cards. Tuck a surprise inside for each guest — this glass box holds a single flower, but you could use a variety of miniature treats or items.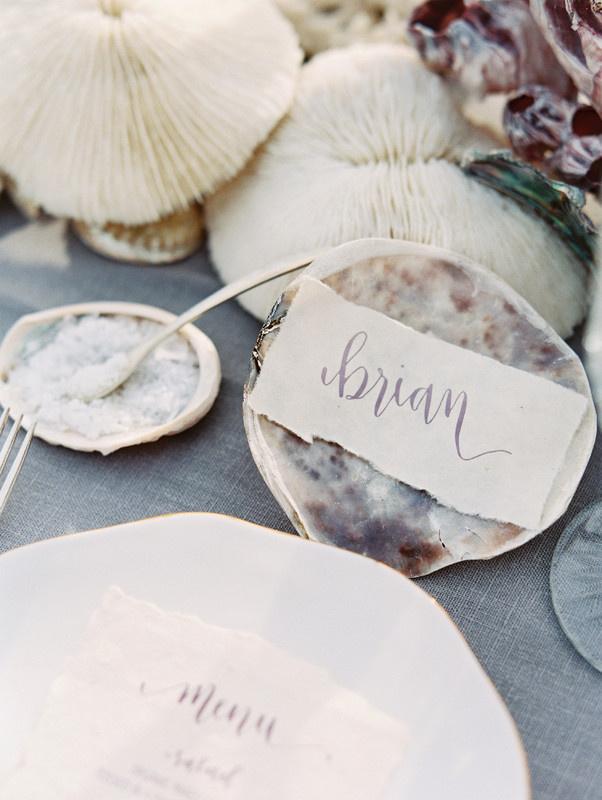 Agate Stones
Agate stones make excellent wedding place cards if you're having a bohemian, nature-inspired or beach theme. Depending on the type of stones used, your calligrapher can write the guests' names directly onto the rocks or create more contrast by using the agate pieces as a backdrop for paper or fabric.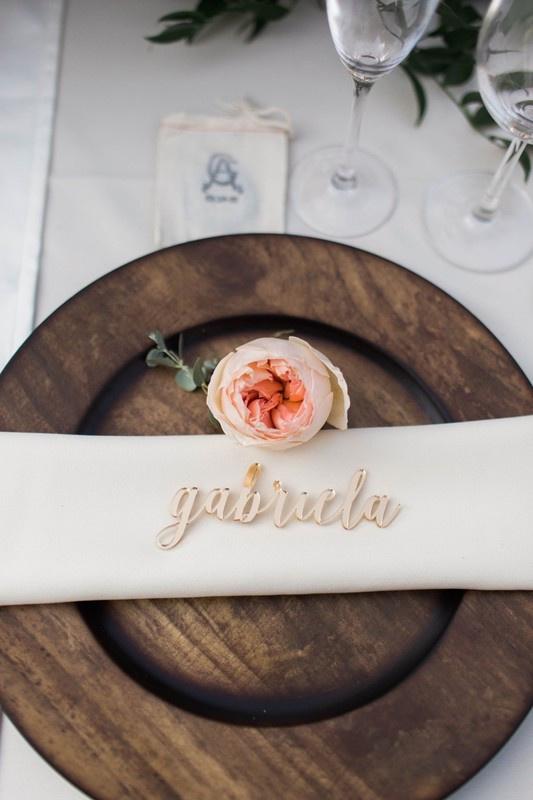 Laser Cutouts
Laser cutouts are one of the trendiest and most popular wedding place card ideas — not just because they look cool, but because of their versatility. Laser cutouts can be personalized in a number of colors and materials, from natural wood to rose gold acrylic. The best part: this type of place card doubles as a unique keepsake for guests after the wedding is over.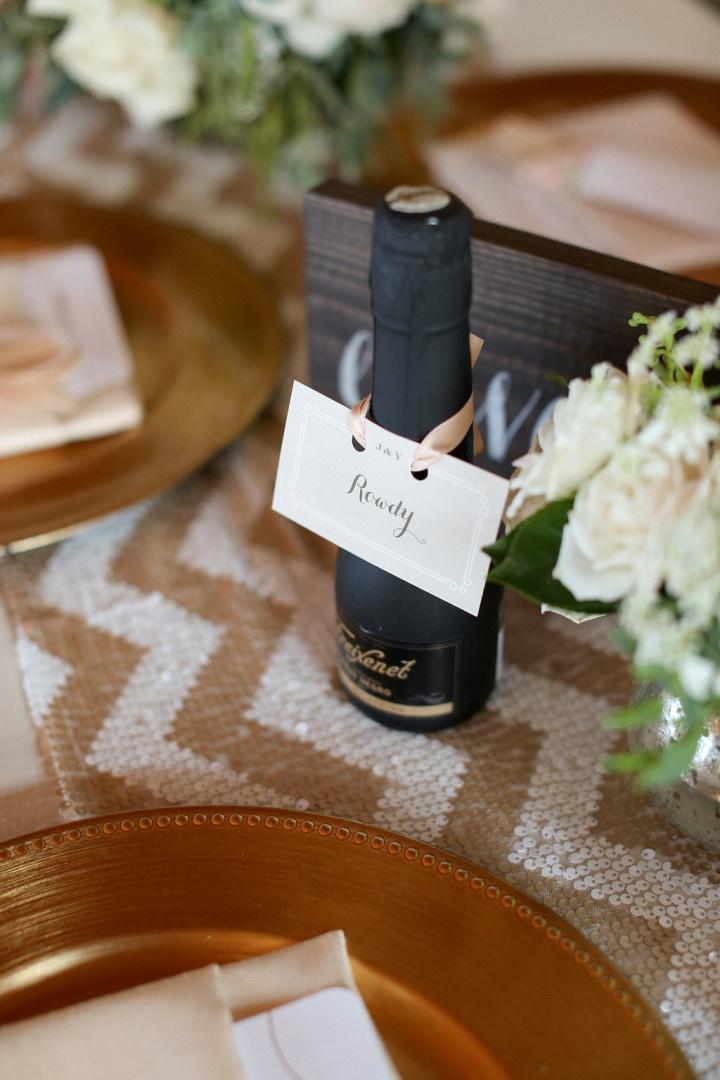 Miniature Champagne Bottles
Pop the bubbly! Use mini champagne bottles as wedding place cards so your guests can continue the celebration after the reception is over. For anyone underage or for guests who don't drink alcohol, you could use sparkling water, artisanal lemonade, fruit juice, and more. Presentation is key here — look for beverages with cute branding or packaging.

Painted Leaves
Whether you're getting married in a botanical greenhouse or on a tropical beach dotted with palm trees, leaves can work beautifully as place cards that reflect the surroundings of your wedding venue.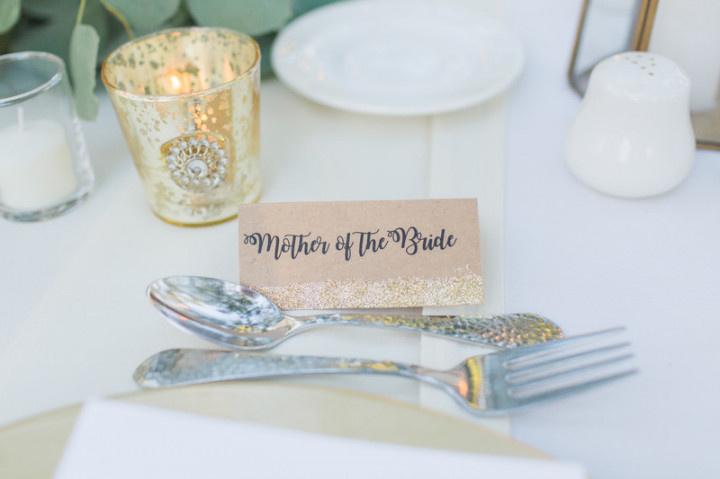 Glitter Cardstock
Dress up the ordinary card stock place cards with a band of glitter along the bottom. We love this idea if you're using metallic colors in the rest of your decor, or if you're looking for ways to add extra sparkle to your tabletop.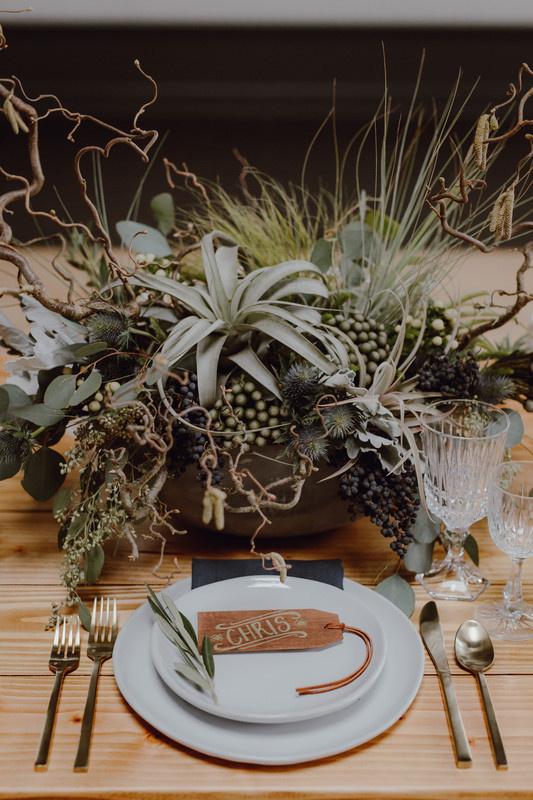 Wooden Tags
This idea is our top pick for rustic couples who love farmhouse wedding style. Update a simple balsa wood tag with modern hand-lettering and a tassel to recreate this farm-to-table look. Add greenery, classic china, and voilà!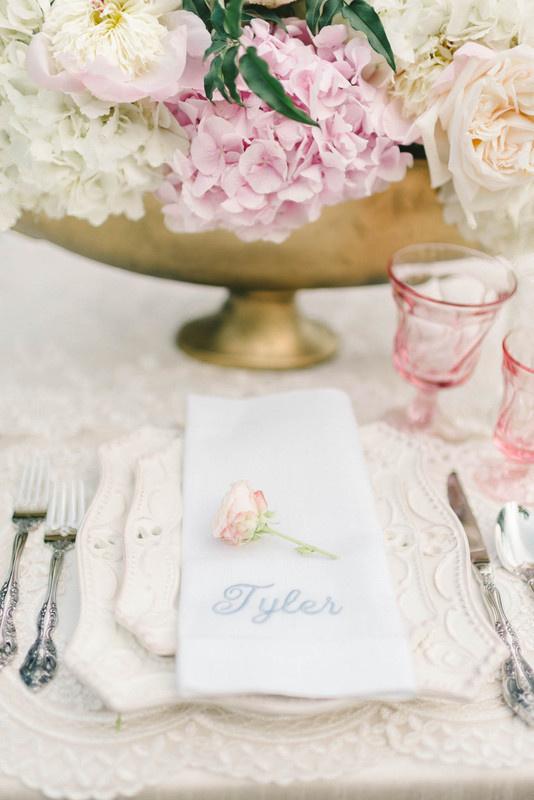 Embroidered Napkins
Hosting a garden party wedding? Embroidered napkins are an elegant option for wedding place cards if you love vintage and shabby chic style. Complete the look with a single spray rose at each place setting for an oh-so-sweet touch.
Sunglasses
We're not telling you to buy each guest a pair of designer sunglasses (unless you want to, of course!), but we love the idea behind this. Sunglasses decorated with name tags are stylish alternatives to traditional wedding place cards, and they make for fun wedding photo props! You could splurge on expensive shades if you have a very small guest list, or recreate this idea using budget-friendly options for larger groups.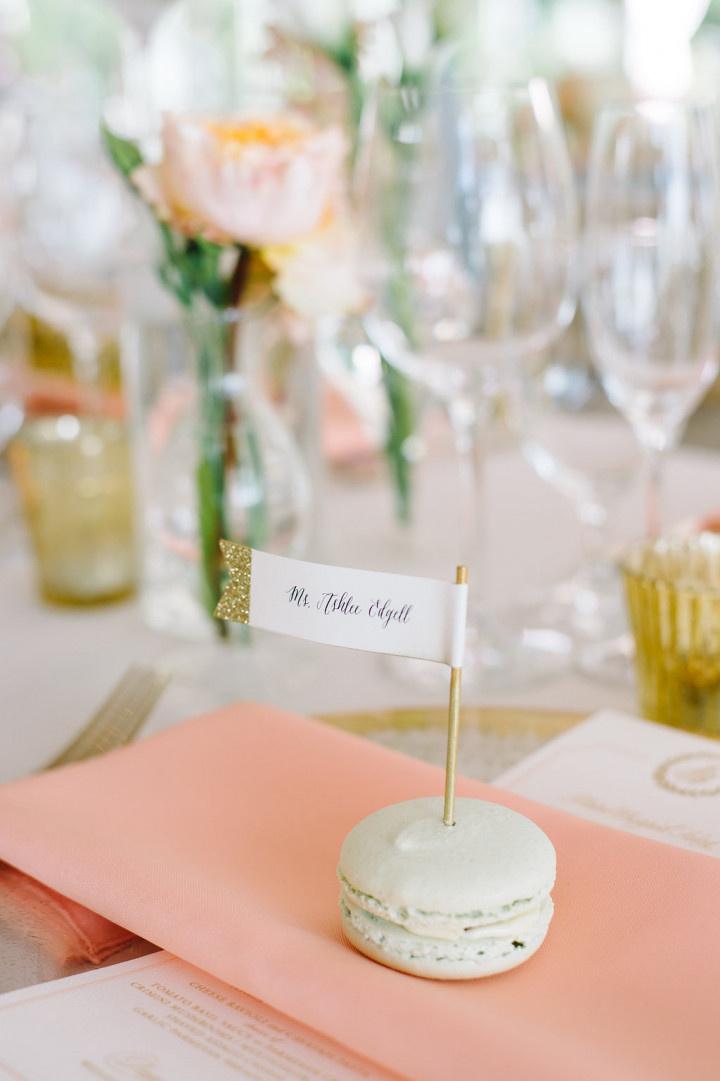 Macarons
Who can resist a sweet treat like this? Macarons are one of our favorite wedding place card ideas if you're looking for a fun yet classic option. This idea would also be cute for a bridal shower or engagement party!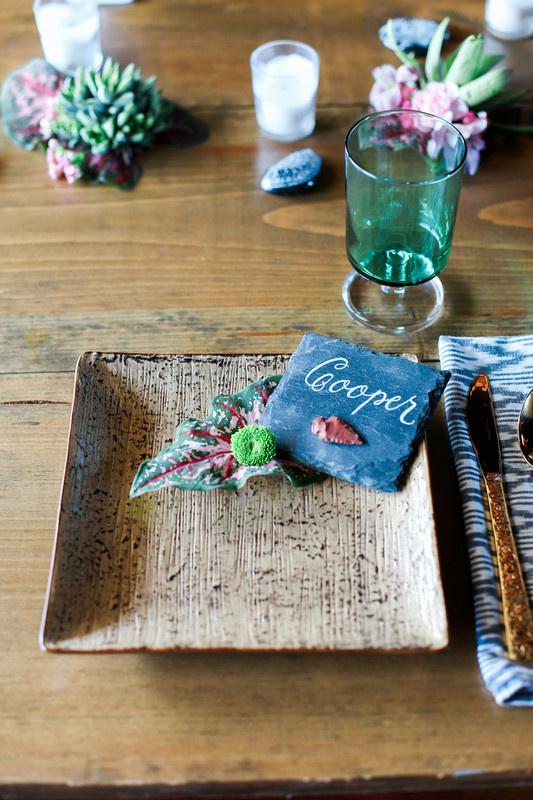 Slate Tiles
This slate tile place card is giving us artsy, free-spirited wedding vibes. We envision these place cards at a botanical-themed wedding filled with natural elements like crystals, raw edge rocks, potted plants, and wood details. You should be able to easily find stone tiles at most home improvement stores or a local garden center.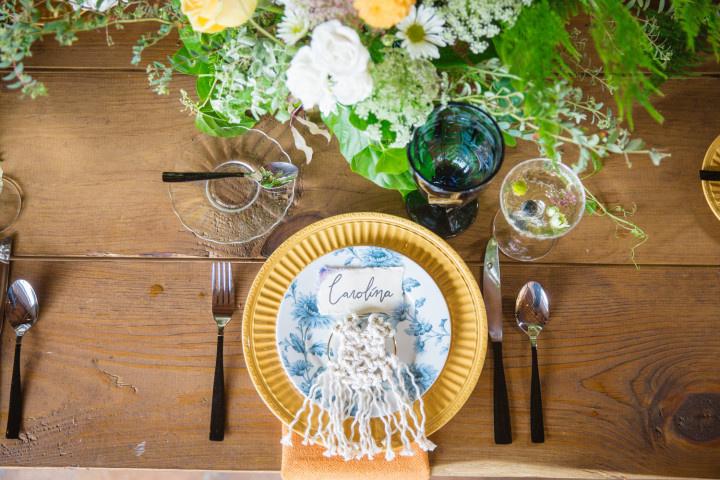 Macramé Hoops
Macramé decor is ruling the boho wedding scene right now. Go for a hippie chic look by pairing your wedding place cards with miniature macrame hoops — what guest wouldn't want to take this custom creation home?