31 Non-Traditional Wedding Table Numbers to Fall in Love With
Surprise your guests with unique wedding table numbers! Here is our complete list covering rustic, acrylic & glittery options for your table numbers ideas.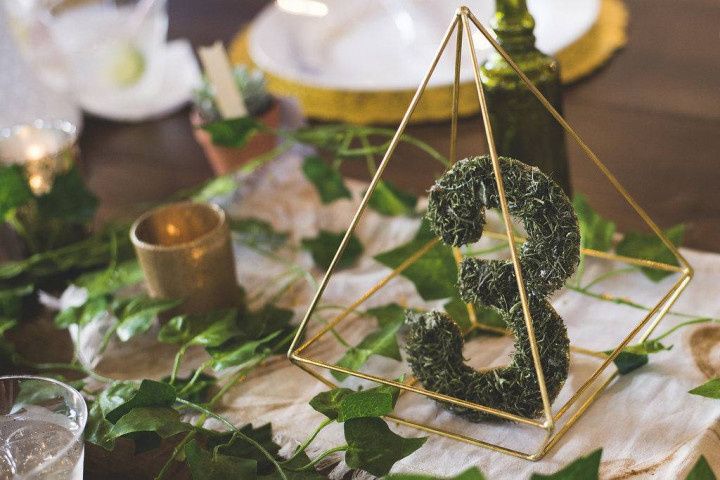 Whether you're going for a traditional or modern vibe, formal or casual, there are lots of ways to make your wedding décor stand out. Unique wedding table number ideas are a great way to add flair to your big day and create reception details that your guests will totally remember. If you've decided to give your tables numbers (instead of names), these wedding table number ideas are definitely worth checking out.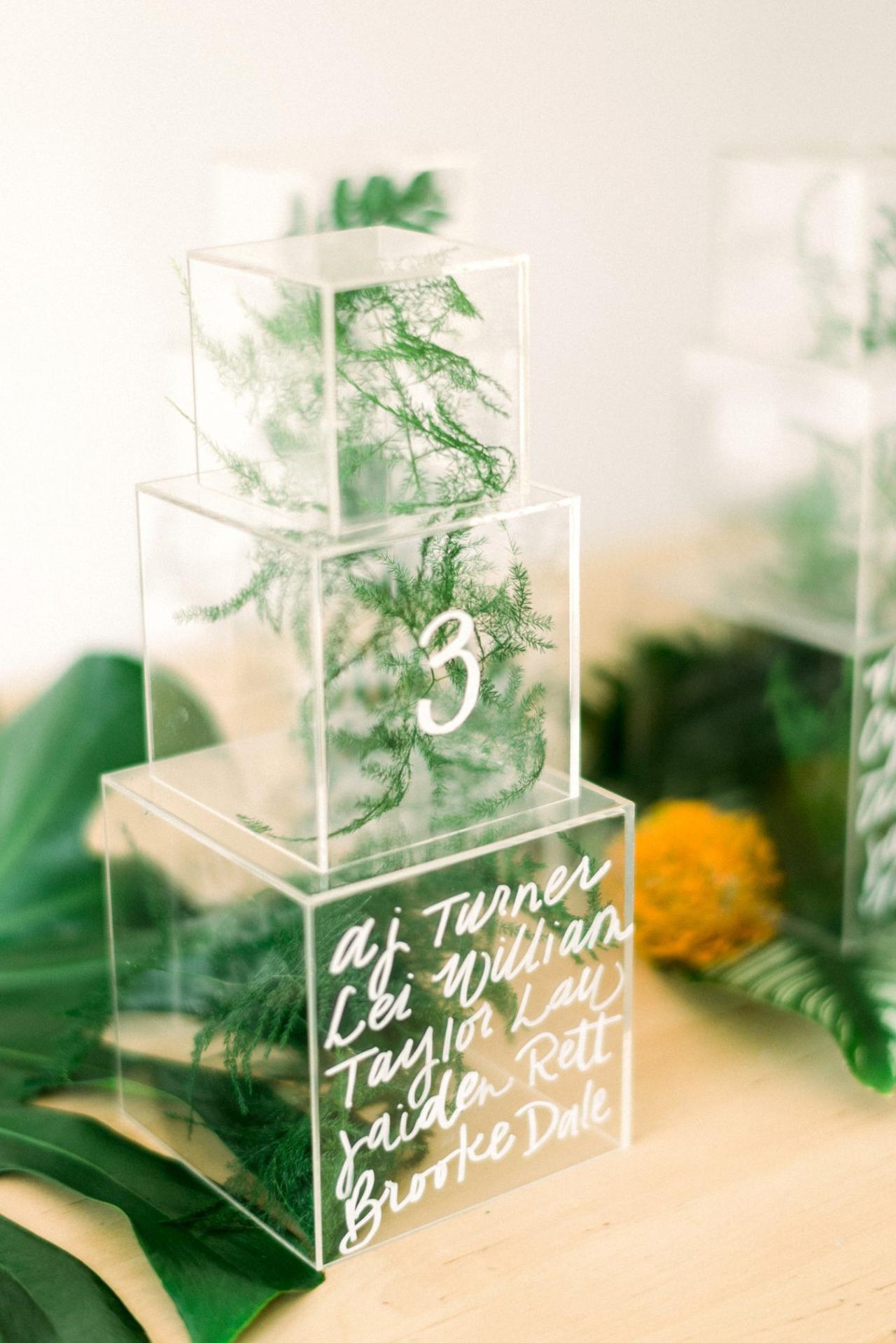 Acrylic Boxes
We love the minimalist vibe that acrylic can provide. Stack different sized acrylic boxes on each table, with the table number and guest names written in white calligraphy on the front. Put some greenery inside for an added touch!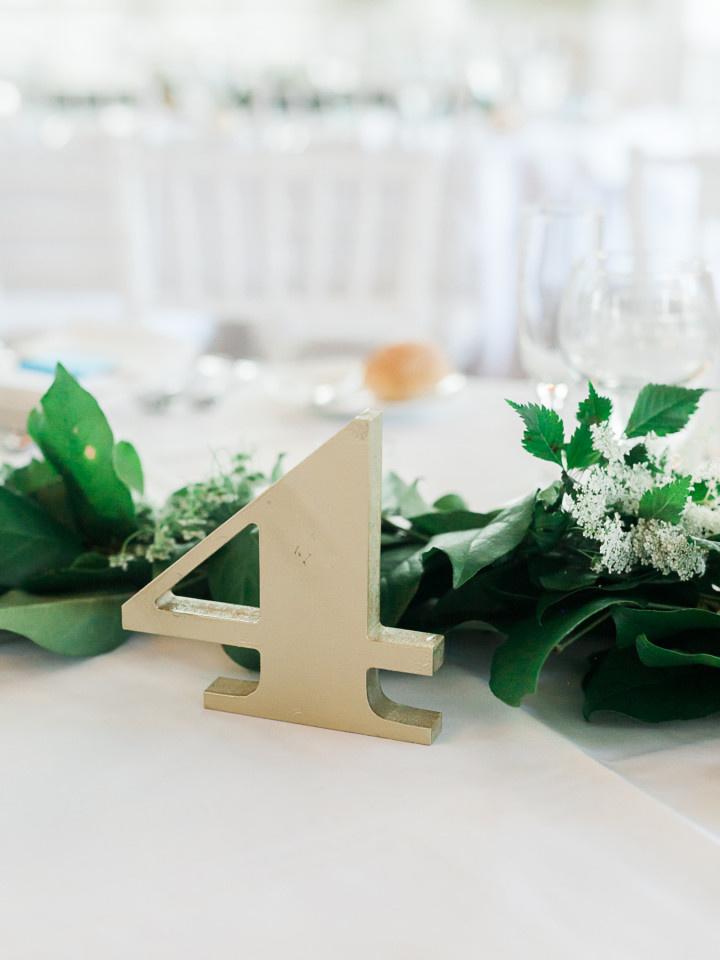 Address Numbers
Address numbers are not just for your house—they also make super-contemporary wedding table number ideas. Prop them against centerpieces or hang the on the backs of head chairs.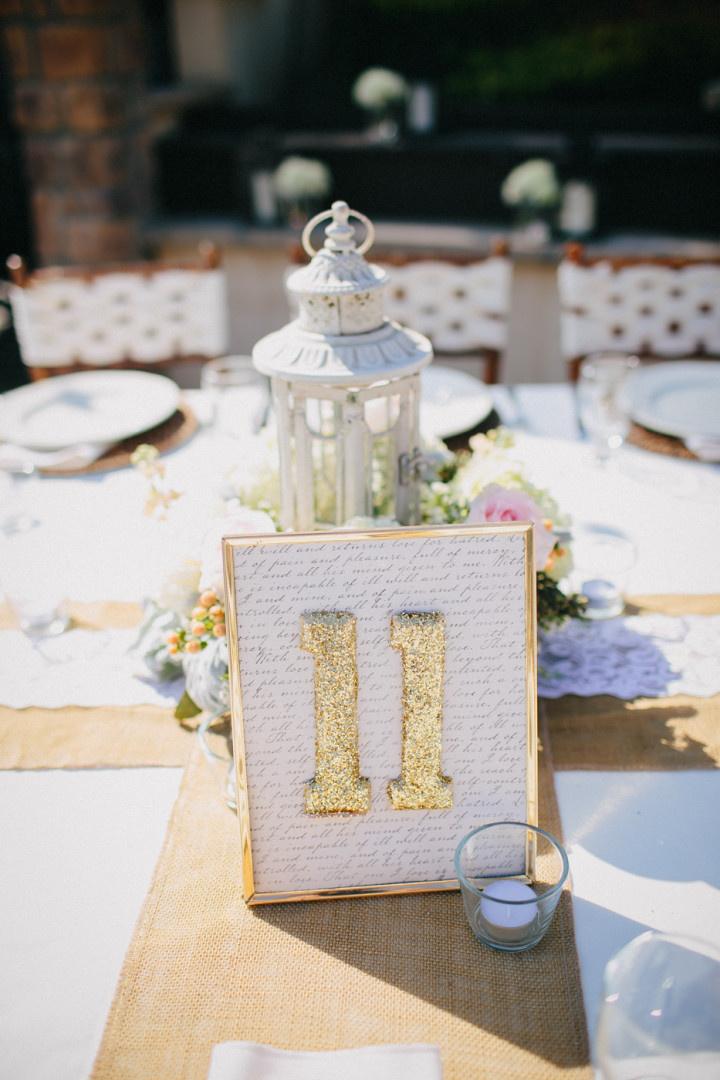 Glitter
We love this shabby chic wedding table number idea. Bring a little bling to the table with glitzy gold numbers.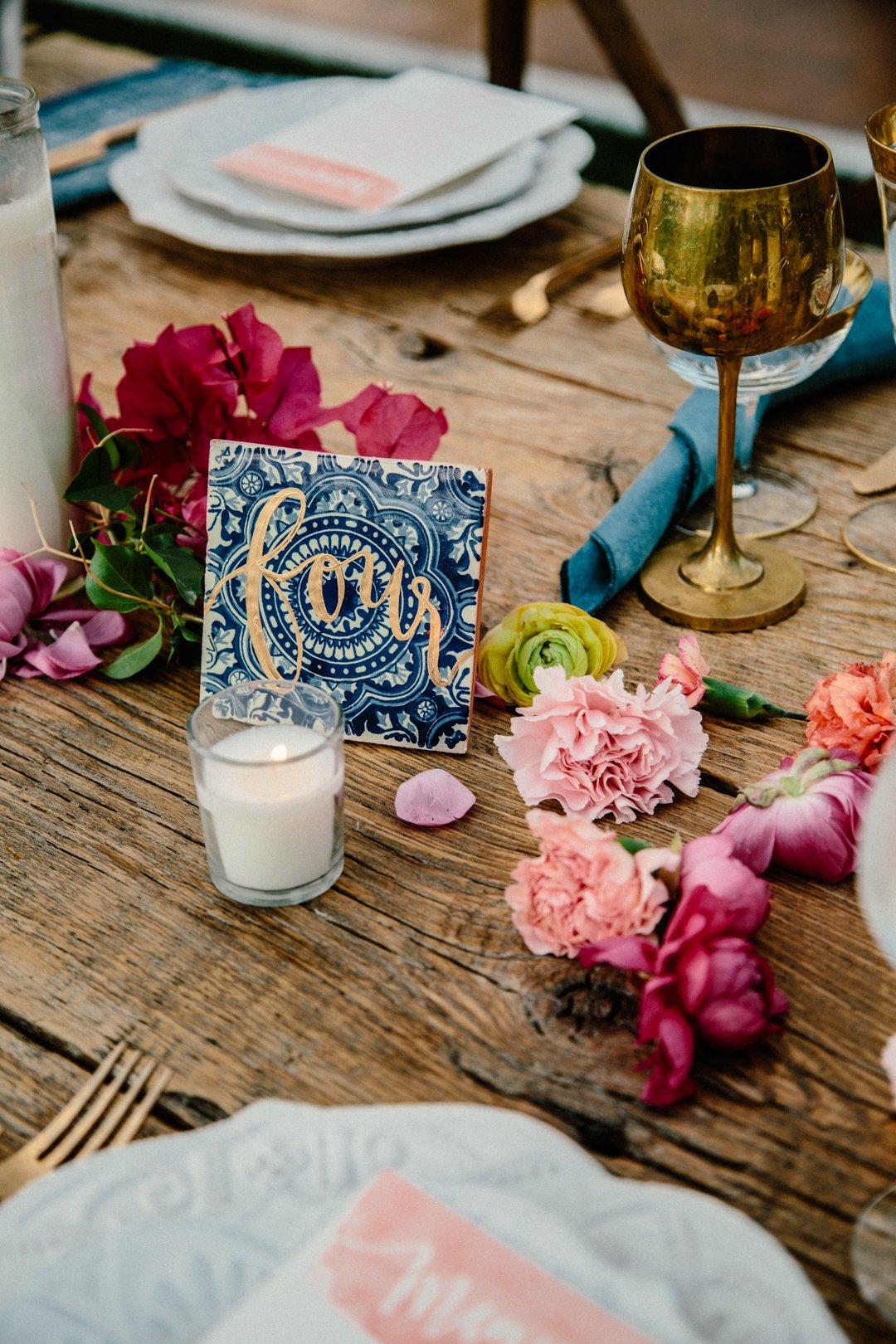 Talavera Tiles
Mexican Talavera ceramic tiles provide a fun, bold wedding table number idea that will add flair your tablescape and will catch every guest's eye.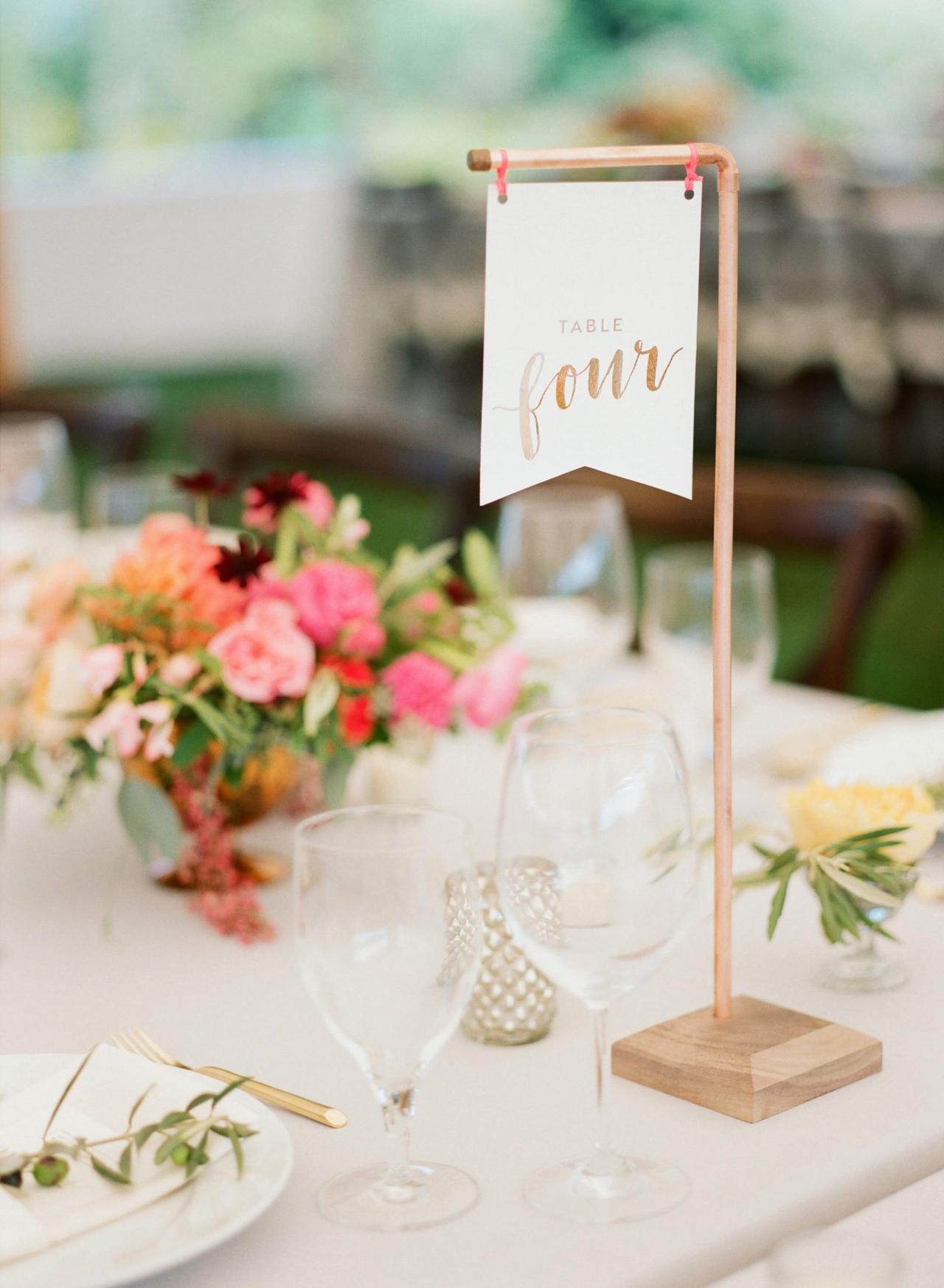 Flag and Stand
Hang adorable table number flags from metallic stands that complement your wedding color scheme. Your numbers will stand tall and help guests easily find their assigned table.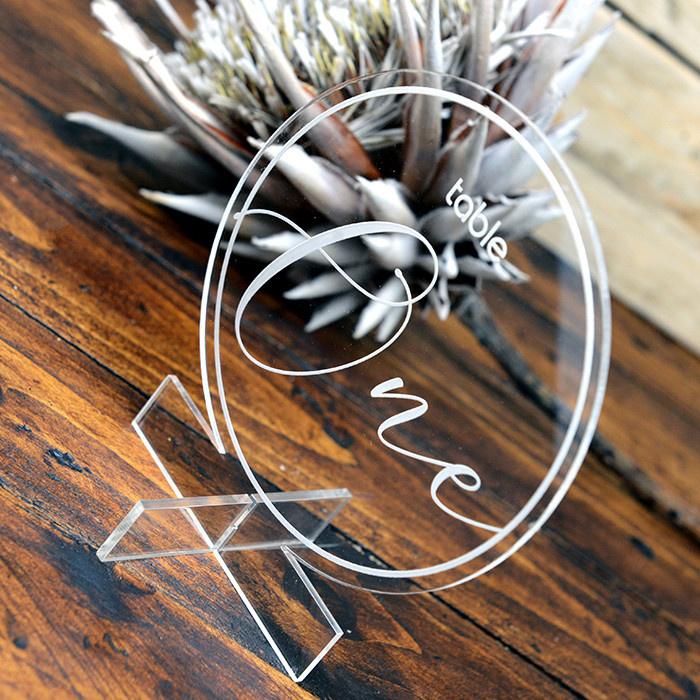 Acrylic Circles
Clear acrylic circles with calligraphy writing provide a clean and simple design as well as an urban feel to your table.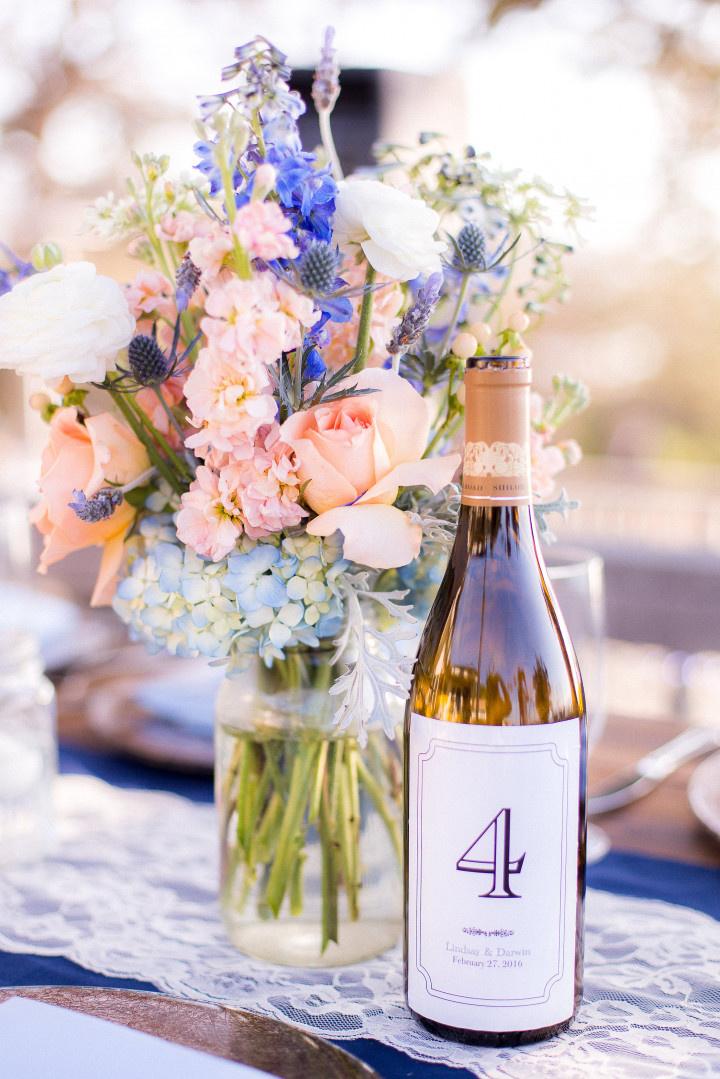 Bottles
Transform recycled glass bottles with a little paint and some custom labels for a great wedding table number idea for a vineyard or winery event.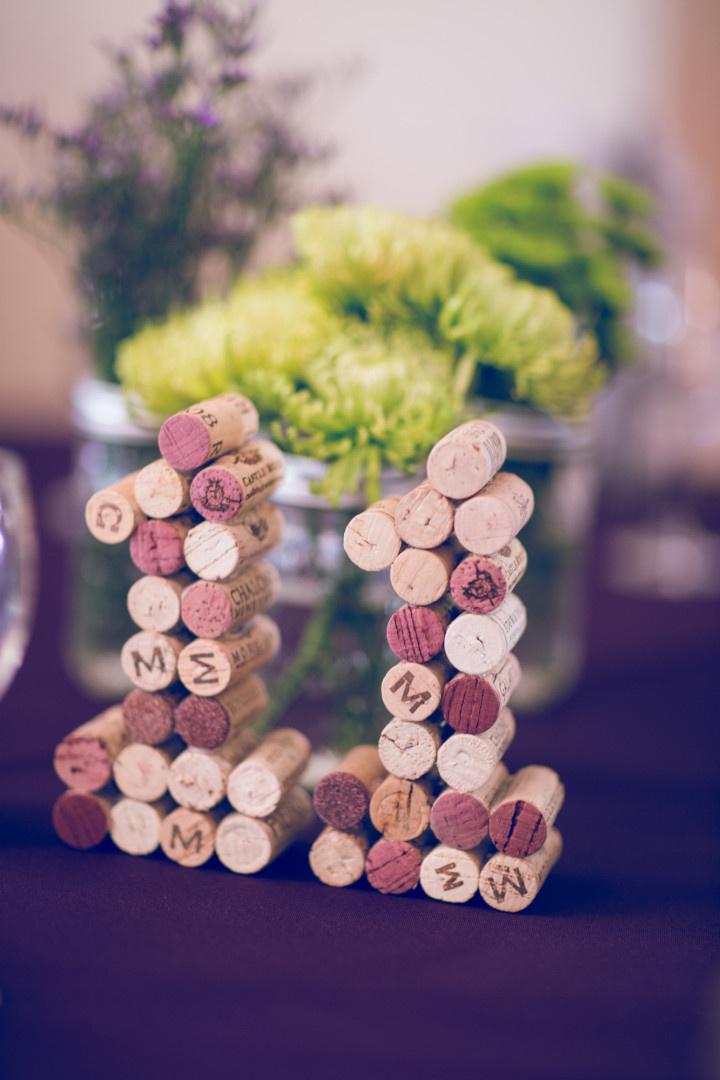 Wine Corks
Another wine-inspired wedding table number idea: table numbers made of corks!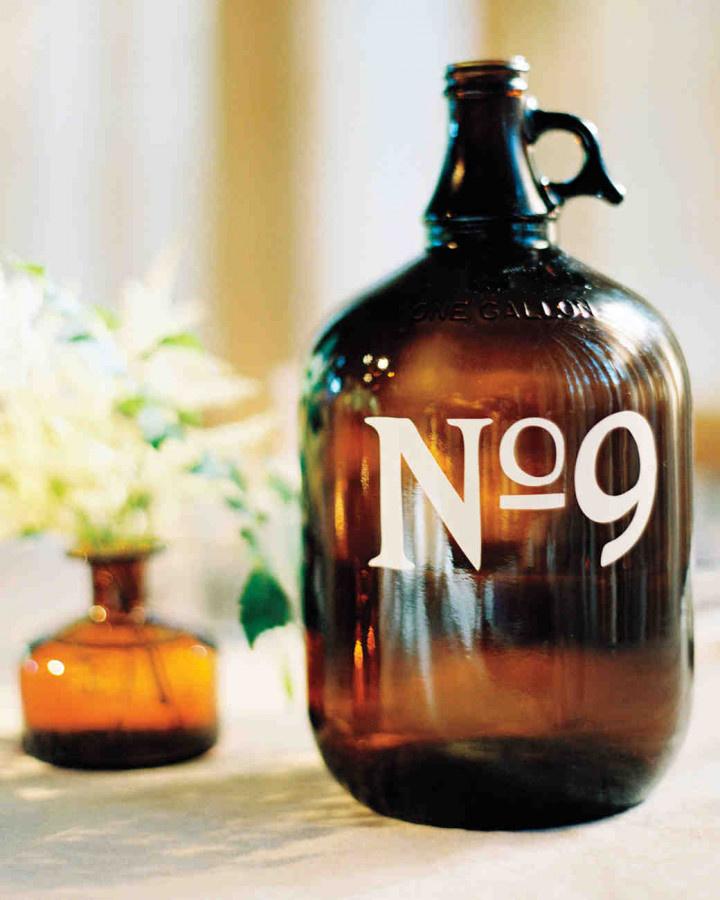 Beer Growlers
Whether you are an oenophile or a beer lover, use growlers to display your table numbers. Light colored numbers will pop on any bottle or growler.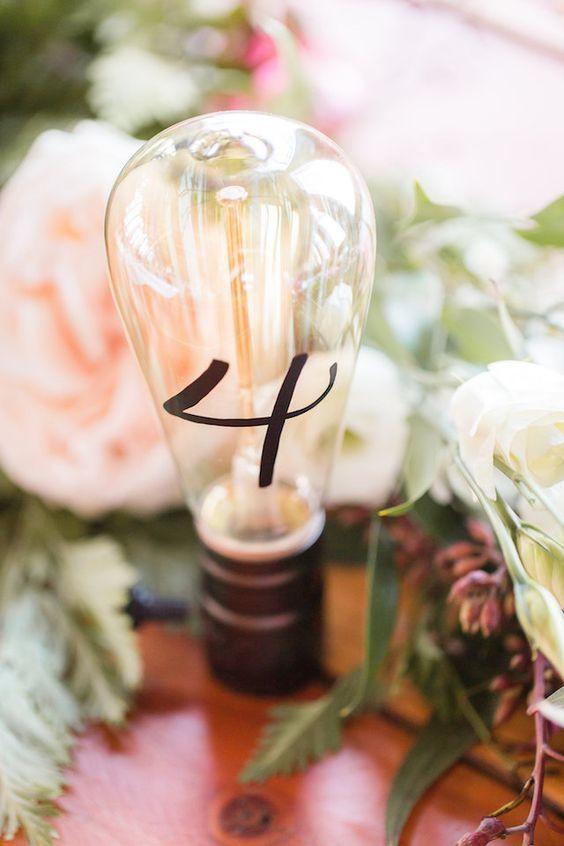 Light Bulb
If you want to add an industrial flair to your wedding, use an Edison light bulb as your table number. Have it light up to add ambiance to your reception as the sun goes down.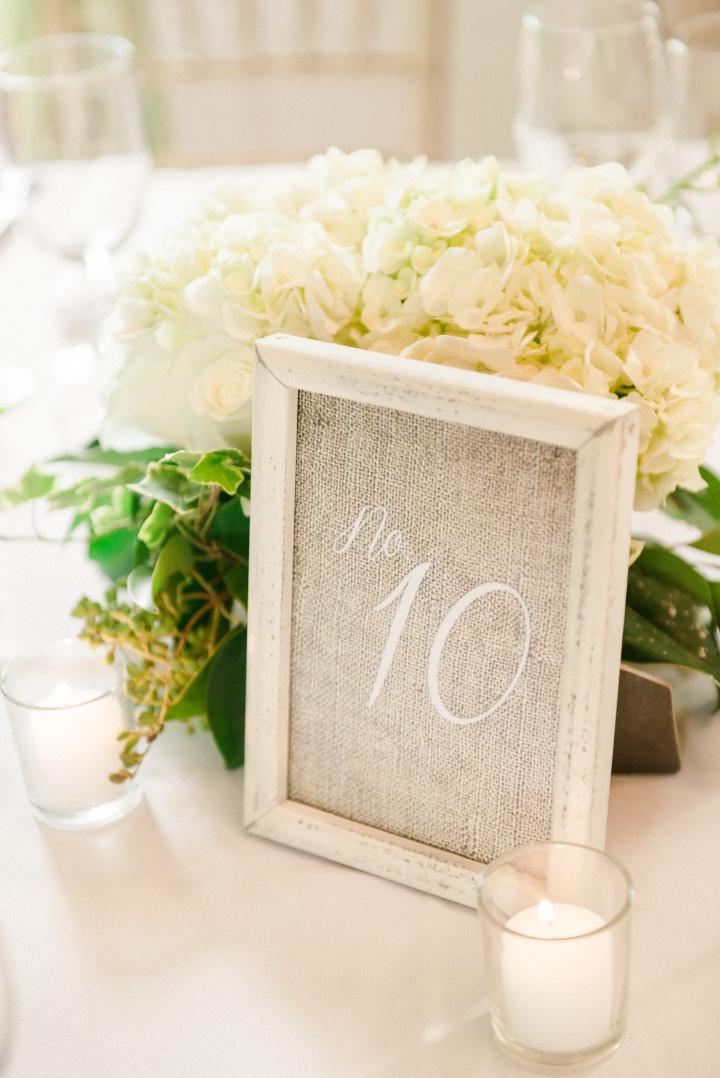 Burlap
This rustic fabric goes upscale with a frame and gorgeous calligraphy.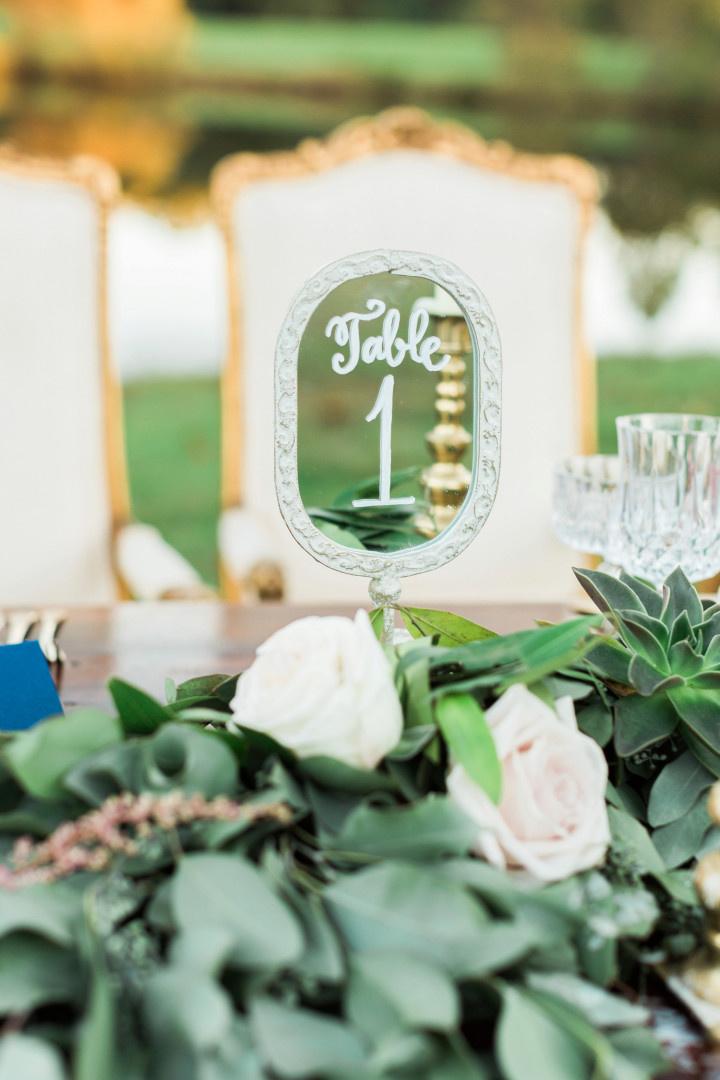 Mirrors
Give your tables a vintage-glam vibe with numbers written atop framed mirrors.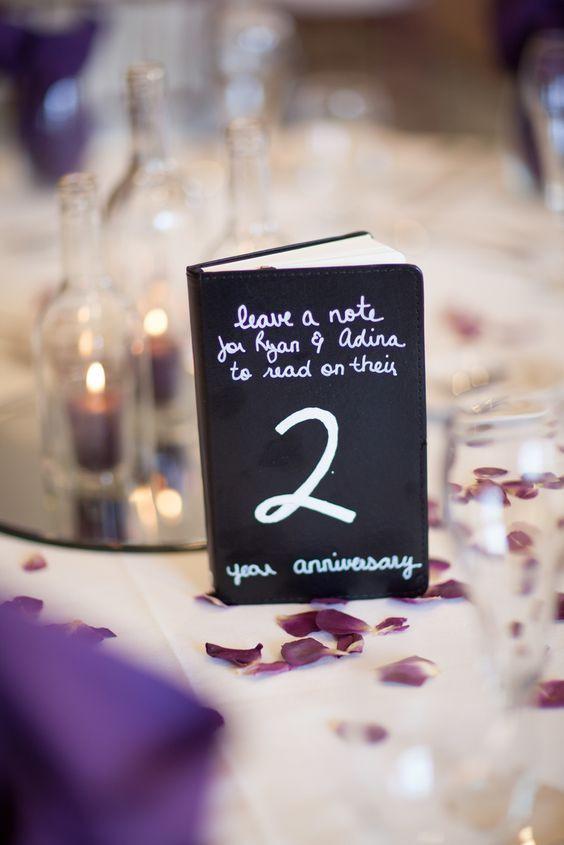 Anniversary Notes
Table numbers that you can cherish throughout the years - have guests write notes in the notebook that displays each number. You can read the notes on each anniversary.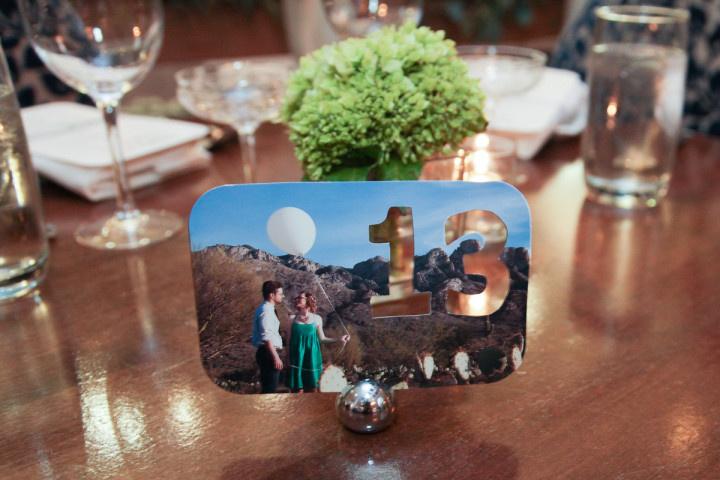 Engagement Photos
A unique twist on the standard engagement photo table number—the numbers here are cut into the photos.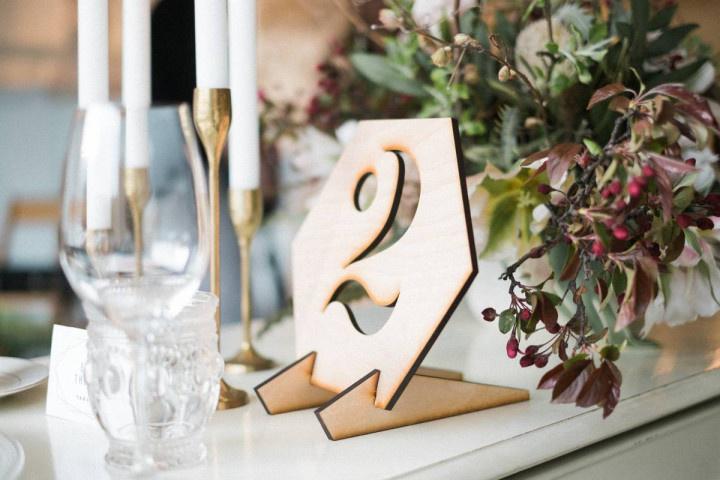 Laser-Cut Wood
We love this simple and rustic wedding table number idea—the number is laser cut into wood and displayed on a stand.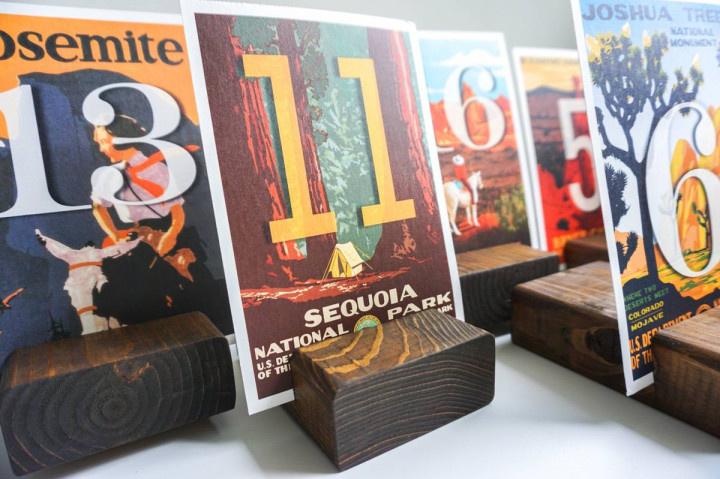 National Park Posters
These mini posters display images of favorite national parks. They make great wedding table number ideas for outdoorsy couples.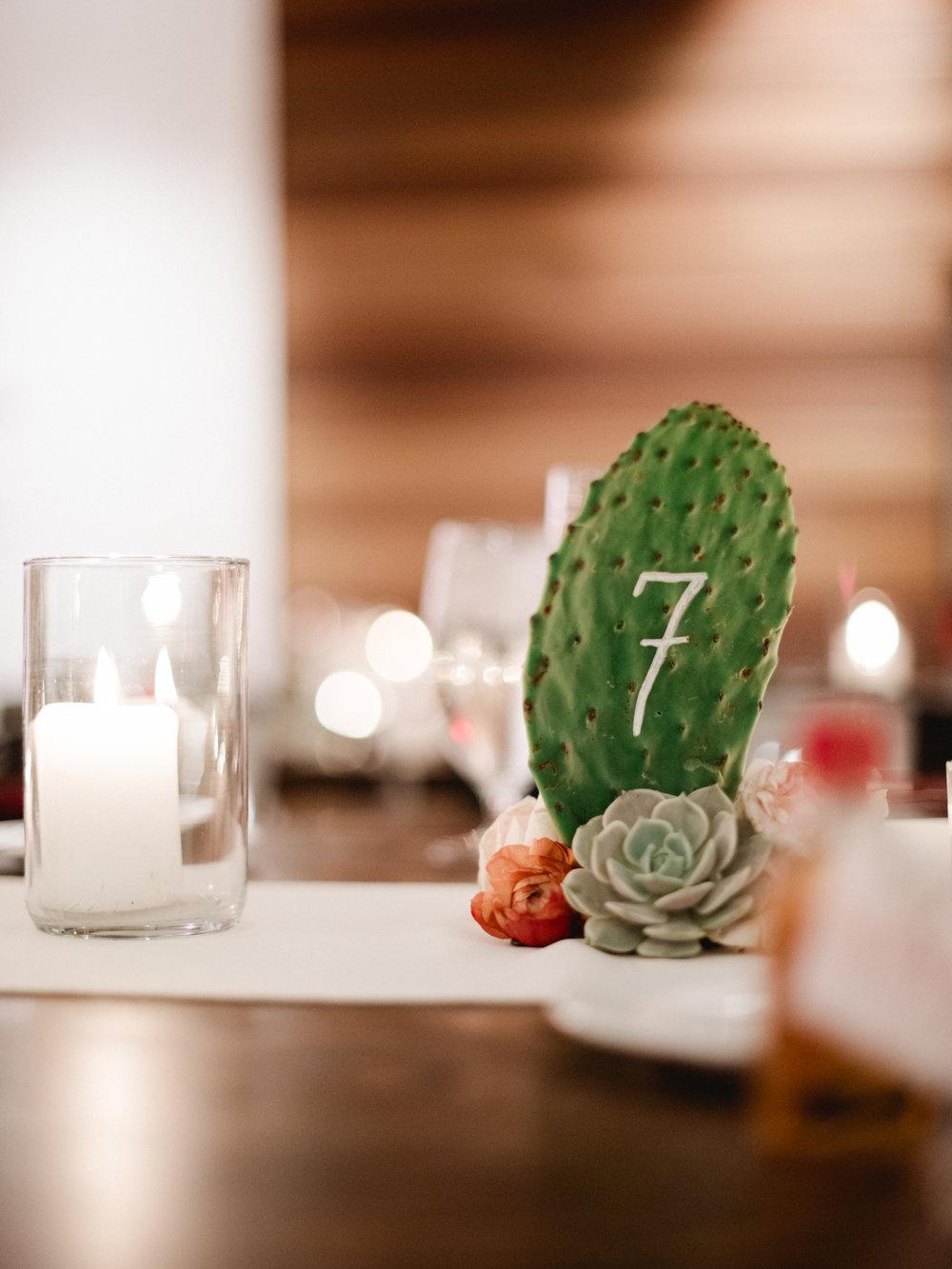 Cacti
Hosting a desert wedding? What could be more appropriate than writing your table numbers on a mini cactus?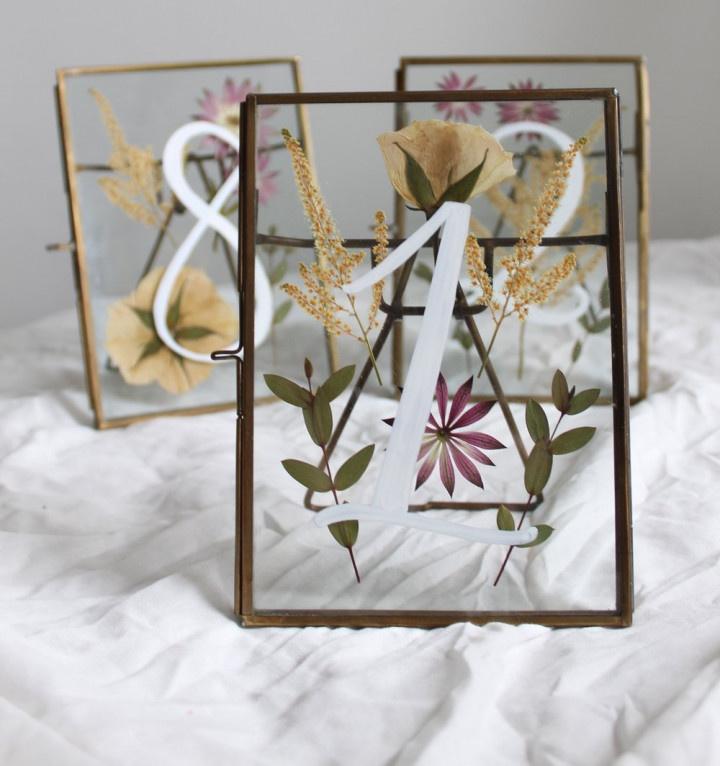 Pressed Flowers
Press your favorite flowers and greenery in a floating frame with each number written in calligraphy on top. You can even have a different arrangement for every number to make each table unique, or match the flowers to your bouquets.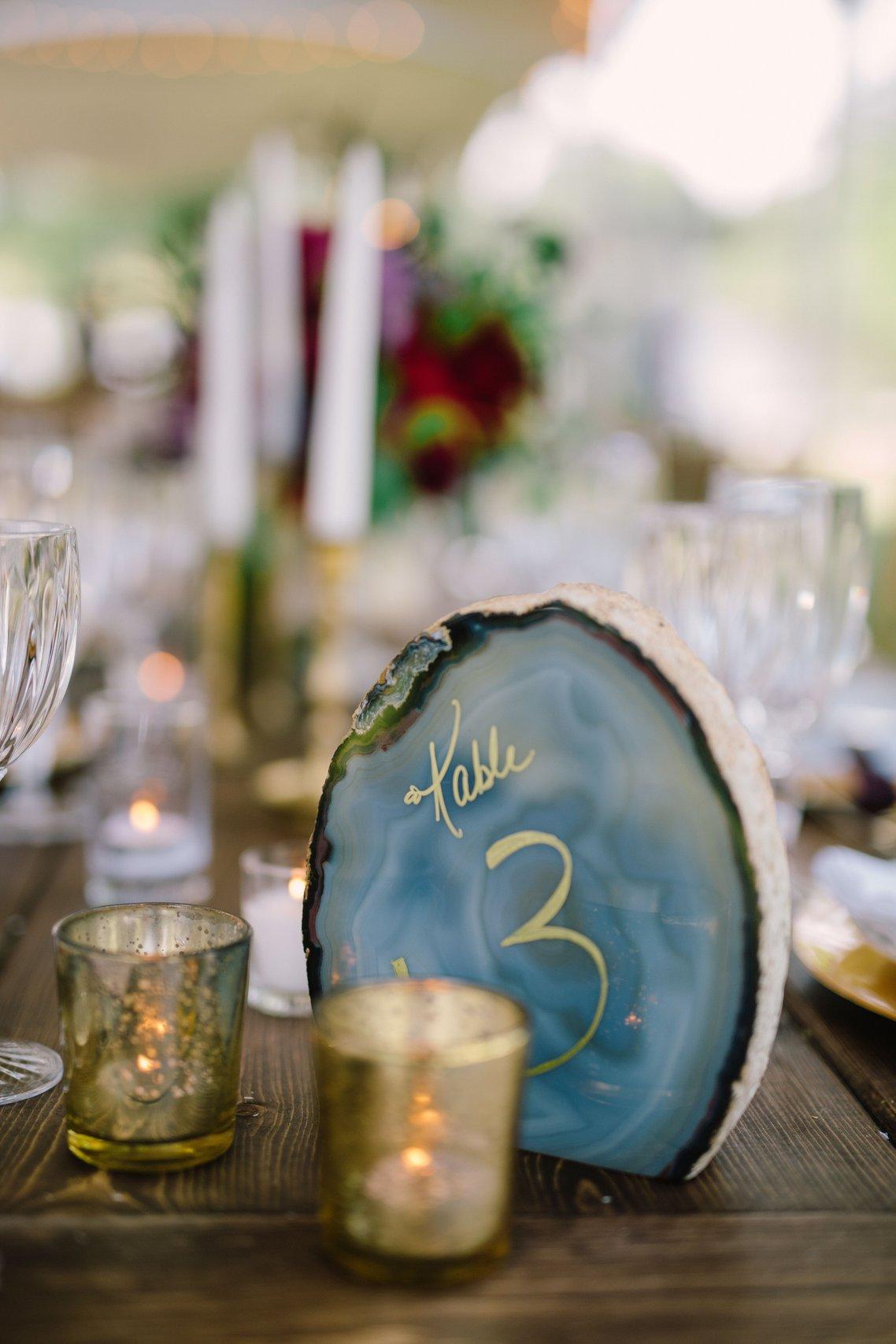 Geodes
Add some color to your wedding with these geode wedding table numbers. Choose geodes to match your wedding color scheme or use different colors to differentiate each table. They provide a unique, earthy way to display each number.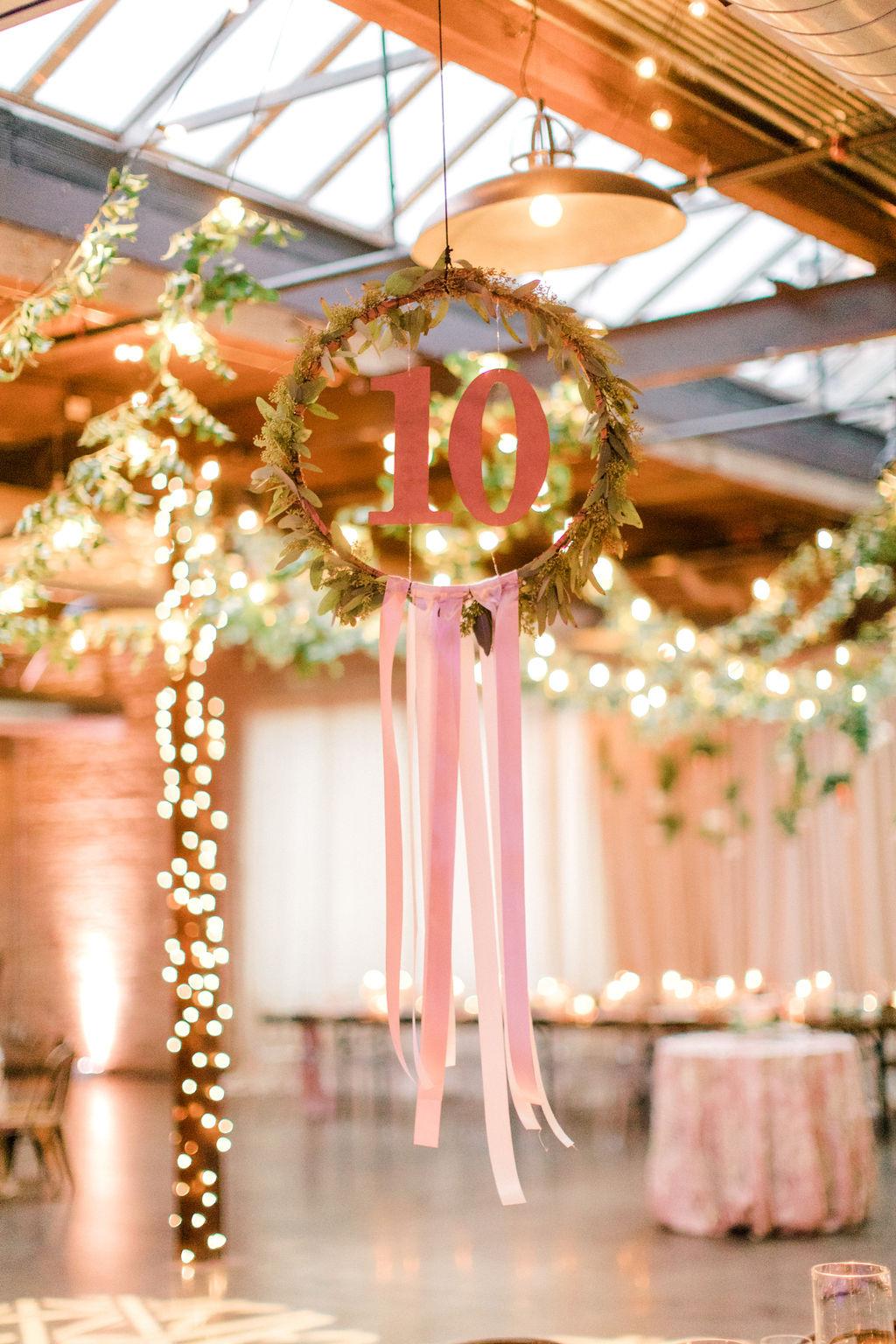 Floral Hoops
Instead of guests looking down at each table to find its number, have them look up! Whether you want florals or just greenery, these hanging hoops are a gorgeous and creative wedding table number idea.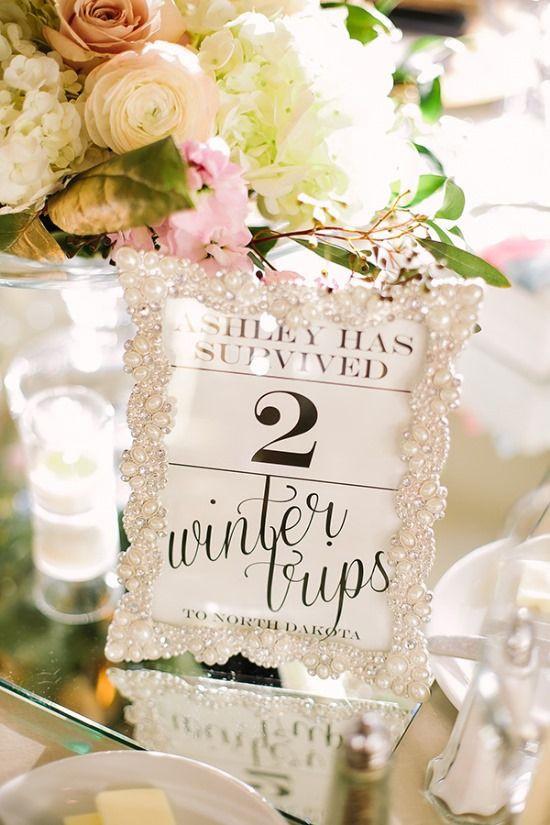 Fun Facts Frame
Have each table number coordinate with a fun fact about you as a couple. This will help your guests learn a little more about you, and can even be a great conversation starter to encourage your friends and family members to mix and mingle.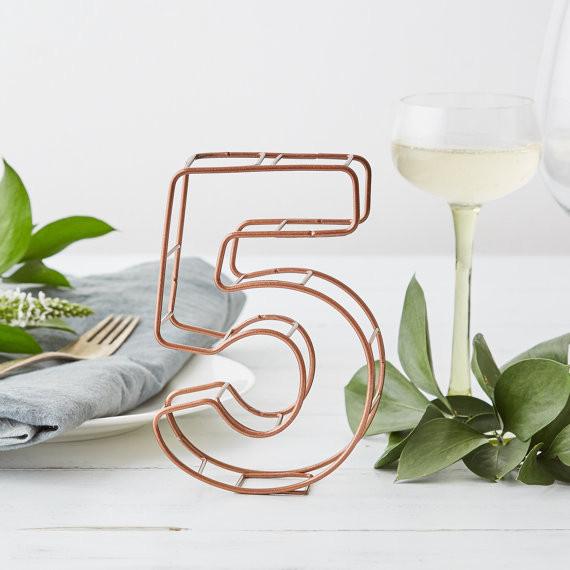 Wire Numbers
Instead of having your tables number on a regular card, let it stand out by using a wire number! The metallic shape will pop on your tablescape, and you can easily reuse them for decor in your home.
Chicken Wire
A unique and rustic wedding table number idea—numbers hung from chicken wire (it's far prettier than it sounds!).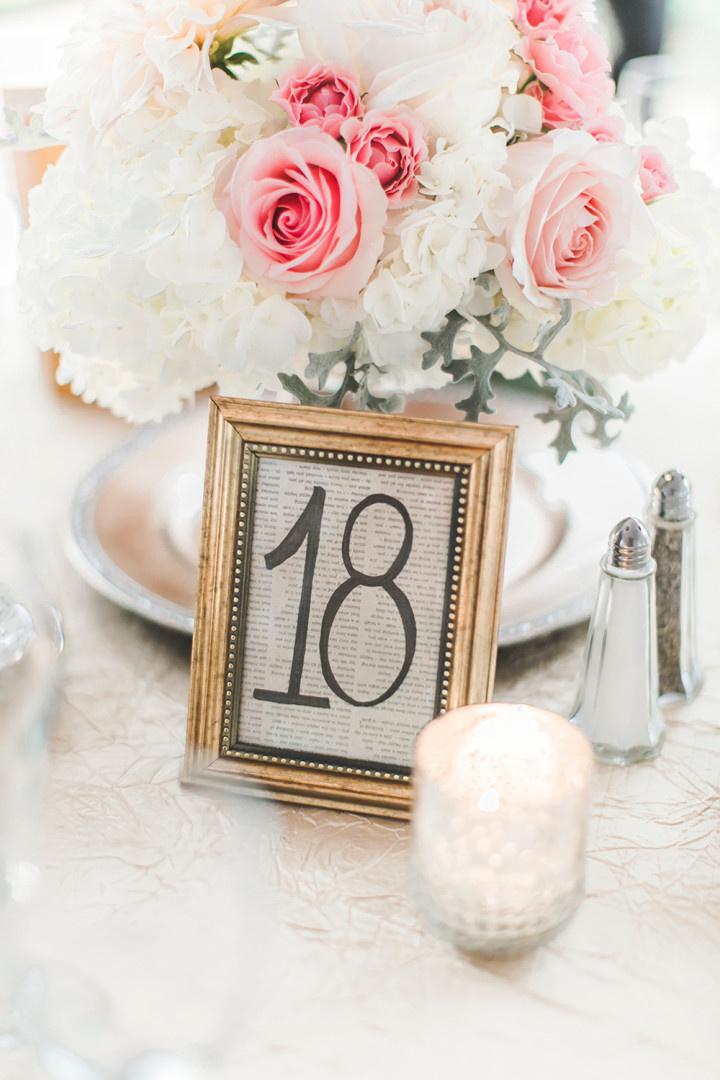 Book Pages
For a literary-themed event, table numbers are written atop pages from favorite books.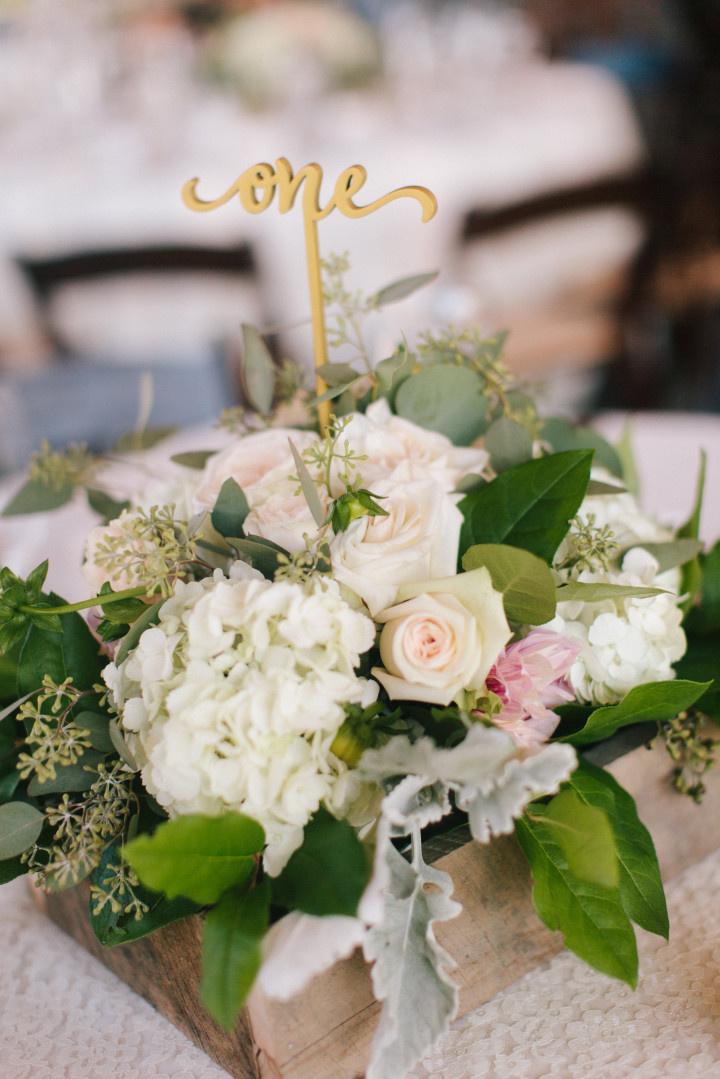 Laser-Cut Calligraphy
Laser-cut calligraphy feels classic, whimsical, and contemporary all at once.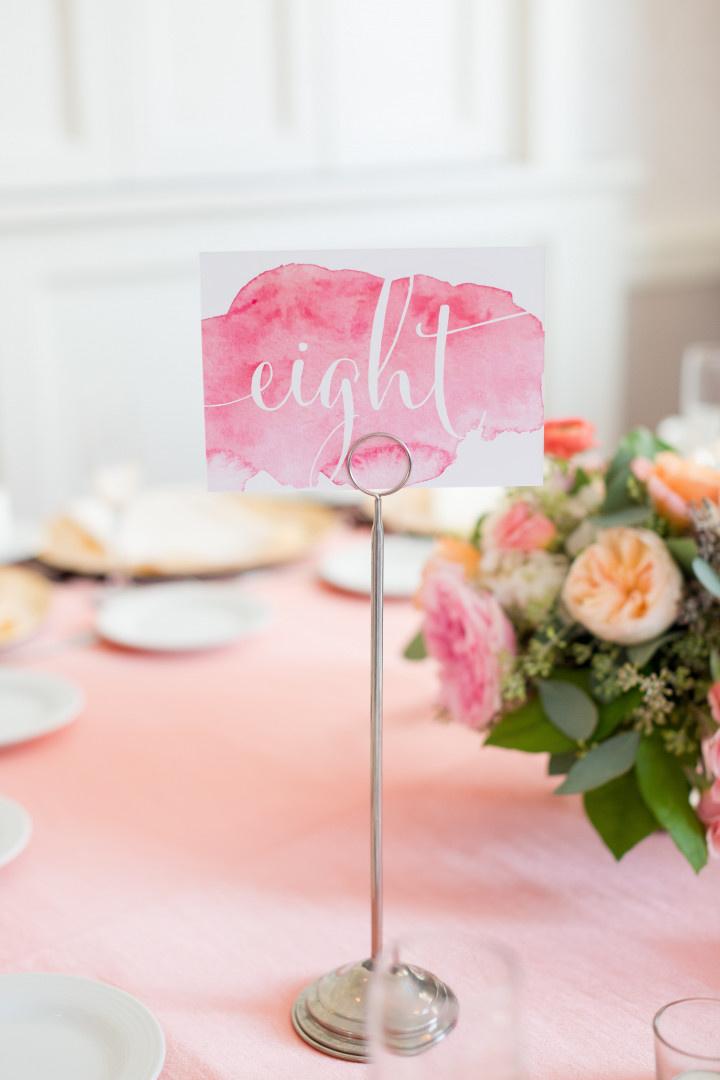 Watercolor
Watercolor table numbers are so lovely and on-trend.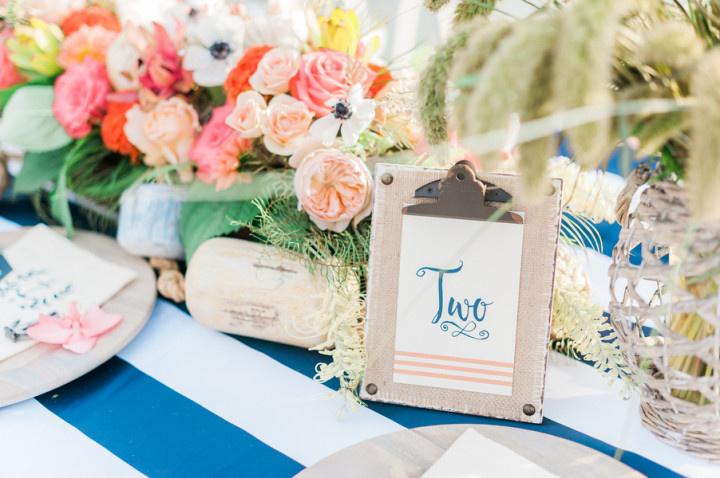 Nautical Clipboards
Clipboards aren't just office supplies—they also make cute vessels for table numbers!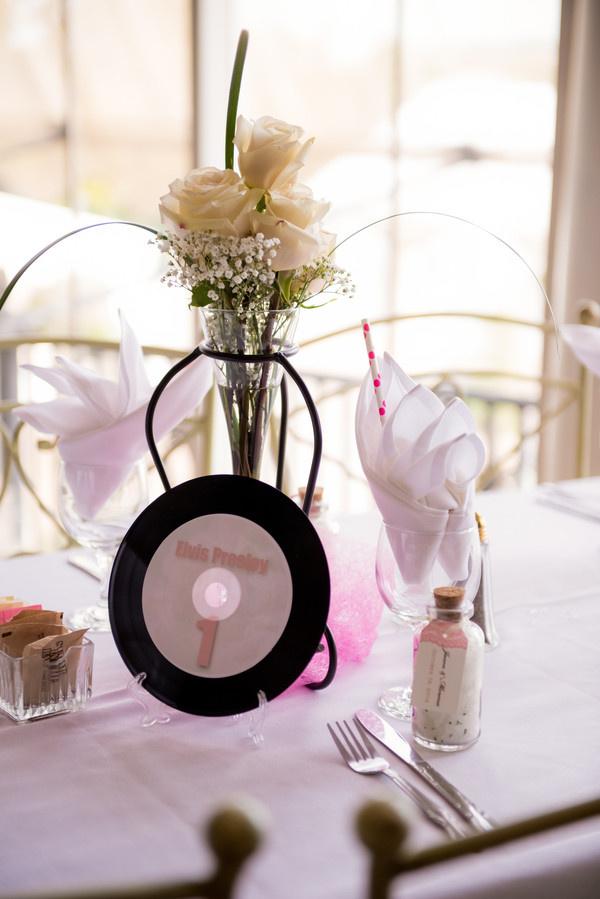 Records
Music lovers will totally adore these retro record table numbers.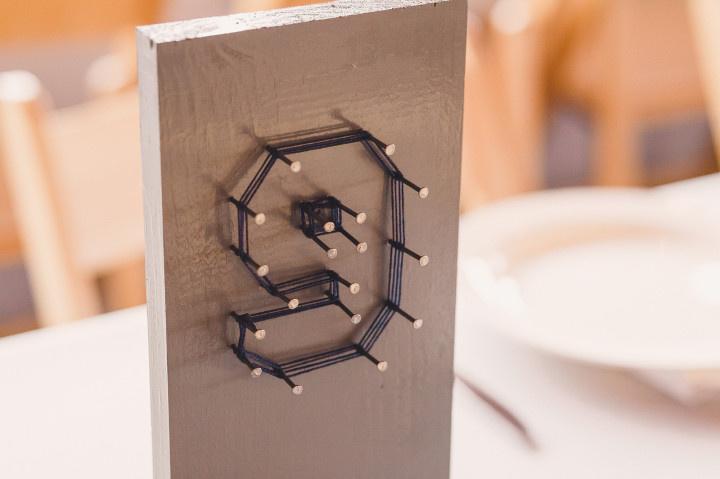 Yarn and Nail Numbers
Yarn wrapped around nails creates a contemporary, industrial look.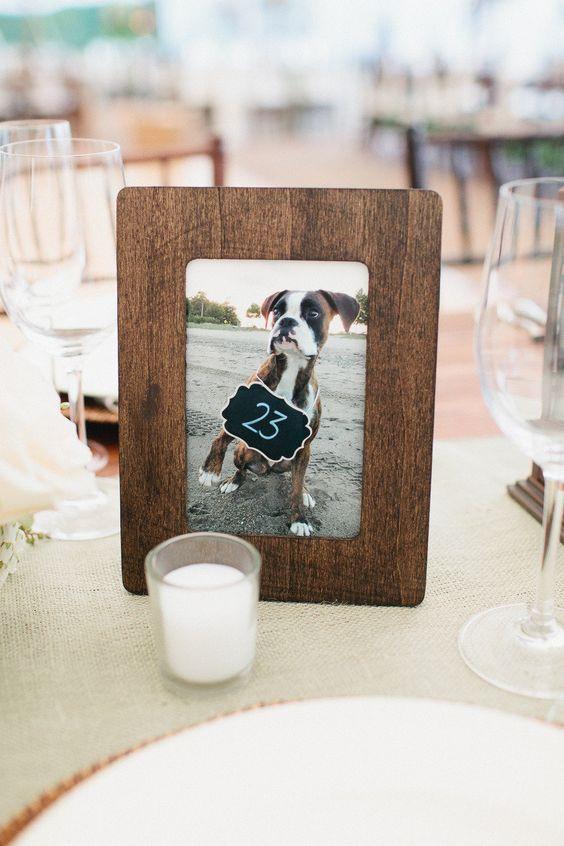 Four-Legged Feature
Your fur baby can still be a part of your big day, even if they can't be there in person! Take photos of your pet with each number to display in a frame. Make it modern with a metallic frame, or add rustic charm with a wooden frame.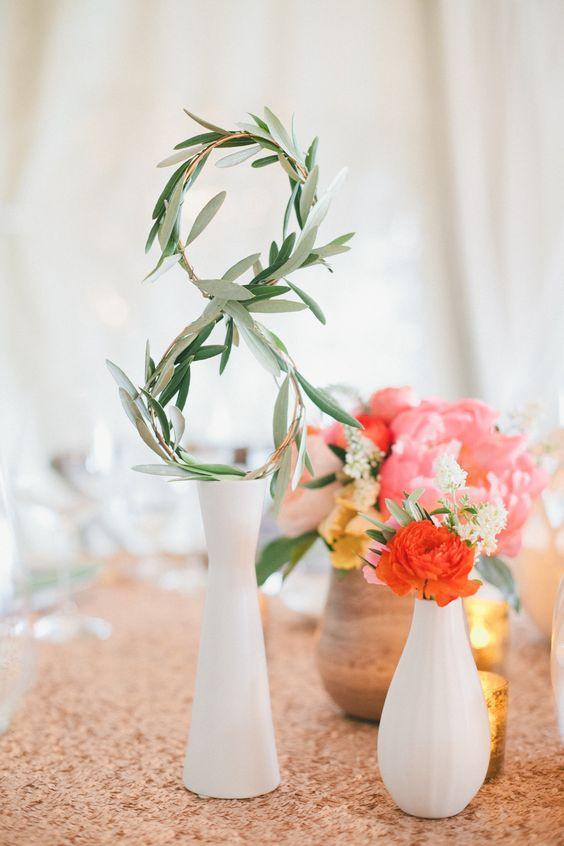 Greenery
A gorgeous way to incorporate greenery on your table is to shape it into a table number!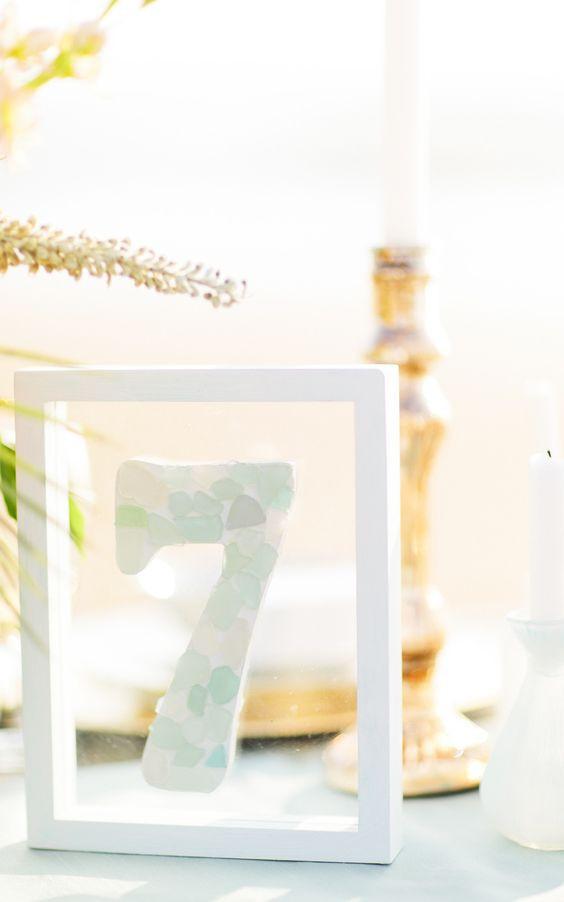 Sea Glass Shape
If you're having a beach wedding or just love all things nautical, use sea glass as a creative wedding table number idea. Your guests feel like they are on a beach no matter where your venue is located.