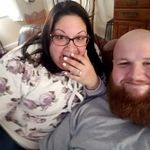 Ashley
I have always been a planner by nature, so planning our wedding has been a piece of cake for me! I've loved to utilize The Knot for our Website and... View More
I have always been a planner by nature, so planning our wedding has been a piece of cake for me! I've loved to utilize The Knot for our Website and Checklists, and Wedding Wire has been great for our Guest List and Seating Chart. I've found most of our decorations at Marshall's, TJMAXX, Homegoods, Joann's, Michael's, Hobby Lobby and of course Facebook Wedding Tag Sale pages.
Happily married 🎉
October 6, 2018


I started a discussion
1550 days ago
1 pt
Couples getting married on Oct 6, 2018 in Connecticut
Hey everyone! 10/6 is so close. Hoping to find the bride who is getting married in the morning on 10/6 at Mahan's Lakeview! My wedding is at 6:00p there and there's some decor that I want to do (ceiling draping but it would have to be up for the...