103 Reviews
Recommended by 100% of couples
Quality of service

5 out of 5 rating

Average response time

5 out of 5 rating

Professionalism

5 out of 5 rating

Value

5 out of 5 rating

Flexibility

5 out of 5 rating
35 User photos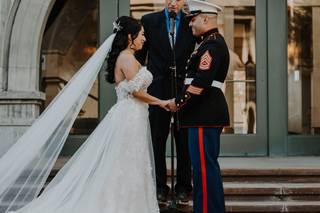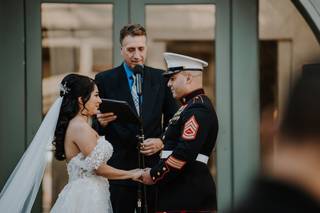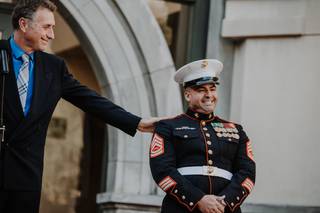 + 31

photos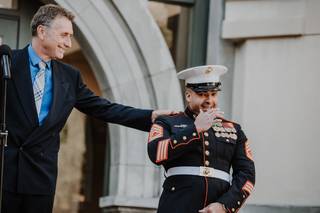 Featured

Playball S.

Married on 11/11/2022

Wedding Officiant

I'm so honored to write this review. Jack set the tone for our wedding and he did a beyond phenomenal job!!

We looked into several officiants, and my husband and I had a feeling about Jack. Especially after reading his reviews/website I felt we shared a very similar outlook.

We first started off with a Zoom call and immediately we loved his kind, warm, outgoing, funny personality. We could tell he not only was a professional and confident in what he does, but he is a great listener and treats each couple with personal/individual attention.

He offers premarital counseling; which I recommend taking advantage off! We met with him a few weeks before the wedding, and he spoke with us about what can support a long lasting marriage…inviting us into conversations that that my partner hadn't touched on. This was incredibly valuable as we listened to each other and Jack, we got to see new perspectives. He has an incredible energy that makes you feel like you've been friends for years.

On the actual wedding day Jack couldn't have been any more perfect. He has a way of putting you at ease. My husband and I felt extremely comfortable with him there supporting us at the altar. He takes great care in curating a personalized ceremony that was reflective of how we met, what makes our relationship work, our values, and the love for our friends and family. The ceremony was beautiful, at times funny, deeply moving, and captured very bit of my husband and I. Sharing our love story and drawing in each guest there. Everyone and I mean EVERYONE raved about Jack and they asked who he was because he spoke as if he knew us for years.
The ceremony was breathtaking and there wasn't a dry eye. I credit Jack to putting this all together, taking the time to get to know us, and creating an experience we'll deeply treasure in our lives forever. After the wedding day, he sent us the script of our ceremony to have as a beautiful keepsake memory!!

Jack, we want to thank you from the bottom of our hearts for making our day the best day ever and for calming our nerves. Thank you for being the best officiant!!! Heather & Tim

Laura S.

Married on 11/19/2022

He really gave us the ceremony we dreamt of!

I cannot even to explain how amazing Jack was! From the beginning to the end he was good at communicating with us. He was able to perfectly include our relationship history and how we got to our wedding day. You wont have to worry about having a plain boring ceremony, he really does an amazing job in keeping the guests attention. He was great! All our guests really loved the ceremony as much as my husband I did! I loved that the morning of the wedding he went to us individually to check up on us and asked if we needed anything. Thank you Jack for making our ceremony more than we ever thought it would be!!

+ 3

photos

Harry D.

Married on 10/22/2022

Great Experience!

Jack was extremely kind, professional, and a pleasure to work with!

Are you interested?

Send a message

Allison P.

Married on 10/08/2022

Jack made our day!!

Jack is incredible at what he does. He did such a great job and honestly knocked our socks off! We had so many people tell us after that our ceremony was one of the best they have ever attended; personable, not too long, great message. Overall, we are so happy that we were able to have Jack as part of our special day. We would highly recommend him!

Miles H.

Married on 08/27/2022

Jack is awesome!

Pastor Jack is incredible! His communication before our big day was great, and his instructions for what he needed from us were clear. He asked specific questions to myself and my wife, such as our story and what we like best about each other, among other things, that he incorporated into the ceremony to make it a lot more personal. He also adds a humorous touch to the ceremony, which makes it more fun and calms the nerves as well. A lot of our guests were commenting on what a great job he did.

Kyanni

Married on 08/13/2022

Where Do I Start?

Jack was incredible!
He came 45 minutes early. He prepared an entire script ready to read. He made everyone laugh and feel comfortable. He calmed my husband's nerves right before the ceremony. He took what we said about each other and used it in the ceremony. It made us feel like he was speaking for us! It's everything we wanted to say to each other, but probably couldn't, because I would have burst into tears! The best part about it was people asking "How long have you known him?" We met him the day of! People also asked "How did you find him??" Google! I am so thankful for Jack. He was absolutely spectacular and made our wedding so special. Thank you, Jack!!

Amber S.

Married on 08/12/2022

Pastor Jack made our wedding ceremony amazing!

My wedding planner found Pastor Jack and upon talking to him, we immediately knew he was the officiant for us. I connected with him easily, he made us laugh, he loves God, and he was thorough.

We signed up to do a premarital session with him where we answered questions in preparation for marriage and Jack shared his wisdom about making marriage last. We loved this session and really appreciated it.

During our ceremony, he told the story of my husband and I meeting, which of course made everyone laugh, and he created such a beautiful atmosphere the way he transitioned between story telling, our vows, and the sand ceremony. I got a lot of feedback that our ceremony was " the best ceremony I've ever seen" and "we loved your officiant." ⭐️⭐️⭐️⭐️⭐️ 5 stars for Pastor Jack! We loved having him officiate our wedding and we're so grateful that he was there to support us on our special day! ♥️🥰

+ 3

photos

Ashley

Married on 06/25/2022

The best! Really happy with our choice to have Jack officiate our wedding

Jack did an amazing job officiating our wedding! He has great energy and made the ceremony fun and personable. Our guests assumed that he was a good friend of ours! Highly recommend choosing him for your wedding, we couldn't have been happier :) thanks Jack!!

Kimberly E.

Married on 05/16/2022

The best ceremony!

If you are looking for an officiant please book Jack! Our ceremony was nothing short of perfect. Jack was uplifting and put us at ease with the homework we did beforehand and really personalizing our ceremony. Everything was absolutely perfect. We had so many guests after ask for his information because he was that good. There was seriousness yet humor to it and we LOVED it! He also made it so easy and got all signatures needed and filing our certificate for us. I wish we could relive it over and over.

Melissa S.

Married on 09/18/2021

Pastor Jack was Top Notch!

Pastor Jack was an excellent choice for officiating our wedding! We researched and spoke with a few officiants and immediately after speaking with him knew he was THE ONE. He was funny, witty, super cool/chill, and understood US and our story so well. He made our ceremony special and we could not be happier with our choice.

Shannon B.

Married on 09/11/2021

Pastor Jack Hawkins was amazing!

Pastor Jack Hawkins was incredible, we're so happy we had him officiate our wedding. I was very impressed with the way he balanced being serious/sentimental during the right times and also cracked jokes when it was appropriate. He made us laugh, he made us cry (happy tears) and did a great job of making the whole ceremony very personalized for us. We got TONS of compliments about him from our guests - multiple people told us he was the best wedding officiant they'd ever seen!

Also, as a bride-to-be that was in total overwhelm planning a wedding, I really appreciated how easy and organized he was - he asked us all the questions about each other well in advance, and showed up early to speak with our coordinator to make sure everything went smoothly.

I'd highly recommend him to anyone looking for a wedding officiant!! He was great!

Matthew Y.

Married on 09/04/2021

Funny, flexible, and a heartfelt reception

We schedule Jack as our officiant for our 2021 wedding and he was excellent! Easy to work with, steadfast, great communication and wrote very earnest and sincere stories for each of us. I would highly recommend him to anyone seeking an officiant who will custom write your ceremony!

We Write Weddings's reply:

Matt and Savannah were the best. There wedding was so beautiful. If you're looking for a venue you can't go wrong with the Prado in Balboa park. So classy just like you two. Thanks for letting me be a part of your big day

Austin F.

Married on 08/28/2021

Amazing & memorable

Pastor Jack is a master at his craft and the ceremony he conducted for us was absolutely perfect. My wife & I had a destination wedding in La Jolla. We met Jack through a Wedding Wire search and after talking to him the first time on the phone, we actually cancelled the 2 other meetings we had with other officiants. He was funny, quick witted, and just had a natural flow with his conversation. We typed up an in-depth summation of my (new) wife & I's relationship for him to read over before the wedding. He then took many pieces of our stories & experiences and SEAMLESSLY incorporated them into the ceremony sermon. Our guests were not only impressed, but blown away. Many asked if we had flown Jack out from our regular church in Indianapolis because of how in-depth and personable the ceremony felt. I highly recommend hiring Jack for your big day. There is truly no other pastor we would have rather used to officiate our happily ever after.

Forever grateful,
The Foreman's

Jessica D.

Married on 08/03/2021

Pastor Jack Came Through!

We had an unusual situation... and Pastor Jack came through. Our son and fiance were to be married on March 30, 2020; but the wedding and reception were canceled on March 19th due to COVID-19 secure in place orders. My brother (also a pastor) who was going to officiate the wedding was not able to travel, and arranged for Pastor Jack the evening of March 19th to marry our son and daughter-in-law the next day at the beach in Torrey Pines with just the parents, a few siblings and the rest of the siblings by Facetime. Pastor Jack did an excellent job with only 15 hours notice and met us on the beach. The ceremony was personable, funny, and made for a wonderful wedding day for my son and daughter-in-law. He literally saved the day and our kids were married in a very special ceremony that they will remember forever!

Jordan A.

Married on 06/12/2021

Highly Recommended!!!

Jack is such a wonderful pastor! When my fiancé and I had to unexpectedly move our wedding up a week, Jack was so accommodating. He took the limited time he had to get to know us and work a wonderful wedding sermon that felt so personalized. Jack was so friendly and helped make our wedding special with his light hearted stories centered on God's love. We are forever grateful for his dedication to our day. Highly recommended for any couple looking for an uplifting and personalized ceremony!

Monica M.

Married on 04/09/2021

The BEST! Choose Jack you won't be disappointed!

Having Jack Hawkins marry us was a true blessing! He was great on so many levels. Genuine, kind, positive, sincere, patient, funny, extremely professional, inspirational & just an all around amazing soul! He made out elopement smooth and was so easy to work with. He even hiked to my dream location. :D We couldn't of asked for a better officiant! Thank you!

Pranali L.

Married on 08/08/2020

Best Officiator ever! He is truly amazing!

I can't thank Jack enough for making our wedding ceremony so much fun! It was absolutely perfect! He not only has a great sense of humor and made us all laugh but also touched hearts and made all of us emotional with his speech! His energy set the tone for the evening and we had the wedding of our dreams! Thank you so much Jack!!

Suzy F.

Married on 01/12/2020

Exactly what we envisioned!

From the get-go, Jack was just awesome. Super responsive, and had great suggestions for our unconventional ceremony. He was very flexible with regards to timing and location. (Outdoor December ceremony had us obsessing about the weather!) He matched our vibe perfectly, with only a few interactions with us beforehand. All this & very reasonable $. We couldn't have hoped or asked for more, and would highly recommend! 👍 👍

Matt S.

Married on 10/26/2019

Best Officiant Ever

Jack was such a wonderful and fun officiant! We really enjoyed his sentiment, jokes, professionalism, and words of wisdom. It was a great kickoff to our wedding night and he created memories that we will cherish forever 💙. We would recommend that everyone hire Jack, The San Diego Wedding Guy!!!

Mallory A.

Married on 10/05/2019

The BEST officiant we could have dreamed of!!

It was clear from the first few minutes talking to Jack Hawkins that he possessed every quality we were seeking in an officiant for our wedding. His charismatic and conversational personality create a feeling of familiarity, and his life experiences traveling across the globe along with his volunteer work speak to his selfless nature. You can tell that his desire to officiant weddings comes from the uplifting feeling of pairing two soulmates and that initiating the first steps of their lifelong journey together is what is so rewarding to him.

The first question we were asked following the ceremony by friends and family alike was "So how many years have you known Jack for?" His ability to pull personal elements from responses we gave him months prior and incorporate them into a heartfelt story about our lives was so personal and lighthearted that it truly did seem like he had been part of our journey for many years.

Lastly, one of our favorite moments of our wedding day came minutes after the ceremony as Jack pulled both of us aside and told us he would like to take a moment to celebrate the long life we were about to have together. It was at that time, in the midst of the events of the day, that we were able to reflect on the significance of the experience. We are very thankful that Jack was able to bring such a conversational and personal element to our ceremony and we absolutely give him our highest recommendation for his professional service.

Chelsey M.

Married on 08/01/2019

The BEST personality!!!!

Oh my goodness, Jack was AMAZING!!! I am SO glad that I found him! When I saw that his business name was "The San Diego Wedding Guy," I knew he MUST have a great personality! And boy, I could not have been more correct! He made the wedding SO much fun, and the guests were absolutely raving about him afterward. They had never been a part of such a fun ceremony before. :) We are so incredibly thankful for you, Jack! You made the experience so smooth and easy, and we are so very grateful. :)

Kellie

Married on 06/08/2019

Pick Pastor Jack!

We received so many compliments from our guests about Pastor Jack's ceremony and message. Initially, we struggled to find a pastor for our wedding that matched our humor and our desire to have a simple non-denominational religious ceremony. When we spoke with Pastor Jack, we knew he was the perfect officiant for our wedding. During the ceremony, Pastor Jack told our story beautifully and provided a wonderful message. Our guests (as well as my husband and I) cried and laughed throughout. We highly recommend Pastor Jack!

Jessica A.

Married on 04/26/2019

Pastor Jack- So Happy we found him!

Pastor Jack married my husband and I just recently, and we couldn't have been happier with our decision to have him lead our ceremony.
He brought such a calming presence to us that day; gave hugs, a reassuring smile and most importantly took the time to pray with us both before the ceremony.

We submitted our couples "homework" to him earlier on prior and he was able to put together the best little "recap" of my husband and I for during the ceremony.

The ceremony was the best combination of: serious, funny and so much love. We keep getting compliments on how it was the best ceremony people have heard, and they loved the pastor.

He also had many vow readings for us to choose from which worked perfect!!

Highly recommend Pastor Jack!


Brenda D.

Married on 03/30/2019

BEST officiant in Socal!

We are honored to have had Pastor Jack officiate our wedding in San Diego a few weeks ago. I instantly felt he was our "wedding guy" when I received his first few text messages. Sounds funny, but you'll know what I mean if you contact him! We hired him and it was one of the ABSOLUTE best decisions we made regarding our wedding day! Meeting him for the first time the day of the wedding, felt like we had known him for years. His ceremony was professional and hilarious! Our wedding guests made numerous comments about how incredible and funny he was throughout the ceremony! They were ALL stunned to know that he wasn't a longtime friend of ours.

If you're getting married in the near future, spend the extra money and hire the San Diego Wedding Guy for your special day! He will not let you down on one of the most important days of your life. Best Wishes, and thanks again Pastor Jack!!

Eric S.

Married on 02/09/2019

Big Fan of the San Diego Wedding Guy!

Pastor Jack was a hit at our small wedding ceremony. Many family members from out of town wished their pastor was as cool as Pastor Jack. Jack was very attentive to all the details leading up to the day, and performed the ceremony flawlessly. He sends a detailed questionnaire to bride and groom before the wedding, and incorporates your responses into his message. He arrived early and got to know many members of our family before the ceremony. I would not hesitate to recommend Jack to any couple looking for an outstanding ceremony.
Are you interested?
Send a message