Thyme After Thyme Catering Company Reviews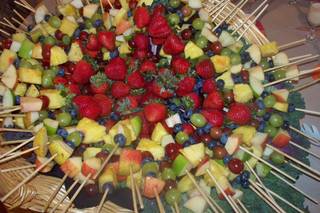 Thyme After Thyme Catering Company
Jonestown, PA
View more information
21 Reviews
Recommended by 98% of couples
Quality of service

4.9 out of 5 rating

Average response time

4.9 out of 5 rating

Professionalism

4.9 out of 5 rating

Value

5 out of 5 rating

Flexibility

4.9 out of 5 rating
Malia

Married on 10/08/2017

Let's start with the most important aspect you want in a vendor: COMMUNICATION. We originally put a deposit down with a different caterer from Harrisburg, and much to my stress and dismay, they would not return any of my calls, emails, or texts. We were one month before the wedding and still did not have a final contract, so we decided we needed another option.

We went to Jen on a whim and prayer explaining our situation, and from day one she was upbeat, sympathetic, and reassuring. I was nearly in a constant panic, but Jen bent over backward finding time around my work schedule to talk and meet with us and made sure all our requirements and needs were met.

Celiac disease and severe peanut allergies run in my extended family, and Jen took this extremely seriously. She took no chances using only ingredients that were certified to have no trace of gluten or peanut, and when she had a concern, she always checked with me to be sure she wasn't using an ingredient that would be questionable.

We received many compliments on the food, and there was enough for ourselves and our guests to go for seconds. Her bartending staff was also amazing. We stocked a full bar with our own beer, wine, and liquor, and they had no problems making any of the cocktails we had on the menu. Her staff was professional, her prices were reasonable, and she saved our big day. I would recommend her to anyone!


Darlene

Married on 05/27/2017

Jennifer will work within your budget to give you your dream event
I attended my grandson's wedding this past Saturday May 27, 2017, Jennifer and staff are very professional and the food was wonderful, beautiful presentation
Thank you for making the day memorable


Danielle

Married on 09/03/2016

Jen was AMAZING from day one. She was very flexible with us every step of the way. We had a tight time frame to get into our venue on the day of and start our festivities, but she worked really hard to make sure that everything was taken care of. The food was delicious and her pricing was very reasonable. She made sure that our older family members and the newlyweds had food before anyone, which I thought was very special. I would recommend her to anyone.

Are you interested?

Send a message

Allison

Married on 09/14/2013

Jen was phenomenal. She took care of me and my husband the whole night of our wedding. Her communication was stellar and she was so easy to work with. The food was incredible and so was the service. She will forever be my "go-to" caterer!

I cannot say enough about the incredible job Thyme After Thyme Catering did for our Celebration Wedding Party this past Saturday. The hors d'oeuvres were amazing and the food table was picture perfect. I heard great comments all evening about how wonderful all the food was. Great job and I will highly recommend Jen to anyone looking for a top notch caterer.

Kaloni

Married on 06/08/2013

Jen provided us with an excellent menu at a budget that met our needs. She was helpful in providing us with numerous options in our price range. She was very flexible in dealing with changes in the number of attendees, allowing us to add additional items, in place of meals for people who were not able to attend at short notice. The food was excellent, as we received many positive comments. I would strongly recommend her services.

Thyme After Thyme Catering Company's reply:

The pleasure was all mine. Thanks again for allowing us to be a part of your family's special day. Best wishes!!!

Lori

Event on: 05/25/2013

We had the pulled pork, bar b que'd chicken and cole slaw was our main meal and it was terrific. We had our event planned for a previous date and had to post pone the event and the owner was so flexible with our short notice and accommodating us for a holiday weekend when those dates are usually filled up months in advance. Thanks again for the great food and the flexibility on rescheduling.

Lori

Kirk

Event on: 03/28/2013

Fantastic people and food! If you want service with a smile and outstanding food...Thyme after Thyme is your catering company! Make the call and it will be the last call you make. You can work on your event and not worry about the catering. Jen and her staff work with you to create the atmosphere, taste, and all in the your time frame and budget! Can't say enough...just make the call!!

Debra

Married on 01/01/2013

This caterer prepared wonderful food for a wedding brunch that was thrown together in 2 weeks. The food was beautifully presented, was hot and tasted so good. The staff was so friendly and made the celebration even more special!

Thyme After Thyme Catering Company's reply:

It was a pleasure to work with you and your family. Best wishes to your son and new daughter in law for a long and happy marriage.

Melanie

Married on 09/29/2012

I enjoyed working with Jen from day one. She is easy-going, yet confident. Jen baked our delicious wedding cake and she also provided our catering for our rehearsal dinner. She was always on time and there weren't any problems. Our rehearsal dinner food was delicious and she provided convenience to my already busy schedule - for that I am very grateful!
In the beginning of choosing cake flavors/fillings I had concerns about a particular cake flavor but she was quick to correct the situation. Our wedding cake was a chocolate cake with peanut-butter filling (to die for, btw!) with a white buttercream icing, we also had another layer of white cake with strawberry preserves filling, also with the white buttercream icing. We had positive feedback from several family members & friends. The cake looked beautiful but even more important to my husband and myself it tasted amazing!! I cannot wait for our 1st anniversary to indulge in our "wedding cake" all over again! Thank you Jen!

Jennifer

Married on 08/18/2012

Thyme After Thyme Catering is certainly a diamond in the ruff. Jen and her family created such a magnificently perfect day for us and our guests. We had ideas we took from our friends' weddings and she created our wedding from just that. We wanted to have something for everyone at our reception with having a "backyard BBQ" kind of feel. Never doing a "station" style buffet Jen executed perfectly. The most unique idea (coming from Jen's mom) was a mashed potato bar with all the fixings served in martini glasses. Simply unforgettable. Our guests boasted and ate EVERYTHING. Having two separate areas at our reception venue for apps and dinner, Jen and her staff did a great job being attentive to our guests' needs. From having staff to help my family set up/tear down to late evening snacks for after dinner and during dancing to little ice cream dixie cups to please my father's love for ice cream with his cake, Jen thought of everything and was willing to do whatever she needed to do to guarantee a most memorable day for my husband and I, our families and friends. Jen and her family/staff are wonderful to work with, honest, and just felt like Jen has been a friend of the family for years. Thank you for everything!!

Sarah

Married on 08/18/2012

Jen and her team were absolutely amazing.. Justin is my bus and and he said it all. She went above and beyond in everything she did. She ven helped our venue to set up items that was not in her job description. The food was great everything was done as promised and very cost effectively. Thank you Jen and fam for this opportunity, your heart is in it it and that shows in everything you do! Thank you for helping to make our day perfect

Justin

Married on 08/18/2012

Ok, let's start from the bottom which is the MOST important. Flexibility! Jen had never done a Vegetarian wedding before. She had told us she was nervous to begin this endeavor. She researched the techniques, foods, and preparation in order to give us the best possible food she could. And man did she hit the mark!

The thing that came through to us (aside from the yummy food) is Jen's passion to cook. She absolutely loves to cook and she certainly shines when she does!

We loved how she views food. Simple food that tastes great. Her use of fresh food and herbs and spices speaks volumes!

Both of our families were extremely apprehensive about a Vegetarian Wedding. It was so important for my wife and I to share a day of compassion by having no souls hurt for our special day. It quickly because equally important for Jen to deliver this vision to us.

Our families could not stop complimenting the food they were served! And not a shred of meat went into it. This was a complete milestone for both of our families.

Jen's staff were polite, timely, and extremely honored to be a part of our day. It certainly added to the wonderful vibe of our wedding.

Jen is so easy to work with! Certainly made it easy for my wife and I who planned our entire wedding from front to back. We told Jen what we would like to serve, Jen made it so we could taste, quoted us a price, showed up, and ROCKED THE HALL!

Couldn't be more happy with how things went.

Thyme After Thyme Catering Company's reply:

Thank you both for opening my eyes and appetite to a new way of enjoying/preparing food. I totally enjoyed this experience and it was an honor to work with you both. Best wishes to you.

Rachel

Married on 07/28/2012


Jen from Thyme After Thyme Catering was such a pleasure to work with for our wedding this past summer. She helped us come up with a menu that fit within our budget, and the menu fit with the theme/feel of our wedding. The food was displayed very nicely at the reception. There was plenty of food which allowed guests to go back for more if they wished. The day of the wedding, she (and her staff) took care of everything that we asked. We provided our own desserts and they were so helpful in getting them set up and displayed at the dessert table. They also made sure that all the requests of the venue were met in terms of cleaning up the kitchen afterwards so we didn't have any issues with that. Jen recommended a bartender who did a great job. Thyme After Thyme Catering helped make our wedding a beautiful and memorable day.

Maureen

Event on: 03/24/2012

The staffing and food were FABULOUS! The event was a Cub Scout Blue & Gold Banquet to celebrate their accomplishments and for the Webelos to cross over to Boy Scouts. Jennifer Colna, the owner, is a true professional and exceptionally organized. The pricing was reasonable and she was more than happy to accomodate any special dietary requests. EVERYONE was very happy with the meal & the service. Thank you Jenn and your staff for everything!!! Maureen Goetze co chair for the Bluie & Gold Banquet = Cub Pack 439 Kochenderfer UMC

Fae

Married on 09/17/2011

Jen Your service and food were awesome! I definitely will call you again if I have any need for a caterer (maybe when I get married again...someday maybe in not too far future:) ). I have absolutely no complaints and given the circumstances of the flood and all, I really appreciate that you were able to deliver all as promised. That shows true dedication to your business and I am sure you will go far:) Feel free to use me for a reference for other prospective customers if you ever have the need to provide a reference. Thanks again!

Lori

Married on 09/10/2011

Had the cake tasting with many choices to pick from, all the flavors were wonderful. Chose 2 flavors for the wedding cake. The day of the wedding, the cake was absolutely beautiful and was more than what we had expected. Great Job!! Would recommend and use this vendor again.

Food was delicious, all food professionally garnished and although dessert was not expected, was provided.

Thyme After Thyme Catering Company's reply:

It was my pleasure to serve you. I'm so happy your enjoyed your food. Thank you for your business.

Brandy

Married on 07/14/2012

Jennifer helped us to create our unique menu which turned out absolutely delicious. I would highly recommend this caterer to anyone.

Thyme After Thyme Catering Company's reply:

Thank you for your kindness.....I enjoyed creating a menu for you, and I am happy that you and your guests were pleased with the final result. Best wishes for a lifetime of love and happiness.

Darlene

Married on 08/06/2011

Jennifer is a delight with work with, just tell her what you wish and it happen. She has an elegant of presentation and the joy of what she is doing for you will show through out your event. Every dish Jennifer creates will please your guest. The pear cake is a must!!!!! You can not go wrong with the price, quality and presentation.

Jamie

Married on 08/11/2012

When we first met Jen we thought she was really nice and passionate about her job. She made it clear that she wanted to help make our day special and that she was honored to cater our wedding. She was was willing to work within our budget and was flexible with our ideas. Jen was honest with us about what she was able to do and what she was not willing or able to do.

I was a little concerned after our tasting, but had an open mind about other menu options. Unfortunately on the day of our wedding, I was disappointed by some of the food and with the disorganization of the staff/service. I partially blame myself for not clearly communicating a detailed schedule of events with them ahead of time and not having all our expectations in writing.

I definitely do not recommend using their bar staff. Once again, we probably did not have everything organized or spelled out ahead of time, but I would hope a professional would be able to look around and figure it out. I was unaware that there was a problem until after the wedding was over, but I was embarrassed to hear from my guests that the bartender was rude and had no clue what he was doing (ex: putting ice in red wine).

Even though I was not impressed by the food or service, I was appreciative of Jen's affordability and flexibility.

Thyme After Thyme Catering Company's reply:

Thank you so much for the review. It is true that I am passionate about the service we provide and our desire to exceed your expectations on your special day. I consider feedback a gift and will use the information you provided to make adjustments to my staffing and services going forward. Thank you again for taking the time to share your thoughts with me.
Are you interested?
Send a message