86 Reviews
Recommended by 93% of couples
Quality of service

4.7 out of 5 rating

Average response time

4.6 out of 5 rating

Professionalism

4.8 out of 5 rating

Value

4.6 out of 5 rating

Flexibility

4.7 out of 5 rating
42 User photos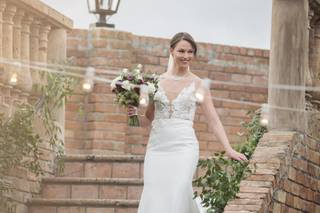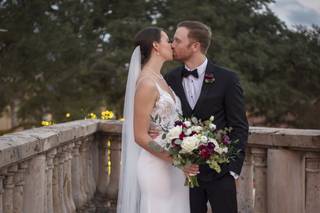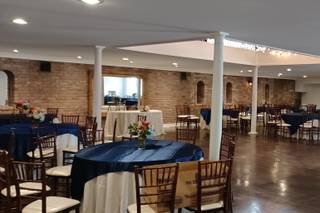 + 38

photos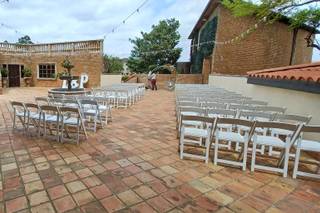 Kymberley F.

Married on 12/10/2022

The Gallery is your romantic Houston wedding venue!

When we started searching for our perfect wedding venue, I looked at dozens of web sites and fell in love with The Gallery. It ended up being the only venue we looked at because it exceeded our expectations on first sight! The venue is GORGEOUS and the staff was so pleasant and easy to work with. The venue has such Mediterranean charm and rich history. Our guests had been to many weddings in Houston and were shocked this gem was right in the city. Our wedding was everything we dreamed of and more. The multi level aspect of The Gallery was so fun and made fora. Unique experience. The bride and grooms suits were large and we never felt crammed with 9 bridesmaids and lots of family getting ready. 10/10 recommend!

Petrina B.

Married on 04/10/2022

Excellent facility

Where do I begin... what a beautiful facility! And Ms Eboni was the absolute BEST! Excellent communication, very patient and helpful. Made things very low stressed for us while planning.. Answered every question we had. Would highly recommend The Gallery for your event!

Danielle W.

Married on 02/26/2022

The Gallery was the best !

Beautiful French/Mediterranean style venue! Amazingly helpful staff! Eboni was such a breath of fresh air through all the difficulties that planning a wedding during a pandemic brought to me & my now-husband, thank you!

We did not get to have our ceremony outside (or take many pictures outside) because it was cold & raining on our wedding day, but the indoor area was still such a lovely backdrop to our ceremony/photos.

Friends & family all loved the intimate feel of the venue and the flow from ceremony to cocktail hour to the reception. Another perk is that it's easy to get to in Houston (perfect for out of town guests).

+ 2

photos

Are you interested?

Send a message

Noelle B.

Married on 01/08/2022

Old world charm in the heart of Houston

It is such a beautiful venue! A little taste of old-world charm right in the heart of Houston. I'm a sucker for exposed brick, cobble stones, a cool bar and beautiful greenery. They checked all of that. We toured the Gallery with Eboni, the venue manager and kept in contact with her throughout the wedding planning process. She answered all our questions and addressed all our concerns in a timely manner. Fast forward to wedding day despite the power outage that took out a section of Houston, the communication and troubleshooting done was prompt and proactive. We loved our venue!

Rachel B.

Married on 07/12/2021

A dream team to work with!

Paula and Eboni are the best! They were more than willing to work with me on so many details, and the day of my wedding was so smooth. When it comes to setting up the payment and dealing with the vendors, they were always so helpful. If I did it all over again, I would 100% pick The Gallery.

Also, guests have raved about the venue, it was the perfect mix of rustic and modern! The open layout and mix of indoor/outdoor was amazing.

Jennifer R.

Married on 05/29/2021

Most amazing venue & staff!

WOW, SERIOUSLY.....JUST WOW! There are not enough incredible things to say about The Gallery. I wish I could put into words how wonderful my experience was, but there are truly nothing that comes close. Not only is the space impeccable and unique, but Eboni and Paula are just as amazing to work with. From the second I saw The Gallery and met Eboni and Paula, I knew it would be the perfect place for the most perfect day filled with constant support and guidance along the way. My guests said it was the most beautiful venue they had seen and every picture from every angle showed the character and love that goes into making The Gallery such a special place. I would recommend The Gallery to ANYONE any day and wish I could re-live my wedding day all over again!

Kayla H.

Married on 10/24/2020

The Gallery

Paula and her husband were so professional and personable. They had so much insite on the venue and answered any and all questions we had. Highly recommend this venue!

Kira D.

Married on 09/20/2020

Perfect Venue for the Perfect Day!!

Fabulous is not the word!! I fell in love with this venue at a bridal opening back in 2018. It was everything wanted with gold antique mirrors and ivy walls. The ladies restroom is my favorite!! Paula and Eboni were and still are MOST helpful with anything I have ever needed. I adore them and will recommend this venue for any wedding or function. All around great people, venue and service!! Thank you for everything!!!

Stephanie E.

Married on 06/20/2020

Wonderful!

The Gallery is such a beautiful venue and we had the most amazing experience with them! The whole team is so great to work with and was so flexible with us with everything related to COVID and made the process so much smoother when there were alot of stressful details to work out. While our wedding didn't go the way we originally planned as we decided to significantly reduce our guestlist, it turned out more beautiful than we could have imagined! We originally were expecting 200+ guests and ended up with only around 75 people and the space still was perfect. I feel like the venue is really flexible for accommodating a smaller or larger group and there are so many different ways that you can set up with the venue which they will help with. I was worried that it would feel too big but it really was the perfect size with us using the downstairs for the reception and the upstairs for the cocktail hour and some extra tables upstairs in case anyone wanted to social distance. The team had everything set up exactly how we requested and made the day so much easier. They were also VERY accommodating on us dropping off all of our stuff and getting everything to the venue (since it is alot more than you think). While we were unloading, we realized that my Mom had a flat tire which is not what you need when you are worrying about a wedding. The owner was so gracious and helpful and sent one of the team members to help my Dad change the tire when it was VERY hot outside. They really cared and went above and beyond the services they were contracted to make our experience stress free throughout the whole process. Eboni answered so many questions for me and they were always very prompt to follow up either via email or getting on a phone call. From a decoration perspective, the venue is so beautiful on its own that you really don't need to add too much which makes it more cost effective and easier to plan. They have great vendor suggestions and I highly recommend using these vendors that have worked with the venue over and over because they know what will look great and know the team at the Gallery and help make the process even smoother as well. Overall, I would highly recommend the Gallery if you are looking for a beautiful venue that is centrally located and affordable.

Alyssa A.

Married on 03/14/2020

Our dream wedding!

My husband and I had a difficult time making a decision on our venue as we had a higher guest count than we originally wanted. In order to stay within budget, we stayed strict with our desired guest count, which allowed our overall budget for the venue to stay within a certain price point. There are so many venues that you can pick in Houston that isn't a hotel, that allows outside catering, and that isn't in the outskirts of Houston. The Gallery met all of our needs in terms of the venue and the staff (Eboni and Paula exceeded our expectations). They were excited and involved. Eboni was our main point of contact and was absolutely incredible. She made us feel completely at ease and was so easy for our vendors to work with. Our wedding was confirmed at 264 people, but because of the Coronavirus, we ended up at around 230? We utilized upstairs, downstairs and the bonus room as the kids room. It ended up working out as the venue was the perfect fit! Being able to utilize our own vendors really made the planning process feel like it was "ours". Thank you so much Eboni and Paula for helping make this day so beautiful! Paula, turning this space into a venue was a GENIUS idea!!!

Evelyn

Married on 02/16/2020

Stunning Venue, Amazing Owner and Staff

My fiancé and I visited many venues and their respective owners. However, no venue had the beautiful aesthetics of The Gallery nor the welcoming spirit of the owner, Paula. That alone, sealed the deal for us and we couldn't have made a better choice.

Thank you Paula and Eboni for your attentiveness and for making our day truly unforgettable!

Alex L.

Married on 06/01/2019

The Gallery is the perfect place to get married at! We highly recommend!

My husband and I could not have picked a better place to get married at! The venue is beautiful and has many different areas to accommodate all of your guests. Eboni and Paula were amazing to work with. They are both extremely friendly and professional and are very accommodating to your wedding needs. We cannot thank The Gallery team enough for helping make our special day perfect!

Ashleigh

Married on 05/10/2019

Absolute Perfection

From the moment we walked in to tour the venue we felt right at home. They are so accommodating, quick to answer any questions and go above and beyond to help the day run so smooth. I'm forever grateful for the girls at the gallery for making my day be better than I ever could've imagined. If I had a chance to do this day over I'd choose the gallery over and over.

Bryanna

Married on 03/15/2019

Dream come true

Eboni and Paula are AMAZING! This venue is absolutely beautiful, so many people kept complimenting it, I had the best experience with them and they were a joy to work with. They have a passion for making others' dreams come true. Our parents LOVED the turn out.

Dinah T.

Married on 11/15/2018

Beyond Our Expectations

The Gallery is a beautiful and unique venue that allowed the vision of our wedding to truly come to life. Everything was absolutely beautiful and stunning!! Paula and Eboni were extremely helpful, loving, and kind. We were also met with open arms and whatever we needed they provided or lead us in a direction that always met our need. We were BEYOND pleased with the services provided and our day was beyond what we envisioned! Paula and Eboni, we're going to miss working with you guys!! Thank you for everything, you guys and the venue are truly one of a kind!!

The Gallery's reply:

Thank you Dinah for your kind and thoughtful words; they truly mean so much to us. We loved working with you and your family to plan your special day! You were a breathtaking bride, beautiful inside and out and we will miss you and your family! Stay in touch and hugs and love to Jayrrd, mom and dad! xoxo, Paula & Eboni

Loryn R.

Married on 10/28/2018

What a perfect day

The gallery is so amazing. My husband and I had great relationship with the staff. Eboni and Paula were such an amazing help and answered all our questions and problems. The wedding day itself was so perfect. Couldn't have gone better. We had 175 guests and they all fit perfect. Such a beautiful venue!

Anna O.

Married on 10/20/2018

The gallery is stunning

We chose The Gallery for our wedding last month. The venue was absolutely beautiful, and the pictures turned out stunning. Upon our first meeting, we met Paula who was a pleasure to work with the entire time. She and Eboni are so accommodating and really make you feel like family. The venue was the perfect size for our wedding of 120 people. We could not have picked a more beautiful location for our wedding! Love Anna & Pat!

Bethany M.

Married on 10/05/2018

The Gallery made our day perfect!

I could not be happier with our experience at the Gallery, where we held both our wedding ceremony and reception. It is such a gorgeous and unique space, and we received numerous compliments on how stunning it was! Having the indoor AND outdoor space was so nice for our 170 guests (it never felt crowded or claustrophobic), and it meant that there was a space for dancing and partying while there was also a space for talking. We used the upstairs bonus room as a kids room, which the parents absolutely loved - I didn't notice that kind of extra space at any other venues we looked at! The layout of the venue is excellent; I used the large outdoor stairs for a grand entrance into the ceremony, and then later for our sparkler exit, the roomy bridal suite was tucked away from the grooms suite, and there was plenty of space inside for the DJ, Photo Booth, buffet tables, etc. The team at the Gallery was always available to answer our questions or meet with us, and were very flexible with our needs and the needs of our vendors. We used multiple of their preferred vendors, and had great success with them as well! I do not have a single complaint about the Gallery, and am so happy that we chose them for our wedding venue.

+ 6

photos

The Gallery's reply:

Thank you so much for your kind words Bethany:) We absolutely loved working with you every bit of the way and we are so happy you had the day of your dreams. We will miss you guys stopping by and chatting with Mrs. Marshall:)

Lauren J.

Married on 06/28/2018

Dreamy and amazing.

This was the dreamiest day ever for me and husband...
We still talk about it to this day!!!!!
I have already recommended it to three people.
It was everything we could of imagined. We were able to do a wood romantic/ light theme. Felt like we were in dream. Everyone at the venue was so Helpful and sweet. Made sure the day went so smooth!!! They had the most beautiful lights, the brick backgrounds and greenery. If We had to do if all over again, we wouldn't change a thing!
Only remarks I would make, I wish the bridal room had a little fridge to keep the drinks cold, and my husband said his room Was a little to hott while he was getting ready. Other then that, 10s all around!!!

+ 3

photos

Lynn

Married on 04/01/2018

My Associates and I absolutely love performing at The Gallery! It is such a beautiful Venue and the staff ix excellent!

The Gallery's reply:

Thank you so much Lynn. We loved it when you are here and hope to see you guys back soon for future events:)

Lisa

Married on 03/16/2018

Michael and I had toured about a dozen properties before we found The Gallery. The moment we walked up the stairs to the main courtyard, we fell in love. If you're looking for a beautiful setting, with the ability to get ready in a lovely suite, have a ceremony in a serine courtyard, enjoy cocktail hour in a gorgeous upstairs bar, and host an exceptional reception in all in the same incredible property, then look no further. Paula and Eboni were an absolute joy to work with and have at our wedding! Every time I needed to stop by The Gallery to take measurements or see how a certain décor element would look, I was always welcomed with a hug and a smile! The beauty of The Gallery was the perfect backdrop for our March wedding and our guest loved the natural beauty and amazing elements of the venue! I am so proud to say that we were married at The Gallery, I could not have imagined having it anywhere else! Thank you so very much for helping us celebrate our wedding in such a beautiful place!

The Gallery's reply:

Lisa, thank you so much for your beautiful review. We truly enjoyed working with you guys during the process. You're wedding absolutely amazing, we are still in WOW from all of your stunning photos.

Sandra

Married on 11/24/2017

We absolutely loved getting married at The Gallery. The customer service was excellent in that they were very caring and helpful throughout the process. They also responded to emails in a timely manner and made it flow easily. Thank you to Eboni and Paula that made me feel at home and like my hubby and I were meant to be married there. You guys did a great job!

Kathryn

Married on 04/15/2017

Beautiful venue. My husband and I got married here 4/15/17, and it was perfect. Definitely recommend this venue. It is a very unique venue and Paula and Ebony are wonderful.

Maria

Married on 11/26/2016

I was extremely happy with The Gallery. Paula and Eboni were very helpful through the whole wedding planning process. Everything was perfect on our wedding day!

I am so happy I chose The Gallery for my wedding. The venue and location are great, there is lots of room, and the courtyard is the perfect place for an outdoor ceremony. Paula and the staff are very nice and the price is reasonable.
Would recommend!
Are you interested?
Send a message