12 Reviews
Recommended by 100% of couples
Quality of service

5 out of 5 rating

Average response time

5 out of 5 rating

Professionalism

5 out of 5 rating

Value

5 out of 5 rating

Flexibility

5 out of 5 rating
Awards
29 User photos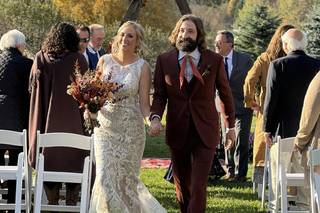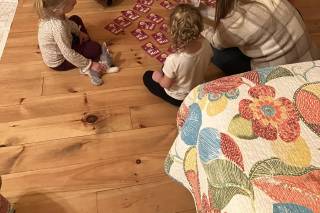 + 25

photos
Angelina R.

Getting married on 09/16/2023

Amazing!!!!

Alissa and the property are completely amazing! We are so happy to be working with her and so excited to have our special celebration on their property

Daniel J.

Married on 10/15/2022

They make you feel like family!

We knew from our first meeting with Farrington hollow this was the place we wanted to have our wedding. This is truly a family run farm and venue and they make you feel like you are a part of the family. I can't think of one thing we asked for that they wouldn't or could not accommodate. The cabins are a wonderful addition to the whole experience as the family of the wedding party and friends have options to stay right at the venue.

+ 2

photos

Kimberly L.

Married on 10/08/2022

Peaceful Planning

We are still in the planning phase for our wedding and Alissa at "The Cabins" has been amazing. She gets back to you with answers to your questions and provides suggestions on options. She's so calm and organized which has really helped me (the bride) not lose my mind. I can't wait to see how our day turns out but I feel confident that no matter what happens, Alissa will do her absolute best to make sure it's as perfect as it can be!

Are you interested?

Send a message

Kaity M.

Married on 09/17/2022

Wedding Venue

We knew from the moment we stepped foot on the property this was the venue for us and it truly exceeded our expectations. If you're looking for a family owned facility that cares about making your day special, custom to you and taking out the added stress along the way this is the place for you! They went above and beyond to make sure they could make our vision come to life. They have cabins on the property which we were able to utilize the night before and the night of the wedding. There are SO many different areas on the property to take pictures allowing us to stay on site for the whole day. They had so many decor options on site which they assembled for us. We also had the option of homemade breakfast the next morning and were able to mingle with there goats. 10/10!

Abigail

Married on 09/10/2022

You made our day!

We just got married here and I can't recommend it enough. Great location, beautiful inside area, outside garden area, plenty of parking, with a remarkable view. Our guests could enjoy a fire with outdoor fairy lights, plenty of photo spots for guests & our wedding party. Our wedding party each had a gorgeous & modern cabin to get ready in as well. It was our dream wedding. Alissa, the manager, is amazing and was so helpful & personable the entire way through.

Kelsey W.

Married on 07/23/2022

Absolutely amazing 🤩

Our wedding was July 23rd 2022 and we had lots of bumps haha nothing to do with farrington. But from the beginning Alissa was an amazing help from start to end. Day before the wedding our cake came and it was horrible. Alissa and her crew told us not to worry they will fix it. And omg they did. They asked how we were going to set everything up. Next day we walk out of the cabin and everything was already set up and perfect! Then wedding time came. And well our best man dropped my wedding ring in the only crack available hahaha with in 5 mins after ceremony Alissa and her manger came up and got my ring for us! Alissa and her crew were absolutely wonderful and accommodating and helped everything go so smooth! We plan on coming back for our anniversary next year for camping.

Kaitlyn H.

Married on 06/25/2022

Picture Perfect Venue!

My husband and I wanted to found the perfect venue like all couples do but for us we found just that with Farrington Hollows. The property is amazing with the cabins onsite and an amazing tent that holds a lot of people. We fell in love with it the first time we came to see it and knew we found the perfect spot. Alissa and her team were so flexible the entire planning process and made things so easy! If I ever had a question, Alissa was just a text away. She was helpful in more ways than I can count and thought about all the little details. When it came time for my wedding weekend she provided us with such comfort knowing that everything was going to be perfect and without a doubt her and her team did just that. I can not say enough about how special everything was! Not only was Alissa out wedding planner but now a forever friend. I am so grateful to have had our wedding at Farrington Hollows!

Wendy P.

Married on 06/20/2022

Wedding with Ease

Working with Alissa and the group at the Tent at Farrington Hallow was a delight. Alissa was extremely accommodating with every aspect of our preparation and execution of our wedding. The venue was beautiful. Several guests commented on how lovely the view from the tent was. The staff made sure everything was done the way we wanted. They worked with our caterer and DJ to get them set up and have things ready on the timeline we set up. Alissa let us try some new and beautiful decorating ideas that worked out really well and added to the already elegant tent.
We also utilized the cabins onsite which just added to the experience. The wedding party stayed in the cabins the night before and we were able to get ready right there. For our daughter and bride's maids, we had the hair dresser come right to the cabin to do our hair. It was perfect. Alissa checked in on us the day of the wedding to ensure we were on track and to make sure there weren't any last minute changes or issues. We also had out of town guests stay in cabins and the wedding party stayed the night of the wedding to continue the celebration. Great added treat.
I really can't say enough about how wonderful this venue was. We are doing another wedding at a different venue this year, for another daughter. The venue is more expensive and they do not help you at all. I wish I could have Alissa and her staff there to help with that wedding also. If you can, you should have your wedding at The Tent (or soon to be Barn) at Farrington Hollow.

Katherine Z.

Married on 10/16/2021

Phenomenal!

We were blessed to have this beautiful wedding venue for our ceremony and reception. The family that run the venue and their staff go over the top to accommodate every need. We were able to have our dream wedding all in one place! The fact that there are sleeping accommodations on site and even more nearby meant that ourselves and out guests were able to have a great night and not worry about getting home safely.
We also loved that they were able to accommodate our horse! There are horse stalls on site so after I, the bride, rode into the ceremony on horse back, my horse was back safe in her stall for the night without me having to worry about her!
The venue is so beautiful with ample opportunity for beautiful outdoor photography no matter what time of year or weather!
We highly recommend!

Kylie

Married on 09/25/2021

The most beautiful hidden gem in the woods

My fiancé and I cannot say enough good things when it comes to how amazing the owners at Farrington hollows are. Not only is the property stunning and the cabins are beautiful, The owners truly care about your wants and needs when it comes to getting married here. For personal reasons we had to pull out of our current venue and we thankfully found Farrington hollows. In a little under six months we will be getting married and we are starting from scratch with planning our wedding here, but the owner Alissa is absolutely fantastic. She is making sure everything is taken care of and wants you to be truly happy with every decision being made. I was so completely overwhelmed and thought that we would have to put our wedding off for a year, but Farrington hollows is bending over backwards to make sure that we have everything we want and need in our budget. They are honest, upfront and very transparent about everything. There were certain things that were out of our budget, and Alissa made sure that the packages were modified so that way we could still afford the venue. I don't know of any other place that does that for a bride, especially being six months out. I highly recommend farrington hollows to anybody looking to get married whether it is this year or in the future. We cannot wait for our big day on this beautiful property set back in the woods! It is private, peaceful and overall perfect.

Kylie M.

Married on 09/25/2021

Thankful to have been the first big wedding at this dream of a venue

On September 25, my husband and I celebrated our wedding here with 140 of our closest family and friends. When we toured the property 6 months earlier, the venue was an empty field. Although we were skeptical and hesitant, we trusted this family to create the venue they were envisioning and describing, and we put all of our faith into them and signed the contract that night. I cannot ever express my gratitude towards Alissa Pekrul and her family for working endless hours to create this beautiful venue and pull off the wedding of our dreams. If you want a venue that is rustic, serene and peaceful then this is the best place for you. Not only was the venue extremely affordable (at least 7K cheaper than other venues around) but it also comes with beautiful cabins for yourself, your bridal party, and your friends and family to stay in. There were a few small bumps in the road for us with a cabin not being ready in time for our wedding in which we needed for our guests, but Alissa made sure our guests still had lodging at other cabins less than a mile down the road, at a much cheaper rate as well. The owners of this property are some of the most hardworking and honest people I have ever met, and I cannot wait to spend our first anniversary at this beautiful place, in the cabin that overlooked our wedding. I can never thank Alissa and her family enough for making sure our day was perfect, and I cannot wait to see this hidden gem become one of the most popular venues around, and I know in my heart it will happen very soon!

+ 16

photos

Terry

Married on 07/14/2021

1st Wedding Cabins at Farrington Hollow

We toured the property in April and absolutely loved the calm and serenity of the views and lodge. The tent was just a vision at the time but we trusted the Davis Family to turn their vision into reality! And it was everything we could have hoped for! If you are looking for a venue for any event or a weekend retreat this is the place to go! The hospitality is top notch! The cabins have all the conveniences of home and worked out great for our families to stay the whole weekend. The morning of the wedding we also had a yoga session in the tent! I highly recommend this for any bride! It really made me feel at one with the space. The kids loved the animals and our pictures came out beautiful! Alissa, Katerri and Eddie really gave it 110 % to have the space immaculate! We are blessed and honored to have been the 1st Cabins at Farrington Hollow Wedding! And we wish the family all the success in the world! This will be the go to place in the Western New York area!