12 Reviews
Recommended by 60% of couples
Quality of service

3.2 out of 5 rating

Average response time

2.8 out of 5 rating

Professionalism

3.3 out of 5 rating

Value

2.8 out of 5 rating

Flexibility

3 out of 5 rating
6 User photos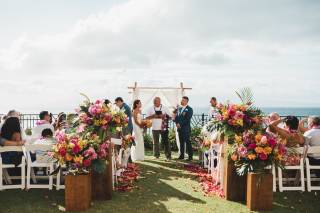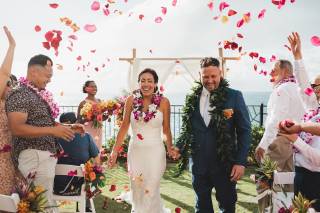 + 2

photos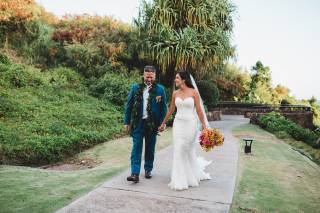 April

Married on 07/22/2021

Maui Wedding

We just got married here July 22, 2021! We loved this resort, it's located right by the black rock area, which was perfect for snorkeling and we loved the beach area here! The resort was beautiful and the staff were so helpful and nice! We loved hanging out at the pool area and getting something to eat and drink and one of the bars and restaurants! My wedding here was Amazing, I had the ceremony at the Moana Lawn and Lounge and the reception at the Coral Reef room! We definitely miss the Sheraton already and want to come back!

+ 3

photos

Jessica

Married on 06/17/2017

I recently had my wedding on the Ocean Front Lawn at the Sheraton in Maui and it was absolutely stunning! My wedding planner took care of every detail and was a great support every step of the way. The food, decor, and view were all equally amazing. I highly recommend this venue.

Our event planner was lovely and very good at her job. The venue was beautiful.

Are you interested?

Send a message

Kelly

Married on 05/01/2011

The Sheraton is a GORGEOUS place to get married! I highly recommend the Black Rock Lawn and Coral Reef Room (where I did my ceremony/ reception). The grounds are gorgeous, my guests all LOVED the pools and beach, and you can walk all around kaanapali.
I do suggest also having an outside wedding planner, as it was sometimes a little difficult to get a quick response time from the Sheraton ladies. Once I had my outside planner working on it though it was perfect, and when it came down to time for the wedding, the Sheraton planner was there all weekend for anything I needed, and the staff was AMAZING during the ceremony. Plus the food and cake was outstanding!!


The Sheraton was the perfect reception venue for us! We loved the Coral Reef Room as it just gave that open feeling to the room with still being indoors to have our reception end at midnight. The food was the best we have had, we got the buffet that have everything, fish, meat, chicken and pork... it was the best, better then the luau food we had at Old Lahaina.. Before the dinner we had our cocktail reception at Black Rock Lawn which was outdoors and right infront of Black Rock where every night, they have a cliff diving ceremony, so we made sure that our guests were able to witness that before heading to the Coral Reef room for dinner.. Everyone loved it! Sunset from Kaanapali Beach is always awesome, only problem is we were not allowed to take our professional photos on the beach as you need a commerical permit which costs alot so keep that in mind if your planning to take some beach photos. The responsiveness on the emails could have been better, but its sometimes understandable that Maui is a busy wedding season place. Other then that, venue was perfect for our wedding! I highly recommend the Sheraton Maui Resort for location, FOOD definitely and the service!

Teri

Married on 06/25/2008

It is an amazing place to get married.

Samantha

Married on 12/13/2014

Daily charge was way too much for nothing. Workers are rude and food way over priced. Wifi sucks.

Lindsey

Married on 03/25/2013

The Sheraton Maui is a beautiful hotel. And their new wedding coordinator, Eva is great.

However, the hotel itself and their management team is a disappointment. While the wedding went off without a hitch, it did take a lot of work to get there. The hotel does not communicate internally and there were many surprises from management during our wedding week.

Going to a destination wedding at a resort, you expect a resort experience. The hotel closed the pool for a large group during our wedding week and did not inform me prior. I had to try to explain to guests what was happening. And instead the hotel reaching out to make things better, they required guests to approach them first to try to get comps off resort fees and rooms nights.

They are a large chain, and while the wedding managers work hard to make you feel special, the hotel lacks the capability to follow suit. At the end of the week, I was exhausted. While I was able to get married to my best friend and that is all that counts, we felt duped by the hotel. You are one of many there and even if spend the money, it seems like it doesn't really matter.

Again, Eva was great, and worked hard to help. But the resort experience that so many people came for, was lacking and I feel like the overall value was extremly limited.



Amanda

Married on 05/02/2013

We recently had our wedding here and I was so disappointed with the organization and staff at the sheraton. We chose to pay extra to get a room block for the wedding. The individual in charge of the room block was so unprofessional. This person would not return email or phone calls. I had to speak to the supervisor just so we could get the paperwork to set it up. Two months before the wedding we had guests calling us saying that the resort was full and they could not book their rooms. When we told the hotel that we had the room block, they said they only block the rooms for the wedding night. The contract is misleading and I would not recommend anyone to pay the extra money for the room block. We had to have our guests stay at the westin down the street. The grounds are beautiful. Our wedding was great and the wait staff and wedding planner were wonderful. I have trouble recommending the sheraton because of the management disorganization with room blocks and booking our guests.

Caytee

Event on: 09/21/2017

We called Starwood customer service and extended our Honeymoon 7 night stay to 9 nights.I was on the phone for literally an hour with the customer service girl who upgraded our room for the stay to a Deluxe Oceanfront room with a King bed for the entire stay, and also said wanted it to be special for us so she was personally emailing the resort to ensure they booked us a King bed and said she was also sending red roses and chocolates.But alas, that whole conversation turned out to be just a waste of time as there was never any roses or chocolates, no mention of a congratulations on our wedding or honeymoon, and worst of all no "deluxe oceanfront with a king size bed" ?
When we checked in, we were told "sorry no kings available" and put in a room with 2 double beds.The front desk guy said he was giving us a room with an "AMAZING VIEW" instead which turned out to be a first floor room giving us a spectacular view of ...bushes.Blocking out the ocean view.It was also farthest away from the pool/parking/lobby and came with funky smells and ants to boot! Ugh.Such a nightmare. What made it worse was talking to other honeymoon couples we met in the pool who told us how they got a free upgrade as well as champagne etc!?Not sure why we were selectively discriminated from good service but it was certainly a huge disappointment.They did allow us to switch rooms after staying 2 nights in the double bed room but they double booked it so we kept getting welcome messages for other guests pop up on our tv and calls and several visits from housekeeping asking us to leave because they thought we were checking out earlier!Worst hotel experience Ive ever had.On this important day in your life do not trust that they will take care of you because they wont.Avoid the nightmare we had and stay somewhere else where you will feel cared for and where they will appreciate your business

Lauren

Married on 11/20/2018

Worst customer service experience of my life

This was honestly the worst customer service experience I've ever had. The staff was on strike during our stay, which was for our wedding week, and they did an excellent job of making sure that no one could enjoy their vacation anywhere near the property. In addition to almost all of the restaurants and room service being closed, there were protesters screaming into megaphones on the beach every single day of our ten day trip, multiple times a day. Try relaxing while listening to people chant for an hour, it's great. We were initially disappointed to learn about the restaurants being closed, but could have gotten over that. The protesting made it absolutely impossible to enjoy your time at the resort.
I ended up talking to the protesters at some point and was told that they announced that they would be striking this month to the hotel 6 months ago if negotiations weren't held and the company did absolutely nothing to negotiate with them until they started striking. So the hotel knew for 6 months that all of their guests' experiences would be ruined this month, they did nothing to work with their staff to resolve things, did nothing to replace their staff, and did nothing to notify their guests that their stay would be impacted by these activities. In addition, they weren't even extra accommodating to make up for it. We got breakfast at the one restaurant that was open on our wedding day, asked if we could take it up to our room because we wanted to start getting ready, and were told "no, this isn't room service". Yeah thanks, we had planned to order room service on our wedding day, if only it was actually available.
I'm just glad my actual wedding was at a restaurant and not on the property. Some other poor bride did have her wedding at the resort while we were there and had protesters shouting at her wedding. She was sobbing. How absolutely unacceptable is it to know that this will be occurring and not give your guests a heads up?
I've traveled quite a bit and have stayed at a lot of hotels ranging from quaint bargain places to nice resorts and I've never in my life been even remotely this dissatisfied. I would highly recommend avoiding this hotel. Clearly any hotel that doesn't bother notifying guests until they check in that their entire stay will be impacted by something this drastic does not value customer satisfaction and is not a safe choice to book.

The staff at Sheraton Maui Resort and Spa were completely unprofessional and very difficult to work with. My husband and I had blocked rooms at the hotel for our wedding and several events we had planned at the hotel. Due to illness and an untimely death we had to significantly decrease the number of guests attending our wedding. The hotel was unwilling to work with us and refused to change the number of guests on the room block, even though we gave them 8 months notice. We tried to cover those lost costs in other ways but the hotel refused to negotiate to a price that my fiancé and I could afford. So, we were forced to cancel our reservations a week before the wedding. To make matters worse, when our guests called to cancel their reservations the hotel staff told them that they would be charged a steep cancellation fee and had to stay for at least 2 nights. All of our guests spoke of how rude the staff was at the front desk and how the service at the hotel was below average. The Sheraton Maui ruined my wedding, something I had been dreaming about my whole life. Please spare yourself this pain/headache and choose a hotel that actually cares about its customers and treats them with care and respect.