38 Reviews
Recommended by 98% of couples
Quality of service

4.9 out of 5 rating

Average response time

4.9 out of 5 rating

Professionalism

4.9 out of 5 rating

Value

4.9 out of 5 rating

Flexibility

4.9 out of 5 rating
20 User photos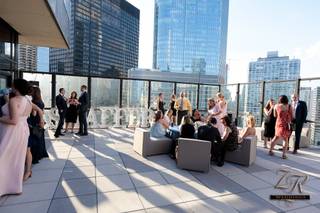 + 16

photos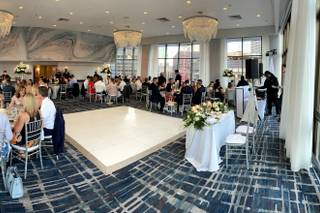 Featured

Meghan G.

Married on 06/05/2021

Outstanding

I highly recommend working with the Royal Sonesta Chicago Riverfront if you are looking to wow your guests with incredible views, delicious food, and an overall wonderful wedding day. Erin was a blessing to have working out all the details and she even helped bustle my dress :) From getting ready in their bridal suite with all my bridesmaids to the last song of the evening every detail was thoughtful and executed seamlessly.

Molly N.

Married on 09/05/2021

THE Perfect Wedding

The Royal Sonesta saved our wedding. Four months before our wedding, our original venue closed. We looked all over for a different venue with the same date and with a lot of luck, finally found the Royal Sonesta downtown Chicago. It was even better than our original venue. The team at the Royal Sonesta helped us replan our wedding in four months and had it go perfectly day of. The food was amazing, the waitstaff and bartenders were amazing, Emily the coordinator was amazing, everything was perfect. It was the perfect place to get married with the most spectacular views! (Also it is where Bruce Waynes penthouse in the Batman Dark Knight movies were filmed, an excellent conversation piece). I can't thank them enough for saving our wedding and all they did to have it be the day of our dreams. Their staff will make sure your special day is phenomenal!

Shereen C.

Married on 06/06/2021

The perfect backdrop for a Chicago wedding

What a hidden gem! We only discovered the Sonesta balcony because we were having our family stay there. It turned out to be the PERFECT location, not only because of its convenience, but also because the balcony has a marvelously beautiful backdrop as well as an almost equally-beautiful rain location (i.e., the attached ballroom with huge floor-to-ceiling windows). Though we had the reception elsewhere, we were able to add a champagne toast and have our first dance on the balcony. I'd recommend and afternoon wedding (2-4pm), which also gives a very affordable price. I don't know if there's another location in the city that offers that price-quality ratio for a ceremony. We worked with Erin Ruff, the event coordinator, and she is amazing! Super responsive and very focused on the customer—excellent customer service. She worked with us to make sure we had the layout we wanted. She also helped manage our entire experience at the hotel throughout the weekend, including our family's hotel reservations. Absolutely great experience. Highly recommend.

Are you interested?

Send a message

Kelcy H.

Married on 09/21/2019

Gorgeous Venue, Awesome Staff

My husband & I held our wedding rehearsal dinner on the 39th floor terrace of the Wyndham Hotel in September 2019 & when we say stunning, we mean it. The venue is absolutely beautiful & Erin Ruff made planning / execution of our event incredibly easy on us! Chef Chris's delicious apps & dinner menu completed the evening with our friends & family. We're 15+ year Chicagoans & haven't met a better city view!

Susan S.

Married on 09/07/2019

Total professionals; beautiful venue

I can't say enough about the professionals here, especially Erin Ruff. I am an anal planner who is inexperienced with such large events. Throughout the entire process, from investigation to the final events, Erin was unbelievable. She was always prompt, calm and helpful. She was instrumental in ensuring that we and our guests had the event of our lifetimes!

Morgan

Married on 08/24/2019

Amazing August Wedding!

My husband and I had our wedding ceremony on the penthouse level of The Wyndham Grand (now Royal Sonesta) in August and it was amazing! As soon as we saw the views we knew nowhere else in Chicago could top this location! It is stunning! Everyone keeps telling us out how beautiful our wedding was. We were lucky enough with weather to have our ceremony outside on the terrace with the most breathtaking views of the skyline and river. The reception was in the ballroom with all floor to ceiling windows with the same gorgeous views. The food was absolutely delicious and the wine and liquor selections were wonderful – it's safe to say everyone had a great time!! Everyone was fantastic to work with throughout the process, special thanks to Tony, Erin, and Wendy who were wonderful throughout the whole planning process! We really appreciated that Wendy was present at our rehearsal and for the entire reception until the end! They also made sure to hold an elevator for guests coming to the wedding, which I was a little worried about, but they made sure the guests had no issues getting up to the penthouse. We're so happy with our experience!!

Omar

Married on 08/09/2019

Great Venue with the best views

We had a perfect wedding at this venue. The team and staff worked really hard to accommodate all of our requests and although planning wasn't always as smooth as we hoped everything got taken care of for the big day. We did need to deal with our main coordinator leaving the company so I know they were understaffed for much of the summer when we had our wedding. This did result in some additional planning but as I mentioned it all worked out in the end. If you get a change to work with Erin Ruff, she is the best and super responsive. Her and the team even showed up on the wedding day to our respective suites to ensure everything went as planned. Going into the wedding our biggest concern was the elevator process as other reviews might have mentioned but this really wasn't even an issue. They do a great job moving people along, and I know the elevators are being updated so things are only going to get better with that. We have zero regrets with having our wedding here, our guests were amazed at being able to experience 3 separate event spaces (Terrace for cocktail hour, Ballroom for dinner, and Penthouse Ballroom for dancing) all in one wedding and seeing their excitement made everything worth it. As mentioned earlier big credit to the actual event staff and bartenders because everything went smoothly even with all of our movement between floors. Thank you to Erin, Wendy and the rest of the team for hosting us!

Danielle

Married on 06/22/2019

Beautiful views and amazing service.

I hosted my wedding here 6/22/19 - it was absolutely spectacular. The views on the 39th floor are some of the best in the city and provide for such a romantic setting. The staff here is so friendly and willing to work with you. I originally worked with someone who stepped down from their position about a month or two before my wedding, but I had zero concerns because Erin Ruff (event coordinator) stepped in and took over. I had all the confidence in the world with her and she exceeded my needs. She is super friendly, relaxed, and knows the ins and outs of the hotel. My wedding would not have been as perfect without her - she is a miracle worker.

The food is also delicious! I enjoyed everything we picked out and so did our guests. Everyone left full and ready to dance and drink. The food options are so great and a wide variety to pick from - my now husband and I thoroughly enjoyed their tasting event.

I will be honest, there were one or two room issues for my guests that occurred, but the Wyndham worked hard to rectify the situation and am very grateful for it.

I know Chicago has so many amazing locations to get married at....but this place really knocks it out of the park. The location, views, food, and service really make this place one of a kind and I would recommend this place to everyone!!!

Ellen B.

Married on 05/10/2019

Amazing views!

My husband and I had our wedding ceremony and reception here a few weeks ago and it was amazing!!! The terrace on the penthouse floor has breathtaking views of the riverfront and downtown Chicago. The floor-to-ceiling windows in the ballroom were the source of perfect ambiance and inspiration during the reception dinner. Everything was beautiful and magical, including the foods, decorations, and service--especially all of the help that Erin and Wendy gave us! We will never forget the perfect start to our marriage!

Ed Mcglumphy

Married on 10/13/2018

Grand Experience at the Wyndham Grand

My son and new daughter-in-law were married in Chicago on October 13th, 2018. My wife and I hosted a 62 person rehearsal dinner and 150+ person welcome reception the night before in the 39th floor penthouse at the Wyndham grand. Everything about the experience exceeded our expectations. Catering sales manager Erin Ruff took care of everything from start to finish. She personally took us on the initial tour of this amazing venue, organized a food and wine tasting event that was almost as much fun as the actual event and personally stayed well into the evening on the night of the event to make sure everything went off without a hitch. She made last-minute adjustments to accommodate some changes we didn't anticipate, without batting an eye. She is a total pro and extremely personable and kind on top of that. I can't imagine there is a better venue in the city. The inside and outside views from the penthouse and Terrace were incredible. All of our guests were highly impressed. The food and bar service was perfect. Audiovisual and other special requests were completely taken care of without issue. We would highly recommend others needing such a venue, to strongly consider this space (and particularly the people) at the Wyndham Grand for your event.

Ed McGlumphy
Columbus, OH

Anthony

Married on 09/01/2018

The Wyndham Grand staff helped make our wedding weekend an amazing experience! The hotel and terrace were beautiful...located right by the river walk and the terrace had 39th floor views of the entire downtown skyline and river. We couldn't have been happier we made the choice to have our ceremony there!

Royal Sonesta Chicago Downtown's reply:

I am so excited that we could be a part of your day. It was our pleasure and we look forward to seeing you both again for your anniversaries to come! From all of us.. Congratulations!!

Emily

Married on 08/04/2018

This venue is amazing! Everything from the booking process to the end of the wedding night was so easy and perfect! Erin is fantastically real, honest, and responsive. She made the booking process a breeze. Brianna is truly a wonder. She does everything to make the night special, and takes all the stress off of the bride and groom and puts together a spectacular event. The food was tremendous, and none of our guests wanted the party to end. Unbeatable views and top of the notch staff. I could not recommend the Wyndham enough!

Royal Sonesta Chicago Downtown's reply:

I am so excited that we could be a part of your day. It was our pleasure and we look forward to seeing you both again for your anniversaries to come! From all of us.. Congratulations!!

Alex

Married on 07/14/2018

The Wyndham was the perfect place to hold an intimate and unforgettable wedding. Brianna Wayne, the event manager at the Wyndham was like a second wedding planner and was instantly able to make sure everything was exactly as expected. There wasn't a single detail missed and we couldn't be happier. The guests all commented on how fantastic the food and service was and the cake was delicious too (Bittersweet Pastry). The terrace is stunning and made an excellent location for a photo shoot before the reception at dusk. If you're looking for memories that truly last a lifetime look no further. Overlooking the Chicago River, being among the skyscrapers, and the impeccable service are unparalleled.

Brad

Married on 07/07/2018

Hosting our wedding at the Wyndham Grand Chicago Riverfront Hotel was a dream. Our wedding of about 108 guests was held in July 2018 in the penthouse of the hotel. We held our ceremony out on the penthouse patio while the reception moved indoors.

From the promotional pictures and videos, you can tell that the room and its views are breathtaking—especially at dusk as the sun retreats behind the gorgeous Chicago skyline. What those images fail to convey, however, is the care and detail that the hotel's wedding staff infuse into their wedding hosting. The event manager, Brianna Wayne, is fantastic to work with; not only is she organized and patient, but she brought a genuine empathy and care to our event that my fiancé and I found exceptionally moving. Brianna moved mountains to ensure that our day was special—from making last minute centerpiece suggestions to facilitating an entirely dairy-free menu for our dietary restrictions.

Brianna's passion for details was mirrored at all levels of the Wyndham staff. Our menu was exceptional—try the Mushroom Risotto, it's fantastic! —and the kitchen was patient and flexible with our dietary needs. During both the setup and dinner, the catering staff were also exceptionally adaptable—even when our photography went overlong and delayed them from setting up the room. Moreover, the hotel itself is amazing. Aside from a few issues with the elevators (which were being renovated during our wedding), our rooms were amazing. The bridal suite provided ample space for my fiancé to get ready, and we were even able to use it to host our out-of-town guests throughout the week. Finally, the hotel's central location made it perfect for everyone to travel to and enjoy Chicago-at-large.

Our wedding at the Wyndham—from planning to execution—was perfect, facilitated in no small part because of its staff of hardworking and caring individuals. Do yourself a favor, and check out the Wyndham Grand Chicago Riverfront Hotel!

Royal Sonesta Chicago Downtown's reply:

I am so excited that we could be a part of your day. It was our pleasure and we look forward to seeing you both again for your anniversaries to come! From all of us.. Congratulations!!

Jaysie

Married on 07/06/2018


I will say what every Wyndham bride before me has said - BOOK WYNDHAM GRAND CHICAGO RIVERFRONT for your big day!!! They were the absolute best choice for my wedding of 70 guests in early July. When planning my wedding, I had the added challenge of finding a venue from out of town as we are from Kentucky and wanted a Chicago destination wedding. The photos of the hotel and penthouse space is what sold us on this venue but to be honest, they do no justice to the views of the city and is only something you can see for yourself so go visit and you will not be disappointed.
Along with the many great features of the hotel, the number one best thing about booking my wedding at WGCR was the event coordinator Brianna Coyle. She is everything a bride wants and needs from the moment they agree on a venue until they are walking down the aisle. All weekend, I knew Brianna was close by and ready to help me with anything I needed. She gave my guests information and direction, ran a seamless rehearsal the night before, made sure my groom and I had enough time to eat at our reception, and fluffed my dress right before I walked down the aisle. Along with Brianna, I also spoke with the catering manager Erin Ruff who helped me reserve the space and start the initial planning process before Brianna took over. Both Brianna and Erin took such pride in making sure our wedding was everything we wanted it to be. When they stopped by my room on the morning of my wedding, I was so happy to see their faces because it was a reminder that the day would be so smooth and as perfect as they could possible control.
Along with the views and the coordinators, the food was absolutely phenomenal and is something my guests have raved about since. The Chef is incredible and made a point to speak to my groom and I at the reception to see that everything was perfect for us and of course, it was.
Book WGCR if you're looking for a perfect wedding venue that will wow your guests and leave you speechless

Royal Sonesta Chicago Downtown's reply:

I am so excited that we could be a part of your day. It was our pleasure and we look forward to seeing you both again for your anniversaries to come! From all of us.. Congratulations!!

Meghan

Married on 06/23/2018

WOW, I highly recommend the Wyndham Grand Penthouse Ballroom- the view of Chicago is unbeatable! I had such an amazing experience and even better than I dreamed it could be! My wedding was 4 weeks ago but I still keep receiving compliments from guests about how beautiful the wedding was. The staff is super amazing, especially Brianna Coyle- she is very organized and extremely helpful with the planning process and will make sure you have the wedding of your dreams!

Royal Sonesta Chicago Downtown's reply:

I am so excited that we could be a part of your day. It was our pleasure and we look forward to seeing you both again for your anniversaries to come! From all of us.. Congratulations!!

Amanda

Married on 05/26/2018

This venue is amazing, but it was the staff that made it a dream!! We had the pent house terrace for or ceremony and reception inside. It's been 4 months and it's still the topic of discussion for all family and friends. Erin was amazing at getting the contract started and Brianna Coyle went above and beyond with all the details, the rehearsal, and the day of. She even hustled my dress without thinking twice! Knowing all that could go wrong in a wedding day is stressful, but with Brianna everything was exactly perfect!!! I couldn't be happier with my experience! Absolutely the best place and staff for your wedding.

Royal Sonesta Chicago Downtown's reply:

I am so excited that we could be a part of your day. It was our pleasure and we look forward to seeing you both again for your anniversaries to come! From all of us.. Congratulations!!

Brianna

Married on 02/24/2018

Wonderful Experience!

I got married at the Wyndham Grand almost a year and a half ago - and our guests are still telling us how wonderful our wedding was! As you can tell from the photos - the view is spectacular and unique. The food and vendor they include in the packages for wedding cake is amazing! What really sets the Wyndham apart is the service they provide. While our guests remember the beautiful view and the wonderful food, my husband and I remember being treated like the most important VIP's in the hotel. That specialized service is what I remember most about our Best Day Ever!

Breanna

Married on 09/23/2017

My husband and I had our wedding at the Wyndham on 9/23/2017 and we both were so thrilled with how everything turned out. Its such a beautiful space, everyone couldn't stop raving about the view and the food! The favorite appetizer by far were the grilled cheese dips (so delicious!). Brianna Coyle, the coordinator there, is fantastic to work with. She will go to bat for you on any requests you make. We even had them swap out the beer in our bar package to a local brew and they had no problems! Many guests told us this was the best wedding they had ever been to. Would pick the Wyndham Grand Chicago Riverfront again in a heart beat!

Royal Sonesta Chicago Downtown's reply:

I am so excited that we could be a part of your day. It was our pleasure and we look forward to seeing you both again for your anniversaries to come! From all of us.. Congratulations!!

Tony

Married on 06/24/2017

Best Location in Chicago!

The Wyndham penthouse and terrace has got to be one of the best locations for a ceremony/reception in Chicago. The views are just breathtaking - in every direction! This is a special place that immediately puts everyone in a great mood. We had about 100 guests, which is just about perfect for this venue. Our ceremony was outside - it was a beautiful evening (a bit windy, but guests could always duck inside and still enjoy the setting). The passed hors d'oeuvres were delicious! - and the dinner courses were great too! The interior space is just as stunning as the terrace. And Brianna was fantastic to work with! We're from out of state (which makes planning a big event difficult), but she handled everything so professionally and was a joy to work with. And Bo, the food and beverage manager, was equally wonderful to work with. It's really just a wonderful place to have an event. It should be on everyone's short list!

Royal Sonesta Chicago Downtown's reply:

I am so excited that we could be a part of your day. It was our pleasure and we look forward to seeing you both again for your anniversaries to come! From all of us.. Congratulations!!

Brittany

Married on 03/25/2017

Brianna was everything we wanted in a catering manager. She did much more than expected from the very first day until the last. She helped with our problems, responded quickly, organized difficult situations, was always smiling, and very fun to work with. She made a stressful day relaxing and enjoyable. I would not recommend anyone but her in Chicago.
The venue was GORGEOUS. It rained and we still enjoyed every second of being in that windowed room. The view is absolutely unbeatable in Chicago (we visited over 40 places before settling on this one). Cannot praise them enough! Bravo and we thank them for making our wedding the best day of our lives. The rehearsal and Sunday brunch were great too.
-Brittany and Cem "Gem" Kuru

Royal Sonesta Chicago Downtown's reply:

I am so excited that we could be a part of your day. It was our pleasure and we look forward to seeing you both again for your anniversaries to come! From all of us.. Congratulations!!

Nina

Married on 10/01/2016

I had a great experience booking my wedding at the Wyndham. Brianna was excellent and very on top of everything. She helped make sure all planning components were covered and gave me really good advice on wedding planning. On the day of the wedding, she made sure everything was executed flawlessly and I didn't have to worry about a thing.
The Wyndham is a gorgeous venue. Would definitely recommend for those that are looking for a city wedding. The indoor and outdoor space was the perfect combination for our ceremony and reception. The venue also provides a lot of great service so made wedding planning much easier for us.

Francesca

Married on 09/04/2016

Do you self a favor and don't ask questions about your wedding venue! If you are into delicious food, gorgeous views, professional service and a wedding coordinator that will make any bride feel like a princess? Look no further. Wyndham Grand River Front was amazing. My husband and I knew we wanted to get married there, we live across the street and every weekend would stare up into the beautiful space and watch weddings and events. Brianna, was amazing! Honestly, as a bride we freak about everything and she was on top of every little detail. Prior to her coming on we signed up with someone who was on their way out and as soon as that happened Grace, who is the the Director of Catering and Events, stepped in for the time being. It was seamless and Grace made us a priority every time I needed her. Brianna came on about 4 months before our wedding. And from the moment I met her, I knew my big day was going to be great! I must have emailed her 10 times a week. Sometimes just to get her opinion on a color. It never took more than a couple hours at max to get a response, even on the poor girls day off! She would meet us on Sunday nights and after her work hours during the week to look at lights and things that only I cared about while respecting that we work and needed to meet at weird hours. But absolutely most all, day of. You have two choices when you are a bride, freak about everything and miss the most important day of my life or sit back relax and enjoy the ride. I wont lie not everything went according to plan, but the minute there was a sign of anything it was like magic, all of a sudden Brianna is there and problem is solved. Mind you we got married on a day when it was 105 heat index and super storm cells raging during my cocktail hour (on the outdoor terrance!). From beginning to end she, and the entire staff at the Wyndham Grand River Front took care of us. I highly recommend their venue. It was the most perfect day!

Colleen

Married on 08/06/2016

My now husband and I were together for 14 years before we started got married and we knew as soon as we walked into the Wyndham that this was the place we wanted to celebrate our wedding and what a great experience we had! We booked with a different coordinator than Brianna - who helped us make everything possible. The transition between coordinators caused me a lot of stress when everything was happening, but the Director of Catering made sure we always felt we were taken care of. Once Brianna was on board we set up a meeting to go over all of my details and ask all of my crazy questions.. there were pages of them! Brianna was great and always had the time to answer my questions and even offered to get to get together with me three weeks before my wedding to help sort things out when I was so crazy busy with work! We worked everything out with a lot of calls and emails, but in the end everything for our special day at the hotel was exactly what I wanted it to be! If I were to plan another wedding I'd do it anywhere if Brianna was there to see it all through with me. My friends and family are still talking about how awesome the food and the view was. I can't say enough about what a great wedding we had at the Wyndham Grand! The whole team made our wedding unforgetable!

Lina

Married on 07/03/2016

My husband, Rob, and I recently got married in the Penthouse Ballroom & Terrace on July 3,2016. Brianna Coyle (our SUPERSTAR wedding specialist from the hotel) was without a doubt the most detail-oriented and helpful person I have worked with! She made sure every detail was ironed out and exactly as I had wanted it to be. She was always willing to meet and/or discuss more details and I never felt that she was too busy for my small wedding. Jessica, the banquets manager was excellent as well. She made sure all of the details were perfect and along with Brianna, checked in with us leading up to and throughout the event. Rob and I are so lucky to have had the PERFECT wedding team to help us on this very special day. I would 110% recommend this property and especially Brianna for your wedding! She is a hard-worker and go-getter and well make sure every aspect of your wedding day is flawless!
Are you interested?
Send a message