36 Reviews
Recommended by 100% of couples
Quality of service

5 out of 5 rating

Average response time

5 out of 5 rating

Professionalism

5 out of 5 rating

Value

5 out of 5 rating

Flexibility

5 out of 5 rating
40 User photos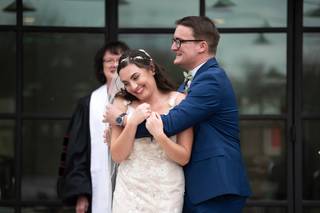 + 36

photos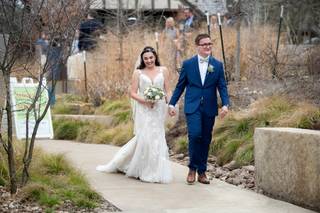 Mary S.

Married on 03/05/2022

Amazing Wedding Pictures & Photographer!

We hired Thomas to take our outdoor, daytime wedding photos. Thomas is very professional, flexible, and overall an awesome kind guy. The pictures he took that day exceed our expectations beyond anything we could have imagined! They were sweet, funny, and captured so many important moments of the day, moments I didn't even realize happened. He knew exactly where to be and when, and somehow seemed to be everywhere he needed to be for each interaction he captured. Our families and friends could not speak highly enough about Thomas the day of, or about the photos he took. We would HIGHLY recommend Thomas for any professional photos needed!

+ 3

photos

Danielle S.

Married on 10/09/2021

Couldn't ask for a better photographer

Super professional, super responsive! Thomas did our engagement photos, and while taking them we decided we needed him for our wedding day. Throughout the entire wedding day he knew exactly what to do, where to go, and the perfect views to capture. Our families were incredibly impressed with the quality of pictures for both our engagement photos as well as our wedding day photos. And many also commented how professional he was throughout the day making sure the groups of people we wanted in pictures were captured. Would definitely recommend Thomas for all types of photography needs!

Tara

Married on 08/15/2020

Amazing! Love all the photos we received!

Thomas was super responsive and open to any and all suggestions I had. I sent him some photos for ideas for our engagement photos and he made sure he did them all! For the wedding Thomas and his second photographer he brought were amazing! They worked well with the younger kids and everything ran smoothly. Thomas did everything to get what we were wanting! I showed him a picture of something I would like. He was good to do it but I decided not to since it would put us behind. He still was able to use a different area and gave me the photo I was hoping for! He is all about making the client happy and worked flawlessly with the videographer that he had never worked with before! It was amazing to watch him get so many great photos and so quickly!! I had all my photos before 3 weeks after the wedding! Fast turnaround as well!!

+ 11

photos

Are you interested?

Send a message

Summer

Married on 11/09/2019

Great photos!!

Thomas was so amazing during my bridals and on our wedding day! He was approachable to everyone at our wedding and went with the flow, even when I was freaking out lol. I would 100% recommend him! Our pictures turned out so beautiful 😁

+ 3

photos

Lindsey C.

Married on 10/19/2019

Thomas is amazing!

Thomas couldn't have been more fun to work with. He made us feel so comfortable during our engagement pics and wedding pics. We got the best pictures to capture all the fun moments!

Jennifer

Married on 10/11/2018

Thomas was absolutely AMAZING!! I would definitely recommend him to anyone with photography needs! He was awesome to work with, and did not pause for a second during the whole event! He is very dedicated to providing amazing memories! Thank you Thomas!! Stay around so I can use you for my son & daughter's weddings!! :)

April

Married on 05/04/2018

OK, so we just got our wedding pictures back from Thomas (after a really speedy turnaround) and wow! My husband and I spent hours going through them and felt like we were truly reliving the day because somehow Thomas really captured the whole spirit of the wedding. I truly felt moments of joy, of pride, of excitement, of sentimentality, all just looking at the pictures - he really did transform the day into something tangible that we can keep forever. We're delighted.

We shared with friends and family who have all commented that these are the best wedding pictures they've ever seen. (My family are Scottish and my Mum was particularly impressed with how he captured the swing of the kilts during dance - the mark of a great photographer!). We feel really lucky to have worked with Thomas, and are now working out how we can get albums made with every picture - because there isn't a single one that we don't want to include.

And in addition to the amazing end product and Thomas' talent, he was definitely one of the easiest vendors who we worked with - super responsive on email at all times, really helpful with advice and letting us know what he needed, and a genuinely lovely person who we really enjoyed working with on the day (which is so important). Thank you, Thomas!

Gina

Married on 03/18/2018

I could not recommend Thomas enough! He was the perfect photographer for our wedding. He was so professional, but still flexible and easy to work with. His sense of humor made the day so much easier. I had so many people tell us that they didn't even notice him there snapping pictures, but they all turned out perfect. Also, turnaround was crazy fast!

Lane

Married on 03/03/2018

I really cannot rate Thomas any lower than 5-stars. I found Thomas through a friend who is a photographer and immediately was drawn to his portfolio. He uses light really well and composes his photos in really creative and engaging ways .

All the other reviews echo what I would say, here are some callouts for Thomas:
-Very responsive to email, text, etc
-Very prompt (early, even!)
-Takes his job seriously and behaves like a professional
-Beautiful composition, eye for detail, pefectionist
-Easy to work with, makes you feel comfortable
-Very timely return of photographs
-Muscled through a rainy wedding day to capture our photos

I would recommend Thomas to nearly any bride; I am absolutely delighted and thrilled with him and hope we can use his services again! Thank you Thomas!!!

Hannah

Married on 11/03/2017

I found Thomas while just searching online for photographers in the area. Me and my husband live in San Marcos and our wedding was in Seguin and Thomas was ready to travel to those places for us! He did my bridal pictures in Austin which turned out amazing and he was also so flexible and patient!!! For our wedding he started early capturing Pre wedding pictures of the men and the women and went all day through the reception and our exit. The pictures turned out beautiful and everyone said they always saw him and the other photographer moving around snapping and capturing the best photos!!! For the time he was there and the quality of the pictures it's the best price!! Him and the other photographer were so great and so nice!

Megan

Married on 10/28/2017

5 stars isn't even a high enough rating for Thomas!! I cant even begin to put into words how AMAZING Thomas was for not only our big day but for bridals as well! He is phenomenal with lighting. Our pictures are truly breathtaking and make me cry every time I look at them. For bridals: he made sure I had water, a bed sheet to put under my dress, and was at the location an hour and a half before we originally scheduled so that he could scope out and plan. For the wedding day: he was a trouper and literally was there from the time we got ready until the very end of our reception. He brought in a wonderful second photographer since we requested 2 so we could have all of the wonderful moments captured and let me tell you...THEY WERE!! They even got amazing photos of the guys getting ready and at the casino which I know our guys and they could not have been easy to get to cooperate lol Now pricing: O.M.G...first we live in Baton Rouge and Thomas is from Austin. That's at least 5-6 hours even more with traffic. He made this trip TWICE. Before finding Thomas (he photographed my uncle's wedding who got married in Austin) I looked around in BR for photographers and they are a pretty penny. After seeing the photos from my uncle's wedding I didn't care how much Thomas was, I wanted him for our wedding! But let me tell you..we had 2 photographers and they were close to the same price as 1 photographer in BR (including travel). AND Thomas had a photo booth. I couldn't believe it. Literally!! Of course no part of a wedding is cheap, but Thomas is extremely reasonable with his prices and wouldn't even let us pay for his hotel room. We had to book it and pay it and make him accept it! He was worth literally every penny and SO much more. He was easily our favorite vendor and I thank God we found him because I would have never found him if my uncle didn't get married in Austin. Thomas took care of everything on his end. I didn't have a single thing to stress over. He's AMAZING!!!

+ 7

photos

Alexandra

Married on 06/17/2017

From the day we signed with Thomas he was nothing but flexible, accommodating, and professional! He and the photographer he brought as our second photographer were incredible and so many people have commented to us how great they were and how they always seemed to be everywhere to capture all of the best moments of our wedding! We had to wait a little while to get our pictures back but it was 100% worth it. They both did an incredible job and our pictures came out absolutely amazing, I wouldn't change a thing. If you're in the austin area we highly highly recommend Rojo Pictures!

Katy

Married on 06/10/2017

Thomas photographed my entire wedding day and captured every moment so perfectly (pretty impressive seeing it was only him). He took photos of my family and friends decorating our venue, the bridesmaids getting ready, then the entire ceremony and reception. If I could describe his style, I would call it classic, yet creative. Not only was he an amazing photographer, but he was extremely nice and did everything we requested. He is priced extremely well for the product he delivers, and I would recommend him to anyone!

Brittney

Married on 11/18/2016

Thomas is absolutely amazing! By far my favorite vendor that we used for our wedding. He was great from start to finish! We live in Louisiana so planning a wedding in Austin was somewhat of a challenge. So after we booked our wedding at the Oasis at Lake Travis we used their preferred vendor list as a place to start - which is where we found Thomas. He was affordable, his pictures were amazing, and he responded right away. He apparently works a lot in LA so he even offered to drive down to come meet me before I even hired him which was so awesome to me because I assumed I wouldn't be able to meet any of my vendors until the wedding. After meeting with him, we hired him immediately. He's everything you could want in a photographer! He even came to LA to take my bridals and got there early to scope out places to take pictures. On our wedding day, he got there early and stayed with us until it was over, capturing all the little details, us getting ready, sunset pictures, family pictures, and some great reception photos. He also offered a photo booth which was a huge hit! We got our pictures back in just a few weeks and were absolutely in love with them! Even our families loved him - one of my bridesmaids actually already hired him to do her wedding later this year! So stop looking around for a photographer and book Thomas - I promise you will not be disappointed!!

Pamela

Married on 06/04/2016

Thomas is a phenomenal photographer, I actually hired him based off his documentaries rather than his wedding photography, and he is a preferred vendor at our venue Umlauf, another institution that I trust. We did the single shooter package which was the perfect fit for us for time and what we ultimately wanted. Thomas worked so hard for us to get the right shots. As a chill bride (chill to a fault) without a wedding coordinator, he was punctual and organized and lead the timing for the ceremony. He even ran to deliver the rings to the groomsman after taking shots. He worked extremely well with our videographer, which can be difficult b/c they are often competing for "the perfect shot." In terms of professionalism, he was always in contact with me and delivered the photographs within a month of our wedding as stated. He really was the best and I wish him the best of luck in all of his future endeavors!

Shannon

Married on 05/06/2016

Thomas had done a few of our friends' weddings and we are so happy we chose to use him for our special day! He did an awesome job capturing memorable moments with our family and friends, especially the special moments honoring my Dad at our wedding!!! Thank you so much Thomas for everything you did for our big day :)

Alicia

Married on 04/10/2016

I'm so, so happy we hired Thomas to capture our wedding. Full disclosure: I've known him since we worked together on our college paper more than a decade ago, but we reached out to him for this job because he's a terrific photographer. He was super organized, a great communicator, very flexible, and just an all-around nice guy. We met up several months before the wedding to talk about scope of what we wanted, and he suggested several options that we hadn't even thought of on our end. On our wedding day, he captured terrific portraits of us doing a "first look" (not an easy thing, since we're both super awkward in front of a camera) and some great portraits at the Zilker Clubhouse (our venue) with the Austin skyline in the background. But where his skills and talent really shone were in all the candid photos he captured throughout the day--as we were going through the album, we had so much fun remembering those little moments. He made everyone look beautiful in the images. Our wedding was a day full of joy and laughter, and the images really reflect that. Delivery of images is super convenient and gives you a lot of flexibility in how you want to share them and print them. One more thing--I highly recommend the photo booth option that he offers. Setup is super easy, and our guests had so much fun with all the zany props. We highly recommend Thomas as a wedding photographer!

Daniela

Married on 03/19/2016

Thomas was everything you want in a wedding photographer! We had him photograph our wedding at the Oasis on Lake Travis. WOW! Not only did he know how to work with sun/lighting/composition, he also knew how to plan the whole day's shooting schedule, so all we had to do on the day of the wedding was stand in the right place at the right time and smile. He showed up early and took shots of the bridal party preparing, covered guest arrivals, ceremony, reception, etc. He was basically where he needed to be when he needed to be there, and was like a ninja while he did it. Half the time, I didn't even realize he was right in front of me getting a primo shot. And, oh yeah - the pictures turned out great!! If you're looking for someone to capture your special day, and even add a little to it with his own personal touch, pick Thomas.

Hannah

Married on 12/05/2015

There are several words that come to mind when describing Thomas' work and the one that stands out is AMAZING! Without meeting Thomas and relying solely on his work and great communication I'd say I hit the jackpot! His flexible hours is what made it even more special. He was early and very professional and you can tell he wanted to do a great job for us. That meant so much to me. He was also very patient with the day and night events, fought his way to get the best shot, even chased around a peacock to see if it would open its tail for us ! What fun we had! But all seriousness he will not disappoint you, and the pictures turned out beautiful! Such a special things to have. I will definitely use him again in the future for other family events! Thanks Thomas for working so hard at our wedding and giving us the best memories I could ever have!!

Taylor

Married on 07/04/2015

Wow, is all we can say. Not only did Thomas go out of his way, driving to Dallas for our engagement photos (with dogs I might add), he also came up AGAIN for my bridal portraits. Thomas made the entire experience, from start to finish, one of the most memorable, easy going, and perfect experiences. He was the first vendor we interviewed, and knew right away with his laid back style and personality he would've the best for us. He worked diligently, even sending us sneak peak pictures the day of any shoot. I could not be happier with the results, and recommend him whole heartedly to everyone. We had heard horror stories of photographers not having the pictures ready for months and months after the wedding, and we had ours a few weeks after the wedding. WOW! I look forward to using him (hopefully) in life events.

P.s. If you have an absolutely crazy family who does not get along ( divorced parents) like us, and need somebody to interject calm and peace, Thomas is your guy. He made my mother and father pose together for a photo. I would never have believed that!!!

Alex

Married on 08/31/2014

Rojo Pictures was excellent! I researched almost every wedding photographer in the Austin area, at every price range, and picked Rojo Pictures because they offered excellent quality for a reasonable price. While I certainly wanted gorgeous wedding photos, I didn't want to spend thousands of dollars on them. Rojo Pictures offered a full day (no time limit or location limit), with two shooters and a photo booth for an excellent price. I got my pictures two weeks ago, and I can tell you - they are AMAZING. He caught so many excellent candid photos from the ceremony and reception, and found beautiful backgrounds and lighting for our portraits. The photo booth, which we didn't expect much from, turned out to be a huge hit with our guests and resulted in some awesome shots. Thomas was easy to work with, great at responding to emails, willing to meet in person several times, and worked non-stop the day of our wedding to capture everything. I would highly recommend him.

Thomas did a wonderful job photographing our wedding! He was very flexible and professional, and the pictures came out great! I particularly love the candid shots he got and the pictures from the photo booth he set up.

Ellen

Married on 04/12/2014

Thomas is amazing!!! He just did the photography for our wedding, and we feel so blessed that we were able to find him. He is so focused on getting his shots, and was wonderful at suggestions for first glance, and other shots that turned out so wonderful. We had so many compliments from our guests, and he made sure to get pictures of everyone that had attended our wedding. Thomas pretty much told us we could have him as early as we needed and as late as we needed, if your looking for a fantastic photographer he can get the job done. We highly recommend him, and if we ever have a need for a photographer for any other event we will not hesitate to give him a call. Thank you Thomas! Danny & Ellen

Lisa

Married on 02/22/2014

Brides- Thomas is the man for the job! Thomas, aka "Johnny on the spot" was wonderful, flexible and he takes the best pictures in town! Thomas took photos of our rehearsal dinner, pre- ceremony, ceremony and reception. The pictures capture every single moment and the photo booth was a hit! Thank you so much Thomas, your fabulous pictures will be cherished forever! I recommend any bride in the Austin area to use Thomas for any wedding needs!!! Thank you Thomas!

Yaima

Married on 10/05/2013

He did such a great job!! We love our pictures!! Very professional, excellent price and service. Very organized! I would recommend him for your wedding or any event!
Are you interested?
Send a message