275 Reviews
Recommended by 100% of couples
Quality of service

5 out of 5 rating

Average response time

5 out of 5 rating

Professionalism

5 out of 5 rating

Value

5 out of 5 rating

Flexibility

5 out of 5 rating
66 User photos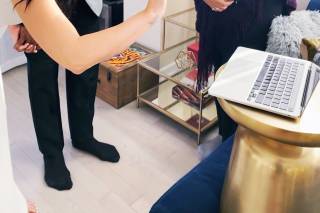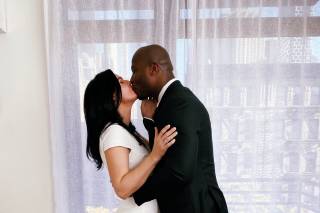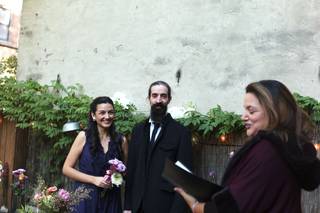 + 62

photos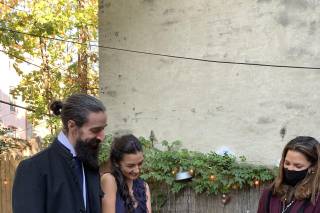 Featured

R Dupuy

Married on 08/20/2021

Make your marriage stronger.

I've written a review previously on how Reverand Samora Smith has come through for my wife and me during a time of need during the early stages of the pandemic. To make a long story short, we were fretting for an officiant for our zoom wedding, and Samora guided us through the marriage license process and officiated our wedding through zoom.

Prior to that moment, we met Samora before the pandemic and we loved her calm, patient demeanor, and her upbeat attitude. A year later, even though we were officially married, we still planned on having an "in-person" ceremony with our friends and family during the summer of 2021. During that time we were in constant communication with Samora and she even provided us with marital counseling prior to the ceremony we had planned.

The counseling was free, and it wasn't time-consuming. Samora had modules that were easy to navigate. Each module consisted of topics that are imperative in maintaining a strong and healthy marriage. Her online course led to my wife and me having honest and reflective conversations about our future, that were beneficial and important to have.

After completing a few modules Samora would have a counseling session with us that was very therapeutic. Samora is humorous, and easy to talk to, but she kept us accountable.

I feel working with Samora had made our marriage more open, and communicative. If and when my wife and I decide to renew our vows we will definitely select Samora Smith to be our officiant again.


Ernest

Getting married on 09/09/2023

Rev Samora was a pleasure to work with. She made our Wedding Day very special. She was so kind and sweet in helping us prepare for our special day. We live in Georgia and did all the preparations via phone and emails with her and she made it so simple for us. She always gave us so much great advice that we never once had any concerns about our Wedding Day. I would highly recommend her to anyone planning a ceremony. She made our Wedding Day so special, that we are so thankful to of had her celebrate it with us. We just want to say, Thank You Rev. Samora for celebrating our Wedding with us and making it very memorable.

Thanks,
Bill & Ernie

Daniel P.

Married on 03/05/2022

Excellent service

Rev. Samora performed a beautiful, personal, and heartwarming marriage ceremony for us in the midst of the COVID-19 crisis. Despite the remote nature, it felt every bit as intimate as a traditional wedding ceremony thanks to her.

Rev. Samora/Common Ground Ceremonies's reply:

It was so great to officiate your ceremony today. Congratulations again and thank you for leaving such a great review.

Are you interested?

Send a message

Kyle W.

Married on 02/14/2022

Rev. Dr. Samora is amazing!

We contacted Rev. Dr. Samora at the beginning of February to officiate our wedding on February 14th, 2022. She was very professional, extremely easy to work with, and let us know that it was our day and that we could do whatever we wanted for our ceremony. It was a very cold day with a lot of wind and snow, and we were married in the most perfect location, across the turtle pond from Belvedere Castle in Central Park. Rev. Dr. Samora and her photographer Sergio made our day exciting, fun, and definitely rememberable! We trekked through the snow over to the rocks close to the pond to be in front of the castle for more privacy and better pictures. Sergio did an amazing job taking photos to capture our day!
We would highly recommend any couple getting married in the NYC area to call Rev. Dr. Samora!

Kyle & James

Thomas B.

Married on 11/30/2021

She made our day in Brooklyn

We eloped to New York towards the end of 2021 and could not have been happier with the service Reverend Samora provided. She was so helpful throughout and a shining example of professionalism. Rev Samora gave us a beautiful and personalised service and did a Celtic hand wrapping ceremony - as well as braving the cold (and a little snow!) in Dumbo. Thanks Rev Samora - we would highly recommend her. Tom and Sarah

Lauren M.

Married on 10/16/2021

Wonderful experience

We had a small ceremony and Reverend Samora did a beautiful job officiating. We would recommend her to everyone!

Qi L

Married on 10/16/2021

I recommend Rev. Samora Smith

Rev. Samora was kind and professional as the officiant for our wedding. She put us at ease and performed a beautiful and memorable ceremony. I could not be happier with the results for such an important part of my life.

Janeva W.

Married on 10/08/2021

Wouldn't change a thing!

Initially, my wife & I were hesitant regarding finding an officiant for our same-sex wedding. We put off searching for one because we feared rejection and discrimination due to our sexuality. However, after seeing pictures of Rev. Samora in many same sex weddings at our venue, we knew we had to seek her out. To make a long story short, she most definitely did not disappoint. We received many compliments from our guests in regards to how personalized the ceremony was. Guests even asked if we knew Rev. Samora personally from the way she spoke about the two of us and our backgrounds. I highly recommend her if you're looking for an officiant to make your ceremony feel comfortable, personalized, and intimate. Thank you again Rev. Samora for being a part of our special day!

Samantha E.

Married on 10/02/2021

Beautiful personalized ceremony

My husband and I loved working with Rev. Samora and having her officiate our recent Brooklyn wedding. We also had a few premarital counseling sessions with her. She is so warm, empathetic, understanding and kind. Multiple guests commented on how lovely the ceremony was and asked if Rev. Samora was a friend of ours since she knew us so well and the ceremony was so personalized. Highly recommend her for a beautiful and customized ceremony.

Gulcan C.

Married on 09/20/2021

Could not be better!

After looking for a few other options, my heart chose to move forward with Rev Samora and I understand why! Rev. Samora was the best officiant we could have ever dreamed of!
She was so kind, professional, making you feel comfortable, understanding your needs and spoke such beautiful words at our ceremony. The energy was so right with her!
I feel like she really puts her heart in her work emotionally and morally.

Tracy S.

Married on 09/03/2021

Great Officiant!

Reverend Samora was knowledgeable, professional, and made our day very special!!!!! I would recommend her to everyone interested in a fantastic officiant!

Katherine

Married on 06/12/2021

I love it such an amazing experience.

Samora was super amazing and made us feel comfortable and happy I totally recommend her.

Rafaela T.

Married on 12/04/2020

Excelent staff!

Antonio was excellent, very attentive and responsible, I would definitely recommend him.

Davitha R.

Married on 11/15/2020

Unforgettable experience

Rev Samora helped make our ceremony unforgettable from start to end - she was so helpful in writing vows we both truly loved and delivered the ceremony in a wonderful way. All of our attendees/viewers commented on how beautiful the ceremony was and we will forever remember it. Would highly recommend her services!

Rev. Samora/Common Ground Ceremonies's reply:

Thank you, Davitha! You are such a beautiful couple and you made me feel so comfortable and welcome in your home. Cheers to good health and an amazing, joyful new year!

Alicia C.

Married on 11/14/2020

Amazing, she was just perfect!

Samora made our ceremony absolutely perfect! The draft that she provided was great, but at the same time she was flexible to make the adjustments that we requested. We received many complements on how beautiful the ceremony was (specially from friends and family that connected trough zoom to watch it, because sadly Covid didn't allow them to be there in person). The words were meaningful, perfectly chosen. She was very puntual, didn't rush the ceremony and we can only say THANK YOU!! Highly recommended

Rev. Samora/Common Ground Ceremonies's reply:

Thank you for the kind words! I am blessed to be able to show up and create some joy for you and your loved ones, near and far! Congratulations again!!


Tina

Married on 11/12/2020

Amazing experience

Overall amazing experience. Thank you Samora for making my day even more special

Rev. Samora/Common Ground Ceremonies's reply:

Congratulations! It was my pleasure to support you and share such a great moment with you! Happy Holidays.

Marco M.

Married on 10/30/2020

Truly amazing

Antonio, our marriage official, who also speaks perfect spanish in case needed, performed our wedding ceremony in an incredible fashion. He was punctual, professional, and above all full of joy. He kept in touch with us for ever question we had, helped us through the process of getting our marriage license, and ultimately delivered an incredible speech. Incredible service, full of love and spirituality. Very respectful and understands every request made. Totally recommended.

Rev. Samora/Common Ground Ceremonies's reply:

Thank you Marco for the amazing review. I am so happy that you were pleased with Antonio's service. He is a wonderful person and his love shines through in everything he does. Congratulations once again!!

Rashida D.

Married on 10/25/2020

Wedding Ceremony

She was amazing, she basically did everything i ask her and more.

Paul R.

Married on 10/10/2020

Beyond our expectations

Reverend Dr. Samora was a dream come true for us! Trying to secure a meeting with the City Clerk was a challenge, but Rev, Dr. Samora updated us on newly scheduled times that we were able to secure. Energies run wild on a wedding day, but Rev. Dr. Samora's calm demeanor was soothing and much needed for my husband and I.

Rev. Samora/Common Ground Ceremonies's reply:

I am so blessed to have met you and been the one to cross you over the threshold. Much love and blessings to a beautiful life together. Stay Gold!!

Kanassanan

Married on 09/14/2020

Wonderful experience!!!

Rev. Samora was very professional and friendly. We love how our marriage was conducted. She asked our story and included our story in our ceremony, which was wonderful. She made our simple wedding into most memorable moment of our life.

Fengyuan G.

Married on 09/06/2020

Very good!

So talented and fun to be with. Nothing better!

Alyssa N.

Married on 09/05/2020

Wonderful Experience!

Rev Samora was extremely professional, personable and made our wedding beautiful! She was promptly on time and was flexible once we had to change our wedding date. Definitely recommend!

Rev. Samora/Common Ground Ceremonies's reply:

It was such a joy to be in your presence and witness your love. You have a beautiful future to look forward and I am here to support you along the way. Thank you!

Nichcole G.

Married on 08/24/2020

Memorable 9/24/20

My fiance and I had to cancel our larger wedding due to COVID-19, but still wanted to be legally married this year on our anniversary. Rev. Samora was wonderful throughout everything from questions we had about the ceremony, zoom, and the virtual wedding process that included our famous and close friends. We would recommend Rev. Samora to anyone looking for a professional and thoughtful ceremony!


Rev. Samora/Common Ground Ceremonies's reply:

Thank you and may you both enjoy a long, successful, and loving marriage. I am grateful to have been able to support you during this challenging time. Congratulations and be well!!

Jameela A.

Married on 08/23/2020

Perfect Fit!

Rev Samora was the perfect fit for our COVID wedding. We couldn't have imagined our special day without Rev Samora being our officiant. She was able to seamlessly mesh our cultures while telling our love story.

Rev Samora, thank you so much

Rev. Samora/Common Ground Ceremonies's reply:

Congratulations again to you and your beautiful family! May you always be blessed and protected on your journey together. Asé!

Dana S.

Married on 08/06/2020

Super Happy

My husband and I HIGHLY recommend her services. She made everything so easy and the experience was everything we wanted. Her calm voice, her beautiful words, made our day absolutely perfect. Thank you so very much.

Rev. Samora/Common Ground Ceremonies's reply:

Congratulations again and thank you so much for your kind words. Please reach out if you need anything and stay safe and happy!!
Are you interested?
Send a message