14 Reviews
Recommended by 100% of couples
Quality of service

5 out of 5 rating

Average response time

5 out of 5 rating

Professionalism

5 out of 5 rating

Value

5 out of 5 rating

Flexibility

5 out of 5 rating
3 User photos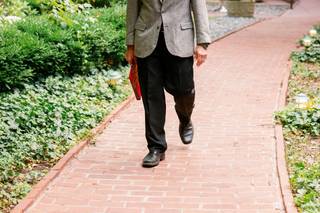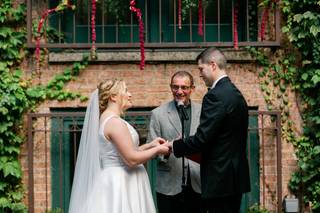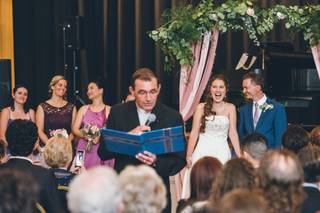 Morgan

Married on 10/02/2022

Simply the Best

Father Jef is simply the best. We instantly liked him when we met to discuss obtaining his services for our wedding. He is so warm, easy to talk to, and engaging, and after our wedding I can confidently say that he loves what he does and is truly talented at it. He gave the perfect ceremony I could have envisioned for a couple wanting religious elements (one of us was raised Catholic, and we are between churches right now) and also wanting a very personal ceremony. He captured us and our relationship so perfectly, that some of the speech-givers at our reception commented they didn't have anything to add as he covered it all - ha! So glad we hired Father Jef to officiate our marriage.

Amanda P.

Married on 06/20/2020

We loved working with Fr Jef!

If you are getting married and looking for an officiant, look no further than Fr Jef! The minute my now husband and I met him, we clicked with him and I knew he would make our ceremony special. We got married last weekend and I couldn't be happier with how the day went. He was such a pleasure to work with the entire time leading up to the big day, even as we had to postpone our original date due to COVID-19. During the ceremony, Fr Jef spoke to the audience (and our Zoom guests) on a personal level by incorporating special moments of our relationship. Guests even commented that it seemed like we'd known him for years. Thank you Fr Jef for helping to make our wedding day so memorable!

Ministry Beyond the Church's reply:

Thank you so much for your generous review. It was my pleasure and honor to work with you to make your wedding as special as possible.

Krystyna

Married on 11/09/2018

Such a personalized, wonderful service!

My sister found Fr. Jef for her wedding (June 30, 2018), and my husband and I are SO glad we used him for our wedding as well (November 9, 2018)! My husband and I met with Fr. Jef once to discuss the services he offered, and to learn a bit about each other. He then sent us a few options for ceremony outlines, including examples of typical readings we could incorporate, but encouraged us to personalize it as much as we wanted. We chose a non-traditional reading and asked him to add in a hand ceremony, all of which he happily did. He had also sent us a list of questions that we had to answer about each other, and incorporated our answers into one of the most personalized ceremonies I have been to. Would definitely recommend him to everyone!

Are you interested?

Send a message

Ashley

Married on 09/09/2017

If you are looking for a wedding officiant, look no further!!!! Everything you have read so far is 100% accurate. Father Jef is AMAZING! My husband and I were looking for an officiant, as neither of us are a part of a church, and stumbled upon Father Jef. After a quick coffee meeting, we knew he was the right officiant for us.

Our wedding ceremony was unlike anything I had ever seen/heard before, Father Jef has such a way of bringing stories to life. When it was time for him to speak, right before our vows, Father Jef stepped into the aisle, forcing us to face our guests, which really helped connect with everyone and we all laughed together and it really made the ceremony so much more personal. Father Jef is funny, engaging, and has a way of keeping things light while still being completely professional.

Its been a couple weeks since our wedding and our guests are still saying things like "That was the best wedding ceremony I've ever been to", "I want to go back in time and have him marry us", and "I'm seriously reconsidering the whole church wedding, just so I can have him marry us." and everyone's first question is "WHERE DID YOU FIND HIM?!?!" He is that amazing!

We could not be more thrilled with the job Father Jef did, he made our wedding ceremony perfect. I can't wait to get our wedding video, so that I can watch the ceremony! From the bottom of our hearts, thank you so much, Father Jef! Truly amazing!

Andrew

Married on 09/03/2017

Father Jef performed the most touching, personalized, memorable wedding ceremony I have ever witnessed -- and it was my own wedding!! Never before have I been to a wedding where the officiant is the most memorable part of the entire event, but weeks later our friends and family are still reminiscing about how phenomenal our ceremony was. It is so clear that this is Father Jef's calling -- he filled the room with joy and tenderness, laughter and happy tears. I know we will be reminiscing about Father Jef's dedication for the rest of our lives. Father Jef worked with my husband and I to create a truly unique ceremony -- we are not particularly religious, but our families have very devout Catholics and Jews on both sides. A testament to Father Jef's skill and expertise: the patriarchs of the family on both sides told us that we had the single most beautiful wedding ceremony they had ever attended. We are so grateful that we found Father Jef and that he was the one to bless our marriage. You must meet him!

Lara

Married on 07/23/2017

Amazing conscientious officiant!

Choose Fr. Jef!! It's truly the best decision you can make for your marriage ceremony! Choosing an officiant can be a daunting task, but we are SO grateful to have found Father Jef. When I heard Father Jef at another wedding at which I was performing, I immediately knew that I wanted him to officiate our wedding. Both my husband and I are musicians and have played hundreds of weddings. Fr. Jef is the best officiant we have ever worked with. It is clear that besides being an eloquent and charismatic speaker, he is extremely conscientious and thoughtful. He is understanding and sensitive with an open minded approach. He works extremely hard to make your wedding ceremony unique to you and he has a system to do so that really works. He patiently incorporated all the readings and details we requested at our July 2017 wedding and also gave his own talk about us that made it sound like he had known us for years. It was amazing and everyone loved it! We also did several very helpful marriage counseling sessions with Fr. Jef prior to our wedding. We only regret not doing so sooner! Not to mention, his price is extremely reasonable. We are forever thankful for all Fr. Jef did for us and hope that you will have the opportunity to have him at your wedding too! (Photo credit: Ed & Aileen Photography)

Ministry Beyond the Church's reply:

Lara- Thank you so much for your wonderful review. To know that I have made my couples happy means everything to me. I am humbled. Thanks again.

Noelle

Married on 05/27/2017

Father Jef was amazing! From our first meeting with him, we knew we wanted him to officiate our wedding. He even drove out to meet us in our town. He was kind, listened and seemed genuinely interested in our wedding and relationship even for just meeting with him! We were able to completely customize our wedding ceremony with Father Jef. We chose the readings and prayers for our ceremony. Growing up Catholic but not currently being a partitioner at a church, I still wanted some aspects of Catholicism in the ceremony. Father Jef was able to do this! We each completed a questionnaire about our relationship that Father Jef used for our ceremony. Our ceremony had it all, touching moments, laughs and it really was all about us. We were so happy with Father Jef. Even our guests were raving about him! They couldn't believe we found him online! It seemed like we had known him our whole lives. My only regret is that we didn't get a picture with him! Father Jef was easy to communicate with through email and always responded quickly. He truly made our wedding so special and memorable. Thank you!

It boggles my mind that there aren't more reviews for Father Jef! Don't let the numbers deceive you, this man is the real deal. After reading these reviews and the review for Father Jef on Yelp, we felt that there appeared to be clear consensus among the couples who worked with Father Jef on their ceremony--that he is authentic, remarkably able to convey a sense of intimacy, and furthermore that he is entertaining without being hokey or a showman. After meeting with Father Jef, I felt so confident in our decision to go with him. He was warm, sincerely interested in learning about us, and listened intently. Neither myself nor my husband are religious but we wanted the ceremony to be meaningful and Father Jef was completely open to incorporating our 'non-traditional' readings. He created an atmosphere of such warmth and meaning during the ceremony when he had my husband and I turn to our guests as he stood in the aisle and created a circle between us and our guests. We were able to look out at our friends and family as he spoke to our relationship, to us as individuals, and to the life we hope to share together. Needless to say, we had high expectations for Father Jef and he met and exceeded everything we had hoped for. As other reviewers have stated, we have lost track of the number of guests who were convinced Father Jef had known us our whole lives, based on how personal and insightful his ceremony was. Father Jef is wonderfully warm and created a ceremony that was moving, funny, sincere, and memorable. Thank you for making our wedding everything we had hoped it would be, Father Jef!!

Sarah

Married on 12/31/2015

We originally found Father Jef on Yelp and knew after reading all of the stellar reviews that we had to reach out to him. He was incredibly warm and authentic in our first meeting, and after comparing him to another officiant whom we felt did more cookie cutter ceremonies, we decided to have Father Jef officiate ours. We couldn't have been happier.

My friend, after raving about the ceremony, then finding out we found Father Jef on Yelp exclaimed, "no way, I could have sworn he baptized you and knew you your entire life." That pretty much sums up Father Jef's ability to customize and create a memorable ceremony for a couple. He gave us a multitude of options on how we could tailor the ceremony, which we determined as a couple. He also sent through several questions about our relationship and history that he had us respond to separately. His ability to then combine the two into a truly magical ceremony was incredible. I would highly recommend his services for your own special day.

Mary

Married on 10/10/2015

Fr Jef is absolutely amazing! He came to our home for our first meeting and really took the time to know us. From there we were able to completely customized our ceremony based on recommendations he gave us. I loved that he had readings we could select from OR include our own readings. His message during our ceremony was beautiful. Everyone at our wedding is still raving about how it was the best ceremony they had ever witnessed. His service is amazing, his message is amazing -- do yourself a favor and book this man to officiate your wedding!

Grace

Married on 04/18/2015

Fr. Jef Johnson is AMAZING!!! People actually talked about how phenomenal our ceremony was the following days after our wedding. People usually only talk about the reception, but our wedding guests loved how engaging Fr. Jef was. People actually stated that it was the best ceremony they had ever seen!

Fr. Jef is wonderful to work with! He's engaging, funny, and professional. He tries to learn as much has he can about the couple. He not only asks great questions during the initial meeting but also has the couple fill out a fun questionnaire.

If you want a wedding ceremony people will be talking about the next day, go with Fr. Jef!!!

Beata

Married on 11/08/2014

My Husband and I can't say enough good things about Fr Jef. We live in LA and decided to get married in my Husbands home town of Chicago. As I started to hunt for an Officiant I came across Fr Jef here on yelp - after chatting on the phone and Via email we met on a trip to Chicago this summer- The meeting went great - we wanted a service that was a mix of traditional and Non. Fr Jef let us customize the whole thing. we started w/ a prayer - into 2 Non Traditional readings, into a gospel reading which lead into this homily which by far was the best part of the ceremony. He ask us both to fill out a questionnaire about each other (with out letting the other see it) He customized the whole homily to us - EVERY single person there thought that he was a family minister for years. If you are looking for someone - PLEASE do yourself a favor and make sure you get Fr Jef- WE ARE SO HAPPY WE DID!

Fr Jef is wonderful! Finding an officiant was, for me, the most difficult part of wedding planning. After all, the wedding ceremony is what the day is really all about! It meant a lot to me to find a warm, caring and personable officiant. It was also important to me to find someone who could relate to my husband's and my Catholic upbringing. My husband was the one who found Fr Jef online and I am so happy he did! We had a great first meeting with Fr Jef and knew he would be the perfect fit for our wedding. He gave us the freedom to pick our own readings and make the ceremony as religious (or not) as we wanted. Everything in the ceremony was personalized. He also gave us each a really fun list of questions to answer about one another. Not only were the questions entertaining to answer, they helped us each reflect on why we were getting married. His homily on the wedding day was sweet, funny, and captured our personalities and love. Even our most stoic guests laughed and were brought to tears. I cannot recommend Fr Jef highly enough! He made our wedding day truly memorable and special. We will never forget how hard he worked to make our ceremony perfect.

Leslie

Married on 11/05/2011

Fr. Jef was wonderful and made our ceremony magical. So many people approached us after the ceremony saying that it was the most beautiful wedding ceremony they had ever witnessed. We were getting married in Chicago, although we live in Minneapolis, so we had a couple phone consultations with Fr. Jef before meeting him for the first time at the rehearsal. He clearly listened to everything we said and read between the lines because he had a great idea of who we were as a couple and as individuals.
He provided great guidance and examples of how to structure the ceremony and was incredibly flexible about last minute additions. It was totally customized to us, and I really appreciated that.
I would definitely recommend Fr. Jef to anyone looking for a fantastic, easy to work with wedding officiant.