10 Reviews
Recommended by 100% of couples
Quality of service

5 out of 5 rating

Average response time

5 out of 5 rating

Professionalism

5 out of 5 rating

Value

5 out of 5 rating

Flexibility

5 out of 5 rating
1 User photo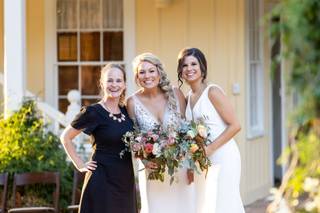 Kelly L.

Married on 04/24/2022

Phenomenal Wedding Planner

The wedding was way beyond our expectations (which were high already)! It was such a wonderful, joy-filled, stress-free, pleasant day. Our families and guests have raved about the event and we've gotten so many comments about how nice the vendors were. I don't think I've ever talked to a vendor at someone else's wedding, so that's really cool to hear.

Lindsey offered exactly the guidance we needed, from helping us select reputable and highly skilled vendors who are also wonderful people like her (trust her recommendations, you won't regret it!) to little things like helping me figure out what kind of sunscreen wouldn't ruin my dress or which restaurants in Napa had private space large enough for our rehearsal dinner! We didn't have to worry about a thing on the day of the wedding or even the days leading up to it. Lindsey had everything covered, and she helped me get my ducks in a row before the big day so our families and bridal party knew what to expect as well.

I was dreading wedding planning after how much time and effort it took to research venues. Hiring Lindsey was easily the best decision we made because all that stress disappeared the moment we did. She made it not only manageable, but a lot fun. She was excited along with us, made real suggestions and recommendations to help us carry out our vision and it felt more like meeting with a friend to plan rather than business meetings.

Lovely Day Events's reply:

Thank you so much for the kind review! We loved working on your brunch wedding (now we love brunch weddings!).

Jessica

Married on 09/18/2021

Couldn't have done it without Lindsey!

My wife and I absolutely loved working with Lindsey at Lovely Day Events! Throughout the entire wedding planning process, Lindsey was always there for us with any questions or concerns that we had. She kept us on track throughout the entire year leading up to our special day, and provided much needed support and suggestions along the way. Lindsey was also extremely supportive and optimistic, even in the midst of a pandemic. She really gave us hope throughout the entire process. I cannot recommend her enough - she understood our vision so well, and helped us make our wedding day an unforgettable event. Thank you Lindsey!

Lovely Day Events's reply:

Jessica - Ahhh thanks for the sweet review and the photo! It was truly a joy to work with you and A.

Elena H.

Married on 09/10/2021

Outstanding Wedding Coordination Services

I sincerely cannot recommend Lovely Day Events enough! Lindsey seamlessly took over planning our wedding with less than one month before our big day (as you can imagine, a couple's worst nightmare unexpectedly having to secure a new wedding coordinator in less than 30 days), and most importantly she helped us feel confident that our event was under control and in the most supportive hands. We appreciate how Lindsey is so well-connected and respected in the industry, and clearly has many years of experience executing events. Lindsey brought an incredibly personal touch whenever we corresponded with her which made the entire experience feel much less business-transactional, like she truly cares about her clients. Lindsey is extremely knowledgeable, organized, efficient, and personable--our ideal attributes for someone so heavily involved in executing our big day.

Nearly three months later, my husband and I are still floating from the most magical weekend, and our family/friends can't stop raving about how perfect our wedding was. We feel so much gratitude for Lindsey and Ted for taking us on with such short notice. We never could have pulled off our special day without Lovely Day Events, and we will be eternally grateful for their services!

Lovely Day Events's reply:

Elena - Thank you so much for the kind review! I'm so glad we were able to turn your unexpected nightmare into your dream wedding day. You were a true joy to work with.

Are you interested?

Send a message

Hilah

Married on 07/07/2018

Lindsey is remarkable. She will find a way to make all of your big visions come to life, and always with a smile on her face. Our wedding was complicated and she literally never skipped a beat in the planning process. She has so much experience and so many insightful tips, but was also a dear friend and calming presence throughout the whole process. I already miss her, and our wedding was only a few months ago! I cannot recommend her highly enough.

Jennifer

Married on 11/03/2017

Hiring Lindsey and her team at Lovely Day Events was the best investment we made for our destination wedding in Napa! She was prompt, organized and an absolute joy to work with. Our monthly check-ins kept the planning process on pace – helping make decisions, offering ideas, and keeping things organized all while calming my nerves.
Our second best decision was using her preferred vendor list. Lindsey is well-respected in the industry – and using her preferred vendors gave us an all-star wedding team. She worked with our vendors so seamlessly that it really felt like they were one team.
As our wedding day got closer, the forecast called for rain (for our outdoor wedding). Lindsey jumped into action, giving us several options and ultimately securing a tent three days prior to our event.
My wedding day was better than I could have ever imagined – beautiful, fun, organized and CALM. I was able to fully enjoy my day because I knew Lindsey and her team were taking care of every last detail. We were able to spend our day focused on our family, our guest and each other. Hiring Lindsey and Lovely Day Events was the single best decision we made during the planning process!


Lovely Day Events's reply:

Jenny - Thank you so much for the kind review. I'm so thrilled that you love all our vendor friends as much as we do!

Linda

Married on 09/10/2016

When our daughter said she wanted a wedding planner we did not think she needed one and besides, it wasn't in the budget. Thank goodness she did not take this advice! Having a planner, and choosing Lindsey Nickel of Lovely Day Events, was the best decision we ever made. From the phone meetings, to the rehearsal, to the big day, Lindsey was invaluable. Of all the "vendors" we hired, Lindsey was by far the most important. She thought of EVERY detail; she determined the timeline down to the minute. She ran our rehearsal efficiently, 12 minutes to be precise, and throughout the process she was light-hearted, organized, and so amazingly calm. On the wedding day she and her assistant Katie were there bright and early, in their sneakers, ready for action. There was absolutely NOTHING for us to do. (In fact, we were so bored that we went next door to wine taste 2 hours before the ceremony!) None of us, including the bride, got wedding day nerves and this is only because we had Lindsey running the show. When the guests arrive, Lindsey and Katie had changed into their wedding attire, and spent the next 5 hours invisibly and energetically flitting from here to there taking care of EVERY single detail. Our Beltane Ranch wedding ended at 10 pm (a Sonoma county ordinance) but Lindsey and Katie stayed until everything was cleaned up and placed in the prearranged places we discussed. When we left the next day everything left, flowers/gifts/etc, were in one place. So, all this to say that if you are looking for the BEST WEDDING PLANNER in the state, be sure to call LINDSEY NICKEL OF LOVELY DAY EVENTS.

Lovely Day Events's reply:

L - It was such a delight to work with you and your daughter on her wedding. I simply love that you felt relaxed and trusted us enough to go out wine tasting on the wedding day! Thank you for taking the time to leave a review! -Lindsey

Liz

Married on 03/19/2016

Working with Lindsey at Lovely Day Events made our wedding day a breeze. She replied promptly to my request for a consultation, and we found her to be professional and knowledgeable but also really fun to work with. We felt comfortable with her handling our wedding from the first phone call and she wasn't worried when we had nothing planned or that we were big procrastinators. We used Lindsey's Essential Day of Coordinating plan and found the price to be so reasonable.

Lindsey guided us through her google.doc timeline template, which all of the vendors loved, had monthly check-ins, and answered our questions quickly which made wedding planning so much easier for us. With her years of experience she was able to make helpful suggestions, such as suggesting clear walls to our rented tent, which made a world of a difference not to feel boxed in.

Lindsey was flexible in her scheduling, worked well with our other vendors, handled our venue's rules with no problem, and her additional day-of coordinators were as professional and kind as she. On the day of our wedding, my husband and I got to concentrate on each other and our guests, which is exactly what we wanted. She handled the set up, clean up, vendors, and kept everyone on time. Hiring Lindsey was the best decision we made and we would recommend her to anyone planning their own special day.


I called several Wedding Planners, and Lindsey was the only one who was professional enough to call me back -- and did so promptly. Throughout the planning process, Lindsey was organized, detail oriented and prompt in her responses and feedback, which helped us tremendously in managing our stress about the big day. Our Wedding was like a fairy tale -- absolutely amazing -- and we could not have done it without Lindsey. Thank you so much Lindsey!

Thea

Married on 01/02/2015

When my fiancé and I got engaged it was by far the most exciting time in our lives. But, it was also pretty daunting trying for figure out how we could celebrate with everybody that we love; my family live in Australia, his family in South Carolina, and the two of us in New York City! Ultimately, we decided to have an intimate weekend celebration for our immediate family in Wine Country. When it came to wedding planning, this decision (the type of wedding we would be having) was the hardest. From there I found, like you, Lovely Day Events online and after my first Skype conversation with Lindsey I a) knew I desperately wanted her help and b) regained that sense of excitement about getting married—before any of the stress of "wedding." Working with Lovely Day Events was amazing. Everything was always calm, manageable and fun; I genuinely had fun during the planning process. And, even though we were planning an intimate wedding, I knew I didn't want to settle. I didn't want to look back with any regrets, and I still wanted it to "perfect"—and I don't, and it was! Our wedding day was a completely blissful blur of happiness, and I sincerely owe so much of that joy to Lovely Day Events.
As we were planning our wedding from NY, we didn't have the chance to physically meet Lindsey until the day before our wedding. And after our meeting we didn't have to worry about anything other than turning up. We put our "dream day" in the hands of Lovely Day Events, and it was better than we could have ever imagined. It was perfect. And, it wouldn't have been nearly as perfect without the help of Lovely Day Events, I am genuinely sure of that. A "wedding" is something we plan to do one-time and one-time only. So, I felt it crucial while planning my husband and mine: a) for it to be representative of "us" and b) for it to be everything that we wanted, nothing more and nothing less, and that's exactly what it was, because of Lovely Day Events.

Lovely Day Events's reply:

Thea - Thank you for the wonderful review. You were truly a joy to work with. Your wedding was a wonderful way to start off the year!

Rachel

Married on 07/01/2016

Hiring Lindsey was the first move we made in planning our destination Jackson Hole wedding, and I am so glad! The first phone call felt like I was talking to a close friend about the vision and details that were important to us.

Lindsey stayed in contact throughout our nearly two year planning process, offering suggestions on vendors, planning tips, and follow-up on anything I needed help with.

She is incredibly detail oriented and I felt comfortable early on that every aspect would be taken care of in her capable hands. Our day-of-timeline was so well planned and executed that we could have started our ceremony early if we wanted, which is amazing, because I am notoriously late for everything!

Lindsey and her team spent time arranging everything for the ceremony and reception so it was beautiful. She was able to execute things beyond the vision that I had in my head. We ended up with lots of extra flowers, and she took the time to use them, finding all sorts of homes for them.

She was thorough in returning all items to us, and letting us know where we could find everything the next day. She was there to go up to my hotel room to find shoes for me, look out for the one guest that was a little too drunk, following up with late vendors day-of, and was the last person there at the end of the night.

Her attention to detail, and precision make her excellent at her job, and I am so glad she was there to help us with every step along the way. Thank you Lindsey!

Lovely Day Events's reply:

Thanks Rachel! I was grateful to be a part of your wedding day. You guys were so much fun to work with and I think the day went perfectly!