20 Reviews
Recommended by 99% of couples
Quality of service

5 out of 5 rating

Average response time

4.9 out of 5 rating

Professionalism

5 out of 5 rating

Value

4.9 out of 5 rating

Flexibility

4.9 out of 5 rating
4 User photos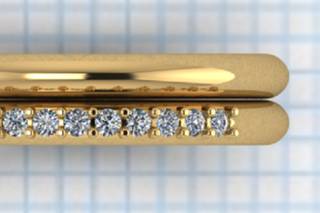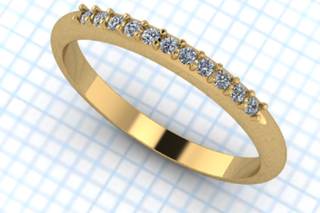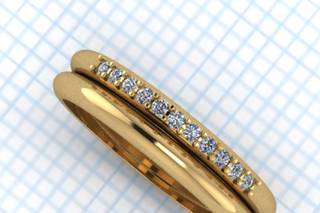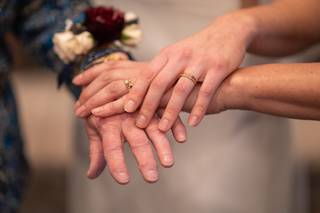 Kaleigh R.

Married on 03/14/2020

Exquisite custom jewelry and amazing customer service

Ever since moving to Leesburg, my family has gone to Ketterman's for all our jewelry needs. When my grandfather gifted me my late grandmother's wedding rings, there was no question who we would use to have the stones reset for my own wedding rings. At the store, we met with Becky to discuss styles and settings and appreciated how upfront she was with the different options, as well as their price. We ended up choosing a custom band and setting and Becky sent us the CAD drawings a few days later. I immediately knew she had listened to everything we talked about, as the drawings matched exactly what I had envisioned. I was so pleased with the final product and Becky even followed up with us a few months later. If you're looking for exquisite custom jewelry and amazing customer service, I highly recommend Ketterman's Jewelers.

Taylor

Married on 05/25/2019

Professional & Family-Owned!

Kettermans Jewelry is a fixture in Leesburg for a reason. Everyone I've ever worked with there has been welcoming, knowledgeable, and happy to help. These are the kind of people who will remember you when you pop in! Their products are high quality and reasonably priced. It was fun to shop around for rings. We worked with Amanda, and she made the whole experience simple and fun! Thank you, Kettermans! :)

Rae

Married on 09/21/2018

Ketterman's worked with my fiancé and created an absolutely beautiful sapphire engagement ring. They took all of the considerations that I told my fiancé and captured everything I wanted and more in their design. The ring boxes they provide are also extremely nice, and we received a lovely thank you letter from them after our engagement when we really should be thanking them!!! Highly recommend!!!

Are you interested?

Send a message

I'm so glad I went to Kettermans! My in-laws offered me a family heirloom as a wedding ring. However, it is a full eternity band with diamonds all around and two sizes too big! Ketterman's did an amazing job resizing the ring! It fits perfectly and looks just as amazing as it did before.

Ketterman's Jewelers's reply:

Thanks for the "5". We look forward to helping you maintain your family heirloom for many, many years to come! Congrats!!

Abby

Married on 07/16/2016

Ketterman's is truly the best jeweler. My husband knew two things when he started looking at engagement rings for me 1) I wanted something that was rose gold 2) I wanted him to shop at a local jeweler. Boy did he pick the right one!!! Ketterman's helped my husband from day one as he embarked on the engagement ring search. Carol Lee was the salesperson who helped him finally settle on "the one". The engagement ring was more than I ever could have imagined. Flawless diamonds, stunning rose gold setting… I was so in love with everything. So after the engagement we needed resizing, cleanings, minor fixes to the band - with everything Ketterman's was above and beyond with their customer service. We've never had a bad experience. When it was time to look at wedding bands, Ketterman's was so patient with us as we looked, went home to think, and came back to look some more - ultimately settling on the most perfect bands for us both. Whenever I am in the Leesburg area I always like to pop in quickly to get my ring cleaned and say hi to the ladies behind the counter, everyone is ALWAYS happy… always making me feel welcome. I honestly can't say enough about Ketterman's and the amazing experience my husband and I had there.

Patrick

Married on 04/25/2015

We went with Ketterman's for both the wedding bands and the setting for the engagement ring. Service, responsiveness, professionalism, and flexibility were all top notch, but we found you may pay more for the product than you might online, particularly for wedding bands. Other than that they're a great local vendor and I'd recommend them over any of the chain jewelry stores.

This family owned and operated local jewelry store provided us with not only a great experience with our rings (including the engagement ring!), but also has a beautiful selection of specialty gifts that we were able to purchase for family and friends who helped with our big day!

We picked out my engagement ring here after looking at a couple other places! My ring is perfect for me and the people at Ketterman's were so helpful and attentive. They stayed within our price range and talked us through all the options. They were never pushy, which is what we appreciated the most. Thanks Ketterman's!

Jason

Married on 11/01/2014

AWESOME family oriented business! I chose my wife's engagement ring here, and we got her wedding band and bridesmaid's jewlery here as well. The staff was always so polite, helpful, and willing to go the extra mile to help us out. Their customer service is OUTSTANDING, and their staff is so wonderful! They are priced fairly for the local area, and they also include cleaning's/maintenance for my wife's engagement ring.

Thank you so much for everything Ketterman's! You all made everything involving jewlery so simply, easy and enjoyable!

They were extremely helpful in designing our wedding bands. My husband wanted a band that was like his father's, and they were able to make an exact replica that looked amazing just based on a picture. My band was perfect as well and the value was great. We have had a great experience every time we've been in there and love the folks who work there. They are so nice and flexible and quick. We've gone in a few times for cleanings, resizings, etc, and they've never charged and have always been super helpful in suggesting what we need to do.

Alison

Married on 08/31/2014

We purchased my engagement ring and wedding band at Ketterman's and I absolutely love them. The employees are knowledgeable and incredibly patient. They understood our budget and really wanted us to be happy with our purchase. We will most definitely shop there again in the future.

Emma

Married on 08/21/2013

My husband and I love the service and people at Ketterman's Jewelers. A beautiful family run business. We are so happy with out wedding bands. Thank You.

Heather

Married on 05/04/2013

We got my husband's wedding band from Ketterman's. They did a wonderful job working with us to find a way to get him exactly what he wanted within our budget. Their sales staff was very helpful, patient, kind, and professional. Couldn't ask for anything more!

Cayla

Married on 08/04/2012

Ketterman's was such a wonderful family-operated business to work with. My husband had known the family for a while, so he knew this was a great place to get our wedding bands from. He was even able to get my engagement ring here. They are very friendly, knowledgeable, and accommodating to your specific needs and wants. Great selections of beautiful rings, and even other fine jewelry and other things.

Natasha A.

Married on 10/17/2010

My husband bought my engagement ring here and we shopped around at all of the major jewelry stores to find a wedding band, but I couldn't find one to go with it that I liked. My ring is a princess cut solitaire with a low mounting. The low mounting made it impossible to find a wedding band to sit flush with the engagement band. All the other jewelry stores wanted to replace the head on my ring so that it would sit higher (which I did NOT want to do) or tried convincing me to take the diamond out of my ring and put it in a whole new bridal set. I was completely happy and loved my engagement ring so that was not an option. We finally went back to Ketterman's after moving back to Virginia and they were confident they'd be able to help me without replacing anything and they were right. Their work is amazing and everyone in the store was very friendly. They even remembered us when we came back to pick up our rings. 4 generations on my husband's side of the family have bought their wedding rings here and I now know why!

Jessica

Married on 11/08/2008

I was referred to Ketterman's by a friend. Jessica and Heather at Ketterman's were unbelievably helpful and genuine. My wedding band had to be custom made to fit my antique engagement ring. They sent it to New York and kept me posted on the progess (knowing I was going out of my mind without it!). The wedding band is gorgeous - it's absolutely perfect and absolutely what I had envisioned. My husband purchased a set of earrings for me as a wedding gift as well. I mentioned them in passing to Jessica, she passed on the hint and they left them on display until the last second so I wouldn't know he had purchased them. We purchased my husband's wedding band, bridesmaids gifts and had out cake knife and server beautifully engraved. Ketterman's went FAR above and beyond the call of customer service for us which is a rarity these days. They have our business and endorsement for life!

Katie

Married on 01/18/2008

This is a family-owned business, and they are wonderful! They were extremely patient with me, as I tried to find a band to match my engagement ring. Eventually, they helped me decide to have custom work done on an existing band. They did not try to push the most expensive bands, and were really quite helpful, without being at all pushy. I was a bit unsure about my decision, but when I saw the final product, I loved it! They got the work done quickly, but it looks like these rings came together as a set. I have gotten so many compliments on them wherever I go. The quality of their jewler's work is wonderful. They have a huge selection of jewelry - I could spend an entire day just browsing in their store! I would definitely recommend this store to anyone looking for any type of jewelry.

Tori

Married on 04/08/2012

Love our rings! A great selection and they resized my husbands ring on site for no extra charge and hardly any wait. I loved them so much, I bought my bridesmaids gifts there too.

Kathleen

Married on 05/18/2013

Ketterman's is great. We had a family stone that we wanted to use for the engagement ring, and they helped us fine the perfect setting. We also bought our wedding bands there and they helped find exactly the right ones. The only problem I had was that with both rings the salesperson forgot to size the ring for me before I took it home, but that was an easy fix as I live nearby. Finally, I was stressing over what to get my mom as a thank-you gift for doing so much to help us plan the wedding, and I got an email from Ketterman's featuring the work of Michael Michaud. I clicked through and there was a brooch (my mother likes brooches) of hydrangea, which is what I would carry in the wedding--perfect! Theresa at Ketterman's was so helpful in getting the brooch special ordered in time. There are cheaper places to buy jewelry, but unless you know exactly what you want, and I mean exactly, I'd go to Ketterman's for the expert service and guidance.

Heather

Married on 06/03/2006

Overall our experience with Kettermans was great, our only issue was receiving the wrong rings a couple times (we ordered enough in advance that this was corrected though) and phone calls were not always returned in a timely fashion. Gorgeous jewelry though and a warm inviting environment (in the store).
Are you interested?
Send a message