24 Reviews
Recommended by 99% of couples
Quality of service

5 out of 5 rating

Average response time

4.9 out of 5 rating

Professionalism

5 out of 5 rating

Value

4.9 out of 5 rating

Flexibility

5 out of 5 rating
Awards
17 User photos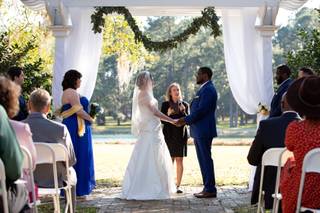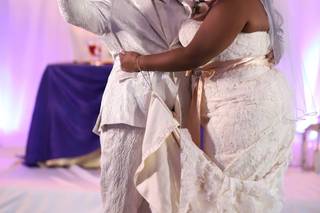 + 13

photos
Leigha D.

Married on 09/07/2021

JoAnn and her team were fantastic!

Hiring her was the best possible decision we could have made! So many elements go into a wedding that we hadn't thought about until speaking with her. She made sure it was all about what WE wanted as a couple. Very professional, highly responsive, and more than extremely helpful. She's a very fun & spunky lady with a heart for brides. Our wedding was perfect thanks to her!

Joyful Occasions Weddings and Events's reply:

Thanks for the wonderful review. We are so happy that you were pleased with our services. Congratulations on your marriage and we pray that you have a blessed life together in Hawaii!!

Bonnie

Married on 02/29/2020

Everything I Needed and More.

JoAnn is absolutely incredible. I can't praise her services and abilities highly enough. I was terrified that our wedding was going to be stressful, and I'd forget things, or set something up wrong, or that I'd be scrambling around the morning of trying to put out fires, but NOT with Joyful Occasions. JoAnn took care of everything, communicated swiftly and thoroughly, decorated, solved staffing issues, helped me make discussions when I was unable to pick something, gave me recommendations on how much I needed to purchase, reminded me of every important deadline leading up, and was just so incredibly warm and comforting. JoAnn really cares about making "the big day" as easy and wonderful as possible. Our wedding day was practically free of stress. If you need help, there is no one better in Tallahassee.

Joyful Occasions Weddings and Events's reply:

Thanks so much Bonnie and Sean for choosing Joyful Occasions Weddings and Events. You are such a beautiful couple and it was a great pleasure to work with you. Best wishes for a blessed and exciting marriage that is illuminated with lots of love bugs!

Derrick H.

Married on 09/28/2019

A1 quality and very professional all the way.

My and I are very please with Joy Occassion. There was no worries, because they were right there every step of the way.

+ 11

photos

Joyful Occasions Weddings and Events's reply:

Thank you Debo and Tracey for your wonderful review. Joyful Occasions was blessed to be a part of your fabulous wedding. May your love story and beautiful union be an inspiration to others.

Are you interested?

Send a message

Sashia S.

Married on 05/11/2019

Stress free and amazing!

JoAnn swooped in halfway through the planning process and saved the day. She made it stress free and absolutely enjoyable for everyone! Once she took over, we no longer had to worry about a thing. Whatever our vision was, she made it happen. Very accommodating, and super sweet to all of our friends and family. Thank you, JoAnn! ♥️

Joyful Occasions Weddings and Events's reply:

Thank you so much for the wonderful review. It was an absolutely joy to be a part of your big day! We wish you the very best as you celebrate life together as husband and wife.

Patrice

Married on 03/09/2019

Thee perfect wedding planner!!!

I can say soooooo much good about Ms. JoAnn and her team. But there's not enough space lol. She is so hands on, professional, open-minded, resourceful, and communicative! I worked with JoAnn for 5 months and she DID NOT disappoint come wedding day. From the planning, to meeting me, the rehearsal, and the big day, she was there. So many other things in between. Although I had my hands in a lot of the planning, she took a lot off my load.
She took my vision and ideas for my wedding and brought it to light! She treated me like a daughter. I will forever have a special place in my heart for her and will recommend her to ANYONE.
Thanks JoAnn!!
Love, Happy Bride

Joyful Occasions Weddings and Events's reply:

Thank you Patrice and Terrence. I really appreciate the great review and I so enjoyed being a part of your journey toward the altar. Congratulations on your marriage and thanks so much for trusting Joyful Occasions Weddings and Events to assist with planning and decorating for your special day.

Tieshia

Married on 10/06/2018

I absolutely couldn't have picked a better planner. Mrs. Joann took my vision and made it a reality, effortlessly. She didn't worry/hassle me about anything, everything was beautifully done.

Cynthia

Married on 08/18/2018

Words cannot express how Grateful and Appreciative we are for you and your works. First of all I Thank God for sending you. You are AMAZING. The wedding was nothing short of PERFECT. I was so PLEASED with your services and the professionalism displayed. All that could've happen didn't because of you. To see my Son so happy with the wedding, and his beautiful wife, it was worth every penny. You gave us your all, just as your promised. I can't Thank You enough. Again, hats off to YOU, Joyful Occcasions, for another amazing wedding.
God Bless, The Maxwells

Joyful Occasions Weddings and Events's reply:

Thank you for your review. Your beautiful family was so wonderful to work with and you are an exceptional mother and great blessing to your son and daughter-in law.

April

Married on 06/23/2018

If I could give Mrs Joann a million stars on this review I would without hesitation. She's an AMAZING person and event coordinator. I am the happiest Bride ever because Mrs Joann's main focus throughout my entire experience was client satisfaction. She and her staff provided me with quality customer service and support. I couldn't have chose a better team to work with. I will always recommend Joyful Ocassions for any event, small or large but most importantly, I want to thank Joyful Ocassions for a fabulous bridal shower and an incredible wedding. Love the Brown family!

Joyful Occasions Weddings and Events's reply:

Thanks for the awesome review April!!

It was truly a pleasure working with you and you know you will always be one of my cherished brides.

Jon

Married on 03/31/2018

JoAnn was the best and only choice for our wedding. She exceeded all of our expectations on our wedding day. Throughout the planning process, she communicated regularly (sometimes several times a day) before we made a final decision. She's thorough, thoughtful, and listened to our every wish. Many times we weren't sure what we wanted and she provided invaluable suggestions. And best of all, she kept us on budget!

Enid

Married on 10/07/2017

JoAnn is very easy to work with. I hired JoAnn to help me with the decoration of my daughter's Quinceañera Party. From our very first meeting she always listened to our requests and everything turned out the way we wanted it. My daughter and I were very happy with her services and both the church and the venue looked beautiful. She was very flexible and also allowed us to incorporate our ideas. Besides renting items from her, we were also able to use our own items for decoration and she was always willing to work with us. She was always available by phone, text or email. She did a really good job and I would highly recommend JoAnn.

Shondelle

Married on 04/29/2017

Where should I begin! The experience with Mrs. Joanne (Joyful occasions) was beyond amazing. I could have not picked a better wedding planner. Mrs. Joanne made planning a breeze for us. She has a very sweet spirit that you will never forget. Her personality definitely fits for the wedding planning business. My wedding and reception decor were both very beautiful and elegant. Overall if I had to do planning again I will definitely choose Joyful Occassions again, again and again.

Kristin

Married on 03/24/2017

We can't say enough about how great JoAnn was! She listens very well, and provided us with everything we needed, from information on vendors, to pricing, to decor, to problem solving assistance. I can truly say that we were not stressed during the planning of our wedding, and that is all thanks to our experience with Joyful Occasions! Our day was beautiful! Thank you so much JoAnn!

Amanda

Married on 10/22/2016

I would strongly recommend Joyful Occasions Weddings and Events! Mrs. JoAnne and her team were exciting to work with! We appreciated everything they did for us the planning, decorating, and coordinating was awesome. They did an amazing job and was always available when needed. We accepted them as family! lol Again we would highly recommend Joyful Occasions Weddings and Events!!! Thanks so much for your services.

Mr. & Mrs. Caldwell



Joyful Occasions Weddings and Events's reply:

Thank you Amanda and Markeith. Your wedding was beautiful and we were so very happy to assist you. Good luck as you move forward to a blissful and blessed marriage.

Nakeshia

Married on 09/24/2016

Mrs. Joann was ABSOLUTELY PHENOMENAL!!!!!!! She was professional, personable, accommodating, and worked with YOUR vision. She erased away any pressure, stress, or worries that may/will come your way. There are NO SURPRISES working with her!!!! I ABSOLUTELY FELL IN LOVE WITH HER AND HER STAFF, and it felt like I've known her my entire life. I advise anyone... IF YOU WANT A STRESS FREE, BEAUTIFUL EVENT... JOYFUL OCCASIONS IS THE ONE!!! I have NEVER written a review before, so this means 1000 words that I am writing one!!! Mrs. Joann, your were absolutely FANTABULOUS! I LOVED YOUR WORK! YOUR WERE VERY PERSONABLE, AND FELT LIKE A MOTHER TO ME!!! THANK YOU SOOOO MUCH FOR ALL YOUR HARD WORK!!!!! and I cannot wait to use you again for another event!!!

We are highly pleased that we hired Joyful occasions for our wedding & reception recently. I had a list of vendor names as a reference but I am glad that piece of paper had only her email address & thus was easier to contact. Ms Joann , director Joyful occasions promptly responded & we decided to meet. I still remember the first time I met her the smiling, welcoming & calm personality gave me good vibes to start with . To my surprise she showed with paper print outs which had details of Indian wedding ranging from dressing to the food. Our journey of approximately 2 -2.5 months of planning started from there. Considering she never assisted any Indian wedding in the past; She was best prepared in her capacity , listening to my concerns & very very very patient.The best part is I gave her my budget & expectations & she absolutely worked around it.
We hired Joyful occasions for rental utensils, decorations, servers & event management. I don't recall a single moment when I expressed any concern & its either been not addressed or delayed. As the wedding date approaching fast we did frequent long hr meetings with my family so that everyone knows what to expect. Ms. Joann was very accommodating, well prepped & fore sighted. She worked in our budget but never compromised the quality & the arrangements. She volunteered for few complementary arrangements as well. I can tell you a person like me who wants to know every detail & be prepared ; She was the perfect match. Joyful occasion with the full team was present full time , attentive, on top of stuff & precisely running the show both the days. We cant be thankful for the moment we opted them as our event management, planning & rentals. Thus I would highly recommend Joy full occasions & Ms. Joann for any event planning even if you think that's unique & one of its own kind.

Brittany

Event on: 06/13/2015

JoAnn Williams went above and beyond my expectations for the Wedding Anniversary party for my parents. Her extensive attention to detail and ability to create a memorable event makes JoAnn Williams the top event planner in the area! I would highly recommend her.

Tracey

Married on 11/15/2014

I planned my entire wedding in just 3 months. My planner worked miracles. She and her crew were absolutely AMAZING. I truly can't say enough about her. We put a lot of faith in her recommendations. All I had to do was describe what I wanted, I sent her a few ideas, and she pulled off the vision in my head. I can honestly say my event was like something out of a magazine.
We are so happy that we trusted her and she definitely didn't let us down but rather went way over and beyond. If you are looking for an event planner that will "WOW" your guests look no further. You will be so happy with her services. Without her, I probably would have been stressing about how everything was going to turn out. Instead I was able to relax the entire time! She does amazing work and I am extremely grateful for her.

Anneka

Married on 04/26/2014

Ms. JoAnn made all of our wedding dreams a reality! She made our wedding her top priority and main focus. So…of course I recommend Joyful Occasions for your next event! Ms. JoAnn…her style, her professionalism, her timeliness/flexibility and her vision are all exceptional! We consider Ms. JoAnn family; her warm and inviting personality is another added bonus. When we initially met with Ms. JoAnn she answered all my questions, she was realistic and she treated me as if I was already a client. She was abreast on every single aspect of our wedding planning. Also, she has a personal relationship with the best vendors in Tallahassee and she knows how to negotiate a bargain.
I could go on and on about Joyful Occasions…our overall wedding planning and our wedding day was a direct reflection of the phenomenal work of Ms. JoAnn!

Mae

Married on 04/05/2014

Joann Williams is a Woman of Excellence as it reflects in Joyful Occasions (including staff and vendors). We contracted with Joann to be the event planner for a special person in my life (Bernice Powe) to give her a surprise 80th birthday party. Upon starting the process, we quickly realized that we needed help in order to give Mother Powe the elegant party she deserved. Joann was very punctual, creative, accommodating and resourceful (this woman can pull a rabbit out of a hat), Oh My God! We were excited about her service and always pleasant personality. (I expect to see her on the wedding channel soon). On the day of the event, it was amazing to be able to rest and know that "YOUR VISION" was in good hands and coming into full fruition. She contacted all of the vendors and program participant to ensure that they were in place and on time. Throughout the evening, she was communicating with the venue staff and everyone involved in order for the event to flow excellently. JoAnn went above and beyond all of our expectations to make this a Joyful Occasion. Her slogan "We Put Pride and Joy in Every Detail" is an understatement. Words cannot express this level of excellence. Thank you JoAnn, I am looking forward to the next opportunity to use your services.

I HIGHLY recommend Joann with Joyful Occasions for your big day. I could not have asked for a better, nicer, and more professional wedding planner.

Joann exceeded any expectations I had. She was responsive and attentive and put my mind at ease. And most of all, her organizational tools and the relationships that she built with my vendors were AMAZING.

Because of Joann, my wedding planning was stress free and wonderful experience. She took all the stress off of me, and I was able to have an amazing time at the reception. I didn't have to worry about a thing.

I can honestly say that everything that I could have ever dreamed of for my wedding day would not have been possible without the help of Joann of Joyful Occasions.

Sincerely
Robbin

Victoria

Married on 09/25/2010

JoAnn of Joyful Occasions was absolutely heaven sent. She is amazing and passionate in all that she does. She exceeded all of our expectations. The reception décor was amazing and breath taking. Our guests raved about how beautiful everything was and JoAnn made sure that our vision to life. I appreciate her going above and beyond on everything! She is amazing and we truly were happy with the quality of the products/services, professionalism and responsiveness.

Keisha

Married on 05/01/2010

A loving note can barely express how you have added to our happiness. You brought joy to our day, warmth to our lives, and happiness to our hearts. Thank you for all of your tireless effort to make our wedding a true fairy tale. We pray that God continues to bless your business and your life, just as you have been a blessing to us. The whole process was extremely JOYFUL AND STRESS FREE. Joann...You are amazing and I highly recommend you to any and every soon to be bride!!



Angelene

Married on 09/12/2015

Mrs. Joann Williams (Joyful Occasions) exceeded my expectations ! She and her staff was very professional and prompt and definitely the decorations and floral arrangements were excellent! Me and my husband was very pleased and would recommend anyone to Mrs. JoAnn. From Quantrel and Angie Johnson thank you for making our day that much more special.

LOVE YA♡

Ashley P.

Married on 07/07/2019

Joyful Occasions

JoAnn and her team were amazing! I contacted her two months before my wedding for her services and she executed everything wonderfully in such a short amount of time. My guests were amazed and talked about how beautiful everything was. JoAnn took very good care me and made sure everything went smoothing and that I was free from any stress. I would definitely recommend Joyful Occasions for any event

Joyful Occasions Weddings and Events's reply:

Thanks Ashley for the wonderful review!! It was definitely a pleasure to be a part of your wedding planning and Decor team you were such a beautiful bride. We pray that you and Jared have a blessed marriage. Again, congratulations!!
Are you interested?
Send a message