53 Reviews
Recommended by 99% of couples
Quality of service

5 out of 5 rating

Average response time

4.8 out of 5 rating

Professionalism

5 out of 5 rating

Value

4.9 out of 5 rating

Flexibility

5 out of 5 rating
Awards
58 User photos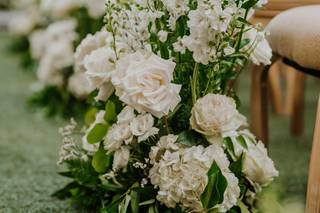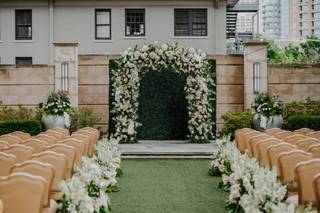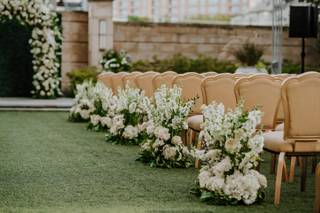 + 54

photos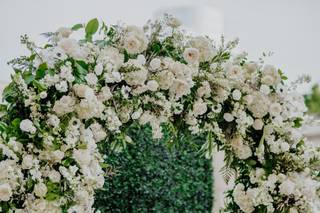 Emily S.

Married on 11/12/2022

Amazing florals for an amazing wedding!

Wonderful experience with this vendor! Tina and the team goes above and beyond to make everything beautiful! Joche knows exactly how to make the most out of your budget and cares deeply that his clients get exactly what they were hoping for. The decor was beyond amazing and will forever recommend them!

Monica H.

Married on 11/12/2022

Wonderfully

Tina was just wonderful. She was very sweet the entire time. She had patience and was very helpful and prompt in my indecisiveness. She always responded quickly and truly wanted to help. She messaged me on my wedding day with another sweet message and my bouquet was stunning. Thank you, I appreciate you.

Nia G.

Married on 11/07/2022

Jungle Dream

Tina was helping us with our arrangements throughout the whole process. She was amazing and very responsive! All questions and concerns were answered right away and everything turned out absolutely perfect and was just beautiful! It was a dream to see our vision come to life!

Are you interested?

Send a message

Allie F.

Married on 10/15/2022

Stunning florals

I am beyond happy with the florals at my wedding. The arrangements were so full and gorgeous, and the setup went very smoothly the day of. So many of my guests told me how impressed they were with the flowers. I highly recommend Joche!

Anabelle P.

Married on 03/26/2022

Wedding Flowers

They were absolutely incredible. The detail that went into every piece they created was incredible. I'm so thankful to Joche W Events for everything!

Jessica S.

Married on 10/21/2021

Show Stopping And Unique!

My husband and I came to Joche with a unique floral idea that incorporated mushrooms, succulents, pinecones, etc to create an "enchanted woods" reception. When I say Joche and his team understood the assignment, I mean these were showstopping, magical, and arguably the best part of the event. I received countless compliments from our guests, our wedding party, the coordinators, the photographer, literally everyone.

If that wasn't enough, Joche and his team updated our proposal up until 2 weeks before the event and offered layouts for the ballroom that made more sense than what the venue presented us. He made me feel like a good friend, always recognized me by name only over the phone. His team was extremely responsive over text and email. Even when I would leave voicemails what I thought would be after hours, received a call back typically within 30 minutes.

I simply can't recommend Joche and his team enough. The price is more than fair. You end up getting so much more of an experience than what is on the design proposal.

Marcus E.

Married on 08/14/2021

This is your go to

Words can not express how amazing this man and his team is. He went beyond what we asked for and understood our vision.

+ 11

photos

Cristina A.

Married on 03/27/2021

Spectacular!! A Dream Come True

If you want a true fairytale wedding, Joche is your guy. His work is absolutely breathtaking. He brings your vision to life and then multiplies that to something so incredible, you're just absolutely blown away. I could cry right now just thinking of how beautiful everything at my wedding was. My florals were lush and gorgeous. Nothing short of amazing.
Joche is not like other florists/event planners. He is an incredibly talented designer and visionary. He fixed through many small issues I had without worrying me and in the end, everything went amazingly well. He handles stress well (especially when guests can have a little too much fun) and his team works fast and efficiently. A key trait that made me go for him was how detail oriented he is and that is what you want for an event planner because all of those tiny details that other planners might not think of, he knows and handles well. Those details can turn out to be things that matter later. Also the small details he adds in his design scheme just add to the overall beauty in his work.
I also love love loved his team, especially David. He kept things fun, even in stressful situations and kept me feeling calm, constantly checking on me and making sure our day was transitioning perfectly.
I am so glad I found Joche W. Events! He goes the extra mile to make sure your day & all of your wedding events are perfect. Thank you for such a beautiful day.

+ 8

photos

Jeff C.

Married on 11/17/2019

So much more than a florist

My husband and I were married on 11/17/19 and our wedding, start to finish, was more beautiful than we ever dreamed possible and it was in large part thanks to Joche executing flawlessly on his vision. He is so incredibly talented! He produced for us the most beautiful wedding we have ever seen. He took the little information that we provided him about what we were looking for and turned it into a masterpiece. When we met Joche the first time we quickly realized he is not just a florist. He is a comprehensive wedding designer and he spent over 2 hours with us in our initial consultation designing our wedding, from the flowers to the linens to the table accents and centerpieces, he covered everything. We didn't fully appreciate his vision until the day of our wedding when we were in awe at how beautiful everything turned out. We cannot count how many of our guests told us that our wedding was the most beautiful wedding they had ever attended. In our minds it was the perfect wedding and we have no words to express how grateful we are to Joche for creating that for us.

Since our engagement in the summer of 2018, Aaron and I had our hearts set on a Texas country barn wedding surrounded by all of our loved ones. We started our venue search in January of 2019 and on the first weekend of our search we were turned away by a country/barn venue that was at the top of our list. It was a stunning barn with excellent reviews. However, the venue owner told us in a private email that our wedding was not part of God's design for marriage and that he would not host us at this venue. It was a devastating start to what should have been one of the happiest times in our lives. We began to question whether a Texas country wedding would even be a possibility for us. We were not prepared to come out again to each and every vendor and ask if they would accept us and so we decided to put our plans on hold to consider our options. Long story short, our story got out and Joche heard about it. He felt terrible about what had happened to us and wanted to offer his design services to us free of charge. We were blown away. We didn't have a large budget for flowers and decor but he worked with our budget to deliver his vision and we could not have been happier with the result. We had an outdoor ceremony and an indoor reception and everything was absolutely perfect. The ceremony site was everything we had hoped for; the lantern lined walkway leading up to the elegantly decorated arbor set against that stunning fall backdrop. And, the barn itself, transformed into one of the most beautiful reception spaces that we have ever seen. So many of the details he provided to us free of charge because he wanted to give us the perfect wedding. Joche is more than just a talented designer, he's a beautiful person that was willing to donate his time and talents to us , complete strangers, because he believes so strongly in equality and inclusion and that everyone deserves love no matter what kind of couple you may be. We trusted in his vision and he delivered to us a wedding that was more beautiful than we ever imagined. If you trust him to design your wedding, we are extremely confident that he will deliver for you as well.

+ 7

photos

Janette

Married on 10/04/2019

Amazinggg!


There are so many things I could say about how WONDERFUL Joche is! He is EXTREMELY detail oriented. Being a teacher, I thought I had my "plans" together but Joche found things I would have NEVER thought of. He made sure the night ran SO SMOOTHLY and set up the most BEAUTIFUL arrangements and decor. Everyone was so amazed by how everything looked and how relaxed I was! (I have never been good at relaxing ESPECIALLY for A big event, but he just made it so easy for me!) SO If you are on the hunt for a florist or coordinator- JOCHE IS YOUR MAN! Let him make your big day beautiful and easy! He is worth EVERY penny! Thank me later!

Michael

Married on 06/08/2019

"The Most Beautiful And Fun Wedding EVER" our Guests

Joche transformed our wedding dream into a reality and something more amazing than we ever imagined. Joche's creative talent and vision brought Santorini Greece to Dallas, TX. He and his team made us feel like this was the most important wedding they had ever produced. He removed all of our stress and and elevated our dream wedding into a dream come true. No detail left unattended. Joche was by our sides from the very beginning to ensure that the planning and events would be the most memorable and spectacular event of our life. And it was. Everyone one of our guests told us that it was the most beautiful and fun wedding they'd ever attended. Having Living Statues, Billy Dancers, and the most famous Drag Queen in the World, Cassie Nova kept our guests wondering what would be next. The flowers were an Extravaganza Spectacular mastery of floral arrangement artistry . The food, DJ, lightening, photographer, cake, and Photobooth were the BOMB! We would not have changed a single thing! Thanks again Joche for our perfect wedding that will remain in ours and everyone's hearts for a life time. Please don't hesitate to reach out future Brides and Grooms for a recommendation. Michael 214-799-8682

+ 9

photos

Veronica

Married on 03/16/2019

Awesome decor & team!

This decor company is great. Joche has such beautiful and amazing ideas, but also gives you the option to envision your wedding the way you want it. I ended up being a total DIY bride, but I rented some beautiful gold candelabras from them. It was also easy to rent all of my linens & napkins from them. I can't say enough about Tina Hernandez who served as my day of coordinator. I was going to use my own coordinator but when she became ill fairly close to the wedding Tina stepped right in. She was personable & so well organized. I wish I had hired her from the very beginning. On the day of Tina made sure any problems were handled, she stayed in close contact with all of my vendors to make sure everything went smoothly. I would highly recommend Tina and Joche for your wedding!

Ruby R.

Married on 11/03/2018

Joche W. Events: A+

Joche W. Events designed and coordinated our wedding perfectly. We trusted Joche and team to design and coordinate our special day. They exceeded our expectations, our wedding was beautiful and perfectly executed. They were true professionals from beginning to end! They allowed us to enjoy our day with out the worry or stress. A+

Brittney

Married on 08/11/2018

OMG I cannot imagine my wedding day being any more beautiful and it was all thanks to Joche and his team. They went above and beyond to make sure everything was perfect and they were so great to work with! They are such a positive team and they truly care about their couple's needs/wants. Joche gave us so many new ideas and completely revamped our floorplan... He is extremely creative and thoughtful when it comes to your space. I could go on and on, but Joche and his team by far exceeded our expectations and I will recommend them over and over again.

Sheila

Married on 12/31/2017

If you want a beautiful wedding, please choose Joche as your floral designer. We were blown away by our daughter's New Years Eve wedding at the Joule and Joche was the main reason. We gave him an idea of what we wanted and he went with it and gave us so much more! The florals were amazing and his style was just what we needed to make her wedding amazing and beautiful! Absolutely loved working with Joche..Thanks Joche!

Megan

Married on 11/18/2017

Joche was beyond amazing. The entire planning process with him was so easy and he was very professional. My wedding was absolutely gorgeous and many of my guests thought so as well. Joche mentioned my wedding was the first rustic themed wedding he had ever done. You couldn't tell because it was top notch. The flowers, lanterns, vases, table cloths, etc.... I definitely recommend this vendor!

Desirae

Married on 10/27/2017

Joche and his team were beyond AMAZING! Just 9 days before my wedding I broke my leg and foot. I was worried and stressed, but Joche and his team went beyond to make sure our wedding was extraordinary! I could have not done it without him and his team. Joche is a special and unique person who will make your dream wedding come true! Our wedding would have not had happened without the help of him and his team. Thank you Joche for making our day so very special!

Joche gave me the most beautiful wedding!!! He was so professional and remembered everything we talked about from meeting him at a wedding expo. His designs are AMAZING! The roses he used were the biggest roses I've seen. He also had to work with my tight budget for 20 tables, plus a ton of personal flowers for the ceremony. He had georgeous cost saving options to work with my budget. He is absolutely the most BANG for your buck. I met with 15 vendors for flowers because no one met my budget or when they did-I was having to provide all the vasses or they used feathers or other fillers. Also, he did a complete look for us! We ordered chargers and more from him because it was convenient and much less than other vendors! My decorations looked double what I paid!!!

Anna

Married on 10/22/2016

Book Joche Westermoreland without any doubt! He will take your ideas and turn them into magic and make them so much better! He truly is an artist and I could not be happier with him. I received so many compliments on how beautiful everything was at my wedding.

Olivia

Married on 10/15/2016

Words can't describe how AMAZING Joche and his team are! Joche helped us with planning and the most incredible floral designs. Every guest was amazed at the beautiful arrangements and smell of the fresh flowers. Joche made sure every detail was taken care of, and helped with absolutely everything he could. He was so much fun to work with all the way through the planning process, and definitely lived up to, and exceeded, our expectations on the day of. He worked great alongside our other vendors and made sure that everything came together perfectly. His ideas in planning and decor were perfect and he was constantly coming up with something great to add. He is very in tune with his clients needs, and tries his hardest to make sure their dreams come true. He knew and appreciated my need for glitter and sparkle, and I was blown away with the end product! We are so glad we chose Joche, and all of our family and guests have commented on what a great job he did that day! Thanks SO much!!!

Lauren

Married on 10/09/2016

Joche and his team are truly amazing. Their are truly the best choice!!

Julie

Married on 10/08/2016

Hello All, I was recently married at the beginning of October which I hired Joche W. Events to decorate my entire wedding ceremony site (outside at a park), and reception (at a hotel) as well as I hired Joche to do all of my day of wedding coordination. I was blow away by how beautiful my wedding truly turned out... I can say it was the wedding of my dreams. I initially met Joche at a Bridal Show which I immediately had a connection with him. He asked me what colors I wanted to do for my wedding and I said I was a Royal Blue wedding which I had heard was not an easy color to pull off tastefully. Joche's responses was "I can create you a beautiful royal blue wedding no problem". My mother and I set up an appointment with him to discuss all of the details I am looking for and the type of design I wanted. My meeting with Joche was perfect. He is so kind, friendly, professional, and all around an amazing person. I have never felt so comfortable telling someone the dreamy ideas I had in my head for my wedding. We signed a contract and Joche began designing the perfect wedding for me. When I received the detailed design layout I was blown away not only how gorgeous the wedding was going to be but also how professional this document was with all the color pallets, flower pictures and details. The day of the wedding went perfectly... and that is because of Joche and his amazing team. All of the decorations were so beautiful, the flowers so gorgeous, and truly something out of a wedding magazine. I was not worried for one moment the entire day about any issues, timing, music, vendors, decorations, food, ect because Joche took care of EVERYTHING. If you are thinking about planning a truly perfect wedding I would highly recommend using Joche W Events. Joche and his team are truly the nicest and most professional people wanting to help every bride have a wedding of their dreams. Hire them to do the design and decorating but also hire Joche to do all of your coordinating!!!!

Eden

Married on 10/01/2016

Where do we even begin?! From the first day that we were able to meet Joche, we fell in LOVE with him! He stayed in constant contact with us throughout our year and a half engagement. Joche easily became our favorite vendor to work with. Honestly, we weren't really sure what "look/feel" we wanted for our wedding so we didn't make Joche's job that easy but it was like he spent the initial meeting getting to know us and he just figured it out for us. He designed our wedding to be the exact replica of our personalities/interests. It was like he knew exactly what we wanted by just feeling our vibes the first night! Our last meeting with Joche was our FAVORITE! It was so awesome to see how passionate he is about his job. He walked us through our whole entire design and day of the wedding. Seeing how excited he was and how genuinely happy he was about our wedding was the best part of working with Joche! We absolutely loved working with Joche...and we're actually a little sad that the wedding planning is over because we miss him! If you don't book Joche, you will regret it!

Katrina

Married on 10/01/2016

After our first meeting with Joche I knew we had chosen the right florist. After receiving his proposal I was a bit hesitant at first because flowers are such a huge aspect of a wedding and I tend to be a bit of a control freak, but I put all of my faith in Joche and his creativity just shined through. I wanted something a little wild that really emphasized our fall color palette (silver, eggplant purple, and burnt orange) and Joche delivered everything I wanted and more. I had compliment after compliment the whole night. Joche was also budget friendly without having to sacrifice level of service or product quality. Literally my dream come true! Joche, thank you for perfectly capturing my vision for our wedding day when even I didn't know what I wanted.

Maram

Married on 09/17/2016

First off you will not be disappointed if you choose Joche as your planner and florist! He was so attentive and made everything run smoothly! I never worried about one thing! The flowers were just absolutely gorgeous, the way he designed and put all the colors together were amazing!
I highly recommend Joche to make you wedding day just absolutely fabulous!
Are you interested?
Send a message