22 Reviews
Recommended by 88% of couples
Quality of service

4.4 out of 5 rating

Average response time

4.3 out of 5 rating

Professionalism

4.4 out of 5 rating

Value

4.4 out of 5 rating

Flexibility

4.4 out of 5 rating
Awards
1 User photo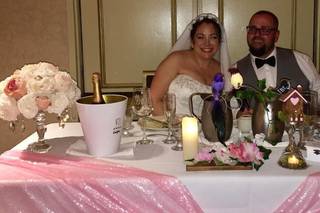 Lisa

Married on 10/04/2020

Skilled Videographer

Emily was a pleasure to work with. From the very beginning, I could tell that she was extremely detail oriented, and that she was very knowledgeable about wedding videography. On our wedding day, she and her team were very professional, arriving well in advance of the ceremony, adhering strictly to covid19 guidelines, and helping to connect my absent family members via zoom. Emily's attention to detail was readily apparent when we saw our wedding video. It surpassed my expectations for sure! I would definitely recommend Iris & Lily Wedding Video!

Laney D.

Married on 07/28/2019

Highly recommend! 🙂 We love our videos!

So happy to see our videos! The Toasts and 1st Dance video were so special to us. Each moment was captured with such beautiful film. We really liked the visuals and editing, and Emily also worked with us on music selection.

Highly recommend! 🙂 We love our videos - thank you!

Janeane B.

Married on 09/29/2018

What a lovely video!

I hired Iris & Lily Wedding Video for my nieces wedding in Aptos, CA. Overall, the video looks great! Thanks so much for this - it's a lovely video indeed!! It was wonderful to work with you.

Are you interested?

Send a message

Marie

Married on 07/14/2018

Emily as fantastic to work with! I couldn't of asked for a better videographer! She really went above and beyond to make my day perfect! Thank you Emily! :)

Zena C.

Married on 05/12/2018

Super professional and great video work!

Emily and the team at Iris & Lily Wedding Video made our special day even better by being there. Great attitude and professionalism. Very supportive and worked great with our photographer. Our videos are just the best we could hope for. We love watching them over and over again. If you are getting married, you have to get a wedding video - and both my husband and I really recommend Iris & Lily Wedding Video.

We are so pleased with our videos. Thank you for filming our beautiful wedding.

Raina L.

Married on 04/21/2018

Great Monterey Videography - thank you so much!!!

So happy we booked with Iris & Lily Wedding Video! Our Highlight and Ceremony videos are STUNNING. Our whole family love rewatching our wedding videos with us to relive the moment. The flipbooks are great too! So cute!

Great Monterey Videographer - definitely recommend.

We love it thank you so much!!!

Russell

Married on 12/17/2017

Emily did a wonderful job! We love re-watching our videos.

Ellen

Married on 12/20/2016

Looking back at my mom's wedding videos, all of the laughter, dancing, the energy of the room, the love was so well captured. Very easy to work with and amazing final product. Thank you!

Laura

Married on 12/17/2016

I am SO GLAD that we got lots of video of our wedding, and Iris & Lily did a really wonderful job. I couldn't be happier with the videos, starting with the highlight video, with really lovely camera work and tasteful editing and effects to keep it interesting, and set to music that we played ourselves during the reception (also recorded by Iris & Lily!), plus videos of the ceremony itself, our musical performances, and of our first dance. We have lots of wonderful photos from that day, but NOTHING is better than video for reliving that most precious moment.

Emily worked with us to make a plan ahead of time, and then made sure we had all the important points covered. After all, everything had to be right the first time. We had two different cameras going a lot of the time. Plus, the flipbooks with "The Kiss" that she gave us is a wonderful and unique keepsake. I put one away with our wedding book, and I keep one out, just to flip through and remember. Iris & Lily really came through!

Sarah

Married on 12/17/2016

I highly recommend Emily to capture your wedding. She's a fantastic videographer! She captured every moment of my mom's wedding perfectly. I can't wait to use her for my own wedding (someday!). The flipbook was the icing on the cake. Thank you!

Ryan

Married on 12/17/2016

The wedding video turned out great! So glad to have such a wonderful video that truly brings back the memories of a great day.

Rae

Married on 12/01/2016

Iris & Lily Wedding Video did the video for my friend's wedding last year and wow, i was amazed! They did such a great job with capturing all the right moments of her wedding day. I must admit, I thought I only needed a photographer, but having a video of the wedding day makes such a difference, and their video looks so beautiful. Photography wasn't enough to capture all of the great moments. The videographers of Iris & Lily were absolutely lovely. They didn't get in the way of guests and seemed to treat people so kindly. My friend (bride) also told me they were reasonably priced and highly recommends them for everyone.

Rosemary

Married on 11/20/2016

Emily was such a joy to work with! Our wedding was last minute for her to film and she was so great about working with us and our photographer to get all the shots she needed. Plus our highlight reel looks fabulous and sounds great too! I would definitely recommend her!

Scott

Married on 11/20/2016

I didn't deal with Emily as much as my wife did, but the video and all their work came out great! My wife is very pleased with the work that was given to us. Very responsive and quick to answer any questions or requests we had. I would use them again for other services.

Gus

Married on 08/06/2016

At first my fiancee and I were unsure if we wanted a wedding video- we already had a professional photographer and thought that maybe we would rather have our memories only captured in still-life format. During the wedding I hardly ever noticed Emily filming- she is super professional as a fly-on-the-wall: totally unobtrusive. That's why I was so surprised to see how many special little candid moments she captured which I had either missed or forgotten. When I first watched her video sequence I got goosebumps. For me, the wedding was very fun, but also a really full day which ran by quickly. Watching Emily's video I had more of a sense of what it was like to be a guest there. It's a video which my wife and I will enjoy revisiting through the years. Thanks Emily!!

Andrea F.

Married on 07/20/2019

Happy with everything :)

The videos and flipbooks really did turn out so beautiful. I'm very happy with everything. Thank you Iris & Lily!

Matt T.

Married on 03/09/2019

The video turned out great!

The video turned out great! You have us crying all over again. Thank you for capturing so many details and fun moments from our day. We wish you all the best.

Rebecca J.

Married on 06/16/2018

All the videos look great! Very happy.

All the videos look great! Emily, the chief videographer of Iris & Lily Wedding Video, worked with us to make sure we were absolutely happy with our videos and helped us find the music that would work best for the video.

The footage was wonderful, very professional, took care of our special requests. We are so very happy with our videos. The flipbooks and DVDs look great too. Thank for changing up the songs!

Dennis

Married on 04/22/2010

The down home goodness and fun of a Contra Dance wedding sure showed up in Laura & Russ's video. The videographer was inconspicuous unlike others I have seen. They managed to catch folks looking great and they put in some fine music that makes you feel how it was being there. I was an attendee so don't know how they found Iris & Lily or what it cost.

Huth

Married on 10/16/2021

Stay far away!

Emily has been nothing but unprofessional and uncommunicative since our wedding in October 2021. Our contract stated that we would have our video within 3-4 months of our wedding date. It has now been almost 10 months since our wedding and we still have not received anything from her.

I've been contacting her regularly via phone and email and keep getting a new excuse each time I ask where our wedding video is. She has been painfully unprofessional and even forgot who my husband and I were at one point. Currently, I'm requesting she sends us the raw footage so that we can hire another editor to create the video for us. But we are starting to believe she has lost our footage based on her lack of communication.

DO NOT HIRE HER unless you want to be extremely disappointed. I don't want anyone else to go through this!


Alissa

Married on 06/22/2019

Out of business - do not contact

I doubt she's taking any new clients but just in case - DO NOT CONTACT this vendor. She took our deposit and never called us back. Finally got a hold of her one month before our wedding and she confirmed she was shutting down. Promised to repay us but here we are 3 months later and nothing. Contact Petit Four Films instead! They came to the rescue and did a great job.

Rose

Married on 06/09/2018

Emily has been a huge disappointment. My sister's wedding was June 9, 2018, but we have yet to receive anything from her. We have made SEVERAL attempts to contact her, but to no avail. If something happened to the wedding video, that's fine but at least be professional and own up to it. Dodging customers, who paid $5,000 might I add, is extremely unprofessional and only reflects poorly on her abilities as a videographer. This was supposed to be such a wonderful memory, but we have been left in the dark.

My advice to all couples looking at Iris & Lily for your wedding videography is to STAY AS FAR AWAY AS POSSIBLE. I never leave bad reviews, but I cannot stand watching my emotionally distraught sister any longer without speaking out about the horrendous customer service she received from Emily.

Oh, Emily also ruined my sister's surprise garter for my brother-in-law, which was a University of Michigan garter. Needless to say, she hasn't been too thrilled with her choice of videographer...

Iris & Lily Wedding Video's reply:

Hi Rose, first of all let me apologize for not being more communicative earlier this year. We had a 270% increase in number of weddings filmed this year, which is fantastic for us, but it meant that our editing schedule was fuller than we were used to. We have fixed this by hiring on more junior editors, and are very happy to be catching up on all the fabulous wedding videos we filmed this year.

Ronak and Dan had such a beautiful wedding this year in Napa. We sent them the complete library of our footage via Google Drive on Sept. 24, 2018, and have kept in better communication with them since the Fall. Here is some sample footage of the cakes and the flipbooks we have been working on:
Beautiful Wedding Cakes - https://vimeo.com/306682589
Flipbook preview - https://youtu.be/WN4hXiqAyWo

Rest assured, we are completing the videos as promised - with a good handful of extra thank you gifts.

If either you or Ronak need help with anything else, please call Chief Videographer Emily at (831) 428-6154. Many thanks, and have a wonderful holiday.
Are you interested?
Send a message