16 Reviews
Recommended by 97% of couples
Quality of service

5 out of 5 rating

Average response time

4.8 out of 5 rating

Professionalism

4.9 out of 5 rating

Value

4.8 out of 5 rating

Flexibility

4.8 out of 5 rating
Awards
43 User photos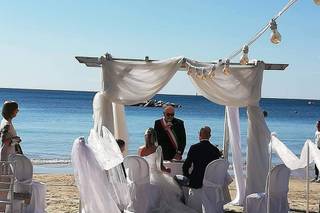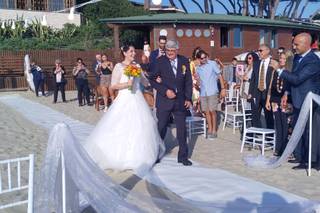 + 39

photos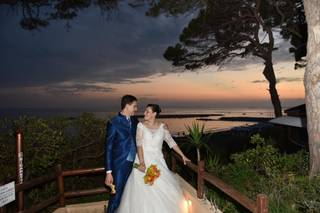 Elena C.

Married on 10/09/2021

Il nostro matrimonio da favola

Location meravigliosa, il rito in spiaggia suggestivo e molto emozionante per tutti.
Lo staff è eccezionale, attento ad ogni dettaglio.
Da non dimenticare la spettacolare e buonissima torta nuziale, divina.
Lo sceglierei altre 1000 volte

Gianluca R.

Married on 07/09/2021

Come in una favola

La professionalità, l'esperienza, l'organizzazione e la simpatia di Alessandro e Alessandra ci hanno aiutati a rendere ancor più magico un giorno tanto speciale. Per chiunque voglia sposarsi in riva al mare questo è il luogo perfetto. Uno scenario incantato. Inoltre non avevamo mai mangiato così bene a un matrimonio (Serena & Gianluca)

+ 3

photos

Greta

Married on 05/16/2021

Il nostro matrimonio da film in riva la mare

Ci siamo sposati a maggio, con una splendida cerimonia civile sulla spiaggia, guardando il mare. Tutto stupendo e personalizzato sulle nostre esigenze. Location favolosa, cerimonia romantica, in hotel si sta benissimo, e al ristorante si mangia super bene (con grande attenzione anche ad esigenze specifiche, nel nostro caso un'allergia alimentare)! Personale sempre gentile, disponibile, attento ad ogni dettaglio. Anche in un periodo difficile come quello della pandemia ci hanno permesso di avere il matrimonio che volevamo, senza rinunciare alla sicurezza. Tutti i nostri invitati sono rimasti soddisfatti, noi sposi felicissimi! Grazie ancora ad Alessandra, Alessandro e a tutto lo staff per la pazienza, l'impegno e l'attenzione che ci hanno dedicato. Consigliatissimo!

Are you interested?

Send a message

Paola C.

Married on 09/09/2020

Fairy-tale wedding

We live in London, so organising a wedding in Tuscany was not going to be easy, or so we thought...

Alessandra (the wedding planner), is just wonderful, in the 12 months leading up to the wedding everyone was so surprised to never see me stressed, how could I when Alessandra was taking care of every detail, reassuring me, explaining me everything, always there when I needed her, with so much genuine care, knowledge, and excellent customer service?

The day itself went exactly as we wanted and even better, Alessandra thought about everything, guests, disposition of everyone and everything, I only literally had to turn up and marry the man of my dreams.
The place itself is simply gorgeous, the perfect location for the perfect beach wedding. The beach is wonderful, the set up so tasteful and classy, the restaurant has an amazing sea view, and the food... the food is to die for, I am still receiving compliments for it! The cake was the most beautiful delicious wedding cake ever, and our guests were so impressed by it and so were we!
A wedding is such a special and unique day, that brings a lot of expectations and there are no other chances to make it memorable and beautiful, but this fabulous couple, Alessandra and Alessandro, who run it all, make it look so easy and effortless and deliver just everything you wish for and more.
It is clear from the first moment you meet them that everything they do is done with love and passion, and that is what made the decision for us when we were choosing a venue.
A huge thank you to all the staff at Il Boschetto for the best day of our lives!


+ 4

photos

Francesca B.

Married on 05/04/2019

Un matrimonio fatto con il cuore

Appena abbiamo incontrato Alessandra siamo subito rimasti colpiti dalla sua disponibilità, dalla sua professionalità e dalla trasparenza con cui ci ha descritto l'organizzazione dei matrimoni del Boschetto. La location di per se è suggestiva, e rispetto ad alte località sul mare dove è possibile sposarsi offre una situazione più dinamica e articolata con il ristorante sovrastante la spiaggia e varie soluzioni per il banchetto e non solo. Alessandra ha da subito conquistato la nostra fiducia; è stata una figura sempre attenta e presente ed è diventata per noi anche una figura amichevole, grazie anche ai consigli disinteressati che ha saputo offrirci in più occasioni, mostrando premura e cura nei confronti del nostro matrimonio e della nostra felicità. Il giorno del matrimonio è stata una figura invisibile ma sempre presente, attenta a ogni dettaglio e a ogni richiesta, per far sì che tutta la giornata si svolgesse come previsto. E se è stato tutto così magico, intenso ed emozionante, oltre ogni aspettativa, è stato anche grazie alla sua accortezza e dedizione, così come alla competenza e generosità di tutto lo staff. Già, perché al Boschetto tutti hanno lavorato con passione e questo ha fatto la differenza: è stato organizzato un banchetto che ha soddisfatto tutti gli invitati, dal buffet di antipasti al barbecue fino alla torta. La torta è stata una sorpresa per noi, realizzata con la competenza e la passione di Alessandro, che ci ha spiazzati; l'ingrediente segreto che ha reso la torta ancora più speciale è stata la sua generosità. Non smetteremo mai di sentirci grati per quello che il Boschetto ha rappresentato per noi. Non è stato solo la location del nostro matrimonio, è stato un posto dove ci siamo sentiti come a casa. Tutti ci hanno messo il cuore, e noi abbiamo lasciato lì un pezzettino del nostro.

+ 5

photos

Martina P.

Married on 04/19/2019

Boschetto's staff was excellent for my weeding! The place is perfect for cerimonies and very elegant. The staff is very professional and kind.

I reccommend Boschetto to everyone for its wedding or other events. The place is beautiful and elegant and the food is superlative. The staff is very professional and careful to each details.

Daniela

Married on 05/26/2018

A stunning location with a very high quality professional staff. Alessandra is always kind and she can solve any problems . She is a great support for this important day.
Thank you for this unforgettable moment.

Il Boschetto's reply:

Daniela, I would like to say THANK YOU ALL, you are a lovely family and it is a pleasure to have been part of your special day. All the best, Alessandra

Andrea

Married on 05/26/2018

Io e mia moglie ci siamo sposati il 26/5/2018, e mai avremo pensato che tutto potesse andare così bene com'è andata quel giorno. Complici del risultato perfetto sono stati il posto ovviamente, il Sole, e Alessandro e Alessandra che con la loro professionalità hanno reso impeccabile il giorno più importante della nostra vita! Non smetterò mai di ringraziarli!

+ 7

photos

Dagmar

Married on 06/09/2017

we were guests at our niece`s wedding party and it was a fantastic celebration of this wonderful day

for further information, e.g. paying, number of guests, wedding wire ask the young couple,please

Il Boschetto's reply:

Dear Dagmar, thank you very much for your beautiful review, hope to seeing you soon! All the best, Alessandra

Pia

Married on 06/09/2017

The Il Boschetto is a lovely little family run Hotel with a beautiful private beach.
Alessandra the Weddingplanner was there anytime. She answered immediately every of my questions. Our wedding took place in a wonderful surrounding and the Team of Il Boschetto made our day perfect. It was not a problem that we weren't there in Italy to arrange all things because Alessandra managed everything for us. She was so trustful and helpful. She was definitely a full-time Weddingplanner and became a good friend during these very exciting months. I am very glad that we chose this wonderful Hotel. The Hotel and the people there surprised us in many ways. It is not the newest but one of the most charming we have ever seen. The food is a dream. They create wonderful typical tuscan food in their beautiful restaurant with ocean view. The Restaurant chef created us a masterpiece of wedding cake. It suits perfect to our wedding and tasted like the fruit heaven. We had a wonderful little fairytail-wedding at Il Boschetto and every one of the team took good care of us and our guests. It is a pity that this day passed by so fast. It was a real pleasure to plan this wedding together with Alessandra. She came up with some sweet ideas and made every of our ideas possible. The only wrong decision was the DJ. That was one of the worst DJ`s we have ever met, but the rest was perfect.

Alina

Married on 05/06/2017

La struttura di Alessandra e Alessandro e bellissima, una vera favola per chi si vuole sposare in spiaggia che si trova proprio davanti al ristorante e con molti parcheggi.
Per noi e stato molto importante fare stare bene la gente che veniva da tutta l'europa,
Italia, Svizzera, Spagna, Romania, Germania, e tutti si sono trovati benissimo.
La comunicazione con Alessandra e stata perfetta, lei ha fatto di tutto per fare stare bene noi sposi, ci aiutato in tutti i modi, non solo se si trattava di cose che avevano a che fare con la la loro struttura ma ci ha raccomandato anche molte persone che servivano per il matrimonio, fiori, intrattenimento, regali etc. se chiedevamo Alessandra arrivava sempre una risposta. Si puo dire che ci ha fatto la wedding plannerin a costo zero, perche ci ha fatto pagare solo il Ristorante e i servizi della sua struttura stessa.
Il Ristorante e stato anche perfetto, la gente ci ha fatto molti complimenti per il magiare.
Non ci e stato neanche un problema per la gente che non mangia pesce o i vegetariani,
Anche qui Alessandra e Alessandro hanno dato di tutto per cercare di accontentare tutti.
Il Menu di prova era compreso nel prezzo del ristorante, fantastico. La qualita / prezzo
secondo me e estrema. Per il servizio che hanno fatto si poteva pagare molto di piu.
I nostri ospiti sono stati in albergo per due notti e anche loro molto contenti del servizio.
se cera qualcosa che non andava Alessandra era subbito pronta a aiutare.
La torta fatta da Alessandro stesso e stata anche molto buona e proprio cosi come ce la immaginavamo. Noi possiamo consigliare a tutti Il Boschetto perche ci ha reso molto molto felici.



Il Boschetto's reply:

Dear Pietro e Alina, thank you for your review. We love to make people's dream possible and we are happy to hear from you that you realised your own with us. Felicitation and all the best from Alessandra, Alessandro and all staff of Il Boschetto!

Denise

Married on 05/10/2014

Ci siamo sposati a Il Boschetto a maggio 2014.
Da subito Alessandra e Alessandro hanno cercato di rendere speciale il nostro giorno accontentando tutte le nostre richieste e consigliandoci e fornendoci ogni tipo di servizio.
Alessandra e' una wedding planner fantastica e ci ha seguito in tutto: dagli addobbi, al dj, alla festa successiva al pranzo, al fotografo.
Alessandro ci ha fornito un menu' scelto su misura alle nostre esigenze e una wedding cake meravigliosa, dato che e' anche un bravissimo pasticcere.
Ci siamo sposati sulla spiaggia con un bellissimo gazebo e pranzato nel ristorante che ha una vista mozzafiato sul golfo di Follonica.
Una location meravigliosa, gia' bella quando ci siamo sposati, ed adesso dopo una recente ristrutturazione devo dire ancora di piu'.
Il cibo buonissimo e tutto lo staff fantastico ci ha coccolato e seguito con professionalita'.
Consiglio a tutti un'esperienza del genere, solo a ripensarci mi emoziono tantissimo.

Riccardo M.

Giornata stupenda!

Alessandra è stata per noi un punto di riferimento per l'organizzazione del nostro matrimonio, attenta ad ogni piccolo dettaglio è riuscita ad accontentare ogni nostra esigenza insieme ad Alessandro che è riuscito a regalarci la torta nuziale che desideravamo. Questa è la location ideale e perfetta se volete organizzare un matrimonio sulla spiaggia.

Xenia S.

Married on 09/26/2019

Beautiful wedding with all you can dream of...

We spend around a week at Boschetto Hotel to celebrate our wedding.
Rooms are pretty "oldish", but who cares, if the rest of Boschetto is so beautiful and perfectly well-tended...
The beach is well-tended too, and that's where we got married.

They made every effort and were so kind and accommodating... we felt in good hands at every time.

Did i mentioned, that they were all so kind and had a smile everytime?

We had a great time, the food tasted perfectly and professionally.. we can absolutely recommend this place!

Thank you for everything...

Nico

Married on 06/09/2017

Expensive rooms, but perfekt service and nice lokation.

Daniel

Married on 06/09/2017

We really liked your service and the whole atmosphere.
Flexibility: We would apreciate not to have full board for the whole period of our stay. We'd rather like to have the option to take just a small lunch or eat somwhere else on market / excursion.
We were invited guests for the wedding of Pia and Kevin Shields. So we can not answer all the questions about the Services booked and Money spent on the Event.
Are you interested?
Send a message