26 Reviews
Recommended by 97% of couples
Quality of service

4.9 out of 5 rating

Average response time

4.9 out of 5 rating

Professionalism

4.9 out of 5 rating

Value

4.8 out of 5 rating

Flexibility

4.9 out of 5 rating
Awards
6 User photos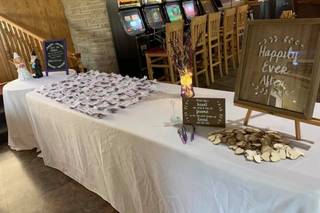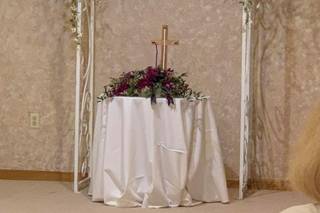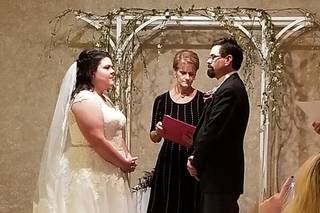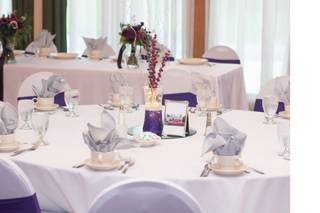 + 2

photos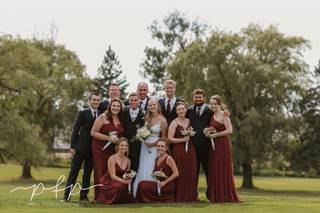 Featured

Daniel

Married on 10/06/2019

Recommended

Excellent group of people that helped us when we needed it most. They helped us find an officient last minute when ours no showed and wouldn't comminicate.

Sydney H.

Married on 04/09/2021

Easy to book and plan!

Easy process to get everything booked and ready!

Amanda

Married on 10/10/2020

Very responsive

Par 5 was a wonderful place to hold our wedding. The food and staff were fantastic. The only thing that wasn't perfection was our hotel room. Other than that it was a blissfully wonderful time

Are you interested?

Send a message

Melissa V.

Married on 10/19/2019

The Perfect Venue!

We absolutely loved Fox Hills, couldn't have asked for a better venue! We held our ceremony on site in the chapel with reception in the Crystal Room. They took care of everything for us - setting up and tearing down decorations, and coordinated well with our other vendors. Their on-site planner Heather was absolutely amazing and quick to respond to any questions or concerns we had. Our event ran seamlessly! Highly recommend

Hannah

Married on 10/12/2019

Truly amazing

I can't say enough wonderful things about Fox Hills and the amazing people that work there! Heather the wedding coordinator they provide you with helps you every step of the way. And is always there for you with anything. She truly made sure my wedding went off without a hitch! The day was absolutely perfect and I have nothing but gratitude towards Fox Hills and all that they did for us.

Timm A.

Married on 09/14/2019

Excellent!!

Fox Hills has been easy to work with and is willing to explain in detail what is covered in the cost. This was important to me because I thought I was going to have to come up with the payment for dinner as well. A scary thought when you think you might be feeding about 100 people.

Karen K.

Married on 08/17/2019

Helpful staff and great to work with

I recently had my wedding at Fox Hills and I do not regret one thing! The staff was very helpful and kind even after the wedding was over. Fox Hills took care of all of our decoration set up and take down! Our ceremony was outside on the golf course and the site was beautiful. The food was excellent and truly exceeded all expectations. The whole day was just so much fun! If I had to go back and do it again, I would pick Fox Hills!!

Kristina T.

Married on 08/12/2019

Great Time! Great Team!

A super venue for our festivities! Outstanding job organizing our golf outing by the golf staff, while the wedding team knocked it out of the park with our reception and dinner. Food was excellent, and bar service was on-point. Kudos for bartender Josh for taking expat care of us! The Crystal Room was the perfect place to host our family and friends, and the acoustics sounded GREAT for the band. The fact that those staying on property could walk home to their rooms or condo was an absolute bonus.

Elizabeth

Married on 05/18/2019

Wonderful Venue for Our Reception!

After looking into other wedding reception venues that failed to return messages or took several weeks to answer our questions, we happily landed on Fox Hills. The venue was perfect for our needs. We had our reception in the Crystal Room which was the perfect size for a smaller guest list. Everything was well prepared. Heather was great to work with and answered all the questions we had. The staff at Fox Hills set up all our table decorations/reception decorations ahead of time and cleaned them up at the end of the night so we didn't have to stress about decorations. The food was excellent as well!

Lots of compliments from guests. Heather Brandel was my contact the last few months. She was organized, listened, and was there in the evening to make sure everything went smoothly. Guests complimented the rooms ($95 for a spacious and very clean room), the meal (broasted chicken with a special seasoning and beef tips with mushrooms, also mashed red potatoes). All expertly prepared and exceeded my expectations of a "wedding chicken dinner". The staff was so friendly throughout the weekend and the servers that evening were discreet and timing EXCELLENT. The Crystal Room included colored napkins and fine linen, beautiful centerpieces/candles, chandeliers...all included in the room fee. I have always loved this property. It is dated on the outside, but I like that it has character and a history. The management seems to be working towards new ideas inside to keep the resort modern and meet all of their guests needs.

Janel

Married on 06/25/2016

We had our wedding there the 25th of June. It was perfect. Heather did an amazing job helping with everything we needed done. They checked in with us throughout the night and made sure everything ran smooth. The resort accommodated good for my bridesmaid. The food overall was cooked, served, and tasted amazing! They treated my guests great. We had a really good time. Thank you. Highly recommended for a wedding. The outdoor site was awesome and made beautiful photos.

Brittany

Married on 01/02/2016

We had our wedding at Fox Hills this past weekend and it was nothing short of amazing. I honestly couldn't be happier! Their wedding coordinator, Heather, is just completely fantastic at her job. From the planning of the wedding and all the planning meetings, all the way up until the big day, Heather always checked in with me to make sure things were going smoothly. She checked in with me various times at the reception as well, to make sure I was okay with all the decorations and everything going on. The reception was just PERFECT in my opinion. Heather and her team did an amazing job. The decorations and setup of everything from cocktail hour to the ballroom was just phenomenal and beautiful and everything I ever wanted. Everyone I've talked to has commented on how beautiful everything was--and it was even better because we didn't have to set any of it up. Heather took care of all the setup, all the decorating and even all the clean up. That made things so much easier on me (and my family too! because we could focus on other things). We just had to bring in the decorations we wanted, tell Heather how to set them up and where we wanted them, and she took care of it. The food was so great too! I had nothing but good things said about the food and the service. Everything was so fast! We were served quickly and everyone was done eating within an hour. All in all, I couldn't have asked for a better reception venue. Thank you to everyone at Fox Hills for a truly unforgettable wedding.

My daughter's reception was held at Fox Hills resort. What an amazing venue. The room itself was elegant and the staff was amazing!!! The prime rib was melt in your mouth good. I highly recommend using Fox Hills Resort.

Tanya

Married on 07/19/2014

We had our ceremony and reception at Fox Hills Resort and we couldn't have been more pleased! Everyone loved the beautiful scenery and set up for the reception. The staff there was very helpful in every step of the planning and when we had issues come up they were right on top of it to fix it. Heather Brandl the wedding coordinator there was great! She made sure that everything was perfect and made our day go off without a hitch! The convenience of having everything all in one place was great considering we had people coming in from all over. The prices for everything was beyond reasonable and the food was absolutely amazing. I would definately recommend this place to anyone looking to find a venue for their wedding!

Brooke

Married on 05/17/2014

We had our wedding at fox hills in the Crystal room and everything was perfect. All our requests were met. The food was delicious and the staff was friendly. Overall a great experience!

Shanna

Married on 04/12/2014

Fox Hills did a great job in hosting our wedding, and Heather did an amazing job setting up all of our decorations and getting the hall ready to be exactly what I had imagined.

Alex

Event on: 09/07/2013

The people at Fox Hills really know what they are doing! They were the reason for my stress free and fun wedding! They did a fantastic job!

Great service and excellent food. Even was 30min late because of pictures and it still was wonderful. Would highly recommend fox hills to anyone looking for a place to get married and/ or reception. Staff are helpful and cater to ALL your needs.

Audra

Married on 09/22/2012

Heather answered all our questions and was very professional. She took direction very well and made the decorations look outstanding. She was very calm and helpful throughout the whole process. The day ran as smoothe as could be.

Marissa

Married on 08/27/2011

Heather and Tina rocked with getting everything set up and in place for us. I had not a worry that something would go wrong. We were looking for an all-in-one venue where we could have our reception and the hotel rooms connected. This worked out perfectly for our Wisconsin/Minnesota-family based wedding. Any question I had, I was easily able to email or call the appropriate person and get it answered. We had a little trouble communicating with the hotel staff and getting things taken care of through them, but that was minor. The food was so SO good - we got many compliments on that, the Crystal Room was beautiful and very accomodating, as well as the room we got for rehearsal dinner the night before. We got so many compliments on our wedding, it was a lot of fun - and much to do because of the greatness of Fox Hills.

Adam

Married on 10/17/2009

Fox Hills is amazing. It was so nice to not have to worry about anything that day. The staff at Fox Hills took care of everything. The food was delicious. We had a family style meal and I didn't hear any complaints about cold food or not enough food. We had planned on an outdoor ceremony but that didn't happen. The back-up site was amazing.

Kaye

Married on 09/30/2006

Tina was WONDERFUL to work with. She was easy to contact, replied quickly and took care of everything for us. She and her staff set up our whole reception room and it looked beautiful! She let us drop off all our decorations a couple days early and then took care of everything. The room was huge - big enough to seat 400 people. The prices were fantastic! And they had enough rooms for everyone to stay right at the hotel. We had a wonderful time thanks in large part to all of Tina's hard work!

Erin

Married on 08/06/2011

Fox Hills did an amazing job hosting my wedding! Heather and Tina were very responsive to my inquiries in the weeks/months leading up to the big day, and did everything in their power to see my vision to completion. Everything was PERFECT...which is what everyone hopes for (and rarely sees) in those stressful final hours. I'd happily recommend this lovely resort to any bride looking for the same outcome.

Betsy

Married on 08/01/2008

We were very pleased with our wedding at Fox Hills. Everything went smoothly (except getting caught in the rain during pictures on the golf course!) The staff was very professional, and the food was excellent! Highly recommend!

Rhea

Married on 09/05/2010

Having our wedding on a Sunday at Fox Hills had a lot of perks. It was cheap and there were complimentary items included. The staff at Fox Hlils was accommodating and allowed us to come in basically whenever we wanted to discuss things or look at the room again.
Are you interested?
Send a message