Reviews
4.3 out of 5 rating
Quality of service

4.3 out of 5 rating

Average response time

4.3 out of 5 rating

Professionalism

4.3 out of 5 rating

Value

4.3 out of 5 rating

Flexibility

4.3 out of 5 rating
86%
Recommended by couples
Awards
31 User photos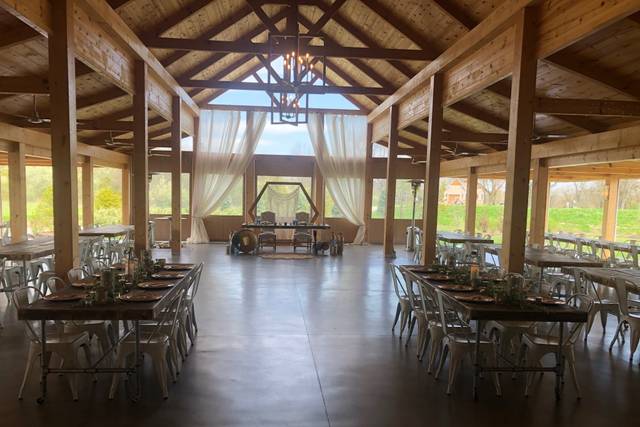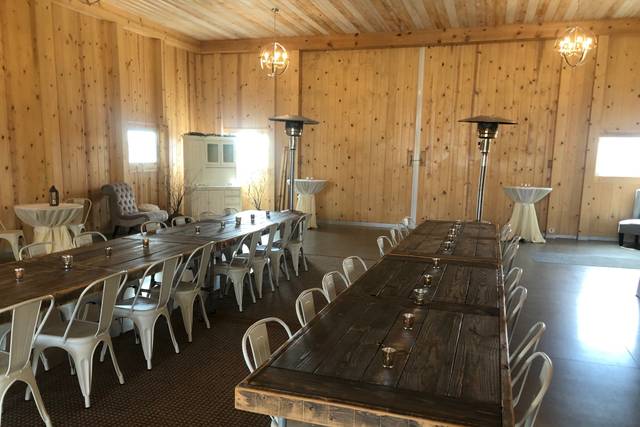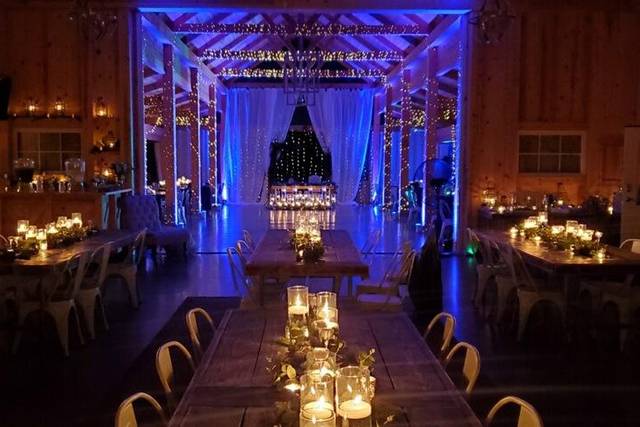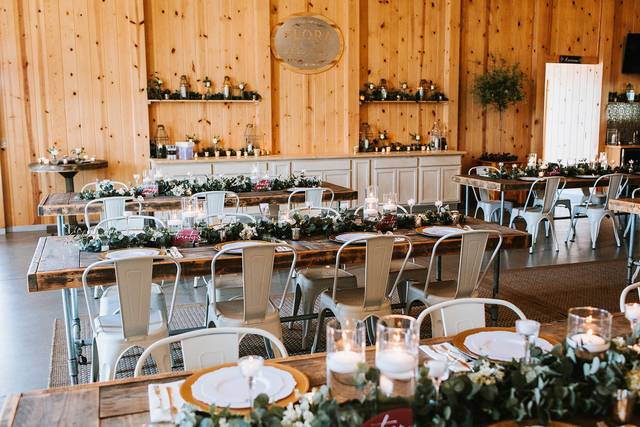 + 27

photos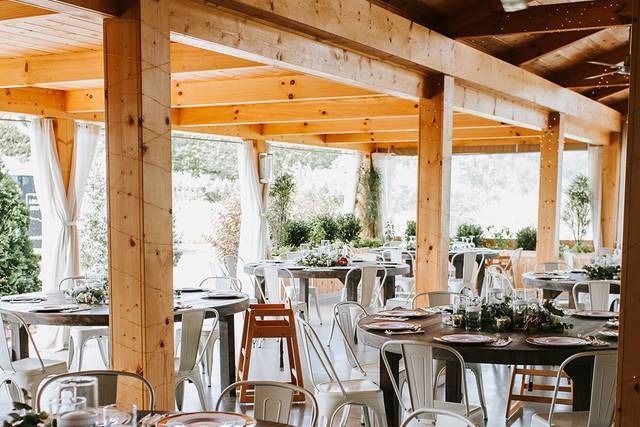 Featured

Jenna W.

Married on 10/26/2019

Dream Venue

Words cannot express the gratitude my husband and I have for Theresa and Joe Berger, their wonderful staff and beautiful venue. During our first venue visit, Theresa and Joe sat down with us for hours just getting to know us as people. Their warmth, thoughtfulness and genuine enthusiasm for providing couples with the absolute best experience was evident from that first meeting, and was the polar opposite of what we had previously encountered during several other venue visits in Columbus and Cincinnati. Needless to say, that first meeting was all it took for us to know Flora and Field was the one!

Theresa, Joe and their staff spent an inordinate amount time making sure we were always happy and comfortable, from setting up standing planning meetings at the farm (which often lasted for hours on end, simply because we had too much fun :), to going above and beyond to find decor to provide the perfect boho-chic vibe, to endlessly hunting down hard-to-find flowers for my dream bouquet and arrangements. The team truly exceeded all of our expectations from planning to the wedding day itself. The Bergers' passion for people, and forging not just working relationships with their couples but lasting friendships, is something you simply won't find elsewhere. This is a one of a kind experience, and one that my husband and I will cherish forever.

Chesta S.

Married on 06/24/2023

Beautiful and amazing venue. So Professional and owners/staff go above and beyond !

I had my daughters wedding at Flora and Field. The day was absolutely perfect!. This is the most stunning venue . Theresa and Joe are awesome and so helpful. They ensured my daughter had her fairytale wedding. Love this venue and Love Theresa and Joe so much! .

Ashley P.

Married on 10/15/2022

Best place for a wedding

5 stars aren't enough to describe our experience with Theresa and Joe! From the start they made my partner and I feel like a priority and it continued even after we selected them as our venue. Theresa went out of her way to see if another client was willing to switch their date to a week earlier just so we could be closer to our original anniversary date because she knew how much it meant to us. I have only good things to say and good experiences with Flora and Field!!

Are you interested?

Send a message

Natalie G.

Married on 09/18/2021

Amazing wedding

Flora and Field is the dream destination for a wedding venue and the wonderful, talented owners are just the cherry on top! I have been planning my wedding here for almost two years and the process could not have been easier. Our lovely wedding coordinator, Morgan, went above and beyond to make sure we thought of everything and that every aspect was perfect. Joe and Theresa Berger pour their heart and souls into every wedding they put on and made us feel like family the whole weekend. I give this venue and the people that work there a 10/10 for their hard work and execution of my wedding day. If you don't get married here you are missing out!!! Every part of our wedding was flawless.

Courtney

Married on 09/04/2021

Viewing the venue

This venue is absolutely gorgeous! When my fiancé and I walked in, it was breathtaking. We literally looked at each other and said "we can't afford this". Little did I know, this is where we would book our wedding for next year! Many dates have already been taken so the owners, Theresea and Joe, worked really hard with us to find a weekend that was right for us. These two have tremendous hearts and I can't wait to work side by side with them with the year to come. If you go view the venue, you will understand when I say, these two are the best and will take excellent care of you.

Joy P.

Married on 08/13/2021

Mother of bride

My daughter was married at flora and field last Friday. It was the most magical experience not just for Madi and Aj ( the bride and groom)but all the guests as well. The morning after the wedding we woke up to messages upon messages from family and friends telling us what an amazing evening they had.
We started the day at the bridal house where we walked into bouquets or flowers placed around the freshly cleaned house. We were immediately greeted by Hallie asking if she could get anything for us. It was a great morning getting ready in this beautiful space. We knew it would be convenient to get ready right on the venue property but we didn't realize just how relaxing and enjoyable that time spent would be. The lighting was perfect inside the house and outside the house is gorgeous with lush green landscaping making great photo backdrops.
The ceremony was so well organized that we could just relax and take in this special time for our daughter and son in law. At the beginning of the ceremony it was storming but that was no problem. They quickly closed all the doors and the area became this cozy special space for the couple and all the guests. As the storm subsided they opened back up, everything was dried off, fire started and party began.
The reception was absolutely breathtaking taking. It looked amazing! I never saw anyone standing. This staff works and works hard. They seem to take pride in their work and that is shown from the perfectly placed table settings to the bar tenders who are neat and clean getting drinks served up efficiently all night. We were checked on multiple times throughout the night to see if we needed anything.
From start to finish the wedding was full of memory making magical celebrating. We will never forget this day and we are so thankful Madi and Aj got to have this experience for their wedding day! Thank you so much Theresa and Joe for your kindness and care for Madi and Aj. These two deserved a great day and you and your staff delivered it! Thank you!!


Madi M.

Married on 08/13/2021

Indescribable.

My husband and I booked flora and field back in January 2019. We've been along for the ride as the venue has grown and became even more magical than it was the first time we saw it almost 3 years ago. We were supposed to get married in September 2020, but Teresa allowed us to move our date back an entire year due to COVID. She was beyond gracious, giving, kind, flexible, and helpful during this time.

Flora and field doesn't feel like a commercialized place like every other venue. It feels like Teresa and Joe are just letting you get married at their home (which they are!).

The wedding industry is full of money hungry people, who will take and take from you. Teresa and Joe are the complete opposite. They are givers. They go above and beyond for every single couple that gets married there. They deeply care about each couple they meet.

Being surrounded by kind, GOOD people on your wedding day is priceless. It's why we picked flora and field, because of the kind of people they are (and all their staff!). It's an added bonus that their venue is the most beautiful place I've ever seen in my life!!!

I've had 4 other friends get married here(because everyone wants to get married there after seeing the weddings they put on). And every single one of them had the same exact incredible experience we had. They are consistent and make every part of the day perfect, even down to the tiny details.

Words can't even describe how grateful we are to Teresa and Joe, our wedding planner Hallie, and all their other amazing staff. We didn't even know Teresa and Joe before and now feel like we have two more special people in our lives.

Tayler

Married on 06/26/2021

Absolutely Amazing

We had our wedding at Flora and Field in June and we cannot recommend this venue enough!! From the first time I talked to Theresa she made me feel like family. Her, Joe, Hallie and the rest of the amazing staff made our wedding planning process feel so easy and stress free! Our wedding weekend was absolutely amazing from the second we got there on Friday until we pulled off the property on Sunday. Our wedding is something that we will always cherish and we will never forget. A huge part of this is due to Flora and Field, the owners and their amazing staff!

+ 7

photos

Paige S.

Married on 06/12/2021

So worth the drive from Columbus! Or anywhere else!!

I don't know what impressed us more - the venue itself or the couple that runs it! If you want a rustic, open air, beautifully decorated, flower-farm wedding venue with the absolute best team of people helping you pull it together, then don't even think about booking anyplace else until you've toured Flora and Field! You'll be glad you did.

Flora And Field's reply:

Thank you so much, Paige! Yes, this is a business, but it's really about the amazing people we meet who become part of our lives. We're honored that your beautiful daughter chose us and I assure you that it will be a wedding like no other. Cheers, my new friend!

Jennifer C.

Married on 04/03/2021

Ultimate understanding and professionalism

We have had a wonderful experience so far with the owners of this venue. Due to the COVID-19, weve had to reschedule our wedding and they have been very flexible and supportive. We had a great conversation about the struggles that have come with the pandemic and how we all have to work with each other to get through. They gave us time to decide and a few options. I am so glad we chose Flora and Field to have our ceremony and reception. The owners are such great people all around.

Ally C.

Married on 10/10/2020

Perfect, Wonderful, Amazing

If you want to be stress free, book here! The most amazing venue, with the best people to work with!!!

Rhonda S.

Married on 08/08/2020

Calm in the middle of the storm

Theresa and Joe are amazing! When other venues are canceling and not providing options for summer 2020 weddings, Flora and Field are offering to reschedule, bending over backwards to navigate through these uncertain times , and not leaving us high and dry. Communication has been speedy and comprehensive. We have a back up plan in place with a back to the back up with their venue. No one goes to the lengths they are going through to keep my daughter's wedding a blessed and special day. I highly recommend them.

Julia

Married on 08/08/2020

Amazing People

We love Theresa and Joe. They are good people with amazing hearts. I have felt cared for since day 1 and know that I'm in good hands. Super accommodating and flexible - especially in the event of postponements. We can't wait to celebrate our big day at Flora and Fields with them!

Klaire R.

Married on 06/20/2020

A venue that takes care of YOU.

This venue makes you feel like family. From the beginning, my fiancé and I have been treated like a part of the Flora + Field family. Every detail about our wedding has be thought about and perfectly measured out by the owners and their amazing staff. Although COVID-19 has created a bump in the road with our timeline and we have now chosen to postpone, Theresa, Joe, and their staff have been working endlessly to ensure my fiancé and I that we will still have our perfect wedding. We were provided with many options to chose from, but the willingness to reschedule doesn't measure up to the kindness and sincere empathy this venue has for their couples. They care about their couples with their whole heart. We have, (from day one) been absolutely taken care of, checked on, and worked alongside with to make every decision. The easy and the hard. We are so grateful for this venue, what better place to get married than a place that feels like family.

Keith E.

Married on 09/21/2019

Nothing short of Amazing

Absolutely the best experience of our lives.
My wife and I spent many weeks trying to pick out the perfect wedding venue. We visited many venues and spent a lot of our time driving through the country in search of "The right" place. Everywhere we went it get as though the venue was nice, but the staff wasn't genuine. Or the people were nice, but the venue itself was lack luster.
Fast forward a month or so into looking and my wife and I scroll over a sponsored ad on Facebook with no likes yet that has very nice photos of a venue that seems to be worth checking out. My wife messages the contact information provided and we managed to schedule a time to meet up. Little did we know we were about to embark on a journey with the best power couple we would ever encounter.
We met up with Theresa and Joe and instantly hit it off. These people genuinely care about you and your special day. From our first exchange of words my soon to be bride and I knew this would be the place for us.
We ended up talking for about 2:30 hours about plans for the venue as nothing was constructed yet other than the main barn. Theresa told us of plans of an outside area, a separate seating area and all of what she and Joe envisioned for their beautiful venue. This sounds crazy, but my wife and I were so certain of Theresa's vision and drive that we took there word.
Yes, we took a strangers word for their vision and paid on the spot to reserve our date with nothing more than a barn, a vision, and a plot of Grass next to it.
Months later my wife and I would become wed in the promised ceremony space, enjoyed drinks with guests in the cocktail hour area and Our wedding day went off with out a single hitch, all thanks to the caring of Joe, Theresa, and the many wonderful people working at flora and field to facilitate nothing short of a magical evening.
Flora and Field is beautiful. The staff is wonderful, and the owners will move heaven and earth for you to have your special day just the way you want it. I am so very thankful to have scrolled past that one ad and gained the friendships that my wife and I have now for a lifetime. We owe so much to the wonderful people of Flora and Field. I hope you consider them as you won't find another group of people who care about your wedding as much as you do.
Thank you.

+ 3

photos

Bridgette M.

Married on 09/01/2019

Most beautiful wedding I have ever been to

I cannot say enough good things about this venue.
It was the most beautiful wedding I had ever been to.
Joe and Theresa and their staff were incredible. We felt like family when we left. They are so wonderful to work with.
The flowers were spectacular! I have never seen that many at a wedding before. It was exactly what my daughter asked for.
I would highly recommend having your event there!

Flora And Field's reply:

Thank you so much, Bridgette! Your gorgeous daughter made it a storybook wedding and one we'll never forget! The flowers were dripping from every beam. We appreciate your kind words more than you know. It was a pleasure having you here.

Brittany B.

Married on 06/01/2019

Perfect experience from start to finish!

This event space is absolutely BEAUTIFUL. I held my June wedding at Flora and Field and I cannot say enough good things about my experience. The owners and staff are some of the most compassionate people who truly listen to what YOU want and help to make it a reality. You will be hard pressed to find a venue with more to offer.

Tim B.

Married on 06/01/2019

Perfect Wedding Venue

Theresa and Joe make you feel like you're as important as family. You won't find owners that treat you better or are more invested. Our wedding day was more than we could have imagined thanks to the owners and staff.

+ 6

photos

Katie B.

Married on 05/25/2019

Breathtaking venue & great staff!

I highly recommend! As a bridesmaid I felt like I was being treated just as important as the bride. They made sure we had everything and anything we needed and never had to worry about anything they were great!

Holly S.

Married on 08/15/2023

Buyers beware! Owners are awful people

BUYERS BEWARE! THE VENUE OWNERS WILL DICTATE YOUR WHOLE WEDDING!

The venue is gorgeous, and Morgan the wedding coordinator did a phenomenal job. But she was the only venue staff who respected the bridal party.

As soon as they have you sign that dotted line on the contract, they turn into completely different people and make the brides life a living hell. For months my friend had to deal with them making up false information that was never in the contract. And then they wouldn't speak to her for extended periods of time, but out of the blue tell her payments for different things were due that day. The owners care about no one but themselves, clearly if you lack emotional intelligence, the wedding business isn't for you.

Now let's get to the wedding day! They controlled the entire event. As the bridal party was finishing up getting ready and doing a final look with our bride, the owner storms in the room screaming at the bride for how "late" she is. Clearly she doesn't know the wedding doesn't start till the bride is there... After we're quite literally pushed out the door, we show up to the ceremony so early people aren't even seated yet. Any minor changes the bride wanted to make, the staff would have a melt down and tell her she can't do that. I didn't know it was the venue owners decision for the bride to add in a father daughter dance??? And the groom wanted to walk down the aisle with his brothers, but they claimed that's not appropriate? Also, the best mans 2 year old picked one of the flowers at their FLOWER FARM and they tried to kick out the whole family and threaten not to give them their damage deposit back. After the all-day dictation, we got to the dance floor and Joe the owner just sat in a chair in the corner watching us all. It made us so uncomfortable. I could go on and on of how terrible these venue owners are, but I think these stories paint the picture.

Please look else where for a beautiful barn venue! The base rate is astronomically high, you get nickel and dimed every step of the way. All that just for the owners to brag that some wedding parties spend $100k there... LOL not something to boast about in my opinion. And if the venue owner ends up reading this review, I highly consider you learn to be nicer human beings or get out of the wedding business.

Cheyenne R.

Married on 09/06/2021

Very disappointed. Let down.

To say the least I was very let down by this venue.

Matthew F.

Married on 08/14/2021

Bride & grooms beware!

Terrible service from the owners. Threatened a 2 year old for picking flowers, physically approached members of the bridal party, and zero customer service skills. Shouting at the mother of the groom during the reception. Inappropriate, rude, and downright terrible experience. Don't be fooled by the beautiful scenery, the people that operate the facility will ruin your biggest day.

Randy G.

Married on 07/24/2021

Two faced owners.

I got married a july 24 2021. Leading up to my wedding, it was extremely stressful. We had to postpone from last year, but still wanted to get married in 2020.
Theresa agreed that we could have our ceremony there…which was great…but that's where the positivity ends.
After booking a new date we had to fill out, what seemed like a 100 page planning guide. Questions repeat themselves and were extremely ridiculous.
A couple weeks before the wedding, we were making all the final decisions. We were still having another ceremony since my family didn't see the first one.
I was getting calls at all hours of the day from the wedding coordinator (6am and 10pm) asking questions that are answered in the 100 page planning guide. Also, the questions were so amateur, they should have known before calling me.
After making our final decisions and timelines, Theresa started getting rude. Telling me what I want instead of me telling her. She was really rude with my mother and others. My mother even had to call them to tell them to stop calling me about stupid stuff, to only call my mother.
Other vendors were calling me to set up our final meetings, and they informed me that Theresa told them to not talk to me. If they have questions to only talk to Theresa and not me. The Bride!! I'm laying the other vendors, they work for me not flora and field.
When it came time to pay, Theresa would not send my mother in invoice so she could pay. It wasn't until the morning of is when we finally found out how much everything was. Very shady.
Horrible service, very amateur coordinators, and rude owners. I can tell they have only been open for a couple years…they have only done 100 weddings or so there and it shows. The coordinators change like the wind and they hire coordinators that have zero experience.

I was also very disappointed in the "flower fields" on the flower farm. I was told they weren't ready yet. Well…there are none.
The building is beautiful. But with no air conditioning, it makes for a hot sticky day.

Think twice before booking here. Theresa and Joe are great sales people and can sell that place. When it comes to me to execution, that makes where they fall way short. Not worth the $15k spent there.
Are you interested?
Send a message