61 Reviews
Recommended by 98% of couples
Quality of service

4.9 out of 5 rating

Average response time

4.9 out of 5 rating

Professionalism

4.9 out of 5 rating

Value

4.9 out of 5 rating

Flexibility

5 out of 5 rating
32 User photos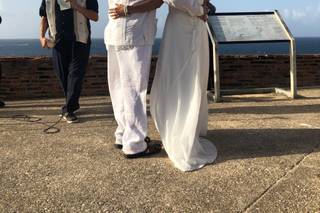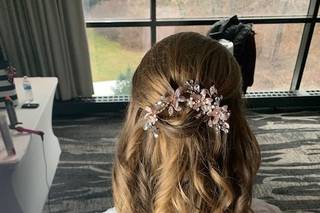 + 28

photos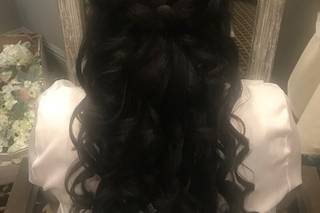 Maria

Married on 09/04/2022

Melissa was wonderful to work with. From the trial to the day of the wedding she was very accommodating. At my hair trial she recommended the steps I should take before my wedding so that my hair would look even nicer than the trial and she was spot on. She met us at the hotel we stayed at the night before and started with our hair at 5am so we would all be ready and at the venue by 10:30am. All six of us had different hair types and she was able to whip everyone's hair into shape. Everyone was thrilled with the way their hair turned out, we all looked beautiful and it stayed looking beautiful all the way until the end of the night. In addition Melissa's assistant was great and was able to do one of my bridesmaids makeup on the spot. The vibe the morning of my wedding was exactly what i was hoping for, both ladies are highly personable and the playlist they used was fantastic. I couldn't have asked for a better vendor :)

Dutchess County Hairstylist's reply:

Maria! You bring tears to my eyes with happiness! What sweet kind words! It was my pleasure to be chosen as your bridal Hairstylist! We wish you nothing but love, happiness, and success in your marriage ahead! Xoxox

Jamie Z.

Married on 09/09/2020

Wonderful Experience!

I have been going to Melissa to get my hair done for a few years now, so she was my first choice for styling my hair for my wedding day. We made some very last minute changes to our wedding and ended up moving the date up a whole month with very short notice. Melissa was very accommodating with this change and moved her schedule around so she could be there!
She styled my hair exactly as I asked and made sure that I loved it every step of the way. Everyone's hair looked absolutely beautiful, and I am so happy that I booked with Melissa for my wedding :)

Marlene S.

Married on 07/04/2019

She came highly recommended

Melissa gave me the look I needed. I needed a change of style color and cut. I'm still getting compliments til this day.

Are you interested?

Send a message

Michelle

Married on 05/31/2019

Felt like the most beautiful bride!

Melissa (Hair) and Tiffany (Makeup) are the best! They are professional, kind, and devote just as much time to each member of your bridal party as they do for the bride. I have been going to Melissa for years for my hair, so there was no question she was the right choice for me. Tiffany (makeup), I had met recently, and had a trial for my engagement shoot. It was the HOTTEST day of the year, and my makeup (and hair) lasted all day long until the evening shoot in 95 degree weather with 100% humidity. I also had Melissa and Tiffany do me up for my bridal shower - they are a tag team, and have been working together forever. On the day of my wedding, I had a tight schedule with hair/makeup before pictures where everyone had to be ready, and they both assured me that they'd work within the time they had. Needless to say the day of, all went smoothly! My bridesmaids we're so happy with their looks the day of, one of them admitting that her hair that day may have been better than her own wedding day updo. Thank you both for putting me at ease, and making me feel like the most beautiful bride ever!

Krisztina

Married on 12/31/2018

Amazing - highly recommend!

Thank you Melissa and Tiffany for glamming us up for our New Year's Eve wedding! As someone who wears almost no makeup and has a no-fuss hair routine (wash it, brush it, and go) I was very glad to be in Melissa and Tiffany's hands. I wanted a very natural look in terms of makeup, and I am glad I went to do the trial because we were able to figure out what I didn't want (no lashes, no liner). And I thank Tiffany for being flexible on the day of as well, as we made a decision to not do the spray air-brush, and instead start again using a very light foundation. It was perfect and I felt beautiful. And thank you to Melissa who made my hair look fantastic half up and half down, with curls! And thank you for respecting my bridesmaid's request of no hair spray. My sister loved her full updo as well, and I was impressed how well the hairdos held even the days after. And the flower girls' hair was adorable and perfect. Thank you very much - you two are AMAZING at what you do.

Alison

Married on 12/14/2018

Amazing! Simply amazing work!

Melissa is so great to work with. The day I did my hair trial with her, she did exactly what I wanted and I knew I would love how she would do my hair for the wedding. I showed her what I wanted, and she made it look even better than what I envisioned – she is so talented and has a great personality. She engaged so well with the bridal party when she did their hair, and she did a beautiful job with the girls. She's very easy-going and will do any style you ask for. My hair lasted pretty much through-out the night – the veil was nice and snug even when the bridal party was stepping on it during pictures my hair stayed put, it was so lovely I'm so happy the way it came out – she will make sure your hair is done right and will hold up for hours. She will make you look your best and is attentive to detail so it comes out perfect – no flyways, no strands out of place, bangs perfectly put to the side, curls in tact… you name it, it was all done beautifully. I highly recommend Melissa.

Tiffany did my makeup, as well as, the bridesmaids. Just like Melissa, the day I did my makeup trial, I just knew she would be doing the make-up for the wedding. She is also so talented. My make-up did not come off at all. She is so great to work with as well. She knows her stuff and will give you suggestions, and will go with your ideas as well. It was wonderful how my make-up came out. I photographed so well, and the makeup really did compliment my hairstyle. I was so worried all my makeup would come off after I did my pictures and the reception – but it all lasted, even after dancing! I highly recommend Tiffany as well as Melissa. They are such a good team, and will make sure you and your girls look their best on the most special day of your life. I am so pleased I chose them for my special day.

+ 2

photos

Heather

Married on 10/05/2018

Melissa did our hair for my daughter's wedding and I have to say she did such an amazing job! She was so attentive and did all of our hairstyles exactly how we wanted them! I can't recommend her enough!!!

Larisa

Married on 09/23/2018

Melissa and Tiffany were absolutely fantastic to work with and we're so elated they were part of our wedding team. From the trial to the planning phase, they were there to answer all of our questions efficiently and with great suggestions. I'm so happy they were there the morning of the wedding---it was like having more friends to celebrate with! I loved them so much I even told them to come to the wedding! My wife and I felt so beautiful on our wedding day and we couldn't have done it without Melissa for our hair and Tiffany for our makeup! We cannot recommend them enough!

Denise

Married on 08/18/2018

Excellent! Melissa did a fantastic job on my MOH and my hair!! I could not have asked for more! Tiffany did our makeup to perfection! Everything held up perfectly all day (even in very hot and humid conditions) excellent job ladies, thank you!

Hillary

Married on 06/08/2018

Melissa and her team were awesome! Right on time to meet at the hotel and budgeted just the right amount of time for when the photographers showed up. All my girls loved their hair and makeup, they also did many touch-ups at the end which everyone appreciated a lot. Melissa and her team were very fun and talkative, which set a great vibe for the morning. Also some of the best prices I saw in the area! Highly recommend!!!

Amanda

Married on 05/19/2018

Melissa is the best decision you can make for your wedding day. She and her assistant made myself and my girls look absolutely perfect. She doesn't charge as much as other people in the area do, but honestly, she should because she is just as good if not better then the competitors. She definitely knows how expensive it is to have/ be in a wedding and doesn't overcharge. She made sure that everyone looked perfect before she left and left us Bobby pins and hairspray which came in handy. She also saved my best friend's wedding when her hair girl canceled last minute. Melissa moved all of her hair appointments so that she could do the brides hair as well as do all of the bridesmaids hair. I highly recommend you use Melissa for your wedding day. I'm so in love with her work that I recently went to her to get my haircut and of course I love it!

Dutchess County Hairstylist's reply:

Thanks Amanda! What kind, sweet, genuine review of our services that is to say. You were truly a pleasure to work with, even on a rainy day you managed to look stunning! I am so happy you chose us and referred us to your friend as well. Best of luck in your new life ahead, nothing but love, success, and happiness to you Amanda!

Alyssa

Married on 05/05/2018

I am so happy and thankful that Melissa was recommended to me to do the hair for my wedding day. As soon as we connected, I could tell Melissa was super responsive and had a great, positive energy. She would go with the flow and was kind even at times when I would be stressed out during my wedding planning process. My trial was easy, fun, and extremely affordable; Melissa's prices in general are amazing for the quality of service she provides and how far she travelled to do our hair very early in the morning. My mom and maid of honor loved Melissa as well, and their hair turned out beautifully. They were so pleased with the intricate styles she helped them choose and their hair stayed all night as did mine! My wedding hair looks amazing and exactly how I pictured it would in all of my photos throughout the entire day thanks to Melissa, and I could never thank her enough for helping make my day so easy, fun, and special! We love you, Melissa!! Definitely use Melissa for ALL of your hair needs!!

Dutchess County Hairstylist's reply:

These kind of reviews are why we love what we do! It was OUR honor and pleasure to be chosen as your bridal hair specialist! With many companies out there to choose from we are always appreciative and love the feedback. We wish you nothing but love, happiness, and success in your marriage ahead!!!

Vanessa

Married on 04/14/2018

Love, love, loved working with Melissa. She's so talented, so creative! She arrived early and super prepared! She's full of positive energy and fun to work with! Would recommend over and over again! My hair was amazing and stayed perfectly all night. So happy with my whole experience, from communicating, to the hair trial to the BIG DAY itself. If you want gorgeous hair and zero stress, Melissa is your best bet!

Dutchess County Hairstylist's reply:

Thank you for the kind words Vanessa! You were a pleasure to work with and we were honored to be chosen as your bridal hair specialist! We wish you nothing but love, happiness, and prosperity ahead!

Rebecca

Married on 04/14/2018

Melissa and her team were wonderful. The whole bridal party was happy with them.

Dutchess County Hairstylist's reply:

Thanks for choosing us Rebecca! It was a pleasure and our honor to be chosen as your bridal hair and makeup specialist.

Courtney

Married on 11/11/2017

Melissa and Tiffany made my wedding day so special! Finding the right hair stylist and makeup artist for your wedding or special occasion can be a little daunting. I was looking for a team that could handle my hair and makeup, and four bridesmaids the day of my wedding in Poughkeepsie. They arrived on time and ready to jump in. They both requested a photo of a hair style and look I was after. During the trial, I gave them both feedback so that we could go from the photos I brought and then adjust to my own preferences that deviated a bit from the photos. They were both very accommodating and patient. Between their talent and flexibility, and my feedback, they created the perfect princess look I was after. They were great with my girls, too! I had each girl bring a photo of their look, and they fashioned hair and makeup that both resembled the photo, but worked with the natural features of each girl. I'm so pleased to offer my praise and highest recommendation to them both. Melissa and Tiffany are both incredibly talented and professional.

Rachel

Married on 11/03/2017

Melissa and Jasmin were amazing. I had 8 girls for hair, all had varying lengths and types of hair and were getting different hairstyles, Melissa was receptive to each girls ideas and each style exceeded our expectations. Makeup was the same! we ranged from wanting a natural look to dramatic makeup and Jasmin met the needs of each girls. They are nice and very personable and made my experience a great one!! I Highly recommend them for any wedding or formal needs!

Sara

Married on 10/14/2017

Melissa is phenomenal. She made every one of my bridesmaids extremely happy with their hair on my wedding day. She was very flexible with hair types and styles. She can do it all! I was amazed with my bridal hair and she made my family and friends feel so at ease on my wedding day. Melissa I can't thank you enough for making our wedding hair vision a reality. Thank you!

+ 5

photos

Amanda

Married on 10/06/2017

Melissa made my wedding day an amazing experience!! She came to my parents' house to do hair for 12 people! She was friendly and hard-working and all of our hair was finished early. When I went to her studio for a hair trial she did my hair 3 different ways until it was exactly how I wanted it. And then I changed my mind again on my wedding day and she was flexible and accommodating. When she was working she was organized and kept people moving. She was able to do everyone's hair quickly and beautifully. I cannot recommend Melissa enough, she helped make my wedding day perfect.

Kristen

Married on 09/30/2017

Melissa was an absolutely pleasure to work with and I couldn't be happier with my wedding hair! It stayed all night and was exactly what I wanted. Thank you!

Maureen

Married on 09/23/2017

I love Melissa...she was very easy to work with. We bounced each others ideas for my look and I felt not only comfortable but she made me feel beautiful. If I should have an event or if I just want to treat myself I'm giving Melissa a call first.

Dutchess County Hairstylist's reply:

Thanks for this great review Maureen, it was a true pleasure to be chosen as your bridal hair specialist!

Kasie

Married on 09/22/2017

I've never been so happy with an updo! Melissa did a fabulous job- for myself and my bridesmaids!

Dutchess County Hairstylist's reply:

Thank you for the kind words Kasie! Enjoy a beautiful life ahead!!!

Rachel

Married on 09/16/2017

Melissa was very responsive leading up to the wedding, and her home studio was a comfortable, cozy private space for our trial. She provided clear instructions for how everyone should prepare for the big day and arrived at the venue on time. She listened to what each person wanted and everyone (moms and daughters alike) was very happy with their hair. Thank you!

Dutchess County Hairstylist's reply:

Thank you for the kind words Rachel! We are so happy everyone loved their hair! We pride ourselves in giving special attention to minor details. Thank you for choosing us! You were a pleasure to work with!

Alyssa

Married on 08/26/2017

Melissa was fantastic to work with. I was so happy with my trial and my hair for the wedding came out even better! My hair has never been able to hold a curl for long and it lasted all through the wedding! The moms and bridesmaids hair all looked fantastic too. I couldn't have been happier with the way everything turned out. Thank you Melissa!!!

Megan

Married on 08/19/2017

Melissa and her assistants were so down to earth and amazing! They all did a wonderful job on mine and my BM hair! I'd def recommend her and use her again for Any event you need a stylist!

Danielle

Married on 07/15/2017

Melissa was so easy to work with! Very responsive in emails. Prices were totally reasonable and my hair came out perfect! Her teamwork with makeup artist (Jaslyn Artistry) was perfect.

Dutchess County Hairstylist's reply:

Thanks Danielle!! What kind sweet words, we appreciate your time in reviewing us and thank you for choosing us!! You were a pleasure to work with! Have a happy, loving marriage ahead!
Are you interested?
Send a message