10 Reviews
Recommended by 92% of couples
Quality of service

4.6 out of 5 rating

Average response time

4.6 out of 5 rating

Professionalism

4.6 out of 5 rating

Value

4.6 out of 5 rating

Flexibility

4.6 out of 5 rating
Awards
22 User photos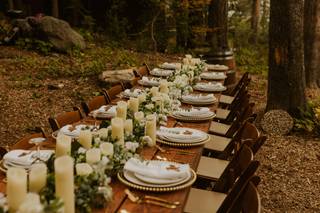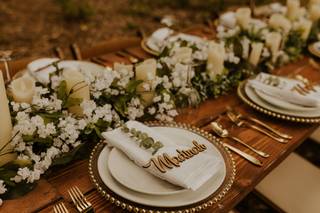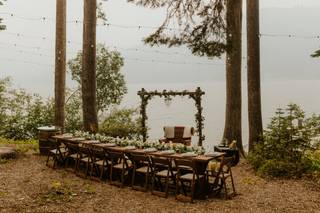 + 18

photos
Featured

Elizabeth M.

Married on 09/07/2019

Incredible service & design!

We hired this team to perform our destination wedding in Jackson Hole, Wyoming in 2014 and it was beyond impressive. Our families are both very large so the guest count was close to 400. The ladies pulled everything together seamlessly, took the wedding details into their hands and gave us the most memorable of days. We could not have been any happier. My parents were beyond thrilled and how everything turned out and how easily it was done. I can without a doubt recommend them for your day as you won't have to worry about a thing!!

Desert Southwest Events's reply:

Thank you much for your kind words and we enjoyed every minute planning your wedding. It was a joy watching your day come to fruition and we couldn't have been happier being a part of it. Many thanks and we appreciate you putting your day in our hands. May you have many years of happiness ahead.

Zohra

Married on 09/11/2022

Amazing!!!

I am so glad I went with them. They went above and beyond for us. They made our event truly special.

Desert Southwest Events's reply:

Thank you so much! We had a wonderful experience making this a truly special day for you both. Congratulations!!

Adam S.

Married on 07/09/2022

Exceptional and professional service

We were very pleased with the services provided. We hired them to provide full planning and coordination. We had a rather large turnout, around 250+ guests, and this company managed the set up on the day of, the ceremony, all the decor and design, rental equipment, the WORKS! And they pulled it off without any problems at all. Our family and us were very happy with the end result as it was beautifully done. Thank you again.

Are you interested?

Send a message

Jacinda C.

Married on 09/18/2021

Forever Grateful

Kaia was so amazing to work with! I am not great at planning things and have a lot of anxiety and stress and worries about all things! Our wedding was at Camp Richardson, and it was a destination wedding. Families coming from Nebraska, and Wyoming. It was a lot to think about and she helped keep me calm and reassure me throughout the process. She let me vent when I needed to and listened to all my concerns. She has a very calming, confident vibe that helped me trust the process. My day was absolutely beautiful, and she took care of all the set up and tear down, and we also rented decorations and linens from her which was super helpful. She put together a beautiful backdrop for our sweetheart table that we loved! She helped all my visions come to life, which probably wasn't easy because I didn't know what I wanted! I wanted something laid back but still beautiful and she made it happen! We are forever grateful for her!! We were able to fully enjoy our day without having to stress about anything, and it is all thanks to her!

+ 4

photos

Desert Southwest Events's reply:

Thank you so much! We all had a ball on your wedding day and your friends and family are just delightful. The colors you chose were so much fun to work with and your dress was amazing. Congratulations on your new chapter and here is to many more to come!

Sarah R.

Married on 08/28/2021

3rd time was a charm!

I had the most amazing experience with this company.
First of all…..I got engaged before the pandemic and so I'm sure most of us know what came next.

The first venue we decided on got torpedoed due to the pandemic so we (thankfully) got our money back. We found ANOTHER venue in 2020 thinking things were turning around…..they went BANKRUPT! I then had my first, and only, meltdown. Of epic proportions…I mean, bankrupt as in didn't get my money back so to say I was upset was an understatement. And by this time it's now the end of 2020 and the pandemic changed again so we decided to just put everything on hold. Kaia was fantastic and kept me calm throughout the whole process as we didn't find her and Desert Southwest until the fiasco with the second venue.

2021 rolls around and we decided to reboot everything and settled on Lake Tahoe. THEN THE FIRE HIT! I thought good grief…..can I have anything else happen. Yet, on the verge of yet another meltdown, this company and these girls were just amaaaaazing! Kaia moved the entire wedding and actually found a private home in Minden on a ranch….I mean she actually went door-knocking as in walking up to random people's homes and asking if she could rent their barn. Haha! Who does that yet she pulled it off. Her fast thinking, creativity, and chutzpah saved our day.

Sooooo after a pandemic, a bankruptcy, and a forest fire we got married! And now we are expecting so thank you, thank you….thank you!!!


Karen H.

Married on 07/05/2019

50th Anniversary!!

I hired Desert Southwest Events in July 2019 to assist with my parent's 50th Anniversary party which was a surprise and they were able to pull it off without a hitch! My mom can be like MacGyver when trying to keep a surprise from so the fact we did it without her knowing was amazing. We all come from an extremely large and spread out family so that being said, the fact Kaia and her team were able to organize everything and everyone AND at the same time..::::should be a world record. Haha. Thanks again to them and everyone involved for making my parents day one they will always remember.

Teri T.

Married on 06/30/2019

Above and beyond happy!

My now hubby and I hired Desert Southwest for our wedding after our planner fell through last second and completely dropped the ball. Kaia and Tammy stepped in, took all the pressure off my family and o and took care of everything. We were able to fully enjoy our day as it was meant to be. We couldn't have been more pleased with the experience and would definitely recommend them for your day.

Kathleen M.

Married on 07/16/2016

Impressive!

I had the pleasure of working with Kaia and her team on my wedding in 2016. We had originally planned a very small and intimate ceremony that ballooned into a 300 person soire! My family and I had what we called a "'no worry, no stress" experience. Kaia had some of the most amazing ideas when it came to the venue, photography settings, floral arrangements, she even helped find me a makeup and hair gal for myself and my bridesmaids. I really could not have had a more memorable day of my wedding. I would highly recommend Kaia and her team. Many thanks ladies!

Sheila

Married on 08/23/2014

Our dream wedding became a reality!!

My now hubby and I couldn't have been happier with how our wedding day came to fruition and we are immensely thankful for all of the hard work and effort that was put in by Kaia and her team. The details were nailed exactly how I had envisioned and my day was seamless, stress free and I didn't have to worry over anything. My fiance and I would definitely recommend Kaia for any event. Just professional beyond compare.

Khristeena F.

Married on 06/04/2022

Extremely poor.

They were scheduled to arrive 2;15/2:30 for my special day. They showed up at 3:44pm and made everything an absolute mess and chaos. Then, in turn, makes up lots of lies to place blame and not take responsibility for their actions. Kaia is awful to deal with and has no business etiquette or kindness when complaints are brought to her attention. I have all the screenshot proof to show every single awful detail about the interaction I had with her and her lousy business!! Please feel free to reach out for validation and don't give her the opportunity to ruin your day, like she did mine.

Desert Southwest Events's reply:

We arranged to deliver chairs to her wedding and we did so. The delivery was scheduled for 2:30 and we arrived at 3:30 due to several issues that were out of our control on 6/4 which included rain and snow, wind, traffic issues, and other problems beyond our control. We remained in contact with this client the entire time to let her know we would be late due to unforeseen factors. We arrived at the venue at around 3 only to be told to wait for the ranger in charge of events so we sat in the parking lot of the state park, which was also the venue, for close to 30 minutes.

We had the chairs installed before 4 p.m. and the ceremony was due to begin at 4.

At 4:23 PM, the ceremony still had not started, and her arch, which she had hired a friend to do, was not done. The arch was still under construction over 20 minutes after we had finished setting up. The arch is not reliant on our chairs being in place or anything related to us period so it could have easily been installed even if we had not set up the chairs. If her allegation against our company of ruining her entire wedding by holding everything up held any water, the arch would have already been done and we would then be responsible for delaying the event. However, that was not the case. The wedding didn't begin until close to 5 PM, almost a full hour after we had fnished setting up. The arch wasn't finished until close to 4:30 as we also have pictures of the event that day.

We have been in business for many years and have lots of happy customers. We realize not every job or event goes smoothly and if it is due to our mistake or something goes wrong, we always honor it. I have made it very clear to this customer that I do not agree with her assertion we held everything up because if that was the situation when we arrived, everything else would have been done with regards to the ceremony site and the chairs were holding everything up. Yet, that was not the case. And because I do not feel a refund is warranted because our company didn't delay anything, this customer feels it necessary to write a dishonest review. She's cursed at us, leveled threats, and been completely impolite over a chair order of barely $400 and has never once been able to prove how we delayed the wedding. Yes, we arrived later than planned yet since the wedding didn't start until nearly 5 p.m., how did we further delay the wedding almost another hour?

If we had shown up at 2:30, it wouldn't have made any difference as we wouldn't have put the chairs out because if I had, they would have been soaked, and then her guests would be sitting on wet chairs. Furthermore, since the arch wasn't finished until after 4:30, our showing up when we did and installing the chairs before 4, which we did, did not delay or impede her wedding in any way. The wedding didn't begin until close to 5 so why was the wedding delayed another hour after we installed the chairs? It definitely was not due to us nor had anything to do with us. There are just some customers you will never, ever be able to make happy and this is one of them. We worked with her every step of the way down to payment arrangements as she had trouble paying for her rental when the balance came due. We as a company will work with our customers if we feel that we are at fault. However, in this case, we did not delay her wedding. It was already delayed for a variety of reasons of which we had no part of.