38 Reviews
Recommended by 89% of couples
Quality of service

4.6 out of 5 rating

Average response time

4.2 out of 5 rating

Professionalism

4.4 out of 5 rating

Value

4.5 out of 5 rating

Flexibility

4.5 out of 5 rating
2 User photos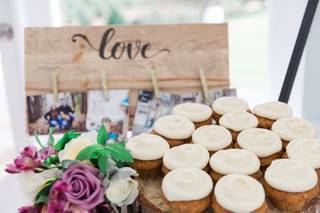 Brittni

Married on 08/08/2016

Having grown up in Seattle, I recall when the Ballard Cupcake Royale first opened and in devouring the mouthwatering deliciousness of the cupcakes they served fresh made from local ingredients. In search of a wedding cupcake vendor for our August wedding, there wasn't a doubt in my mind in who to choose. Having since moved out of WA State and coming into town from Idaho for our August wedding, we pre-ordered a couple dozen cupcakes online through Cupcake Royale's website. Pre-payment online was a breeze and they even give you the opportunity to choose the designated pickup date, time and location. Very convenient! The two ladies manning the counter the day we planned on picking up our wedding cupcakes thanked us profusely for ordering ahead and offered very good customer service.
If you are in search of wedding cupcakes or whatever else Cupcake Royale may offer, I recommend them 100%. You won't be disappointed!

Cupcake Royale's reply:

Brittni, congratulations on your marriage! Thank you so much for choosing Cupcake Royale for your wedding and for sharing your experience. We hope that our cupcakes added joy to your day. Cheers!

Elizabeth

Married on 12/05/2015

Wanted cupcakes for my recent December wedding. We loved the idea of our guests having baby cakes and having a regular size for us. Our colors were mint and gold; I emailed them about special orders and a nice email from Kiwi came through saying that they can easily dye the vanilla buttercream to mint and place gold dot like candies on top. This request can be done during the checkout process online. Yummy cupcakes all around and our guests loved them!!

Corrine

Married on 08/31/2013

Delicious! We have a few vegans, and it was awesome to be able to provide a vegan cupcake as well as the regular cupcakes. We did a trio of the baby cakes for each guest because they are so amazing! We went around Seattle and tasted cup cakes from multiple bakeries and Cup Cake Royale is the best! The boxes are clever with the writing.

Are you interested?

Send a message

We had a small wedding at Snoqualmie Falls - family only - and the "feel" of the wedding was a bit more laid back. I wanted something to reflect our taste in "simple pleasures," and knew that cupcakes would be perfect! I enlisted my Mom's help in getting the cupcakes - not only were we (slightly) last minute, but we had special colors and flavors to boot. The in-store (Bellevue) experience was top-notch; not only did they accept our asks with a smile, but the guy at the front desk was sure they didnt't have the special sprinkles/toppers we wanted, and volunteered to pick some up - on his own dime - at a specialty store in SEATTLE on his way home, and come in early Friday morning (my wedding was that afternoon) to ensure they were placed perfectly, in time for a noon pick up! We couldn't be happier. The cupcakes were beautiful, delicious, and of course all the kiddos went nuts for them! Thank you SO much Cupcake Royale!
- A fan for life...

Lisa

Married on 10/17/2009

So instead of the traditional wedding cake, my now hubby and I decided to have wedding cupcakes. I'd heard Trophy was all the rage, but in a head to head competition (we had 4 people and 6 cupcakes each from Trophy and Royale) Royale was the unanimous winner.

Basically they do everything you could want for cupcakes for your wedding or special event.

1. you get a cheaper price the more you order - I think we ended up paying about $2.50 per cupcake, compare that to a wedding cake!
2. They deliver for a small charge and set up
3. They will let you rent a cupcake stand that holds 90 cupcakes for a small charge
4. They do small cakes for cutting (which we didn't do)
5. You can order cupcakes off the menu or have ones specially made for your event - we did both. We had one third lemon drop (soooo freakin' amazing), one third caramel apple (the October special) and one third Coconut Bunny with Pink instead of White frosting (really pretty)
6. We were treated really well, and the people who work at both the Ballard and Capitol Hill locations are crazy nice.

Everyone loved them! In fact we had to "cut the cake" early because people were eating them already!

Rachel

Married on 05/16/2009

The cupcakes were a huge hit at my wedding and were delicious. We got three flavors with different colored flowers and are guests just thought it was the best idea ever. The Red Velvet was definetly a hit! We also rented the stand, which was much higher quality than some other places that have plastic ones. Their wedding coordinator's were really easy to work with, I must have changed my order like 5 times and they were always very accommodating and it all turned out perfect. Cupcake Royale has been a favorite of mine for awhile and I will keep comming back!

Brooke

Married on 03/27/2009

Great alternative to cake!!! The cupcakes were very affordable and delicious! We met with the wedding coordinator in Ballard and she was great. They even mixed a special green color frosting to match our colors. Everyone was very pleased with the cupcakes and the 5-tier stand gave the illusion of a wedding cake! We mixed in loose flowers that matched our bouquets and it was beautiful!

Angela

Married on 12/06/2008

I ordered my cupcakes from the Ballard location of Cupcake Royale. I was lucky enough to have a tasting with a great gal named Kayleen. My husband and I knew we wanted their delicious cupcakes at our wedding, but Kayleen put us over the top on our decision. It was the least costly of all of our vendors and you're able to choose from so many options. We had red velvet cupcakes, white babycakes with vanilla frosting and coconut and a chocolate mint cutting cake! The cupcake tiers are just beautiful and classy and added a really lovely touch to the decor, as well.

Highly recommend Cupcake Royale...and as for that comment about Trophy Cupcakes...to each his own, I prefer CR anyday! Ask for Kayleen!

Jana

Married on 08/15/2008

We loved our cupcakes! When we went in for our initial consultation we were sooo impressed with the wedding coordinator and how she took care of us. They brought out one of all of their cupcakes and we ended up sitting with her for about an hour just discussing ideas. I think her name was Kelly, she was really great and a big part of the reason we ulitmately chose Cupcake Royale! Everyone loved the cupcakes at the wedding. Thank you!

Kerri

Married on 03/24/2007

Excellent service. Cupcakes were ready on time. Tasting was great. Very professional and a local Seattle business too!

Pony

Married on 06/24/2006

We had Cupcake Royale cupcakes at our wedding instead of a traditional cake, and.we absolutely loved them! We picked four distinctly different flavors so there would be something for everyone, and they were a huge hit. They delivered to the venue on time, despite unforeseen access issues (a gay pride parade being staged outside the door of the venue!) and the quality of the cupcakes was fantastic.

Jana

Married on 06/21/2007

Cupcake Royale creates the most wonderful cupcakes ever. My wedding was in the park with a picnic theme and cupcakes just seemed like the way to go! My ( the bride) favorite cupcake, the Lavender Vanilla and My husbands favorite ( mint choc/or vanilla) were on the main "cake" and we purchased a red velvet cutting cake which was to DIE for! the cake parts are simple, choc, vanilla or red velvet and the frostings are just amazing! check them out.

Erin

Married on 09/23/2017

We cannot say enough sweet things about Cupcake Royale. After going around Seattle and trying local cupcake restaurants, we finally decided on Cupcake Royale to supply us with our wedding day treats. Not only did we feel that they had the best tasting cake, but also the best presentation. Our decision to go with Cupcake Royale proved to be the correct one because they were extremely easy to work with and let us customize the order to our preferences. They even went above and beyond and were willing to supply us with a cake flavor that is typically out of season this time of year and matched the frosting to our wedding colors exactly. On the day of, they arrived promptly on time, and were extremely kind and patient while I was running around getting ready to marry my best friend. Many of our guests even came up to afterward the reception and told us how much they loved the cupcakes. It is these reasons listed, that we would strongly recommend Cupcake Royale for anyone needing cupcakes for a special event.

Cheryl was so kind and easy to work with. She really wanted to make sure that we had our cupcakes just right for our wedding. Plus, the cupcakes were absolutely delicious! We purposely over-ordered, but they were still all gone.

This vendor was great. The cupcake tasting was really fun and the quality of the cupcakes was wonderful. The display looked great and they were very flexible when we needed to add another rental pedestal at the last minute. I would fully recommend this vendor for anyone that wants to have cupcakes for their wedding.

Jennifer

Married on 07/19/2008

We used Cupcake Royale both for a cutting cake at our wedding reception (venue provided dessert) and for cupcakes for a celebratory bbq the following weekend.

Both were fantastic, though my favorite was the cutting cake. It was simple vanilla cake with vanilla icing, and they decorated the sides with sugar and the top with three tiny flowers. It was very classic looking and tasted great.

The cupcakes were various combinations of vanilla and chocolate, and disappeared quickly. We ordered twice as many as we figured we'd need and only had three left at the end of the evening.

Taylor

Married on 06/12/2008

we had lavendar cupcakes and everyone loved them. the flavor is so unique and the cupcakes were adorable sitting on our cupcake trees. We also got to do a cupcake tasting and taste 5 different cupcakes for free!

Bailey

Married on 06/28/2014

Our wedding venue required a $3 cutting fee for each piece of cake served during our event. We avoided this cost by purchasing cupcakes. Cupcake Royale provided cute, colorful, easily picked-up cupcakes which were delicious for the event.

The cupcakes were incredibly delicious. They delivered to our site, were no hassle and were definitely a good deal for the money. We ordered chocolate with chocolate and vanilla with lemon frosting. Some people even had two!! They looked really amazing but simple...which is what we wanted.

Meghan

Married on 09/06/2008

The cupcakes from Cupcake Royale were great for my wedding. They were delivered on time and set up in beautiful tiers. The whole room smelled of chocolate and vanilla frosting! Guests couldn't wait to try one. My only suggestion is that they have more options for a cutting cake...but it was still beautiful.

Emily

Married on 08/02/2008

Tasty cupcakes and wonderful display! The wedding consultant even helped me find tiny sugar bees online for mini toppers! They were a pleasure to work with and to eat!

Lindsey

Married on 08/14/2010

The cupcakes were pretty and tasted great. All of our guests said they were the best cupcakes they ever had. The stand was nice and went with my decor. The one thing I would change is that they wouldn't set the cupcakes up on the stand. I had to have my brother set them up. Not a big problem, just would have been nice if they had either set cupcakes up on the stand or let us know they wouldn't set up cupcakes when we booked with them.

Michael

Married on 07/26/2014

Hard to reach the catering department is my only complaint. The cupcakes were the best and way better than a traditional cake.

Jean

Married on 10/07/2012

The salted caramel mini cupcakes were a huge hit with my wedding guests!

Elizabeth

Married on 05/14/2011

Cupcake Royale did a most fantastic job with our cupcakes. We were able to order a variety of flavors, but then customize them so that they all matched the theme and style of our wedding. Our guests were RAVING about how nice it was to actually enjoy eating a wedding dessert, and how fresh they were. And, since it was affordable, we could order enough for people to have more than one!
Are you interested?
Send a message