24 Reviews
Recommended by 96% of couples
Quality of service

4.9 out of 5 rating

Average response time

4.7 out of 5 rating

Professionalism

4.9 out of 5 rating

Value

4.7 out of 5 rating

Flexibility

4.8 out of 5 rating
Awards
1 User photo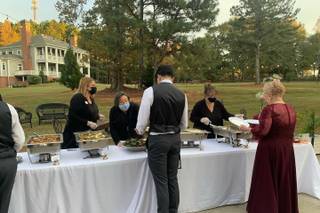 Angela S.

Married on 05/29/2022

Wonderful Caterer!

We chose Contemporary Catering as our catering vendor for our wedding, and they were incredible! From the time we had our initial tasting to the actual wedding, we felt so comfortable and at ease with the entire process. Jennifer and her team had the utmost professionalism during the wedding and we and our guests felt well taken care of. During our tasting, I mentioned that the experience felt like we were at someone's warm and welcoming home enjoying great homemade cooking. The experience exceeded all expectations and we would recommend Contemporary Catering to anyone looking for a seamless catering experience!

Kimberly K.

Married on 11/06/2021

Professional, stress-free, and delicious!

Jennifer and her team did an absolutely amazing job catering our wedding! They went above and beyond, always listening to our wants, then going one step further! The entire process was flawless, from communication to pricing and billing to tasting to our final meetings and finally our wedding! We even had three senior staff serving at our wedding, which is unheard of! My husband and I were personally served during dinner, and Jennifer made sure that we got a huge serving of everything at the buffet, including the appetizers we missed during cocktail hour! After our reception, we were sent to our hotel with a HUGE bag of food to last us the night, filled with two servings of everything from the buffet again, desserts included! We could not ask for a better experience!! If we ever find a need for catering again, we will definitely contact Jennifer and her staff at Contemporary Catering! Thank you for making our wedding perfect and delicious!

Rebekah G.

Married on 10/02/2021

Great food & service

Jennifer and the staff at Contemporary Catering are excellent. The food was affordable and delicious. We received so many compliments on dinner! Jennifer told us that they would clean up everything from dinner, and we wouldn't even know they were there. She wasn't kidding! I highly recommend them if you need a caterer.

Are you interested?

Send a message

Suzanne B.

Married on 02/03/2021

Professional, yet personal!

Words alone cannot express the mounds of praise we have for Contemporary Catering, Inc. Our daughter's wedding to man of her dreams was the wedding of her dreams, due in large part to Contemporary Catering of Newnan, GA. Jennifer Hanna and her team took care of every detail regarding the appetizers, drinks, dinner and more. With Contemporary Catering, you get more than a caterer...you get a professional experience with a personal touch!
ADDED NOTE: CC, Inc's phenomenal food is also available thru their Meals-To-Go program. Whether you need dinner during a stressful time (wedding week!), lunch or brunch with friends, a meal for a friend in need, or during times of limited grocery store accessibility (NOW!), CC, Inc can meet your need! Refer to their website for menu options and prices. Bon Appetit!

Heather S.

Married on 02/16/2020

Great value

The food was tasty & the owner was helpful at working within our budget to have great food

Contemporary Catering, Inc.'s reply:

Heather, we LOVED working with you and Jason. We all discussed how much we admired how you knew exactly what you wanted. Thank you for choosing us as your caterer!

Sarah P.

Married on 10/26/2019

Amazing food and service!

It has been three weeks since our daughter's wedding and our guests are still talking about the AMAZING food! Jennifer was terrific with us, really listening to our needs in creating the menu and sitting down for the tasting. A wonderful bonus was the design Billie created for the buffet tables, incorporating the wedding colors and theme. The serving staff was very professional and took great care of our guests. All throughout the process, Contemporary Catering was a pleasure to work with; we highly recommend! Be sure to try the Brisket Sundae, it was a hit!

Contemporary Catering, Inc.'s reply:

Sharon, thank you! You were all a dream to work with. We feel we have new found friends with your entire family!

Jessica H.

Married on 10/05/2019

Beyond excellent

The food, service, decor, and everything was BEYOND AMAZING! Highly recommend. They were so easy to work with and gave us tons of options to make our wedding the best party ever!

Contemporary Catering, Inc.'s reply:

Jessica, thank you! We fell in love with all of you and your dad is, maybe the most hilarious father of the bride ever! God bless you all!

Karen

Married on 05/05/2018

Contemporary Catering catered my daughter's wedding, and they did a fabulous job. Jennifer was very professional every time we met with her. She patiently worked with us until we were totally satisfied with the dinner menu. They arrived on time, were very professional, and took great care of our guests. The food was fabulous, and our guests raved over it! It was a pleasure working with them!

Contemporary catering is a must have vendor at your wedding! Not only did the entire staff work with us to prepare the most perfect menu, but the food was to die for! Catering for 200+ people is a tough feat, but Jennifer and her staff made sure everything was perfect and tasted amazing. I'd recommend them a thousand times over!

Jeff

Married on 05/14/2016

My wife and I have lived in Newnan for 25 years and have been to many events catered by Contemporary Catering and we knew if we wanted the best for our Daughter's wedding then we were going to see if we could afford Contemporary. They were the 1st and ultimately the only Caterer that we contacted. Jennifer Hanna was so awesome to deal with and totally understood how huge this event was to us. The menu selection was enormous and what we decided on was so delicious and beautifully presented for our guests. From the tasting to the venue walk through to the final day they were on the job and took great care of us. My wife and I were confident in their service and could focus on the other aspects knowing that they had us taken care of.

When we arrived at the venue we were blown away by how perfect everything looked and our guests were blown away as well. They took care of everything and never came to us once during the reception to tell us of any problems. It was a totally worry free and a wonderful experience. We have one more daughter and we will definitely be back for one more wedding. You will not be disappointed if you go with Contemporary.

Sam M.

Married on 01/03/2016

Finding a caterer who not only understands what gluten free means (it's not, "just don't eat the pasta or the rolls on the buffet") but also has the knowledge and expertise to cook 100% gluten free is a challenge. Finding a caterer who can cook delicious, affordable gluten free food, who pays strict attention to sourcing of ingredients to make sure there's no 'stealth gluten,' and who is a joy to work with sounds like an impossible task, until you talk with Jennifer Hanna of Contemporary Catering. Contemporary Catering did it all and did it on a tight budget and people still are raving about our food a month later! From the get-go, Jennifer Hanna impressed me with her extensive knowledge about cooking gluten free and about what it means to be gluten free for medical reasons. Jennifer listened carefully to our wish list and our ideas. She let us know what could be done and she offered some great suggestions, too. We let her know our budget ($5K) and she proposed an impressive menu. It wasn't just impressive on paper. What Contemporary Catering's chef produces in her kitchen is NOT banquet food. It is beautiful and tasty food that honors its ingredients. The chicken breasts and the chicken skewers both were flavorful, juicy and tender. The green beans roasted with mushrooms sang in the mouth. The potato bar—featuring both mashed white & mashed sweet potatoes with numerous toppings—was so popular we didn't have much left for our "getaway basket"! They also offered plain sweet potatoes for those of us who can't have dairy and these sweets had such depth of earthy, caramelized sweet flavor, no toppings necessary. And the carved prime rib, well, that beef charmed even the finickiest palate. Charlotte, the designer, also is delightful. We described our theme—winter in the city—and she put together lovely accents for the buffet tables and cake table. We were thrilled with the final look. And the servers were super attentive and kind. Contemporary Catering is awesome!

Katherine

Married on 04/25/2015

Jennifer, Terry & Holly did a GREAT job at our wedding. The food was just what we wanted. They included options for guest that had restriction. The display was incredible and was exactly the theme of my wedding.

Wedding planning is stressful! You can definitely relieve much of that stress by using Contemporary Catering. The food is delicious, beautifully displayed and professionally served. Jennifer and her team go that extra mile to make sure that your reception is everything you have dreamed it would be. She worked within our budget which is a huge plus! Stop your search and call Jennifer! You will not be disappointed and your wedding guest will love the food and the service!

Margaret A.

Married on 03/20/2015

The whole process with this company was amazing! Their menu is so vast that it was hard to choose what we wanted, but when we did the tasting helped us know we chose the right food! Amazing quality and amazing service!! Definitely recommend them to all brides!!

Bebe

Married on 06/07/2014

Contemporary catered our daughter's wedding reception this past Saturday, June 7th, at Sunny D Farms, in Williamson, GA. Our daughter wanted a "Southern elegant" meal...and she got it!!!...EVERYONE at the reception LOVED the food!!!! The staff was professional, gracious, and we are overjoyed that we hired this fantastic company to be the caterers!! Thank you Jennifer Hanna!!!

Bebe and Mike Moore
Brooks, GA

Malia

Married on 05/17/2013

We had two daughters married In one year. CC did both weddings, which had very different flavors and styles. Great staff, lots of good suggestions, and most of all great food.

Deborah

Married on 11/03/2012

Contemporary Catering served as the caterer for my daughter's wedding in November of 2012. Jennifer was great to help us plan the event, she met with us many times to discuss what my daughter wanted. The food was great and the service was even more wonderful. They were able to fix any food that we wanted and made it tasty! The wedding was a success and the food made it that much better. I would definately recommend Contemporary Catering for your event!

Jesse

Married on 09/29/2012

AMAZING AMAZING AMAZING is all I can say! This company is THE BEST when it comes to customizing what you want with your budget! And they KNOW WHAT THEY ARE DOING! They allowed us to come in for a tasting and it was so quint and cozy :) They day of went off without a hitch and the staff was so professional and courteous! I cant wait to send all my friends there for their catering needs!

Arleen

Married on 09/15/2012

Excellent service and food- we got to relax and enjoy our wedding while they took care of everything.

Elaine

Married on 10/15/2011

Jennifer and Contemporary Catering staff was so amazing and we were so thankful to have them cater our wedding. Our taste testing was so good we couldn't wait to have dinner for our wedding. They were so professional and the food was AMAZING! I would suggest anyone to use them in the future and look forward to working with them in the future.

Victoria

Married on 09/28/2014

Contemporary Catering was absolutely fabulous. The food was amazing (we got to enjoy it more at the tasting than we did at the wedding)! I had brunch for dinner at my wedding, and everyone could not stop talking about it. They executed everything flawlessly, and I had zero stress the whole day about it!
My mom was the one in direct communication with them, and would get frustrated pretty frequently because they weren't the best with getting back to us in a timely manner. We booked them only a few short months before the wedding, so that caused a bit of stress!

Kelsey A.

Married on 10/08/2016

We absolutely loved working with Jennifer and her team at Contemporary Catering. They were very responsive to us through the tasting and allowed us to taste before putting a deposit down. All the food we tasted was wonderful and the guests told us that the menu at the wedding was great too! We went with family style service and they were great and very proficient with the service. We had a few instances during the lull-time between booking and our wedding day where it took a bit to get an email back and had a few miscommunications about what we had wanted, but in the end everything turned out perfectly and they were so accommodating!

Stephanie

Married on 06/21/2008

Contemporary Catering was amazing. They were a little pricey for us but i wouldn't have wanted it any other way. We never got a change to do an official tasting so we really didn't know what to expect. We used them for our rehersal and it was just ok. Our reception food was amazing though. I am one of those people who don't expect good food at a wedding but ours was delicious (and I am not saying that because it was our wedding!) They were professional and worked with what we had in mind. I would highly recommend them.

Jessie R.

Married on 09/18/2020

Food was good, service & communication LACKING

The nicest thing I can say was that the food was good. (Although, we asked them not to include NUTS in any of the dishes, which was forgotten.)
That's not even the worst of our troubles.
While what Contemporary Catering offers is great in terms of meal choices, decor, to-go food for the couple, the communication was horrible.
I began contact with the VP (should probably hire a separate comm person) pre-Covid... It took a while to hear back. Eventually, we were able to set up a mid-Covid, contactless taste testing! (Only props I can give.) I emailed again with our decisions & received no response; I had tried calling previously to which no one would pick up. I informed them through email AND in person that something may be wrong with their phones.
We were still optimistic during a strange time and blamed the disjointed communication on the current state of the world. After finally getting through to the VP with our meal decisions, she advised that we come in to finalize everything, sign a contract, and pay our deposit.
We had our meeting with the VP, told her our concerns for nut allergies, talked about dessert options, etc. The VP took notes on our specifications, we signed the contract, paid our deposit, and she (the VP) informed us she would email us within the week with a detailed price proposal.
We waited TWO WEEKS before emailing asking for information about receiving the price proposal we had been waiting on. (We were getting nervous having paid the deposit only to be ghosted.) The VP sent everything over a couple hours later.
From there, the communication NEVER got clearer. They were dodgy about due dates for payments and how much payment would be due.
OH, and to top it off, after deciding on a floor plan for where the buffet was supposed to be a month prior with Contemporary Catering (they are a 'preferred' caterer at our venue so they are very familiar with the place), the VP took it upon herself to decide to squish the buffet on the opposite side of the reception space THE DAY OF THE WEDDING.
Are you interested?
Send a message