39 Reviews
Recommended by 96% of couples
Quality of service

4.9 out of 5 rating

Average response time

4.8 out of 5 rating

Professionalism

4.8 out of 5 rating

Value

4.7 out of 5 rating

Flexibility

4.9 out of 5 rating
Awards
2 User photos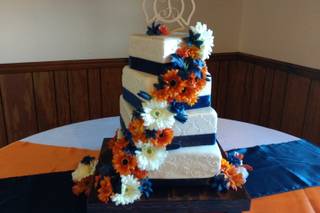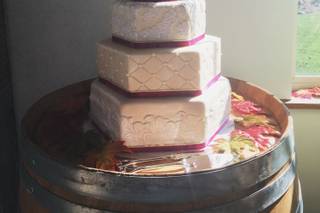 Jeanne

Married on 09/15/2018

Above and beyond just a baker

Cindy was wonderful to work with for my daughter's wedding. She went above and beyond just being a baker. My daughter's cake was a masterpiece and also the cake itself was mouthwatering.

Kristen

Married on 10/14/2017

Cindy was AWESOME! Very personable and professional. Her cakes are EVEN BETTER! Not only are her cakes beautiful but they're DELICIOUS too! She has many designs and flavors to for you to choose from. She made us an apple spice cake for our 10/14/17 wedding and it was absolutely amazing. I'm so glad I picked Cindy!!!!

Kaitilyn

Married on 08/26/2017

Cind did a fantastic job on our wedding cake! We purchased a 4 tier all real wedding cake. Many different flavors pistachio being my favorite. We hardly had any left over cake after the reception which was awesome! Plus she had our 1 year anniversary cake boxed and put aside ? thank you so much Cindy!

?? The Sharp family ??
?? 8/27/17 ??

Are you interested?

Send a message

Leanne

Married on 06/23/2017

Choosing Cindy to create our wedding cake was one of the best decisions we made.
She was amazing to work with, the words no, can't, and won't never aren't even in her vocabulary.
I had a vision of what I wanted our wedding cake to look like and brought some different pictures to Cindy to try
and explain what we wanted and when we walked into our reception, the cake of my dreams was right there!
It was STUNNING! I just honestly can't say enough about Cindy, she's the kindest and most talented woman. She even made us a surprise mini cake for our rehearsal dinner as a gift! All of our guests raved about the flavors of our cake and said how delicious it was. I look forward to using Cindy's cakes in the future!

Brook

Married on 07/07/2016

Selecting my wedding cake was something I pursued with more vigor compared to several other facets of my wedding reception. I did about 5 different cake tastings and NOTHING compared to Cindy's cakes. Thanks, Cindy!

Cindy is amazing!! Very professional... Flexible in working with you.. and her cake.. speechless!!!! Beyond amazing! Definitely would recommend her for any occasion!!

User2242163

Event on: 04/19/2015

Beautiful and tasty cakes for my friends baby shower!

Jozie

Married on 12/13/2014

Cindy just did a cake for my wedding. it was absolutely gorgeous! much better than I had even expected it to be. Not only was it gorgeous, it was also delicious. I would definitely use her again if I ever need another cake!

Michael

Married on 10/11/2014

Cindy's cake was the focal point of our reception! We received SO many compliments! In fact, the venue staff commented on how it was one of the most beautiful cakes that they have seen! The flavors and moistness were outstanding, especially the Spice cake, which was a hit for our fall reception!

Teri

Married on 08/30/2014

Cindy's cakes were THE BEST! We will be getting our event cakes from her from now on.

I cannot say enough good things about Cindy & her amazing cakes! Not only was our cake perfectly beautiful AND delicious, but Cindy was amazing to work with! She is so sweet, helpful and talented! I highly recommend her!

Jammie

Married on 12/28/2013

It was by chance that we met Cindy but I am so happy that we did. I am a firm believe that everything happens for a reason! Cindy's cakes not only look beautiful, but they taste amazing! I love that we had the option of combining some different flavors to help satisfy all of our guests. I HIGHLY recommend this business!!!

Cindy was very willing to accommodate a short time-frame and went out of her way to allow cake tasting even without a lot of notice. She is truly an artist and the cake itself was delicious. If you want a cake that is different from everyone else's, and truly custom made, this is where you want to go!!!

Elizabeth

Married on 10/19/2013

Meeting with Cindy was by far in my top 3 favorite aspects of planning our wedding. We met in her house which created a very relaxed and intimate environment. We sampled all of her flavors and it was so difficult to decide on our favorites. She proceeded to draw our cake and has several of her cakes already made as well as pictures for us to reference. Her work was phenomenal and I am still receiving compliments to this day! We then were able to return the layers to a partner of hers that lives in town which was so convenient.

Laurel

Married on 09/07/2013

I can't say enough good things about Cindy. She, and her work, are amazing. I have to say when I first started meeting with cake vendors, Cindy's were the by far my favorite as far as looks. WHen we did our tasting i was sorta "eh" but since not everyone eats cake i went with looks over taste. well, boy oh boy was i wrong. When we ate are ACTUAL wedding cake (and not the little pieces of taste cake) it was AMAZING!!!!!!! it was the best cake i have ever eaten at a wedding. my guests said the same thing. and let me tell you we had 8 wedding this season and my cake blew them all out of the water. Cindy is so sweet and easy to work with too. I would 100% recommend her to any and all of my loved ones. thank you cindy

Holland

Married on 06/08/2013

We couldn't have been happier with our cake. We sent Cindy a reference photo of exactly what we were looking for, and it was exactly what we got... and it was delicious! Very reliable and communicative the whole way. Highly recommended. Thanks.

Deann

Married on 06/01/2013

Cindy did an awesome job designing our cake with us. She had us design it and choose the cake choices. She did an amazing job and it was exactly what I wanted! I highly recommend her!

Marsha

Married on 05/19/2012

Our wedding cake was absolutely beautiful and it taste soooo great! It was the moistest cake that I have ever eaten! Everybody love it!!!

Anne

Married on 10/18/2011

My wedding cake actually made me cry, that's how beautiful it was! I had researched local cake decorators and knew that Cindy was the go-to girl for fondant cakes… she was also recommended by our venue. We had such a fun time meeting with Cindy, picking flavors and sketching out the design of the cake was one of the most enjoyable parts of our planning. During the entire process I felt very confident that Cindy understood what I was looking for and she was very helpful with other details as well. We had fun with her! When I got to see the finished cake for the first time I was actually choked-up! It was even more beautiful than I had imagined it would be… my vision, but better because it had Cindy's special touch. The cake itself was delicious! Our favorite was the pistachio but we loved them all, as did our guests. I know most people had more than one piece just so they could try the different flavors! I will probably be thinking of a good excuse to order another cake from her in the future! Thank you Cindy!

Randilyn

Married on 10/15/2011

This woman is absolutely the best! From day one, she adds her personal touch and treats you like family and always acts as a professional. She worked with me on every level and the cake was perfect! I can't tell you how big of a hit her hard work was; other than my family and photographers are still talking about it 3 months later, quoting "She should be on Cake Boss"! If you are looking for Sincerity, detail, unique, with the added breathtaking taste, this is the woman you have to go with for your once in a lifetime day.

Ashley

Married on 08/20/2011

Cindy did an absolute amazing job on our wedding cake. Not only was it DELICIOUS but she made it look like a piece of art. I was floored when i saw it in person on my wedding day and noticed how far-and-beyond she went with the design. There were little details that she added, like a cake topper made of twigs twined together to create the first letter of our last name, that made it even more special and unique.

When i reminisce with my friends about my wedding day, they almost always bring up how delicious the cake was. That's how good it was!

If you are wondering about going with Cindy, just do it. She'll work with you on your taste and vision for your cake, and then she'll go beyond that to make it even more creative, unique, and special.

Anne

Married on 03/05/2011

Cindy did a gorgeous job with our cake! She has had years of experience which enabled her to recommend everything from the right size and shape to the colors and decorations that most reflected us a couple. Cindy loves what she does – which is really evident in the quality of her cakes and the great experience we had with her. Creating a cake with Cindy was one of the funnest parts of wedding planning. Our cake really stood out at our reception because it was really beautiful and delicious – we could not have asked for a more classy cake!

Colleen

Married on 10/09/2010

This review is somewhat overdue - but as I look back at my wedding photos, our cake was nothing short of simply FABULOUS and I had to write something about it.

Our wedding as a whole was outstanding from start to finish, but I must say that the 1 thing that received the most compliments was our "Cindy's Let Them Eat Cake' masterpiece! The planning for it was on time and to the point. Cindy worked with us to take what was in our brains and create exactly that in our cake. Her pricing was spelled out and reasonable. She even ended up adding an extra layer to our cake...just because! Our cake stayed put well into our reception, b/c it took every speck of my being to cut into the thing...I wanted to keep it as it was. Ended up being delicious - even a year later - we were able to cut into our top and enjoy it as a dessert for our 1 year anniversary dinner celebration. Yum. Yum. Yum. Thank you Cindy!

We enjoyed working with Cindy so much - that when the next 'big step' in our life happens - I will insist on a Cindy baby shower cake!

Also to note - I work for a non-profit - Cindy has graciously agreed to be our presenting dessert sponsor (fully donated cake for 200+ people) for a Mardi Gras themed fundraiser we have coming up in March. I am super excited to see what she comes up with!!

Jennifer

Married on 04/24/2010

The cake that Cindy made was awesome, beautiful and delicious. The cake went perfectly with everything at my wedding and everyone really liked it. Also Cindy herself was a huge help to me while I was planning the wedding. She knows so many people and can point you in the right direction when you need help.

Franklin

Married on 04/03/2010

For choosing wedding cake, first criteria would be the taste, and next is the design.
Cindys made both of them excellent and satisfying to us. We got so many compliments from our friends and guests after tasting the cakes. They shipped the items more promptly than we expected. They were responsive and accomadating in anwering our calls.
Are you interested?
Send a message