Reviews
5.0 out of 5 rating
Quality of service

5 out of 5 rating

Average response time

5 out of 5 rating

Professionalism

5 out of 5 rating

Value

5 out of 5 rating

Flexibility

5 out of 5 rating
100%
Recommended by couples
27 User photos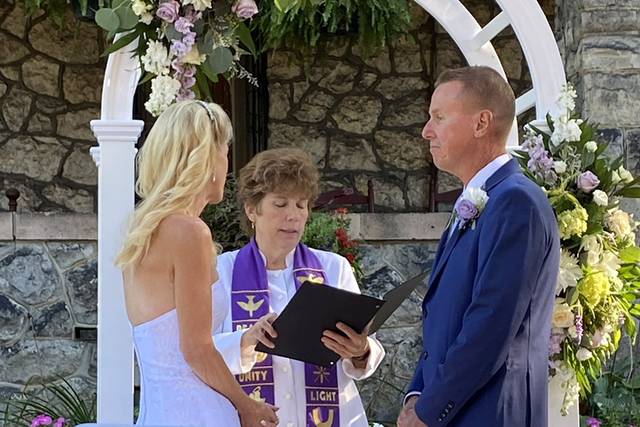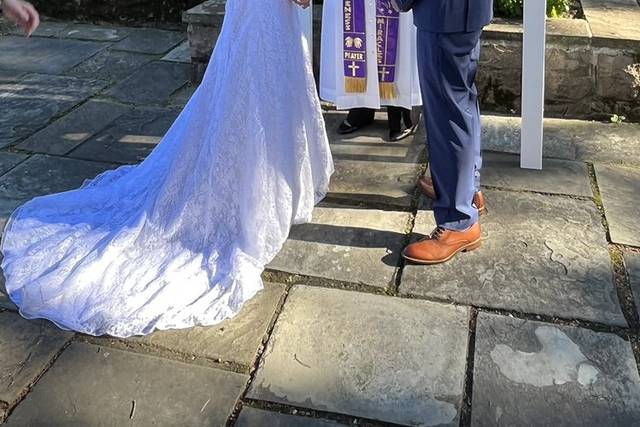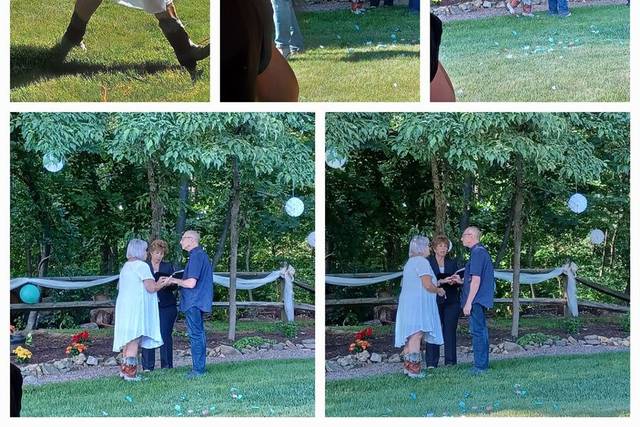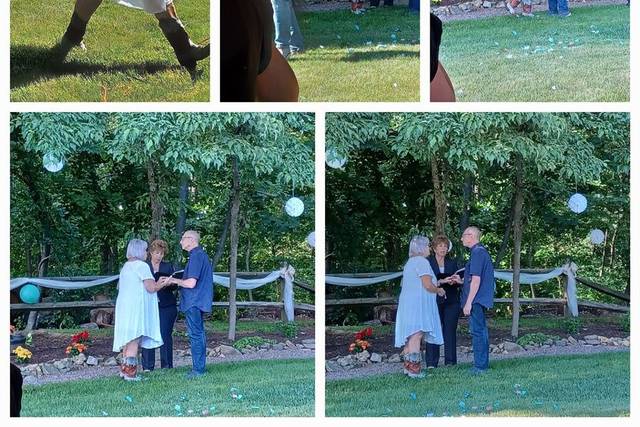 + 23

photos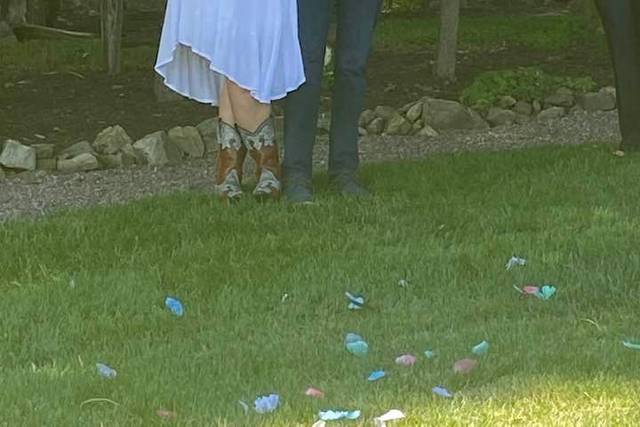 Emily S.

Getting married on 10/19/2024

So grateful for Melinda!

Working with Melinda was amazing! She is so organized and makes the process very simple. I knew it was going to be the perfect ceremony after our first phone call together! She was very professional and we got so many compliments on the beautiful words Melinda spoke for us. We used her short and sweet package and were able to pull together a mix of different ceremony options to customize the ceremony to fit us as a couple. I am so grateful we found Melinda! Thank you again!!

Felicia

Married on 09/16/2023

Invaluable!!

We couldn't have picked a better officiant for our wedding! Melinda truly is the best. Our wedding had to be moved inside last minute and she helped come up with a new setup for the wedding party. She helped with boutannieres and anywhere else that she seen help was needed. I can honestly say that our wedding day wouldn't have been as perfect as it was without her.

Joanne M.

Married on 07/24/2023

Our experience was warm, inviting, personal, and convenient.

Rev. Angstadt was prompt with replies, very personable, and made us feel at ease. She made our ceremony a day to remember always. We would highly recommend her services!!

Are you interested?

Send a message

Bri O.

Married on 01/15/2023

Incredible

Linda was incredibly kind & helped us have a wonderful experience. We wanted an elopement ceremony and she was so accommodating through the whole process.

Marisa H.

Married on 10/22/2022

The real deal.

Melinda was an absolute joy to have for our wedding. From helping us put boutonnieres on to performing a handfasting, she truly is the entire package. Well forever be thankful for having her be a part of our special day.

Donna L.

Married on 09/24/2022

Grateful for Service

We wanted a short and sweet ceremony and Melinda gave us exactly what we asked for. She has an engaging delivery style and a calming presence, She kept the mood light, yet meaningful . She was the perfect fit for us.

Chloe S.

Married on 07/16/2022

Melinda was great!

We found ourselves without an officiant a few weeks before our wedding. Luckily, we found Rev. Melinda! She was personable, kind, and flexible. I'd highly reccomend her as an officiant for your wedding!

Sherry R.

Married on 07/01/2022

Wedding Ceremony

Rev Angstadt was such a pleasure and did a great job! She is very personable as well as professional. Take away the worry and let her handle your ceremony, from basic to custom, you won't regret it.

Hillary C.

Married on 04/30/2022

Highly Recommend

Melinda was a delight to work with! She was always prepared and quickly responded to all of my emails. We also appreciated how calm and easy going she was with everything. I would recommend her again and again!

Jess L.

Married on 12/25/2021

Excellent!

Melinda came highly recommended and we were very happy that we chose her to officiate our wedding. When I reached out to her, she answered my questions and guided me to the services that would most meet our needs. I decided to mesh together parts of a few of the scripts she offers, and in preparing the ceremony, she communicated with me very thoughtfully and in a timely fashion to ensure what I selected came together nicely. Melinda was very accommodating and detail oriented. I could tell how much she cared and that she was truly happy to be part of our special day. On wedding day, she delivered the ceremony beautifully, with a warm and strong presence. The words she said resonated with us perfectly and many guests commented on how absolutely wonderful it was.

Brigid D.

Married on 10/23/2021

Melinda was Fantastic!

Melinda was fantastic. It is clear Melinda has been doing this for long enough that she can roll with anything that comes up. She took the time to get to know us and what we were looking for. We did not have a religious ceremony and really wanted to stress equality between partners. She was extremely receptive these requests, and it was a major reason why we hired her. She provided a questionnaire for us to complete that addressed so many small details about the day-of that we would never have thought about ourselves. She also provided many examples of ceremonies, and we were able to mix and match the most meaningful parts of the examples to form our perfect ceremony. This included vows, readings, introductions, and even the pronouncement at the end. When it rained the day of our wedding, she was instrumental in helping the venue keep the guests informed and organized as we went to plan B. We would highly recommend her.

Jamie M.

Married on 10/02/2021

Exactly what we wanted

Celebrations of the spirit were very easy to work with. They offered 8 pre-planned ceremonies or we could have planned our own. We opted for one of the pre-planned ones and we loved it. Melinda was easy to get in touch with and was awesome on the wedding day. She made sure all of her questions were answered ahead of time and arrived early enough to tie up any loose ends. The ceremony was beautiful. Short and sweet, exactly how we wanted it. Something I appreciated was that Melinda was able to project her voice in an open meadow without a microphone, so those in earshot didn't hear the weird delay you always get with mics yet all of our guests could hear her well.

Lauren V.

Married on 08/28/2021

Perfection

Our officiant backed out within 2 months of our wedding and when I reached out to Melinda I knew without a doubt she would be perfect for us. I am so thankful she married us she made our wedding ceremony absolutely perfect. She made it intimate and I had guests say that they thought she had known us forever she made it so special and was so accommodating and flexible. I will forever be grateful for Melinda.

Chelsea M.

Married on 05/28/2021

Amazing experience, warm and welcoming officiant

Reverend Melinda Angstadt is has a bright personality and is very inviting and accommodating. She was very communicative via email and phone and helped us consider everything we wanted before our big day. I would recommend her to anyone in the market for a spiritual officiant.

Nelson A.

Married on 05/15/2021

The best option en PA

Melinda is the best officiant, she was nice, and the ceremony was perfect! Thank you so much!.

Jazmine

Married on 11/22/2020

Perfect for what we needed

Melinda was great with us and our elopement! We were both very happy we were able to find her and were extremely pleased with the ceremony she created! Definitely would recommend!

Ashley O.

Married on 11/07/2020

Melinda is great!

Melinda was such a pleasure to work with! She helped make our wedding a dream come true! I would 100% recommended her to anyone!

Lexi

Married on 10/31/2020

Wonderful!

Melinda was wonderful to work with! Very attentive and responsive to messages and made it so we could personalize every word in our ceremony. She made our day very special!

Holly D.

Married on 10/25/2020

Amazing experience!

Melinda was amazing to work with! She was so caring and worked with us every step of the way. I would recommend her to anyone looking for an officiant!

Kelly C.

Married on 10/16/2020

Absolutely Fantastic

Melinda was amazing! Our decision for a ceremony was very last minute. We originally were going to the Justice of the Peace. To me that seemed very informal and I could not see my wedding being minimized. Some people it works for, I am not knocking it. I found Melinda on an internet search. Her website immediately drew me in.
Before the ceremony, Melinda was available and communicated often. That alone sold me. Not to mention she was VERY affordable and ACCOMADATING!!
Now for the ceremony. She brought to life everything I dreamed of having for our special day. The choice of words, her presentation and delivery was fantastic. There were so many options to chose from start to finish, for the ceremony. Being able to mix and match cermony/ vows and plan EVERY detail and word was delightful. PLEASE use her if you have any doubts or questions on using her, I am a living testimony that she will not disappoint and will exceed all your expectations!!
Flexible, affordable, accomadating, patient and responsive are only some of the many adjectives I can use to describe Melinda and her services. Thank you for making our ceremony something we will treasure forever!

Kristie T.

Married on 10/02/2020

Absolutely amazing!

Melinda was absolutely amazing and made my experience so comfortable. I came in nervous and she quickly made me feel right at home.

Tom A.

Married on 08/15/2020

Perfect Backyard Ceremony

Melinda was excellent. My wife and I, and both of our families were incredibly happy with the ceremony. She kept it very fluid and positive, and even stuck around as we restated the vows for my wife's grandmother who showed up late. Her ceremony reading option on her website also made it very easy to decide what we would like read, and she had flexibility in adjusting them to fit us. Thank for an amazing day!

Rosemary

Married on 07/11/2020

Flexible, Calming, and Wonderful!

Melinda was the best in a crazy, COVID-19 world. She was willing to change locations with us, be patient as we tried to work out a new wedding plan, and provided so much guidance in her outlined options for us to choose exactly what we wanted. On the wedding day, she was a calming presence when we thought it may rain. All of our family complimented Melinda and the ceremony!

Janet B.

Married on 04/10/2020

Highly Recommed

I am so happy we chose Celebrations of the Spirits to do our wedding ceremony. We appreciated the fact that we could interchange the ceremony, wedding vows and ring vows to fit what described us best. Melinda is warm and welcoming and so glad we chose her.

H Höfer

Married on 11/16/2019

Good choice

She was very responsive and friendly, and fit us in her schedule on short notice even when she had another wedding to go to that day.
Are you interested?
Send a message