24 Reviews
Recommended by 98% of couples
Quality of service

4.9 out of 5 rating

Average response time

5 out of 5 rating

Professionalism

5 out of 5 rating

Value

4.7 out of 5 rating

Flexibility

4.8 out of 5 rating
Awards
11 User photos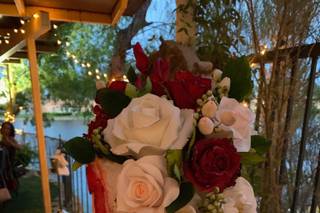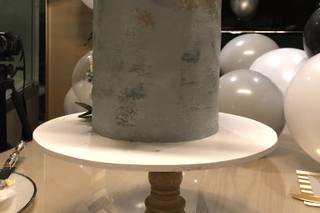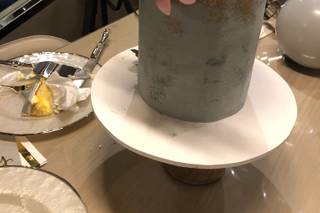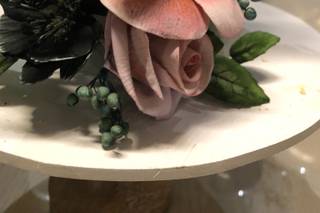 + 7

photos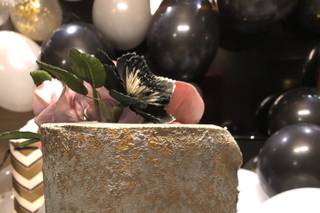 Caroline A.

Married on 06/26/2019

Exquisite artwork!

I chose Cake Lava because of their stunning portfolio, but our spectacular wedding cake and their outstanding customer service surpassed my already high expectations. The cake was customized to match my bouquet flowers, and they looked so real that my maid of honour almost refused believe that were hand-crafted, until I assured her that they were for the 3rd time! This really makes it incredibly special when you put a flower on each of your guests' plates, and they get to appreciate the remarkable artistry, talent and time that were needed to make them.

I was also equally impressed by Sasha's incredibly caring, personal and attentive customer service. She invested a lot of time to answer all of my emails in detail and honestly made me feel like her most important customer, even calling me several times to discuss the design, the choice of cake platter, and finally the delivery and safe handling. Both Sasha and Rick personally delivered the cake at the venue and greeted us and our guests in such a friendly manner. We couldn't be more pleased with the outstanding service we received, and the stunning cake that will forever grace our wedding photo album!

Keara H.

Married on 02/14/2019

Gorgeous custom cake

My cake came turned out absolutely stunning. We did everything last minute and they were so accommodating and gracious. Thank you so much.

D'arcy V.

Married on 12/31/2018

If you want the most beautiful cake, look no further.

Oh, my...these were the nicest and most creative designers. Rick is such an artist and designed the flowers to match my real flowers. He captured the colors perfectly. I have never seen such realistic flowers. Sasha made everything work - she is kind, caring, detailed and professional. I couldn't have asked for anyone to be more precise or caring. And they both delivered the cake personally! This is a wow experience and a wow cake. You will not be disappointed.

+ 3

photos

Are you interested?

Send a message

Jason

Married on 04/28/2018

Cakelava is AMAZING. We used them for our wedding cake and it was gorgeous and incredibly delicious! We contacted them several months before our wedding and sent them what we were looking for and some of our wedding colors and decor. They responded quickly with a gorgeous cake and a really great price. We get to the wedding reception and see the cake, and we were completely blown away. A number of guests thought it had to be an art piece decoration and couldn't be our cake! When we get to the cake cutting and people start eating it, the flavor and quality were outstanding. I can't recommend Rick and Sasha enough - everyone should get their cake from them!

Jennifer

Married on 11/06/2017

Rick & Sasha were wonderful to work with! From the initial response time after contacting them via their website, to coordinating the design, to our tasting, to delivery and set up, to post wedding congratulations, they were so attentive to our needs. They were incredibly warm and their excitement about being part of our wedding was contagious! The flavors were incredible, the cake was perfectly moist, and the frosting was not too sweet or sugary. It has been a month since our wedding, and people are STILL talking about the cake! We can't wait to have an anniversary cake made next year!

Lindsay

Married on 10/14/2017

Sasha and Rick are the best! The initial consult and cake tasting (with the most delicious cakes) really sold us as they are organized, creative, professional, and friendly! We booked our wedding cake and then I also booked the wedding shower through them so we got to see a wedding style cake and also a sculpted cake. Rick is truly amazing and talented as a decorator, and Sasha and so easy to work with and responds immediately to any questions we had. We will definitely be using them for all our future cake needs!!

Gillian

Married on 04/29/2017

Rick and Sasha are seriously the dynamic duo of everything cake related. They are incredibly professional; incredibly kind; and incredibly talented. I am not usually one to like wedding cake... it normally doesn't do anything for me. That all changed when we were referred to CakeLava. I do not have enough positive things to say about Cakelava.... our wedding cake was AMAZINGLY DELICIOUS (seriously. ALL of our guests commented on how delicious it was), and the cake was also AMAZINGLY BEAUTIFUL. No one could believe that the flowers on our cake were HANDMADE by Rick! He has some serious talent. Rick made our vision come true... and even added an amazing watercolor technique to our cake (I had never seen that before, and it was BEAUTIFUL!!!!)

We highly, highly, highly recommend CakeLava to anyone looking for a unique wedding cake! Thank you both!

Jessica

Married on 03/30/2017

Excellent service!!! Very creative as well!

Ana

Married on 12/31/2016

I have ordered here many times throughout my life for birthday cakes, party cakes, etc. and I must say that I am always pleased with the results. They are true professionals in their field and they make great cakes! The prices are reasonable and the customer service is excellent. I highly recommend Cakelava.

Devone

Married on 11/06/2016

Absolutely the best decision we made. We made a last minute decision to get married while on vacation in Vegas. Cakelava was the most responsive of all the vendors we were looking at and totally came through for us with 3 weeks notice. I was very undecided on what I wanted, but they were patient and worked with me so I could have a nice cake that fit my budget. The cake looked great and tasted awesome. Everyone loved it. Thank you guys!

Malynda

Married on 06/17/2016

Amazing cake designs! I cannot express how thankful I was to receive this cake for my wedding day. Everybody was asking me where I bought the cake and a lot of people were taking pictures with it! The best part was that the cake is absolutely delicious! Highly recommended.

Cierra

Married on 12/13/2014

What can I say about this extremely talented and dynamic duo? First thing you should know is your outta your mind if you don't book cakelava for your next event! Rick & Sasha create the most beautiful & stunning cakes ever. From the beginning to the end they were so professional and understanding of our wants and needs. There was a point where we literally had no clue what design we wanted to go with for our wedding cake and they were so patient with us in that process. That meant the world to us! It was then mentioned that Rick could actually surprise us and design something especially for us. Of course if we moved forward with this decision Rick needed our 100% consent. So the hub and I talked and came to the decision that we were all for Rick & Sasha designing our cake! And all I can say is that was theeee best decision ever!! The only thing we asked was that our cake be a "Disneyland" theme. Oh boy! We're we blown away! And that was just looking at the sketch! fast forward to the wedding day and as soon as we walked into our ballroom to mingle with family they were all saying "Did you see the cake yet?", at this point I was dying to see it! But our reception festivities was about to start and we didn't have time to fully take it all in until the actual cake cutting time! And my goodness our hearts literally jumped for joy! This cake was beyond our wildest dreams and unlike ANYTHING we've ever seen. This is what happens when you allow a master at his craft to be creative in their passion! You get nothing short of a masterpiece!! You will not regret booking Cakelava for your event! They take great care of you from beginning to end and your cake will leave you breathless! And did I mention how delicious it tasted! it tasted just as amazing as it looked! Seriously there's no need to look elsewhere when you found the "one"! No I'm not talking about your fiancé silly! I'm talking about your cake vendor!! Now that you found them what are you waiting for?!

Working with Sasha and Rick for my wedding cake was absolutely wonderful. They were very responsive to my emails, often getting back to me within hours despite how busy I imagine they are. They worked with my budget and designed a cake that was beautiful and reflected a lot of the inspiration photos I provided. The flowers that Rick sculpted were so beautiful that our guests refused to believe they were not real.
Not to mention, the cake was as delicious as it was beautiful. I've tried many wedding cakes that don't live up to appearances, but this one was awesome! We had two flavors that my (now) husband and I selected, and they were even flexible and responsive when determining which tiers would be what flavor. I experienced some pain with other vendors in my wedding planning, but Cakelava was definitely not one of them! I will never regret booking Cakelava for my wedding cake and would recommend them to anyone who wants a beautiful, unique wedding cake.


Rachel

Married on 03/21/2014

RIck and Sasha are the BEST! They designed my cake to fit in perfectly with my decor, which was very important to me. Rick is truly an artist and made the most gorgeous cake. He truly incorporated my basic ideas and make something better than I could have imagined. My guests were so impressed with both the design and more importantly, the taste. I highly recommend them to anyone looking for an amazing cake!

My only regret is that I didn't get to eat more of it:)

Kerrie

Married on 10/03/2013

awesome cakes to look at even better to eat!

Israel

Married on 01/30/2009

Exceptional! This is a great word for Cake lava. My wife worked with them throughout the whole time because she wanted to have a surprise groom cake for me, and oh boy was it! My wedding cake was a small three tier bamboo cake with some of the yummiest flavors we had ever had. My surprise cake was an actual Football with a Dallas Cowboys star logo on it!! It was awesome and everyone else thought so too. The cakes look great, your guests will not stop talking about them and as far as the pricing goes, c'mon, it's your wedding day! You should hopefully get married once and if you want the best, you have to pay for the best. Cake Lave, you are truly the best and I highly recommend you as a place to go for the best cakes around.

If you'd like to see a pic of my cake, please go to www.myspace.com/dwisrael


Michelle

Married on 02/20/2012

Mmmmm. cakelava. I had a couple of friends in Hawaii that absolutely love Cake Lava so I had to see what all the fuss was about when we were looking at wedding cake vendors (we evaluated about 6 different ones). Since I was living in Hawaii while wedding planning, I got to taste all the great flavors ahead of time. Woo hoo! Rick and Sasha made it easy and later provided a sketch of what the cake would look like. They were able to work within our budget too. The cake was modern-looking with beautiful flowers and tasted fantastic! It looked even better than we had hoped! We went with the non-colored rainbowlicious flavor and it was awesome! Since we had a dessert as part of the reception dinner, we ended up with a lot of leftover cake and the family was more than happy to "take care of it" the next day. We highly recommend cakelava.

Shannon

Married on 02/13/2010

Cake Lava are the absolute best on the island, in fact you would be hard pressed to find better on the mainland!!
Rick is so unbelievably talented and Sasha is so fun and helpful!! Our cake was a bit of a surprise to us, and came out spectacular!! We had vibrant colours which were hard to work with and wanted a Hawaii theme without the Kitch! Everyone thought it was the most amazing cake they have ever seen!
IN FACT OUR CAKE WAS ON TV!!! http://www.kitv.com/video/22744652/index.html
Thanks so much! You were the first vendor we booked and made the wedding process so much fun!
We loved our cake, and the taste was amazing too! (I actually tried one of each of the three flavours!)
The only Cake people you even look to book for the most important day of your lives!! You will be soo happy you did!

Shelby

Married on 09/17/2008

Cakelava was more than a bakery, they were artists. Although their creation was slightly on the higher end of cost, we wouldn't change our cake for anything. They created the cake in the exact manner which was described and even provided suggestions to make it look even better.
The ingredients were fresh and many guests were heard saying, "Wow, this is by far the best wedding cake I've ever had."
We would recommend this husband and wife team to anyone who values quality, originality, and sheer artistic ability.

Joslyn

Married on 01/02/2007

Rick and Sasha Reichart are both a wonderful couple and incredibly professional. My wedding was planned within three months with both myself and my husband living on separate continents! Rick and Sasha helped make the experience much easier and more wonderful with their constant contact with us, their quick response times to our emails, and with their concerted effort to do their very best in every way to give us what we desired and make their part of our wedding day an absolute success. Not to mention Rick makes some of the most amazing cakes I have ever tasted. Cakelava has a unique variety of flavors and a unending supply of imagination. While they do specialize in intricate designs and unconventional flavors and are therefore a little more expensive, I highly recommend them.

Milena

Married on 01/06/2008

Sasha and Rick at Cakelava are a wedding-cake-godsend! All you need to do to be convinced is visit their website (www.cakelava.com) and you'll see what I mean. They can literally do anything you ask for. What you see is literally what you get. I had never tasted a tasty wedding cake until my own wedding. I also surprised my husband with a groom's cake with a completely different flavor, and one was better than the other. We did all the planning from Washington, DC and I never had any issues communicating with Sasha. If you are having a wedding on Oahu, you HAVE TO go with Cakelava for any of your baked goods needs.

Cakelava were PERFECT for our needs! Our cake was stunning (an original design) and delicious.

We are from Australia and we got married in Oahu in October 2010. Our communications with vendors were through email and it was was therefore important that all our vendors provided responses that were detailed and prompt. Despite being a very busy business, Sasha always responded promptly and in a professional, yet very friendly manner.

Our cake was an original design to match the Japanese paper that we used for our invitations. They asked us to send a sample of the paper, and a spare invitation. They designed the cake, sent us a sketch of this design, and provided advice when my partner also had grand designs for the cake.

I screamed in delight when I saw our cake at our reception. It was stunning and beyond our expectations. And, it tasted devine!!

On the downside, they are pricey. Also, they do not send the contract until after the deposit is paid. So we did not know that their cake must be the only cake served during the event, until we had paid our deposit. Because of this rule, we had to make changes with our reception venue regarding deserts served.

I highly recommend Cakelava. However, future brides should request to see the contract before any money is paid to see exactly what they're committing to.

Nicole

Married on 03/31/2007

Cake Lave makes beautiful cakes for any occasion, and our wedding cake was spectacular. They took the idea of using the design of our invitations on our cake, and it came out beautiful. The cake was not cheap and we spent more than we wanted. Also for the price, the taste of the cake was not the best. They had a lot of flavors to choose from, but the quality was not where i thought it should be, a little dry. But it was the look that mattered the most at the time!

Chien=Ju

Married on 06/24/2009

The cake was nice but getting them to change the design a little was a bit of a process, but overall it was accomplished.
Are you interested?
Send a message