61 Reviews
Recommended by 99% of couples
Quality of service

5 out of 5 rating

Average response time

5 out of 5 rating

Professionalism

5 out of 5 rating

Value

4.9 out of 5 rating

Flexibility

4.9 out of 5 rating
10 User photos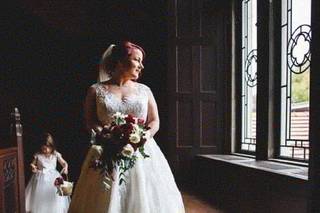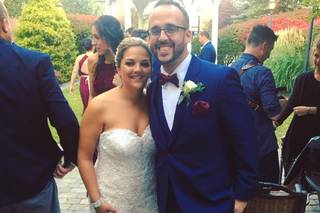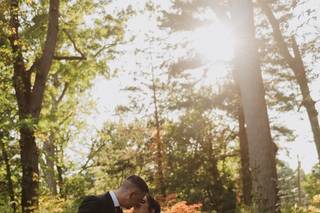 + 6

photos
Jessica V.

Married on 10/11/2019

Loved my experience at bliss !!

I went to Bliss first , and found my DREAM dress by Essense of Australia. Everyone there was soooooo sweet and easy to work with ! Also , all my bridesmaids got their dresses at Bliss too and we had SO MUCH FUN! I highly reccomend them!!!!

Ashley

Married on 10/06/2019

Thank you Bliss!

Bliss Bridal was the first bridal shop I went to. My appointment lasted an hour and 45 minutes and I was helped by the nicest lady. The second dress was THE dress! Although I loved the dress, she took her time and helped picked out other dresses based on my likes and dislikes to see if I liked something better. She had no issues staying in my budget and didn't pressure me at all. I may have tried on 10 dresses but ended up leaving for a second appointment at a different bridal shop. The appointment at the second bridal shop was only 45 minutes and I felt like they couldn't get me out of their building fast enough. I may have tried on only 5 dresses. It was also extremely awkward when I would change dresses, I would be left standing naked in the cold room while she took the previous dress, hung it up, then opened up the next dress for me. Bliss Bridal made getting in and out of a dress quick and comfortable. I also got my alterations done there and it was affordable and easy!

Kaitlin

Married on 09/28/2019

Amazing experience

I had no idea what I wanted in a wedding dress, and let me tell you- what I got was the exact opposite of what I "thought" I would get. My first appoitnment went perfect and I tried on so many different variations of dresses and the more I started to say no, the more they realized what I was looking for (even before I did!) The second to dress I tried on was it. I knew it the second I put it on and so did everybody else. I didn't want to say "yes" just then so I waited 2 weeks went back, tried it on again and it was perfect. The experience of ordering the dress, trying it on, the alterations- literally went PERFECT. Even a small hiccup with their payment system one day was resolved ASAP the next day. So glad I chose Bliss and have recommended to so many people!

Are you interested?

Send a message

Lindsey

Married on 09/28/2019

Fairytale wedding experience

Jessica and her team at Bliss made finding the perfect dress easy. Their customer service is above and beyond.

Ashlee

Married on 09/21/2019

Working with Bliss was well... Pure Bliss!

Dear Bliss,

Thank you! Thank you! Thank you! From start to finish we had the most amazing experience! I did initially have my first dress appointment at BHLDN. (See that review- a great experience as well, just not the style I was looking for.) At that fitting... I ended up finding out that I was leaning toward a ballgown style. I thought I would end up in something Boho, lacy and sleek, but the opposite happened. I know it sounds cliché, but PLEASE go into your appointment open minded. Everyone as Bliss is a professional, and you want to trust their guidance.

I brought a small party with me to this fitting, just my mom and grandmother. We had a great time tagging dresses to try on, plus a few wildcards. I probably tried on close to 10 that day... I believe it was dress #5... When I tried it on, I knew! Mom started crying!! I went with a strapless ballgown from Essence of Australia- Style D2169

When it gets ordered, note that wedding dress sizes are NOT the same as your normal size. Just trust the process. For me, I am a size 4 in real life, but a 10 in a dress, TRUST them on this. They know how the sizing works. The first try on went great! We found a matching veil that day too.

I was given the option for a seamstress, and Blanca sounded like the best fit. She might have been the best past of the entire process!! The work she did altering and bustling the dress was amazing! and it was perfect after 1 time! No second alteration needed. We had a great time laughing with her, and getting to know her. Bliss then steamed the dress, and I picked it up a few days before the wedding.

Now... one big tip, I knew I wanted a ballgown as I loved the way it looked and how it would photograph, but it was HEAVY. By the end of the night, I did feel the weight of it in my legs and hips. If comfort is something you are concerned about on your wedding day, definitely keep that in mind. I think a lot of times, look is considered over comfort.

To everyone at Bliss, thank you for everything! I will continue to recommend you!

Lacey

Married on 09/14/2019

Best little bridal shop!

My MOH got her wedding dress from this place and highly recommended it. I had been to a few other places, found the perfect and most comfortable dress, but turned about to be a dress another friend wore to their wedding. I needed/wanted to find something a little more outstanding and unique. At Bliss my mom and MOH were there to support me in the final selection, we got to pick a few dresses at first and then based on what we picked, the consultant would grab other pieces to help with the decision. I remember having three front runners, but kept going back to one. The consultant told me, you keep going back to this one, it's meant to be. I tried it on again and thats when I knew it. I was very happy with the patience at Bliss and the care they took with my dress. They made me feel like a real princess.

Elisa C.

Married on 10/28/2018

The Perfect Bridal Boutique

The team at Bliss Bridal made the whole dress experience a breeze. I was very weary about dress shopping because I had no idea what I wanted or what I was doing. I went to a popular CT wedding shop before visiting Bliss and it was a miserable experience, so I wasn't looking forward to my trip here. Macanna was AMAZING! She made me feel so comfortable and showed me all the different wedding gowns so I would see which style I liked best. It couldn't have been a better experience at Bliss Bridal!

Cassie L.

Married on 10/13/2018

Best Bridal Shop

Bliss Bridal helped make the hardest decision, easy when picking out a dress! I had gone to one other store prior to going to Bliss, and found really pretty dresses but none gave me that "This is the one" moment. When entering Bliss, we were greeted by Jessica who was also going to be our consultant for my appointment. Her energy was great, and she was so enthusiastic in helping to find the perfect dress for me. She could tell I was a bit overwhelmed and gave my Mom and I time to look through the dresses, and put markers on our favorites ones to try on. She made me feel so comfortable when getting in and out of dresses, and was just so sweet. She helped me narrow down my favorites to just 2 and let me try them both back on again but with a few different veils. Once I had the veils on, I was able to decide right away and I had that moment where I knew this was the one and I was so happy! Once ordering the dress, it came in not even 2 months later which was great! Bliss Bridal let me come in and try it on again, and held onto the dress at no charge until my wedding date got closer. I would highly recommend checking this bridal shop out, you won't be disappointed with all the beautiful selections and designers that are offered.

Amanda

Married on 04/21/2018

What a perfect place to get a wedding dress! The entire staff was a delight to work with, including the tailor. Everything is done on site and we were able to go back several times to see my dress. The setting is full of natural light, which is really the best way to try dresses on. No stuffy dressing rooms! The selection is fabulous, the staff helpful, and I can truly say I'll miss them now that I have my perfect dress!

Kaitlyn

Married on 12/31/2017

I had an amazing experience at Bliss Bridal! I brought a few pictures with me of the style of dress I thought I wanted. While my family and I tagged dresses to try on, Sandy grabbed a bunch that were in the style I had wanted and we got to work! We quickly realized that what I thought I wanted wasn't really what was going to work for me. Sandy was great at assessing what I liked and didn't like and kept bringing dresses until we found the one! I never felt rushed, and I was there for probably two hours my first appointment and another hour my second appointment, which was when I made my final decision. They really made the process extra fun and less stressful. The service was excellent, there was a large selection of dresses to choose from and I found the way they organized and labeled the dresses to be really helpful is well. Another thing I really appreciated was that Sandy never brought a dress out that was above the budget I set (other places I had been to, they would bring dresses out that were $500+ more than what I told them I wanted..). At one point she mentioned that she had a dress that she thought fit the description of what I was looking for but she asked multiple times if I wanted to see it or not and made absolutely sure I was okay with it before bringing it out. I found the respect for a bride's budget to be a definite strong point for this shop. I would highly recommend looking for your wedding dress here!! Overall a fantastic experience!!

Amanda

Married on 10/21/2017

My first dress appointment was with Bliss Bridal and I couldn't have asked for a better experience. Each member of the staff was very attentive, knowledgeable, and friendly. When I arrived with my 4 person entourage, I was given 10 cardboard hearts to put on the hangers of dresses I wanted to try. After trying on the 10 dresses, Sandy took my feedback and started picking dresses that fit my preferences. By the end of the appointment I had found dresses that were unlike anything on my Pinterest board! Although I found my dream dress at another shop, I know my mother, grandmother, and future mother-in-law will be back to get their dresses from Bliss. They were a joy to work with!

Monica

Married on 08/26/2017

Bliss Bridal was not my first stop, but it was certainly my last. I tried on tons of dresses, but the 1st one I tried up ended up being the dress of my dreams. Everyone at Bliss is amazing. They go above and beyond to work with you and help you. I never felt rushed or that I was being a bother. I would ask to try dresses on multiple times and they had no problem. They truly understand the stresses of choosing a wedding gown. Everything went smoothly from beginning to end. We also did all the guy's tuxedos through Bliss and it was so easy and very reasonably priced compared to some chain stores. And let me tell you the tux's looked amazing, great quality. I couldn't be happier with this place, you cannot go wrong with Bliss!

Brenna

Married on 09/17/2016

My bridesmaids and I had a great experience at Bliss Bridal. I accidentally booked a bridal appointment instead of bridesmaids, but they just rolled with it and were able to accommodate us. Our rep was amazing - so helpful, honest with advice and really listened to what we wanted. She helped us find a line of dresses that looked great on everyone. The dresses came in ahead of schedule! Customer service is A+. My only wish is that they offered bridesmaid tailoring on site so that my girls could all have gone there and had the same level of service they got when buying their dresses.

Mackenzie

Married on 06/25/2016

Bliss Bridal is fantastic! It is family owned and has a great selection of wedding dresses. When you first walk in the staff is so excited to have you there. After you and your bridesmaids are settled you are allowed to shop the floor and put tags on every dress you want to try on. Your bridesmaids are also allowed to make selections for what they want to see you in too! After you try on all the initial picks the staff listens to what you like or didn't like about the dresses and then they make their own selections. I found the perfect dress here and the seamstress Blanca did an amazing job on my alterations! My mom and my bridesmaids got their dresses here as well and loved them. Every appointment was wonderful and you always feel good when you leave here.

Amanda

Married on 06/04/2016

I had the absolute best experience at Bliss Bridal. The staff made me feel welcomed from the moment I stepped through the door. and made me feel like I was the only person in the store. I never felt pressured to purchase a dress or rushed to finish my appointment. The prices were incredible for the designs they had to offer and were ready with answers to any questions I had. I went to several stores before Bliss and couldn't believe the difference in my experience. I wish I had just gone there from the start!!

Laura

Married on 06/04/2016

Bliss Bridal is amazing! Jess and her mother are wonderful to work with and will help you find exactly what you're looking for! I went here to find my bridesmaid's dresses with my girls, and we had such an easy time finding just what we were looking for. As a bridal party, several of us have tried on dresses here (bridal gowns, bridesmaid dresses, and mother of the bride dresses), and it has been a wonderful experience every time. You won't be disappointed working with Bliss!

Laura

Married on 05/22/2016

I could not have been more pleased with Bliss Bridal! They made the magic of finding your wedding dress personal and the staff felt like family or friends. They were very responsive no matter what questions you had and the dresses were gorgeous! I got my bridal gown as well as my bridesmaid dresses at the salon and the experience was beyond amazing! Thank you again Bliss for making my dreams come true!

Marissa

Married on 05/07/2016

Jessica and her mother are by far the most helpful, considerate, sweet and caring people I know. You WILL NOT leave without having a HUGE smile on your face knowing that you picked the BEST bridal store in CT to work with. Jess has been there for me since day one. I email her questions about anything and she gives you her true honest opinion. She is very knowledgeable and will do ANYTHING to make you happy and satisfied. I always can't wait for my appointments, we have a BLAST! lol even my bridesmaids ask her questions for their wedding day!! I really can keep going on and on about how amazing Jess is...lets just say, you will ABSOLUTELY have an amazing experience with this shop...I am half way through to my wedding day and I cannot wait for what's ahead for us :) love you Jess!! (I'm STILLL crying writing this haha) xoxox

I had my dress altered by Lee at Bliss Bridal and it turned out perfectly! She is so professional and talented I couldn't imagine trusting anyone else!

Julie

Married on 10/11/2015

I had so much fun shopping for my wedding dress at Bliss Bridal! Jessica and Sandy made the experience so personal. I was there with my mom and 3 of my bridesmaids on a Sunday afternoon, and I tried on SO many dresses! I had such a great time with my girls picking out dresses I would try on, and I also loved the dresses they were pulling for me. Sandy really listened to my thoughts on what I did and did not like about dresses I would try on, and pulled more based on that. I found the dress of my dreams here, and got so many compliments at the wedding! Wearing the perfect dress from Bliss Bridal made my wedding day that much more special.

I had an absolute fantastic experience each and every time I went to Bliss Bridal. Everyone who works there is very friendly and they just want to make sure you are satisfied with your experience and purchase/s. With the help of Jess, I bought my dress during my first visit! Jess has great energy and was sweetly honest about the way dresses looked on me, but she was very mindful to never influence my decision.
Joyce, the tailor, was easy to work with and she did a fantastic job!!

I love my dress :) I highly recommend this place, it was an awesome experience!

The BEST bridal shop! Could not have asked for better service and attentiveness! They went above and beyond to create my wedding dress, making it a true one-of-a-kind! They're extremely flexible and didn't mind when I brought 3 children in with me! They're amazing and want you to feel the same way!

Lauren

Married on 09/26/2015

I couldn't have had a better experience with Bliss Bridal. I came to the shop feeling very frustrated that I hadn't yet found my dress after trying on dozens. The ladies there took me in and helped me find my dream dress-something I didn't think would happen. They couldn't have been more wonderful throughout the process. Even for someone as detail oriented as me-I was impressed. Also their in house seamstress is AMAZING. So affordable and she made everything perfect.

Raquel

Married on 09/26/2015

I visited Bliss Bridal back in Nov with my bridesmaids, my mother and future mother in law. The boutique was beauiful with a great selection of gorgeous wedding gowns and also offered that warm charm that makes you feel at ease.

Jessica was impeccable! She was very sweet, friendly, and patient. She asked a lot of questions to get to know me, my venue, and the way I envisioned my wedding day. The layout, even in the small shop, is such that you feel quite private with your group and you don't feel like you are competing for space.What I absolutely loved most was that Jessica was very attentive and showed me dresses that I had picked out and then as I told her what I loved and didn't love so much about each dress she listened and brought a new one that narrowed down what I was looking for. She was never pushy and only encouraged me to be super honest with her. She truly only cared about me finding the dress of my dreams. I felt like she was on my side the entire time and she really helped ease my nerves.I tried on about 6 different dresses and was able to narrow it down to 1.
This second appointment was no different, and Jessica still made me feel special in every way. She placed both dresses next to each other so I could see what I loved about each dress and explained any options I had to alter which ever dress I picked so that I could have everything I wanted.
I found exactly what I was looking for and I was able to say yes to the dress! I never thought I would say this, but I truly felt like the most beautiful bride, and I can not wait to wear my dress!
Fast forward a few months out from our wedding. I went for another appointment where they helped me find a beautiful veil and accesories to pair with my dress. Joyce in alterations was so wonderful. She truly is a master at her craft. Everything from bridesmaids to my dress was perfect and I could not have asked for a better experience in this part of the wedding planning process!

Michelle

Married on 09/19/2015

I bought my wedding dress from Bliss. The staff was amazing! They were very friendly, helpful and not pushy at all! I did not feel any pressure when I was trying on dresses. The staff was honest and helped me find the prefect dress. They also kept everything in house - the alterations were done and I was able to store by dress there until the day before the wedding with no extra charge.
Are you interested?
Send a message