162 Reviews
Recommended by 97% of couples
Quality of service

4.8 out of 5 rating

Average response time

4.8 out of 5 rating

Professionalism

4.9 out of 5 rating

Value

4.8 out of 5 rating

Flexibility

4.9 out of 5 rating
93 User photos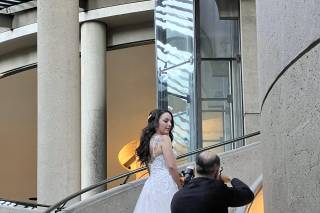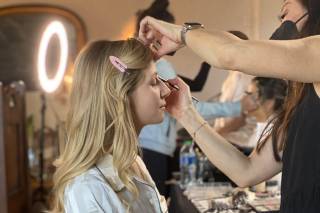 + 89

photos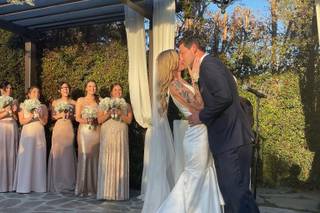 Featured

Marleina

Married on 09/24/2022

Fun and Amazing!

Angela and her team are very professional and fun to work with. I had a very large group of women in my bridal party, Angela and her team delivered everyone's requests with style and grace! Love their work!

Angela Tam Team | Wedding-Celebrity HMUA's reply:

Thank you Marleina! We love working with your group just as much. Look forward to see your wedding pics. Hope we get to see you at your friend's up coming wedding.

Sirisha L.

Married on 12/02/2022

Great experience all around!!!

We loved the experience and professionalism from Angela and her team. They were great from the get go and listened to what we wanted. The makeup and hair came out great and bridal party also shared how professional they came across and were with the services. Cannot thank you enough for such a great experience :D

Joyanne B.

Married on 11/12/2022

Amazing and professional

Not only did Angela do an amazing job. She was absolutely loving and kind and professional, and her staff was by far some of the best we worked with. Angela made my daughters wedding, the most memorable time of her life. She was a true princess after Angela is done with her

Angela Tam Team | Wedding-Celebrity HMUA's reply:

Thank you for your wonderful comments. It was a pleasure to meet you all and glammed everyone on such a beautiful special day.

Are you interested?

Send a message

Chloe

Married on 10/06/2022

Angela is the best!

We had an awesome experience with Angela and her team. They were prompt, professional and courteous. They had a friendly, accommodating vibe and were able to have a fun, humorous experience while getting all glammed up!
During my beauty preview, she was a very nice and friendly person to talk with and she made sure I got the bridal look that I wanted.
On our wedding day, Angela made us all look perfect, my ladies and I, and also my groomy. Sisters looked so beautiful I couldn't recognize them!
I would encourage anyone to hire her and her team!

Anne C.

Married on 10/01/2022

Angela is the Best!

Angela and her team were so great to work with! I sent her some photos of what I wanted to look like, and Angela replicated exactly what I wanted on the first try. It was literally perfect! I have thick, red curly hair, which is very difficult to work with, but Angela was able to work with it so easily and give me exactly what I wanted. She also used some of my own products that match my red hair and fair skin.

On my wedding day, Angela and her team showed up on time, and we even finished early, which allowed me to relax a little before getting dressed. She even gave me a touchup kit that I could use later in the day to make sure my makeup stayed flawless for all my photos.

Armie and Kasie did hair and makeup for my family members, and they were also amazing to work with. We all ended up getting false lashes because they looked so great when Angela put them on me!

My family and I had such a fun experience with Angela and her team, and I highly recommend her for your wedding, or any other event.

Olivia S.

Married on 09/03/2022

Amazing Hair & Make-up Team

I hired Angela to do hair and make-up for myself and three bridesmaids and we could not have asked for a better experience! Angela was so professional, listened to my concerns, carefully crafted the look I wanted and made the whole experience easy and wonderful! Highly recommend Angela Tam and her team for your wedding beauty needs!

Bonnie E.

Married on 07/09/2022

Excellent service!

Melissa Mestas did my makeup and did an EXCELLENT job. She not only executed exactly what I asked for, but did it to my particular style. She was a joy to talk to and was both kind and incredibly accommodating. Thank you, Melissa!!

Katherine D.

Married on 07/09/2022

Amazing hair and makeup!

Angela and her team did an amazing job!! Our hair and makeup turned out so so well. Highly recommend her!!

Shawn H.

Married on 07/09/2022

Super professional and talented

I was amazed at the attention each one of us received (there were 9 of us). Both makeup and hair with varying needs and the team delivered. I personally had Melissa and she was amazing. Meticulous and made me feel super comfortable.

Lisa-Ann P.

Married on 05/29/2022

Angela Tam best makeup/hair team!!

Angela was a pleasure to work with. Having her do makeup and hair at my wedding was the best decision I made! Her team (Ariel and Daisy) also provided hair and make up services for my bridesmaids and everyone looked amazing! Angela was very accommodating and took her time with me in getting ready for my big day, with her calm and collected stress-free attitude. We all loved working with her and her team and highly recommend Angela Tam Team!

Sarah S.

Married on 05/24/2022

Tam Team To The Rescue

I just wanted to thank Angela and her team for stepping in last minute for an event I thought I would not be attending. They were prompt, friendly and did an amazing job.

Megan D.

Married on 05/14/2022

Perfect, Perfect, Perfect!

Angela and her team were amazing! They all understood what each of us wanted for both hair and make-up. I would totally recommend her to friends and family.

Veronica

Married on 03/26/2022

Made Me Feel Beautiful

I hired Angela and her team for my mom and I's wedding glam. We wanted a soft glam that was elegant and would last. Angela and her team listened to all our requests and delivered! My mom and I felt beautiful! The makeup lasted all day and came out so great in all our photos. I definitely recommend her!

Vaneza P.

Married on 02/22/2022

Hair & Makeup of my dreams!

I wish I could relive our wedding day & my hair and makeup played a role in that. Angela did such a good job making me feel comfortable the day of. I LOVED my hair and makeup. I felt confident and beautiful. I usually don't wear makeup so I was a little concerned about going full glam but once I saw how I looked I still felt super natural and glowy. Angela and her team really listen to what you want and knock it out of the park. I hope one day ill be able to work with them again!

+ 4

photos

Angela Tam Team | Wedding-Celebrity HMUA's reply:

Thank you Vaneza for these kind words.
Ofcouse we will see each other again. Whenever you want to be glam up, I am just a phone call away! Hugs and Kisses, Angela Tam and Team

Bianca D.

Married on 12/03/2021

Angela, Thank you

Angela, Gigi, and Ariel were awesome! They were so professional and listened to our requests on the spot. We received plenty of compliments from the guests. Thank you for making us feel pretty and special. Angela, continue making brides look and feel beautiful on their special day! I highly recommend Angela and her team.

Rosanne B.

Married on 10/09/2021

Didn't feel rushed!

Angela and her team were quite impressive! First wedding I've been in as a bridesmaid where hair and makeup were completed with plenty of time to spare. Didn't feel rushed at all and the artists were happy to make any changes or additions requested.

Emily L.

Married on 10/09/2021

Great experience with Angela and her team!

Angela and team did all 6 bridesmaids, the bride and mother of the bride/mother of the groom all in the set timeframe we gave them, with time to spare. They worked hard and did an amazing job with everyone. We all looked beautiful!

Lisa

Married on 10/01/2021

Fantastic!

I was coming in from out of town for a black tie wedding so I had nothing but faith to go on. Angela and Daisy made my dream come true…Daisy was professional and such a sweet lady. She gave me the exact look I was going for…definitely would use them again and highly recommend to anyone wanting a glam look for a special occasion.

Suzanne D.

Married on 08/15/2021

Highly recommend

Angela did an amazing job on my bridal hair and makeup! We did a bridal preview appointment and I asked for a couple adjustments for the day of, which Angela executed perfectly! Angela was friendly and responsive. Highly recommend!

Aletia A.

Married on 07/11/2021

Stunning Hair & Makeup

Angela did SUCH AN AMAZING JOB! My wedding hair and makeup came out WAY better than I expected.

After my preview session with her, the pandemic hit. Long story short, me and my hubby eloped but still postponed our wedding for the following year. So, I decided for our first anniversary I would surprise my husband with a boudoir photo shoot and asked Angela for help. Well, my hair and makeup were stunning, and my husband was a big fan ;) so I decided to do it again but for the wedding we had to postpone. I got SO many compliments, I felt so beautiful! I definitely recommend checking out her insta (@angelatamteam) for ideas on what to do when you book her. She also has hair extensions if you want those, and they actually worked really well...even with my balayage. For my wedding, I had 13 gals that needed hair and makeup including two flower girls. She originally had 3 gals to help her, but brought on another just to make sure we were all done on time. Everyone looked SO good, but most importantly felt so beautiful.

Nadia K.

Married on 07/11/2021

Star Wars wedding

We had a Star Wars themed wedding that unfortunately had to be postponed twice due to COVID. Thankfully Angela Tam's team helped us with the change of date both times. When the day finally came, the artist arrived just before I did, and was a Star Wars fan herself. It was so much fun to talk to her while we were getting ready. I love the looks she gave for me and my mom, and both of us received compliments throughout the day. I would definitely work with Angela Tam's team again.

Mary C.

Married on 06/26/2021

Rosemary is amazing!

Rosemary did my trial and makeup/hair for my wedding and it was fabulous! She's so easy to talk to, listens to what you have to say and will make any changes you like! I loved the way my hair and makeup turned out and highly recommend her and this team of great stylists!

Amira F.

Married on 06/25/2021

Absolutely recommend!

Choosing a hair and makeup style for a major event such as a wedding feels like a big commitment, but you can trust that with Angela's team you'll have no regrets! Ivy & Gigi were absolutely amazing in doing my makeup and hair for a friend's wedding, at which I was a bridesmaid. The team arrived timely, they were organized, and most importantly - talented! They did a wonderful job for every single one of the bridesmaids, all of whom had different styles and requests. My hair and makeup stayed intact the whole entire day! It was beautiful!

Nora A.

Married on 06/25/2021

Freaking amazing. Book now!

Ooo-wee! Where do I begin? I first contacted Angela on this website and she was by far one of the fastest, most efficient vendor responders I've had the pleasure of working with. From the get-go, she was flexible, calm, and collected. She was transparent and descriptive in her services and booked me a trial basis that doubled as a get-to-know-you session. She tried many different looks with me and nailed exactly what I wanted with just a few pointers from a confused bride. She was so easy to work with and so flexible and ready to go. Leading up to the wedding and on the day, I know I got more difficult as more players entered the mix to get hair and make-up, in addition to my nerves reaching an all-time high. The ENTIRE time, she handled it all with a smile and a calm word, kept me encouraged, and kept her entire team on time. Even with the last-minute additions and time changes, she rolled with the punches and we were right where we were supposed to be. She also showed up between ceremony and party and was on point with the hair change even though I shortened her time there last minute too! (This was a Middle Eastern wedding, and at that point everything was behind....EXCEPT for Angela!)
Angela, Gigi, and Ivy, ya'll really are the most professional in the business and your efficiency really made a world of difference. I LOVED my look, my family and bridesmaids loved their looks as well, and we looked AMAZING. Thank you all for your graciousness and I will definitely hire again!

A note to add, Angela and her team do all manners of weddings, Middle-Eastern, South Asian, among others. They have the skills!

Brides, please. DO NOT HESITATE, book Angela and team! You will not regret it!

Mila K.

Married on 06/25/2021

Fantastic Wedding Experience, Dream Looks!

Angela Tam and Team - GiGi and Ivy were incredible. They were on-time, professional, and prepared with their tools. This was my best friend's wedding, and the day off were were all over the place. These ladies remained cool and calm. They were able to recreate our Pinterest looks. They LISTENED to our needs and desires regarding our aesthetic. They were able to go lighter for those who wanted a more natural look, and heavier for those who wanted a more glamorous look. They maintained conversation, they just fit the vibe well with us. We were so happy and excited on that day, and they just pumped us up even more so when we all saw our looks, and felt 10x more beautiful. If you are looking for quality, choose them. Half of the bridal party LOVE makeup in general and half barely wear much of it, and Angela's team was able to impress both.To me, thats customer service.
Are you interested?
Send a message