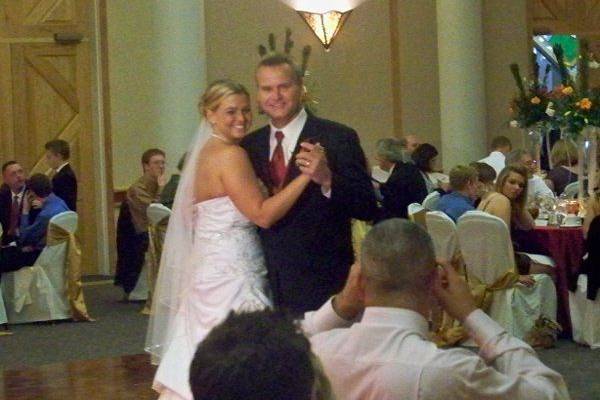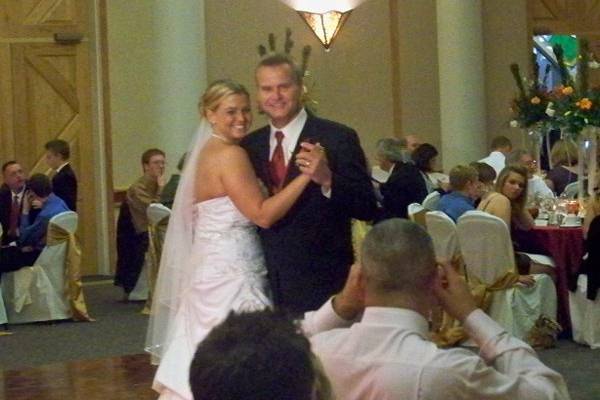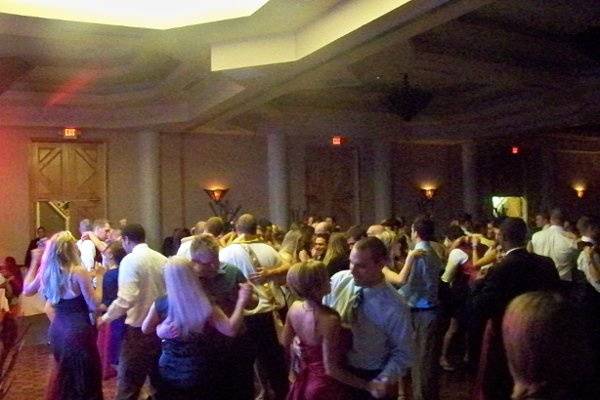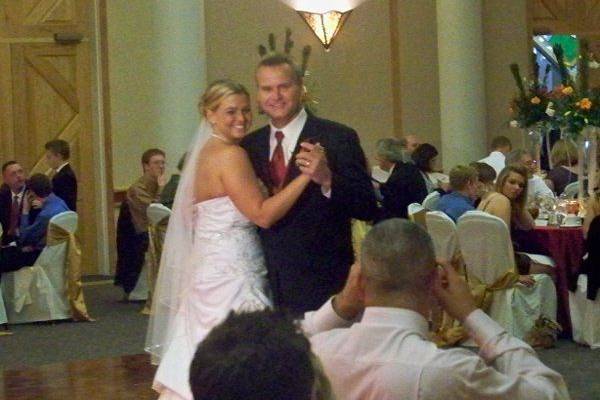 About
My name is Michelle, I own and operate Nightrain Ent. out of Marion, Virginia. We provide serveral services that you may need for your wedding and other events.
We provide:

Disc Jockey's - Our dj's come equipped and ready with the latest music, the most requested music and everything in between. In our library we have almost 30,000 dj songs. Our dj's can also provide Emcee services for your event if you are in need of a Master of Ceremonies. Our dj's can cover your wedding as well as your reception. Our Disc Jockey's are very entertaining and professional. We guarentee to make your reception or other event memorable for all!

Karaoke - If you would like to add a little more interactive fun for your reception, you can add our karaoke package to our dj services. Our karaoke selection includes over 34,000 karaoke tracks from the most respected karaoke companies. We have wireless mics available if you choose for a more interactive form of entertaiment.

Live Band - We have over 120 live bands to choose from if you choose to hire a live band. Depending on your location and budget.

Along with these options, we also have Magicians, Face Painters, Inflatable Rides, Comedians, Ventriloquists, Clowns and more!!

Frequently Asked Questions
What music genres do you specialize in?
Country
Electronic
Hip Hop
Oldies
Pop
R&B/Soul
Rock
What services do you offer?
Recommended by 65% of couples
Quality of service

Rating 2 out of 5

Average response time

Rating 3.5 out of 5

Professionalism

Rating 3.5 out of 5

Value

Rating 3.3 out of 5

Flexibility

Rating 4 out of 5
Christian

Married on 09/25/2010

NighTrain Entertainment was hired on for the dj at my wedding. I had Mary amd John. They showed up on time and did what they were supposed to do. The lined my bridal party up and helped them enter. I guess it was my fault on not being clear but they didnt play my bridal party after first dance the way i wanted. They told me that my bridal party didnt do what they were supposed to do so they didnt play it. the cake wasnt cut after dinner it was cut whenever i finally went up to them and said i want cake. they told me it was not on my itenerary i sent them. it went ok though. no one knew the difference but me! they sang karaoke and were pretty good. they had some people on the dance floor but then again my guests werent big dancers anyway! i was out there and my youngest daughter closed down the dance floor. all in all was pleased

Amanda

Married on 07/25/2010

Michelle is a very nice lady She was very responsive, She gave me a good deal she did listen to what I wanted and what I didn't want there were some things she did very well,and there was some things that I know was beyond her control like things running late and we didnt have other songs planned. BUT overall I am very unhappy with the service i recieved from her. I did express a little of my disappointment at the end of the night but honestly now that I don't care about seeming rude. I really wished I would have saved that money even though she gave me what I thought was a good deal I now understand why and I really regret handing over the money I wish i would have played my own playlist off my own laptop because ultimately this is all it was a laptop some speakers and a microphone and a voice that ever now and then said... Lets DO This or this.

I felt the overall sound quality was poor & that she did not pay enough attention to it. There was a big issues with noise and such in our pastors microphone, (which was not the microphone I had requested it suppose to be wireless on stand, it was a headset mic) it was claimed it was the wind.. and it might have been but to me it sounded more like a short in the mic or that the mic was not within range. Regardless the pastors was sitting there fiddling with it trying to turn it off which was unsuccessful and it didn't get turned if off (said she did as song as she realized it but this was at least 5 minutes into the ceremony.

When it was our turn for personalized vows we were provided a wireless mic to hold. The mic wasn't on (even though the switch was) for his part of the vows and was only on for mine.
There were a few other little hang ups as well. but overall

The sound quality of some of the songs she played was just horrible you could barely hear some parts of the song or it would be distorted then other songs were just too loud that you couldn't hear the person next to you talking .

I felt that some of the songs played even though I didn't specifically request not to be played I felt should not have been because of me asked for songs not talking about breakups or cheating or very sexual for example a Chris Daughtry song (which i love him btw) but the song played was about breaking up.

When it was time for the Anniversary dance and not many couples made it the floor the announcement was made that "it didn't matter if you were happily married if that is what is keeping you, as long as you had a ring on" I felt like that was very unprofessional and inappropriate, i didn't find it humorous.

I was disappointed I felt like she was more in her own little world singing along to the songs and dancing in the corner that she really didn't notice that she needed to really get some life into the party. That was what I was paying here to do. MY biggest request was get people on the floor and dancing having a good time. I know that my music Nots were pretty specific but I don't feel many of the songs from my suggested list were played in fact she played some songs I had never heard of and the songs in the sample list she wanted me to review were not even played. Most of my guest left after the food and cake and all was over because it was just so dull they thought everything was over. So at more toward the end when most people were gone she finally played cha cha slide and all that and all the remaining guests were up dancing. This is what she should have done when she saw that no one was on the dance floor.

There was a point in time where i was looking for her and she wasn't to be found anywhere and she was spotted across the lawn smoking. There were a couple of times I had to ask for certain songs I wanted to be played to be played then.

Toward the end of the night I was asked is there anything on the list you wanted to hear that wasnt played and i was thinking seriously almost nothing i wanted to hear was played but instead i just smiled and said it was fine.



NighTrain Entertainment's reply:

First of all you make it sound as though I was late, I wasn't. I was there an hour before hand. The wedding began late due to reasons that had nothing to do with me or my equipment. I did the best I could with the 4 songs you requested to have played prior to the wedding. That was supposed to be 15 minutes and turned into 30.

It was just a laptop and some speakers, what do you think a dj has? I couldn't plug up the lights, or the extension speakers due to lack of plug in and electricity. I blew a breaker with just the minimal equipment plugged in, along with the Crock pots you had plugged in for the food. So it was bare neccesity equipment.

The sound of the music was great, it was an outdoor event and I'm sorry but you requested the basic setup, our large set of equipment is what we use for outdoor events, I was under the impression I would be "in the barn" Not knowing the barn was just a covered pavillion.

The mics problems were part the wind, part the distance, that is why I turned them off, the noise from the wind and lack of signal from that distance made the noise. The mic did not fit onto the stand, I was there with the pastor almost an hour before the wedding and he and I discussed it, and since the mic didn't want to stay in the direction to which he could speak in it and still see his bible and notes, he decided to go with the headset.

I tried to keep people on the dance floor, but the music you requested to play were mostly of the slower persuassion or harder rock those songs, only persuaded one or two on the floor. You're right, the cupid shuffle and the cha cha slide did get people on the dance floor, but they were played earlier in the night.

I didn't play any of the songs on your do not play list and I played all but maybe 8 songs on your play list out of 100. Most of them were slower songs and I played them during dinner at a lower volume.
As far as me across the lawn smoking, I go away from your guests when I need a break, so that I'm not around anyone who doesn't smoke. I never had a break in the music played, I had your songs that you wanted on the playlist. How am I to know what songs you want played at a particular time if you don't tell me ahead of time. So yes you would have to let me know if there is a certain song you want played at a certain time.

The entire night I tried to get people on the dance floor with music. Your choice of music, atleast some of it wasn't the best for dancing. I tried to throw in some different songs that were known in the past to get people up and going and they didn't work either. Sometimes, guests just aren't there to dance. They just sit back and bob their head and tap their toes and listen. That is what the majority of your guests did. I even went around and asked if there were any songs some of your guests wanted to hear, and no body even wanted to suggest anything. I tried my best on getting your guests up and going.

Yes I stood in my little corner singing and dancing around, hopeing to entice your guests to follow. But that didn't work either. The same guests danced most of the night. while they were there dancing, your guests were following suit. After that couple left, no body seemed to want to dance.

I'm sorry that you were unhappy with my services. I did all I could with what I was presented with. Not all of your guests were unhappy and hated my services, because I did book another wedding from one of your guests. But again I'm sorry you were not pleased. I wish you would have said something at the time, maybe you would have had other suggestions for better songs then what was on your prior list to have the guests get up and dance. I try to please and it's hard to do when I don't know what is pleasing to you specifically. I apologize.
Map
729 Middle Fork Road Marion, 24354