I know I'm missing a lot of important steps here and moments in between but life is fast paced and crazy. I'm promise I'll get y'all caught up to speed soon, but I can't resist sharing this great DIY project I did this weekend. I'm so proud of this project and so excited about it!
I have two ring bearers. (And three flower girls. But that's a different post.) Our RB's will both be around the age of three, actually one will be a couple months over three, and one about six weeks shy of. I love and adore these little boys. But I'm not sure that I trust them with my precious wedding bands. I already lost my wedding ring once. (Again, another post for another day, please bear with me!) So one day, while obsessively stalking wedding websites like I do, I came across a sign like this:
I *loved* it! And for a cool $50 I could have it. But really? $50 for a sign? So I scoured Etsy and other sources and found others I loved but none that I was willing to pay for. I'm pretty crafty (you'll see, just wait!) and so after finding my ideal inspiration photo, I decided to make my own.
This was my inspiration picture: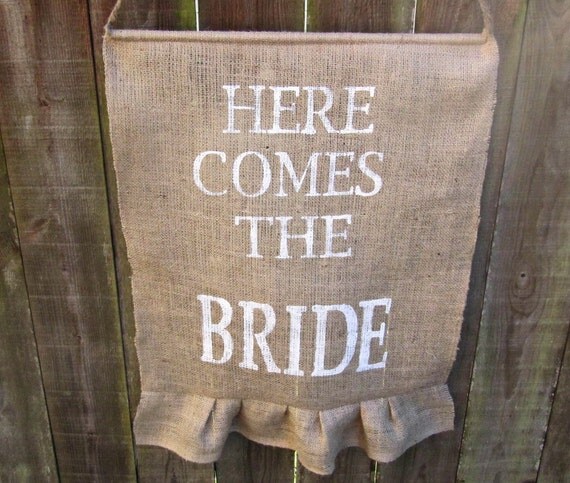 It's from Sweet B's shop on Etsy. I already had burlap from another project, I had paint and I was able to print out the wording in the font and size I wanted. So I layed the wording onto my glass coffee table, placed the burlap over it, and taped the edges so it didn't move and using a sponge dipped in paint, "traced" over the words. I did this for all the letters (twice) until I was satisfied with how they looked.
After a trip to AC Moore for a wooden dowel (cost me $1.99!), I added some ribbon and voila! I had my banner! What do you think?
So there you have it! For less than $5, I had my ring bearer sign! Are you doing anything non-traditional for your ring-bearers?