The suggestion that a bride should have "something old, something new, something borrowed and something blue" is one of the oldest adhered to modern wedding traditions. It asks a bride to combine good luck charms from the heritage of her family, her new future with her partner and the successful marriages of her friends and family. It's a rhyme that many couples still try to adhere to with many families having "something old, new, borrowed, and blue" traditions of their own. My family has been passing the same pair of white wedding sunglasses from bride to bride for ten years as our "something borrowed," and it's worked as a good luck charm so far! But if you're having a hard time adhering to the parameters of this adage, here are a few suggestions for the two suggestions that are the hardest to fill – something "old" and something "borrowed":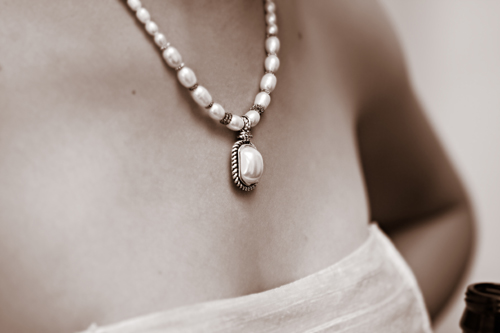 Something Old
"Something old" is a requirement of the adage that asks brides to carry a token from the heritage of their families. Some brides choose instead to carry something from their partner's family to show a new connection with the history of their family tree. Either option is meaningful, and even something you found from an antique store carries with it it's own history. Thoughts:
DO:
1. Jewelry
Earrings and necklaces work well, but make sure you have clasps inspected and repaired by jewelers before you walk down the aisle. Also, check aged lace and metals against the fabric of your gown to make sure the antiqued colors don't look harsh and aged against the rest of your outfit
DON'T:
2. Garters
The elastic of garters tends to deteriorate quickly, even if it seems to be in perfect condition. The last thing you want is for an antique garter to snap before you even make it to the reception. Choose instead something that you can be sure won't slip off by the end of the evening. 
Something Borrowed
The point here is to find a good luck charm from the happy marriages of the couples around you. While some families have traditions specific to them (such as my family's famous "wedding sunglasses"), it's always the right time to start a new tradition. Thoughts:
DO:
1. A New Take on "Borrowed"
Instead of wearing a bracelet or headpiece that was borrowed from a friend or family member, consider instead "borrowing" a wedding detail from their day to highlight your own. Dance to the song used as your parent's first dance, or use your grandmother's secret jam recipe for the favors. This creative twist will keep you from loading up with old, new, borrowed and blue jewelry for lack of a better option. Even though you won't be wearing your "borrowed" items, you will have a chance to adhere to the tradition while giving it your own modern twist
DON'T:
2. Expensive or Breakable Items.
Though it is sweet that your great aunt wants you to borrow her expensive diamond cuff bracelet for your ceremony, consider the risk of losing such an item. The conditions of "borrowing" mean that you intend to return the item, so be wary of asking for or accepting offers of delicate or valuable items. This goes for fabrics too. Borrowed dresses, veils and linens attract chocolate and red wine. If anything does happen, be sure to cover the dry cleaning bill!