In my last venue entry, I listed the top three venues Plumeria Dude and I were eying in Atlanta. We liked the idea of getting married in the city we call home, but neither of our families were particularly jazzed. In one of our conversations on the topic, my mother said it was really important to her that we get married in Florida, where I grew up. My hometown of Vero Beach is a beautiful place but it definitely has its drawbacks. For one thing, it' pricey. It's also a rather sleepy retirement area. So that was out. But when I mentioned the Florida Keys, my mom perked up.
At one point we considered Key West, but we figured its relative inaccessibility (either via an expensive flight or a 3+ hour drive from Miami International Airport) would be too much of a burden on our guests. It is a great wedding location though!
Today we'll look at three of our top choices in Islamorada, Fla., a town smack dab in the middle of the Florida Keys.

This photo is actually of two acquaintances who got married at the Islander last summer.
Pros:
We stayed at the Islander last spring while on a venue-scouting trip. The resort is centrally located and retains its Keys charm while being up-to-date and having nice amenities. We loved the saltwater pool and the view is gorgeous. The staff was nice and the food at the tiki bar was tasty. Their rooms aren't exorbitantly expensive and they all come with eat-in kitchens– a plus if you're looking to save your guests some cash. And my brother and sister-in-law reported having tons of fun at the above wedding.
Cons:
Because it's a larger resort, there's less of an intimate feeling than there would be at a smaller venue. I don't think bikinied beachgoers would wander into the ceremony, but there would be other people around. You are required to use their catering/bar service, which can be pricey. The dealbreaker for us was the required tent rental for an outdoor reception, which adds thousands to costs.
Pros:
This place is truly breathtaking in person, with a lush, tropical pool (great for cocktail hour), wonderful view, and the accommodations are at Ritz-Carlton levels of fabulousness. I'm talking granite counter tops in the kitchens and Tommy Bahama chic everywhere. It's more of a rental cottage setup than a traditional hotel. You can bring in your own catering and alcohol, which we liked. The resort has a very intimate feeling, due to the small property and the fact that wedding parties must book the entire place.
Cons:
In order to host a wedding, you must book all of the available cottages plus the large Plantation Houses (eek, I'm not in love with that name.) The idea is that you pay upfront for the accommodations, and your guests in turn will pay for rooms as needed. While we really fell in love with the atmosphere and the wow factor was high, the outlay of cash (especially in this economic climate) was too much to bear.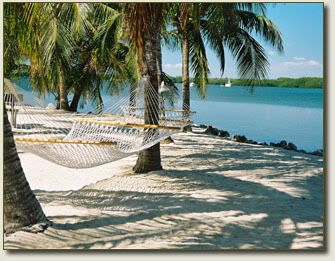 Pros
The photos don't really do the place justice in my opinion. It has a very relaxed Keys vibe. It's located on the bay side, meaning we could see the gorgeous Keys sunset during the reception. Their rooms are affordable and furnished in a cute tropical style. You can bring in your own catering/alcohol, thereby saving money. The staff is super friendly, and this place was Plumeria Dude's and my favorite.
Cons
The inn is located in Tavernier, which is several miles north of Islamorada. Like the Caribbean Resort, it requires booking the entire place in order to host a wedding. There aren't many other accommodation options nearby. My parents vetoed this choice because of concerns about the location and where the rest of our guests would stay.
Stay tuned for our final pick!