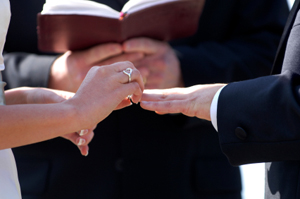 If your wedding will be non-traditional, or you're using a secular officiant instead of a religious one, you may be a little fuzzy about the details of your ceremony. You probably have a good idea about what you want the end result to look like, but have you taken the time to sit down and iron out the details that are actually important to you? If you're getting ready for your first meeting with your officiant, or you've just now realized that you should probably initiate one, here are some concerns you should bring to the table:
What You Want?
What do you want out of your wedding ceremony? You might think the answer is obvious, but one couple's perfect ceremony is not another's. Do you want it short and sweet? Do you want to make sure it doesn't take itself too seriously? Do you believe wedding ceremonies should be serious and somber (and that partying should be reserved for the reception)?  The feel of your ceremony is the first thing you should discuss with the person officiating. The couple and the officiant, even if they've been friends for years, need to sit down and make sure they're on the same page. If you're having a close friend or family member officiate, have an informal meeting as soon as you can about what you want from your ceremony.
The Inclusion of Vows
Especially if you're having a secular ceremony, the vows are a detail that aren't written down anywhere for you. If you're hiring an officiant, they should already be asking you specific questions about your vows. If you're using someone new to the program, this is another detail that needs to be ironed out right away. Are you and your fiancé exchanging personal vows? Will you share them beforehand? Will you recite vows that you are fed by your officiant? This quick chat will also remind you and your fiancé that vow writing is not something that should be left until the last minute. Of all the moments in your ceremony, this is the one guests (and posterity) will remember!
The Inclusion of a Unity Ceremony
This is a good talk to have after you've secured a venue. If you have your heart set on a unity ceremony that involves tequila and cocktail shakers, and your venue has a blanket ban on alcohol, you may need to rethink your strategy. If you'd never thought of including a unity ceremony before, discuss what the meat of your ceremony will contain. Advice? Vows? Stories? Readings? Write down a list of the important points you want to hit on in your ceremony and make sure you and your officiant are clear on them.
Ordainment Laws
This is especially pertinent if you are being married by someone recently ordained. Whether they procured a hasty ordainment online so that they could perform your marriage or they just recently started practicing in your area, make sure you know well ahead of time if it's legal for them to marry you. Some states do not recognize ordainments awarded online, so a good time to start working through the process of city recognition is now. Check with your county clerk's office for specifics, and make sure all paperwork is filled out well ahead of time. You would hate to have to return those wedding favors just because you didn't get the paperwork stamped in time.