As our wedding vibe – Rustic, Country, Folksy – began to unfold in my mind, I stumbled upon this photo:
I was completely hooked.  Burlap with screen printed goodness.  Part of me loved it because it was classy, yet casual.  Part of me loved it because I knew I could get CC to customize them with his screen printing skills.  But the biggest part of me that loved them was because burlap is cheap, Cheap, CHEAP!
I continued my search for burlap table runners, to further inspire me, and found these:

Ruffled Goodness!
Source
Since I've been planning our wedding, I've become addicted to ruffles.  I think it must be "bridal brain" taking over my senses because I've never been all that girly of a girl.  As soon as I saw these gorgeous, ruffled runners, I knew I would attempt this project, myself.
Have I mentioned, I don't actually know how to sew?  Well, I didn't know, anyway.  But my attitude towards sewing was pretty much my attitude towards most things in life – How hard can it be?
I blame (thank?) my overt thriftiness on Cotton Mom1 and her mother – my Nana, too.  Growing up I spent summers going to endless yard sales, thrift stores and used good fairs.  I'll admit; I loved them.  There is nothing like digging through a pile of junk to find a hidden gem.  That said, I needed a sewing machine – before I could attempt to sew anything.  But pay for one? Bah!  I placed a want ad on craigslist and a few days later received an email from a nice woman a couple neighborhoods over.  She happened to have an old sewing machine and didn't sew anymore.  She was more than happy to give me her sewing machine, along with a few encouraging words for the adventure in sewing I was about to undertake.  Yay for free!
After many online searches for the least expensive burlap-by-the-yard (did I mention I was thrifty?) I found an incredible deal at an upholstery company!  $1.20/yd later, I had a bolt of 30 yards of burlap in my possession.
♥Sewing Machine – CHECK!
♥Burlap – CHECK!
♥Skills – Well…  It's a good thing I'm not a perfectionist.
I have to say, I spent many, many hours sewing.  I'm not complaining…  but there was a time (just a few weeks ago) that I thought I would never, ever finish our runners – nor did I want to.  I am very pleased, however, with how great they came out.  I didn't have a pattern or a clue how to "ruffle" and yet, both Cotton Moms were impressed with the final product (which means a ton, because they are both sewers and Cotton Mom1 is a beautiful quilter!).  If you're curious about how to create such loveliness yourself, check out my tutorial here.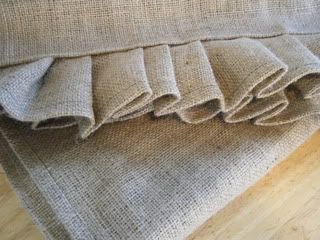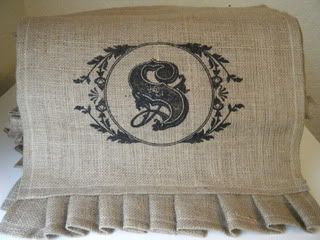 Photographs by Cotton Bud
Doh!  I almost forgot…  The gorgeous screen printed monogram (which is from weddingchicks.com) was lovingly hand screened by the one and only CC.  Gosh, I love that guy!
Where did you find your inspiration for your guest tables?  Have you attempted any projects that are seemingly over your head, yet pulled them off?