Making green choices for your wedding day can easily soften the environmental footprint that fashion leaves!  Encourage your bridesmaids to browse local shops and purchase dresses that they will be sure to wear time and time again!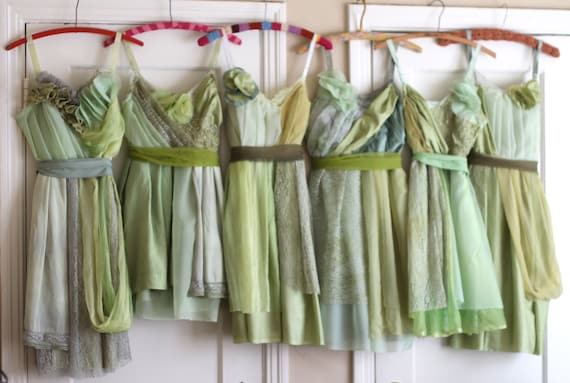 Photo Credit: Armour sans Anguish
Designers such as Tara Lynn and Armour Sans Anguish specialize in creating gorgeous gowns from recycled fabric scraps, embellished hemp and sustainable materials.
A great option for bridesmaid dresses are infinity gowns, which can be tied differently in an infinite number of ways to create a unique, yet unified style throughout the bridesmaid party. Infinity gowns are acclaimed for their ability to be worn and re-worn countless times and ways.
Photo Credit: Infinity Bridesmaid Dresses from Etsy
Reuse your Jewels!  Vintage finds, reclaimed metals or even borrowed gems are great options for both bride and bridesmaids.  Find that perfect piece at  a local shop or from handmade vendors!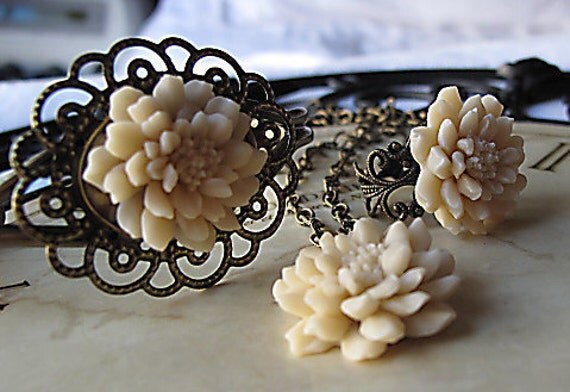 Photo Credit: Etsy Vintage Jewelry Set
Step in style!  Vegan or handmade shoes are a unique and beautiful addition to anyone's closet.  Intricate, hand-embroidered ballet flats from Love Is Mighty go great with any gown!
Photo Credit: Love Is Mighty
Utilizing local consignment shops, purchasing gowns made from sustainable materials and finding dresses that bridesmaids will be sure to wear again are all great ways to keep your bridal party thinking eco-chic!